You can always find the smart marketers at Traffic and Conversion Summit every year. And as all those smart marketers know, Ryan Deiss' keynotes are one of the highlights of the event, especially if you want to be up with the emerging trends in marketing. Ryan, of course, founded Traffic and Conversion Summit and DigitalMarketer.com, and he's my guest on today's episode number 212. Ryan is the bestselling author of The Invisible Selling Machine and Digital Marketing for Dummies. To say Ryan is an innovator in the digital marketing world would be a massive understatement. 
In this episode, Ryan will unpack his Customer Value Optimization methodology and how it's used by companies like McDonald's, Starbucks, Amazon, and Best Buy to achieve massive and sustainable growth. We also discuss in depth the latest digital marketing trends. Get ready for some immediately useful tips and techniques to up-level your online marketing. And now on with the show.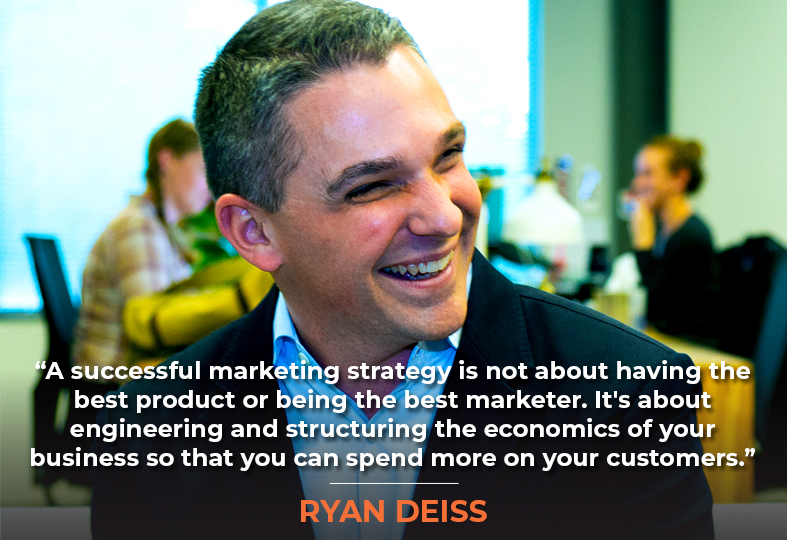 Transcript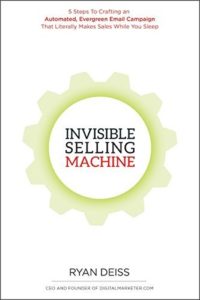 Ryan, it's so great to have you on the show.
Thank you. It's good to be here.
We chatted at War Room a while back. For our listeners who aren't familiar with War Room, Traffic & Conversion Summit, and DigitalMarketer, what would you tell them that makes those things and offerings so different compared to everything else that's out there? There's a lot out there.
DigitalMarketer and Traffic & Conversion Summit, they're very much like the tactical nuts and bolts in the trenches of marketing. That's the thing that's always made people come to Traffic & Conversion Summit because it's always been tactical and specific. Do this because it actually works kind of stuff, as opposed to a lot of a more theoretical. There's a lot of events that makes you all pumped up and you get hyped. You get excited but you're like, "I don't know what to do now."
We're very methodological and very step-by-step. That's what DigitalMarketer, which is my main training company, and Traffic & Conversion Summit is our event. There is an annual marketing event that DigitalMarketer hosts.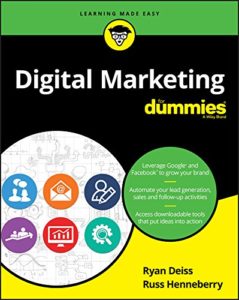 War Room is specifically tailored for business owners. The thing that makes it similar to DigitalMarketer and Traffic & Conversion Summit, which makes it different than a lot of other Masterminds and events for business owners and entrepreneurs, is it's very tactical and very practical. We get into the nitty-gritty of, how do you run meetings, how should you be managing your time, because a lot of these folks, for me in particular, we're managing being a maker and being a manager. Being somebody who's doing a lot of the work of the business when you're creating the product or you are the product in the case of solos also running a company.
I think, the glue that binds them all together is just the tactical, the practical, the step-by-step, no theory. We assumed that people walk in with their own motivation. That's what makes it different.
With War Room being very much focused on the seven- or eight-figure business owner, getting them working on the right things, managing a high performing team, making all kinds of introductions that will take their business to the next level, there's a lot of tactical stuff. There's a lot of strategic stuff, too.
I'm curious. Where do you spend most of your time at the helm of DigitalMarketer? Is it partnerships and strategic alliances? Is it more overseeing the team and the growth of the business and operations? Is it more being the front face to the brand? Where do you spend your time? 
I remember Tony Robbins saying, "You're either a manager later. You're an artist," kind of like an inventor or a creator, "or you're an entrepreneur." If you're the artist—a lot of these artists think they're an entrepreneur but they're not—you have this gap. You have this blind spot that you're not able to see. I'm curious. Which one of those three are you? What sort of stuff are you doing at the helm of the company?
I think I bridged a couple of those a little bit. I'm definitely the face of the company. I'm out there representing the company whether it's speaking. A fair bit of my time is spent on the road speaking as the main ambassador of DigitalMarketer and some of the other brands. As a part of that, that's going to create deal flow in the term in the form of strategic partnerships or large scale vendor relationships. I'm going to help open a number of those doors. I'm not a business development type of person who's going to necessarily bring a lot of those deals across the line.
A successful marketing strategy is not about having the best product or being the best marketer. It's about engineering and structuring the economics of your business so that you can spend more on your customers.
Click To Tweet
My business partner, Roland Frasier, who I know you know and has been on this show, that's really what Roland does. I'm here to help open the doors. Roland is here to really close the deal. A part of it, about a third of my time is spent just as an ambassador of the company. Notice, the third is really spent more on the vision and the strategy side, which sounds really lame. I remember people, "I'm a visionary." What does that mean? You just vision all over the place? That sounds like a total waste of time. It didn't sound like real work.
As the company has grown, as we need to change, as we're morphing, and bringing on other groups and brands into our different portfolio holdings, I found that casting a vision and really the strategic direction of the company is actually very important and it is a significant amount of my time. 
Another good chunk of that is really just doing in the trenches, nitty-gritty, product-type work. I'm still good at teaching and training. I'm good at creating marketing systems. I want to keep my hands in that. That's really how my time divides a third, a third, a third, between those. Maybe, it's a bit of an artist, and it's also a bit of visionary type leader.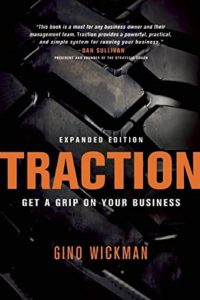 What I'm not really as strong at is the operation side. Have you ever read the book, Traction by Gino Wickman through the Entrepreneurial Operating System?
I haven't but it's on my list. I've heard really good things about it. 
It's another one of these frameworks that view the entrepreneurial things. Tony's got his and that's really helpful. In the EOS (Entrepreneurial Operating System) Framework, they really look at visionary leaders versus integrators. 
The integrators in a lot of companies are going to look like the president or the COO. The one who is in the trenches, managing people, holding leadership management and accountability. For me, I could be a very strong leader but the consistency that is required to be a great manager, and the whole people accountable, it's very difficult to do that and to be on the road speaking. It's very difficult to do that and to say, "Hey, you know what? I just need to go hole up for a week, create, and build this new thing." 
I basically enjoy being about an inch from the ground and about 40,000 feet up. I enjoy the extremes. The day-to-day running of a business is not my thing. I only have one direct report. That's Richard Lindner, he's my other business partner and co-founder. He's definitely the integrator and the operational leader here at DigitalMarketer.
What events, Masterminds, and so forth, are you going to upscale to learn? For example, it was because of Genius Network that I learned about the Traction book. The group that I learned this from, is my accountability group inside of Genius Network. They learned about it from The Strategic Coach from Dan Sullivan's. Where do you go, other than War Room which is your own company's event, to learn to upscale and grow?
I'll tell you, it's hard. This is an area that I'm struggling with personally. We do host a lot of our own events. When it's our own event, I'm working. I have a job to do. Even at War Room which is a gathering. It's fairly intimate. It's 200 businesses, mostly around eight-figure earners, who meet four times a year. There's going to be a phenomenal session going on in the main room. At the same time, I really need to be in another breakout room doing a mini Mastermind with people who want to talk to me because that's what they pay for. I don't get to be in the other room. 
Same thing in the Traffic & Conversion Summit. There are some speakers, there are some sessions that I look at, and I go, "I really want to see that. That's great." But, I need to be in another area, maybe introducing somebody, or having a meeting. 
Recently, I have the honor and great pleasure speaking at Tony Robbins' Business Mastery Event. Which, I believe is going to be more of a recurring thing. 
That's awesome. I've spoken twice. It's a great event. I've been on the main stage there. I did a break. Which one did you do? Main stage presentation?
It was a main stage. What's hard is when I'm there as a speaker. In my mind, I'm listening to hear things that I can tie back to. When I speak, I want to make sure that when I talk about something, I can reference and connect it back to something that another speaker said. I just want everybody in the room to get maximum value and to learn. 
We've all been in the room where somebody said the exact same joke that another speaker said before and told the same story. Almost worst, somebody contradicts something that another speaker said. I never wanted to do that because it can take away from the learning. I'm there, not as a student. I'm there, again, working. Because I travel so much, either for our own events or to speak at other people's events, I don't really get to be a student very often.
The main way that I learn is through great peers who I can call on and books. I read a tremendous amount of books. I don't listen to as many podcasts even if I would like to because I'm always reading and listening to books, trying to take things in its fullest form because that's the way I get to be a student right now. That's kind of my season. I do encourage people. You should be going to events. You should be learning. I think you should be spending at least 20%-25% of your time learning.
I wholeheartedly agree. What are some of the most game-changing books other than Traction that you want to share with our listeners?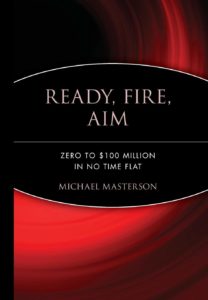 So many. I wrote a blogpost on the DigitalMarketer blog, it's 100 Books Every Marketer Should Read. If somebody wants to Google that, you'll find the entire list. I'll just highlight a couple of them. Ready, Fire, Aim by Michael Masterson, this is one I go back and read every year. The Effective Executive by Peter Drucker. If you're learning to be a leader and you're learning to run a team, it's not a marketing book but it's one I go back and read regularly. 
You could see right now, because we're looking at each other on video, and people have the chance to see this video, behind me is my bookshelves. This is maybe a 10th of the books that I owned. It's in the bookshelves that I go back and reread all the time. The Goal by Eliyahu Goldratt which is primarily a book on manufacturing and had to create manufacturing efficiencies. If you read it as a marketer, you'll understand that what he's teaching in there also applies to manufacturing more customers. This idea of Theory of Constraints and any manufacturing line is only as efficient as it's least efficient work zone. That's something we've applied directly to marketing. 
The Wizard of Ads Trilogy by my friend and mentor, Roy Williams, is one that I go back and read. The Art of Profitability, another book that I go back. There are truly more books that I could even think. There's a couple of them that touched across marketing, management, and just general business theory that hopefully your listeners will pick up and read.
Awesome. That's great. 
What would be the biggest, most valuable contribution that you'd say you have added to the marketing ecosystem? Is it the Customer Value Optimization methodology? Is it something else that you'd say is your biggest contribution so far? I'm curious.
I'll let other people, probably after I'm dead, be the judge whether or not I made any actual real contributions. I'll tell you, there's nothing I've said out there that hasn't been said before by people much smarter than me. I definitely stand on the shoulders of giants. You've mentioned a whole Customer Value Optimization methodology. Really, the customer value journey which is something that I feel helped a lot of folks. That began life on a napkin. Long before we had a customer value journey which is just simply a framework, an eight-stage framework for documenting how does a customer happen. An eight-stage framework for documenting how people become aware, engage, subscribe, and convert. Then, get excited in a sense and go through all the stages of the customer journey.
Once you've documented that, you could optimize it just like in an assembly line. That has been enormously helpful but that started out life, actually, as something called The Million Dollar Napkin. Basically, this idea of a five-step sales funnel drawn out on a napkin. I remember the very first time that I taught this napkin framework that I developed where it was, you need to generate leads through a lead magnet. You need to have them opting in through a self-liquidating offer of what we later call a Tripwire. You need to make a core offer, you need to have a profit maximizer. If anybody falls out, you need to have a return path to bring them in. That was something that was very helpful. 
Marketing and acquiring a customer is comparable to a romantic relationship. If you can understand human intimacy and apply that to business, sales, and marketing, then you're going to win your prospects' approval.
Click To Tweet
Two things bind all these things together. Number one, they were all inspired by another mentor and friend, sadly somebody who we've lost by the name of Dan Kennedy. Dan Kennedy passed away very recently. Dan is really the person I first heard say, "He or she who is able and willing to spend the most to acquire a customer wins." That concept's stuck with me. I remember when he said that and thought, "That's true." It's not about having the best product. It's not even being the best marketer. It's about engineering and structuring the economics of your business. Engineering and structuring your marketing campaigns and sequences such that you were able to spend more. That's what makes it work. 
I think that the contribution which I picked up from Dan, the emphasis is the second thing that holds all those together, is the importance of sequence. I guess if it were one thing, it would be really reminding marketers that marketing is just another type of relationship. Equating marketing and the acquisition of a customer to a romantic relationship, realizing that if you can understand human intimacy, personal intimacy, and apply that to business intimacy, to sales, to marketing, that you're going to win, I think that's a big contribution.
The customer value journey, the previous iteration which was The Million Dollar Napkin, I think that framework gave a tactical touchpoint to the broader methodology of customer value optimization. Again, give credit to whom credit is due. It's all based on Dan Kennedy's statement, "He or she who is able and willing to spend the most to acquire customer wins." Hopefully, that's made marketing a bit more human. If I can go down in history as being the person who made marketing a little less douchey and a little more human, I'll take it.
Okay. Not the person who invented the lead magnet but the person who hopefully added massive value into the customer journey. 
The lead magnet has been around forever. I think I was the first to use that term but I probably heard it somewhere else. People credit me with inventing the term, lead magnet. I honestly don't remember where I heard it. Maybe I came up with it. I think there's somebody said for applying names, for coming up with your own vocabulary. That could be helpful because names matter if you can name something that's the first step to having some dominion over it, being able to capture and hold that knowledge.
There's something there. But I just want people to realize that sales and marketing is a human experience. It makes you human. Remember, there's another human being on the other line there with their own hopes, wants, and dreams. If you can focus on being able and willing to spend to acquire a customer, and acknowledge that the way you can generate more value from the customers is to give more value to them that's what I wanted to get out there and what hopefully has come through.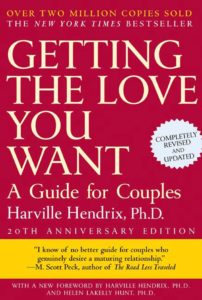 I would love to hear more about this connection between personal intimacy like in an intimate relationship and applying that to a customer relationship or a prospect relationship. Is there some book, or methodology, or a couple therapy, or some event that you went into and you're like, "Wow, this is so applicable to marketing"? For example, I went to a workshop taught by Harville Hendrix who's the creator of Imago Couples Therapy. Then, I had him on my other show on Get Yourself Optimized. Amazing. He's changed so many people's lives. He's the author of Getting the Love You Want, a huge New York Times Bestseller, it's on Oprah, and everything.
I just love what he does. I think it's applicable in so many other areas of life not just in your personal intimate relationships. I'm curious, is there something that you've taken like Dr. Gottman's work or something that you're like, "Oh, this is so applicable to marketing."?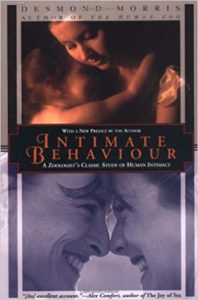 There's a book called Intimate Behavior by Desmond Morris. Desmond Morris is a zoologist. He was the one that seeks to understand how does human intimacy happens. If you think about it, let's kind of depart from sales and marketing for a little bit, just think about human intimacy. Specifically, sexual intimacy. This idea that you would have two people who have no idea, they're total strangers. Then, through a series of events, they ended up buck naked in the same bed. How does that happen? That's kind of crazy. It happens so frequently that the earth has been populated.
It's not a novel concept. It happens literally all day, every day throughout the world. It is one of the most consistent human experiences. How does it happen? We all acknowledge that it doesn't happen a lot of times. We all acknowledge that it can be horrifically misused in some of the most awful, wretched ways. But how does it happen when it happens the right way? 
Desmond Morris sought to answer that as a scientist. He sought to study the human-animal in the same way he had studied other animals. What he realized are there are these 12 stages of human intimacy. If you Google, "12 Stages of Intimacy by Desmond Morris," you'll find that there's a number of different posts something about it. The basic idea is it starts with eye-to-body. I become visually aware of somebody. Then, I decided at that moment, "Am I attracted to them?" 
Then, you have eye-to-eye, stage two. "I'm seeing someone." Then, you have voice-to-voice. You walk up to somebody and you start talking. Then, you have hand-to-hand. You're shaking hands. You have hand-to-arm. It progresses all the way through until you got stage 12 is obviously genitals-to-genitals. I'm not going to go through all of them. 
What was most fascinating about Desmond Morris' work are two things. Number one, the importance of sequence. This idea that there is a sequence to human intimacy, that we see reflected throughout humans across cultures. There is a sequence of intimacy. We see it. These 12 stages occur again and again. They directly relate to the business world. This idea of eye-to-body, what we call that is the awareness stage, stage one. They have to be aware that you exist.
Then, we need eye-to-eye. Then, we need voice-to-voice. We need to begin to engage with one another. Stage two for us is the engagement stage. It's not enough that somebody should see your ad. They should begin to engage with your ad. It's not enough that you send somebody an email newsletter. They should open it and read it. This idea of turning a glance into a stare is what engagement is all about. It's one of the hardest things to do these days.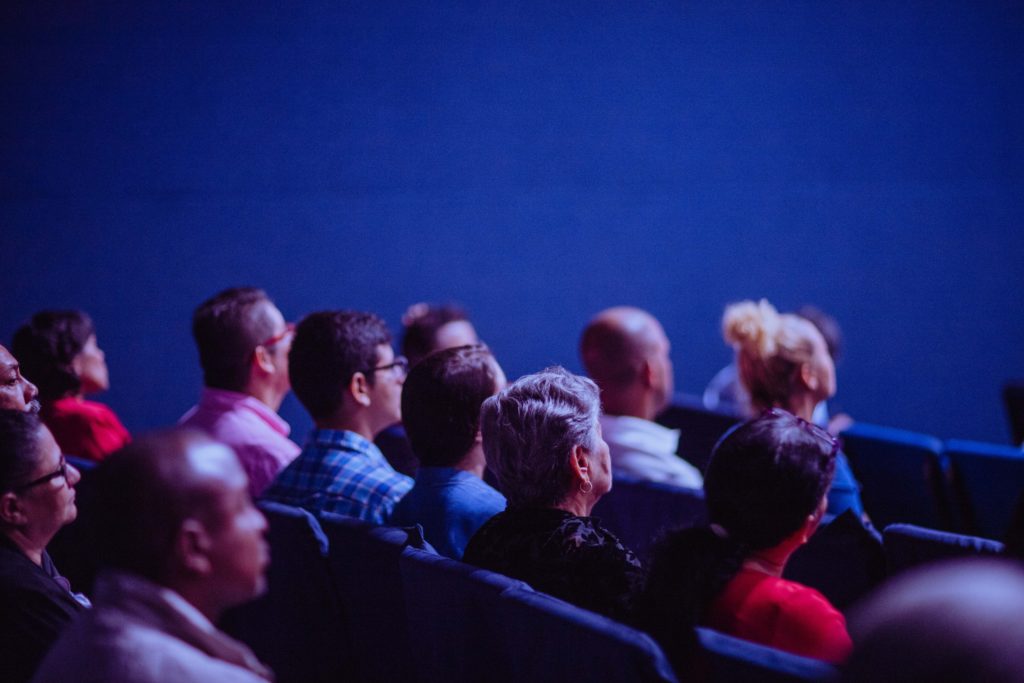 We see that same parallel, that same concept, reflected in Desmond Morris' work. Even one of his stages isn't getting their number. We do acknowledge that getting somebody else's phone number is an important aspect of the dating and wooing process. Generally, you want to follow up. 
For us, stage three is the subscribe stage. Getting their contact information and permission to follow up. We see the need for going on a first date. That is, "Hey, let's just meet for coffee." We acknowledge that it would be weird. I tell the story when I speak sometimes how I show a picture. My wife and I met very early in life. We're both 19 years old. We met as freshmen in college and started dating very soon after. She really was my inspiration for starting my first company. I knew that a couple of weeks of dating her that she was the woman that I was probably going to marry.
You get some, "Oohs," you'll be like, "Oh, that's so sweet," and I'll make sure to point out, but I didn't tell her that. I didn't tell her that because that's creepy. Everybody laugh because everybody acknowledges, "Yes. It would be strange to tell someone on a first date or even a second date." "You know what? This is going really well. I think you're the person that I'm going to marry." I'm not saying it hasn't happened. I'm just saying it would be strange. 
It goes against all of the dating rules sort of thing. I actually did that. I proposed to my now wife, nine days after we met in a hot air balloon above the desert of Vegas. She said, "No." She said, "Not yet." That was an awkward 20 minutes back down to earth. It brought us even closer together. It was a learning lesson for me because I didn't dream at all that she would ever say, "No." I just knew she was the one. I thought, "She's going to say yes. It's going to be great." And, nope. It didn't go that way.
What you said is important. You talked about the parallels between marketing and dating. Marketers and salespeople do these all the time. We effectively propose marriage on the first day. Why? We know that they need what we have to sell. We decided that they need it. It's very important to acknowledge that just because we know, they want what we have to offer just because they might even know that they want it. It doesn't mean that they want it yet. They want to be dated. They want to be wooed. They want to make sure. They want confirmation. This need for patience and following the right sequence, I think, is really important.
Desmond Morris laying out these 12 stages is very helpful. We came up with our eight-stage framework for the customer value journey, prior to seeing Desmond Morris' work. It's cool that it overlaid really well. The thing that I thought was the most fascinating about Desmond Morris' work wasn't just the presence of the 12 stages. He found—this gets a little bit dark, I don't want to brush over this or not acknowledge it—that the rate of progression through all 12 stages, that didn't determine success. 
Make marketing a little less douchey and a little more human.
Click To Tweet
In other words, you could have a couple that would take years. They would meet and literally take years to go through all the 12 stages. At the same time, you could have a couple that could take a night to progress through all 12 stages. They're eye-to-body, eye-to-eye, hand-to-hand, they're hugging and making out in the dancefloor. The next thing you know, there goes that night. It happens all the time. In both cases, both couples could say, "That was pretty good. That was okay with me."
The rate of progression through the 12 stages did not determine the success or the enjoyment of that particular experience or that relationship as a whole. What did, however, is did you skip a step? Specifically, when two steps were skipped, that was when one of the parties felt assaulted. 
It gets interesting, I think, hand-to-head or -face is stage six or seven. It stands to reason that if you were to walk up to somebody you don't know and touch them on the face, that would totally freak them out. Or in the head. That's not an overtly sexual act, necessarily. You sound like you grabbed their genitals or something like that. 
Again, I'm not trying to be immature about this. This is real, scientific stuff that he is going through. People feel assaulted if you do that to them. I just think it's important to teach that to your kids so that they're not a bunch of weirdos. 
As marketers, we need to remember, it's possible to speed up the buying process. It's absolutely possible to shorten sales cycles but don't shorten the sales cycles by reducing the number of steps. Just try to get people through the steps and through the journey faster by just creating more value and more certainty along the way.
That's a long-winded answer but that's really what I learned from it.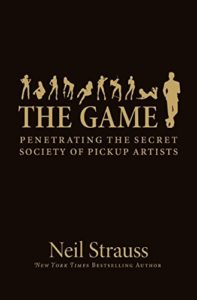 It's also a very powerful answer. It dovetails nicely with a book that you wouldn't consider a business book. It was recommended to me in the context of such. It's called The Game by Neil Strauss. Have you read that book?
Of course. I haven't read The Game. I know Neil. It's one of those books that I felt like if I read and my wife found it, it would be hard to explain. I'm certainly familiar with the contents of the book, the idea of how you pick people up. It's all romance. Marketing is romance.
One concept that I think is super applicable to marketing from that book is the idea that you need to calibrate. As I said, it dovetails very nicely with what you were just saying. If you have a failure to calibrate, then, you made some assumptions, for example, that the person is into but you haven't developed that rapport yet. There are things that you can do to test for the rapport like IOIs, Indicators of Interests. 
The reason why I know all these is because I actually studied under Neil. I went through a divorce. I was a hopeless wreck, socially awkward. I looked like my own father. I looked really old. Not that my father looks bad but I looked 15 years older than I do now. That was a decade ago. Did I show you what I looked like when we chatted at War Room? I don't know if I did.
I don't think so. There wasn't any context. It would've been weird for you to be like, "Here's what I looked like 10 years ago."
That would've been weird. Again, failure to calibrate.
I guess you did appropriately calibrate. There's no context.
I'm going to show you a picture of me from 2007. Did you see that?
You definitely looked unrecognizable from your dashing appearance.
Thank you. That was prior to my first Tony Robbins event, prior to the game, reading the book, and learning from Neil's The Annihilation Method which has been a terrible name. His online course, The Annihilation Method, and becoming a part of his Mastermind called The Society. A secret society that wasn't so secret because it actually had a website. 
I learned a ton from that. That helped me develop confidence which then allowed me to be more natural, in flow, and just confident. Not creepy and socially awkward. It's those words I keep coming back to. That was invaluable.
Then, there's so much business value to be gained from that stuff too. Like the idea of IOIs, Indicators of Interests. You squeeze someone's hand while you were holding their hand. If they squeeze back, that's an indicator of interest. If they play with their hair. You're on a first date with a female which is playing with her hair, that's an indicator of interest. There are these different indicators of interests that will tell you, "Hey, I'm on the right track."
Then, there are things you could do to break the rapport that would be a failure to calibrate. You didn't get those IOIs back yet then you made some assumptions. You went in for the kiss when it was too early. That sort of stuff is done all the time at a business setting but not as a kiss but as a request for their phone number when you didn't deserve that yet. You're actually only at the stage of getting an email address.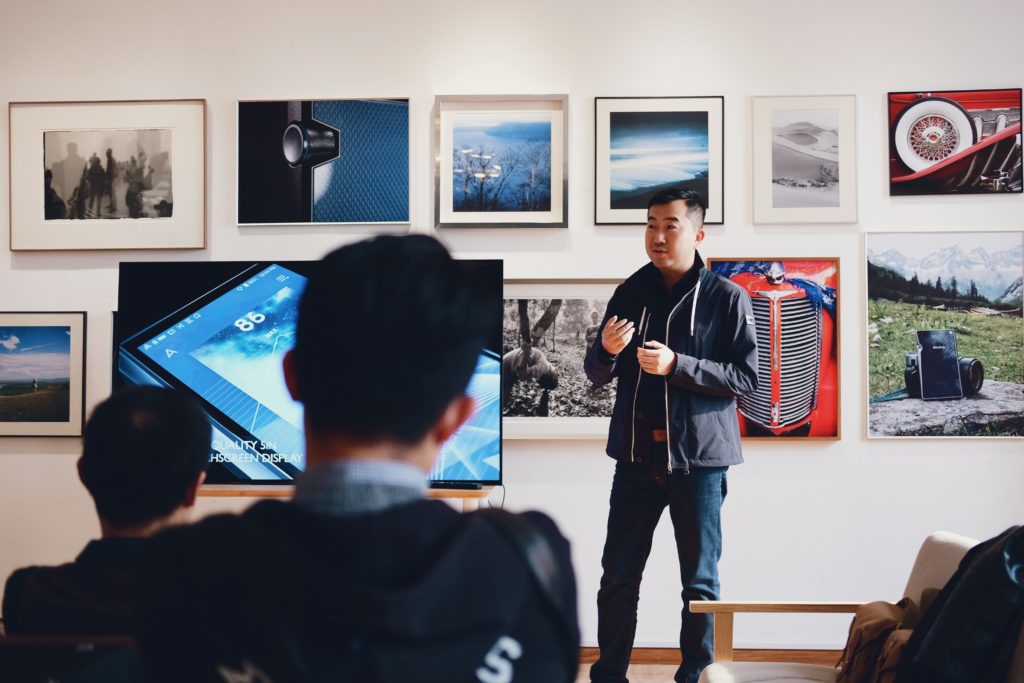 And here's why I think that comparison is so helpful. It's all what I'm saying, it's all intimacy. Human business because it's always human. You're human, they're human. We're going to feel it. I hear marketers say all the time, "It doesn't hurt to ask." Yes, it does. It does hurt to ask. If you ask and they say, "No." You just increase the chance that they're going to say no next time. They started to say no.
You've made a withdrawal from the emotional bank account.
You made it. You made a withdrawal of relational equity, absolutely. That's exactly right. You have made a withdrawal of relational equity. People talk about the difference between branding and direct response or branding and sales. I happen to believe that branding is anytime you make a deposit of relational equity. If I'm giving value in advance, whether it's through content marketing, or through having a really clever, funny ad, even great design that is pleasing to the eye can be making a deposit of relational equity. That's branding.
Anytime I ask for something that's sales, I'm making a withdrawal of relational equity. This is important. There's nothing wrong with making a withdrawal of relational equity, as long as you have adequate funds on deposit. It's like there's nothing wrong with going to your bank account and asking them to pull some money out, as long as the amount that you're pulling is less than the amount you got in there.
Marketers forget this but this is how normal, healthy human relationships work. If you walk up to your bank and you say, "Hey, I want $100,000," and they're like, "What have you got? $20,000 in your bank account. Give it to me," it hurts to ask. At some point, they're going to call the police because it starts to look a lot like a bank robbery.
If you say this to somebody the first time you meet them, "Hey, nice to meet you. You want to go back to my place, get a pizza, and get freaky?" There's a good chance that they're going to say, "No, weirdo. I don't know you," and you can't be like, "Haha, just kidding. Can I get you a drink?" There's no going back. You let your crazy out.
As marketers and business people, we have to remember there are human beings on the other side. You just got to learn to be patient and be nurturing. I love what you said, look for those indicators of interest. I think those who can understand the human-animal, those who can have empathy. I say it all the time. I can teach somebody to be a good tactical marketer. It's what we do at DigitalMarketer.
We train marketers. But I can only teach somebody to be a great marketer if they first have empathy. If they lack empathy, you can teach them the lever-pulling activities of running a Facebook ad or launching an email campaign or something like that, but they'll never be great. They'll never be great because they don't actually care about the people that they're serving, or at least be empathetic enough to fake it. I ask them, and hopefully not fake it and actually, they do sincerely care.
Do you screen for this when you take on new clients or customers for DigitalMarketer? Are you making sure that they have empathy or they're going to use this knowledge and use tools for good? Or are you teaching empathy? Can it even be taught?
I don't know if empathy can be taught. I don't. I would love for somebody to say, "No, it can. Here's a training on it." Seriously, I love to see it. I think it's not something that you're necessarily born with. It has to be developed. Some people come with maybe more natural stores of it than others and some people have learned to develop more over time. They have their own series of hardships or learnings, positive or negative. I'm not sure it can be taught.
Give more value to generate more value. This is marketing's standard equation.
Click To Tweet
In terms of screening for it at DigitalMarketer, in terms of our customers, there's not a really good way for us to do that. Anybody can come on and buy our products. One thing we're very clear about is we use very direct language, poking fun at people who are just scammers, poking fun at people who would just seek to take and not give. It's why we build into our very process the whole customer value optimization concept. The concept of giving more value in advance. We speak in terms of those so that they will be negative qualifiers to the folks who are just looking to take-take-take.
Again, not knocking Neil. I know he didn't come in thought it with this idea. Naming something like The Annihilation Method or something like that, we make sure that we come up with names that don't sound so much like club them and take their wallet kind of stuff, in the hopes that it will attract people who are more naturally empathetic. I can write the headlines that would be more throat grabbing than the ones we do, but I want to get the people who are serious about serving others. Hopefully, that comes through and the right people are attracted by it. No doubt, these are tools that we sell and tools can be used for the forces of good and the forces of evil.
I'm just curious if there's some sort of test out there. Maybe you guys could create it, that's somewhat equivalent to Daniel Goldman's emotional intelligence or EQ, where somebody would take a quiz or a test on the DigitalMarketer website and they would get a marketer's empathy score out of that. Those people who have high scores, you would seek to have them become clients or you should move them through the customer journey more. Those who have very low marketing empathy, you would just send them on their way sort of thing.
I'll tell you what we do. We screen for it as well as we can during the interview process for team members because, at DigitalMarketer, we don't really have clients. We have members, we have subscribers. We got tens of thousands of members and hundreds of thousands of customers. We don't have clients that we work with one-on-one. We're not an agency or a consultancy or anything in that vein.
I do know this. I won't be in business with somebody. I look at folks as falling in three categories, relational, transactional, and Machiavellian. The relational folks are obviously the ones who I want to work with. They're the ones who are saying, "I'm not here to keep score. Yeah, it's got to work out, the business has to make sense, the economics have to make sense, but if things don't go perfectly, it's fine. We're in this for the long-term."
Transactional people, I can do business with them from a vendor perspective. I'm going to pay them and they're going to provide some service, but I don't see that as being in business together. We're not true strategic partners. We're not aligned in that same way.
That reminds me of Tony Robbins' talks about in personal, intimate relationships. The horse traders or the horse-trading kind of level two relationships where it's always tit-for-tat sort of situation.
Scorekeeping. Frankly, it's a simpler type of person or a company to do business with because you always know what you're in for.
Then, there's the third type that can be difficult to identify because they often mask themselves as relational, but there's just a certain number of folks in the world that are Machiavellian and they're in it, they're snakes, they're going to try to get all they can, and if you're a relational person, you just have to know you're going to get burned every now and then by these folks, and that's okay. It's a part of it. Your victory will be to live a better life and just let them go when it happens.
Amy Africa refers to those folks as juice stealers because they're trying to steal your juice.
And they're out there. It's funny. I don't think they do it intentionally. I don't think they necessarily know it. They oftentimes are dealing with their own untreated, undiagnosed trauma and it's manifesting itself in very unhealthy ways. I'm not gonna quit nor is it my job to fix them, so I'm not going to try to fix them. I'm going to try to purge them from my business and from life as quickly as possible.
There are folks you'll find to have very little empathy but we absolutely try to spring for it for our team members, for them and fully to DigitalMarketer. I think if we can hire the types of folks we want to work with, then we're going to build the type of community. It's all going to trickle down.
I do something with my team for folks who are looking to hire and folks who are already on board. We have them do the Dr. Demartini Values Determination Process, which is going to drdemartini.com and then click on Values Determination, fill out this questionnaire and then it gives you your values hierarchy. What's your highest value, what's your second-highest value, third-highest value, and so forth. Then, if you map your highest values or in this case their highest values with their job function or their duties, then they're going to feel a lot more resonance and they're going to feel more purposeful and purpose-driven when they're working at their job.
That's brilliant. I want to know what their highest values are, not so that I can kick them out if they're not matching mine, but so that I can reinforce their highest values. Let's say their highest value is family, or the highest value is travel, or whatever. I want to help them to be successful in that highest value.
So, if somebody has travel as their highest value, let's give them stuff that would help them to be a more savvy traveler. Let's upscale them in how to get the best travel deals and how to use all the different travel sites that they probably haven't heard of, like AutoSlash and how to use Priceline and the ninja way that gets to these great travel deals that are not an obvious way to use Priceline and that sort of stuff.
I've heard of them. Have to check that out. I think sometimes also with team members, these things can be helpful, at least the personality test can be helpful just to again provide words to concepts that we didn't really know how to pin down.
So, to say to somebody, "Hey, look. You're currently working in sales. You're pinned to a desk, your on the floor, and yet, I know you value travel. The reality is that we're going to have a little bit of misalignment to the extent that there's frustration from your part. That's probably why. Let's have those conversations and let's make sure that we're positioning you in the future. I'd love to get you there. Then we'll use some more training on stage sales. Maybe in the future, we can put you on the road and have you speak from the stage. It's not going to happen yet, we're not ready for it yet, you're not there yet."
I found that just acknowledging that this is what you want, we can't do it yet but we're going both moves towards that, that can be enough to provide some of that momentary relief and for people to realize, "Okay, they do care and they do want in." I realize why it can't happen now but not being mean. There is being pragmatic but if that potential is there, then great.
Now, this is what your career trajectory looks like. I haven't really thought about it from the perspective of values. That's really helpful. Thanks for that.
As marketers and business people, we have to remember that there are human beings on the other side. Learn to be patient and nurturing.
Click To Tweet
It's actually a free assessment you do on the site, just like you can have people go through the DISC assessment for free on the tonyrobbins.com site. That's another one that's a must-have getting the DISC assessment from candidates. The final is at least really helpful. StrengthsFinder is another one. That's not a free one but very inexpensive.
We do that as an executive team. All these things are all going to give you some variation of "you're an awesome person." What I think it can be you're your own delicate, unique flower and perfect snowflake, but where I think it's helpful is in providing that language and a framework for a conversation around, "Here's where you and I are going to butt heads. Here's where I'm going to really piss you off. And here's where you're really going to piss me off."
Now, I know when it happens. I know that I can give that person the benefit of the doubt. I know they don't mean to do it. It's one of the things that we're very big about at our company is teaching, giving one another the benefit of the doubt, and separating the way someone made you feel from the way they intended to make you feel. Understanding people's personality types can not only help with role placement and career progression. They can also help with frankly just not wanting to kill each other when you're working on the same team as somebody is fundamentally different and has fundamentally different strengths than you do. We love it for those reasons for sure.
And you wouldn't want to try and fit a square peg in a round hole. If somebody is not detail-oriented, it shows up in their DISC assessment, and you put them in a role where they have to dot every I, cross every T, you set them up to fail. Don't do that. Have them work on their strengths and not on their weaknesses.
Let's circle back to Dan Kennedy because he just recently passed away, sadly. What an incredible marketer, great human being, a past guest on this podcast as well. What would be some of the biggest learnings that you got other than what we already discussed around spending the most money to acquire a customer?
I think another thing early on, Dan was trying to be like anti-Internet and anti-technology. He was for his own reason, which is another learning from him that I got but maybe touch on next, he wasn't opposed to the Internet for business. He actually liked it and thought it was a great channel. What he acknowledged that so many people who were digital-first or web-first in their business that the Internet, the web, social, these were all just new media channels and they should be treated as new media channels.
I remember people describing themselves, "What do you do?" "I'm an Internet marketer." I remember thinking, "No, you're not." That's not a thing unless if you have an Internet marketing agency or you're an Internet marketing consultant. Very early on, I refused to self-identify as an Internet marketer. I want to self-identify as a publisher. I wanted to identify as a business owner. I didn't want to say, "I'm an Internet marketer."
We want to have a company that begins to advocate for this new profession, known as digital marketing. That's why I own digitalmarketer.com. That was only because digital marketing had become a profession. There now were people who were digital marketers.
To this day, DigitalMarketer, while we have a lot of founders and a lot of entrepreneurs who are members, we don't talk to people like they're an entrepreneur. We don't say, "Here's how to start a business online." We say, "Here's how to market and sell your product." Even these digital channels, if you're doing digital marketing and you're a digital marketer, this is your place.
That acknowledgment with the web, this is all just media. There's media and there are messages. That's it. Those are the two things you got. You got the thing you're selling, you got the message, and you got media. Obviously, you got the market that you're selling to. But it's just, "I got this message. I got this market that I need to say it to. What're the best channels to say it? Maybe the web, maybe social is one of them, but then really hammering that home on the Internet, it's a new media. But it's still its media. Stop pretending like it's something totally new. It really allowed us to approach it by bringing in some of the marketing knowledge and wisdom that had existed before that just happened to work here.
I know how to produce a great Facebook ad because I know how to produce a great 30-second radio spot. Then, you realize that Facebook's just like the radio. You realize that most website sales pages and video scripts really should look a whole lot like longer form direct mail, that e-commerce should look a lot more like catalog type things. It's all kind of the same.
That means I didn't have to relearn a lot of stuff. Then I could go and read all the books and not have to pretend I'm doing something new. If I was to say three big lessons from Dan Kennedy, the first would be, he or she who's able and willing to spend the most to acquire customers wins. That's the philosophy that started everything I've ever done and everything I've ever taught.
The second was, understand that the media is not the business, that the media is simply how you get the message out there and the message is pre-eminent.
The third thing I would just say is the importance of personal autonomy.
There's one thing that Dan valued above anything else. I was his own personal autonomy and that's why Dan said, "If you want to talk to me, you got to fax me. Cellphone? I don't have a phone number. You can call, we can't talk, we can't text. I don't have an email address. I'm not going to check the email. My time and my life are going to be my own. I'm going to live it how I want to live it and I'm not going to let my business encumber that." If somebody's going to work with me, they are going to have to play by my rules.
Dan took it to an extreme that I'm unwilling to take it to. I don't really want to take it to. But seeing somebody could take it to that extreme told me that I didn't have to bend to the wills and whims of customers and clients in the early days. It's the reason that I'm privately and happily married with four kids for almost 17 years. Those are the things that I learned from Dan.
Awesome. I remember having to fax his assistant who then faxed Dan to set up the time for the podcast interview. That was fun. I actually had to sign up for a PamFax account because the last time I faxed somebody was so long ago, I didn't have a mechanism to fax.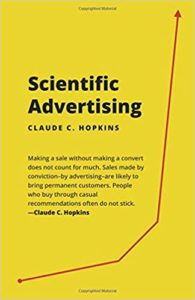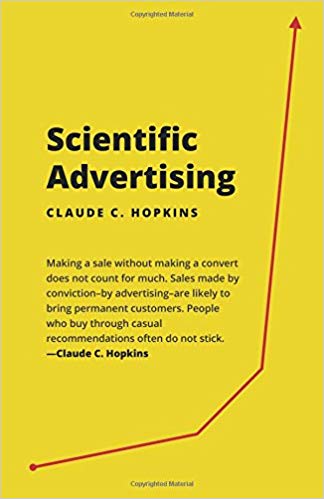 The old wisdom that people just tend to dismiss because it's 100 years old or whatever, you're missing something huge or valuable like Scientific Advertising. Claude Hopkins came out with that in 1923. That is a very valuable book.
And it's amazing that almost nobody's actually read it. Breakthrough Advertising by Eugene Schwartz, I think from the 60s. I think it's one of the best marketing books ever written. Most people have never read it or heard of it.
That thing costs hundreds of dollars to buy that on Amazon. $400 or something.
It's worth every penny. I bought it at least a dozen times. Actually, Brian Kurtz publishes it. If you do a Google search for Breakthrough Advertising book, you can buy it directly from Brian for less than what it cost in Amazon. Still pricey, but it's an actual, formal, physical publication of it.
Ogilvy on Advertising, phenomenal book. Maybe it's not super direct response-heavy, but Ogilvy respected direct response. I think so many people don't know their marketing history. If you come to the DigitalMarketer offices, you will see our office is decorated with large scale prints of old school marketing ads. Whether it's Ogilvy, The Man In The Hathaway Shirt, or Charles Atlas' Hey Skinny comic book ad that ran forever and ever, or the They laughed when I sat down at the piano—But when I started to play!
All of these ads are all over the office because I want the people that work here to know that we're not creating something new. We were leveraging new more modern technology and media, in the same way, that the first advertisers who had TV, the first advertisers who had national print, and who had trade journals. In the same way, they leveraged that new media but they brought with them the tried and true tested practices that just worked. I want everybody here to know that.
I want everybody here to know that we stand on the shoulders of giants. I don't expect to be remembered and I'm okay with that because I know that all I really did is supply what other people did more successfully in more difficult media or more difficult environments. I think we have to give for the people around us and help a lot of businesses, I'm more than content with that.
Very good. I've said a number of times when I'm presenting at conferences, this concept that business is a spiritual game. I just said it again at Affiliate Summit East a couple of weeks ago. Somebody came up to me and said, "I really love what you said about business being a spiritual game. Tell me more about that," and so forth, so we had a conversation about it. I want to ask you. What is your first thought or inclination when you hear that concept of business as a spiritual game? And that it is a spiritual game. What would you say to that?
I think it's a matter of sequencing and proportion to where you are in business. There's this idea of the warrior philosopher. This idea that you see, like with Sun Tzu and with Marcus Aurelius, these warriors who became philosophers and they became very introspective. I think early on in the business, we're just trying to survive. We're just trying to not get killed. It comes down to Maslow's Hierarchy of Needs. At our basic level, we just want to survive and we just want to make it.
At some point, you got to transition out of that survival mode. At some point, you have to transition into a mode where you begin to think a little bit bigger, a little bit more selflessly, and maybe a little bit more spiritually about it. It has to become more about just the utilitarian aspects of making money, buy food, eat, not die. If we never graduate beyond that, then I don't think that we're ever going to have anything truly fulfilling.
I think that it can be very good for folks like you and I, and for the people listening to talk about the importance of that, but I don't want to forget the person who's like, "What the hell are you talking about? I'm just trying to make some sales so I can feed my family," because that's real, too. I've been there, I've gone on the other side of it, and I've been brought back there for stupid things, having to like this hustle and make it work.
I think it's important that wherever you are, to acknowledge that reality, but I do think that at some point you need to graduate from it, or you turn into this miserable person who's just in it for the next win or the next high. I've seen people like that and they're not very happy. They don't do a lot of great things in their life, things that are really going to benefit beyond their own circles. I think it's something that everybody needs to graduate to, for sure.
It's like the top of the pyramid in Maslow's Hierarchy, self-actualization.
Self-actualization but I think before you can be a warrior philosopher, you first have to be a warrior. Then you can talk about what it's like to be a warrior. A lot of people just wanted to be a philosopher and they just want to pontificate, make YouTube videos, and say stupid crap. Sometimes, you just got to get out there, sell some stuff, and make money.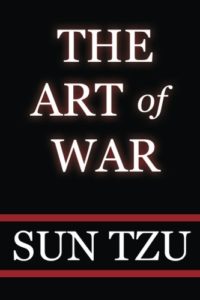 Sun Tzu wrote The Art of War. What's your favorite quote from Sun Tzu?
I cannot think of the exact quote, but it basically speaks to the person who stands in the gap, can withhold an army of thousands. That idea. Again, I don't know the exact quote, but it's this idea of if we can really own this narrow space, then we will be able to withhold a hundred thousand person army strong.
If you have seen the movie 300, that was an actual time where that occurred. It is a truly tactical military strategy but it's also a phenomenal business strategy and one that I have lived out. When I was first getting started, I want to own my tiny, narrow little gap that I can hold myself. Then, as my organization grows, as I get more help, as the team grows, as the brand grows, now we can occupy a slightly wider gap. And as it continues to grow, we can occupy a yet wider and wider gap.
Maybe at some point, you can occupy the plane, you can hold the plane, and you can own the plane. But I think far too often, people want to own the plane before they can really even hold the gap. That, for a business strategy, is one that I hold very near and dear. And when I forget it, it's when I get humbled really quickly, and I forget it all the time.
I forget it all the time because we're smart and we're good, so we're going to go into a new market, we're going to saunter to this new market, and we have the same army behind us as we do in the current market that we're in. I'm constantly reminded that, "It's now you, dummy. It's not you. It's not your brain, it's not your wits, because you're not even as smart as you think you are.
It's been this team that's been built around you. It's the customer base that supports you. It's the brand that's been built up on the back of that. That's how you're able to hold the plane in the market that you're in. You don't get to go to a new place and new plane where you don't have that brand, you don't have that customer base to support you. You don't have a team surrounding you and then act like you freaking belong there, because you don't. Go stand in that tiny, narrow, little gap and see if you don't get your butt kicked." That's how it is. Again, I hate that I can't remember the exact quote.
My favorite quote, by the way, from Sun Tzu is, "Tactics without strategy is the noise before defeat."
Absolutely.
That's a good one.
Boulders on eggshells is another good one, too, but that one I can get a little cocky on.
Make them feel like boulders upon eggshells.
Okay. So, my last question. What do we need to do to prepare for the brave, new world that is AI (artificial intelligence)? As marketers, what should we be doing to future-proof our businesses and our careers, as AI gets smarter than us, eventually?
I think AI's already here. You're already seeing AI in a lot of the programmatic advertising that's occurring. AI is being rolled out in most of the tools that you are already using. I think AI is one of those things that's going to become fairly evenly distributed fairly quickly. I'm not saying that it won't be important and that it won't disrupt. I just think that it's disrupting fairly equivalently across all of the different industries at the same time.
Most AI is I, not the A. People are calling it artificial intelligence but they have a very simple, rudimentary algorithm, that ultimately they got a building full of humans that are actually double-checking this stuff. Frankly, a lot of the claims of AI, from what I've seen and from what I've directly experienced are overblown today.
As we record this today, it's not delivering on the promise. It's the same as the flying car. Where's my freaking flying car? The Jetsons promised me a flying car 40 years ago. Where is the flying car? It ain't here yet. It is showing up in places, but it's showing up in the tools and the platforms that everybody's already using.
So, everybody is getting the benefit of it at the same time. Everybody gets the benefit of something at the same time, or frankly when everybody gets a negative result at the same time. Really, the way that you survive and thrive in this is to still just be better than the next person.
I see this as the two guys who were walking into the woods and they come upon a bear. One of the guys leans down to tie his shoe and his buddy says, "What are you doing? There's a bear coming. We got to go." The dude who's tying his shoes says, "I don't have to outrun the bear. I just have to outrun you." I think that that's the case.
Anytime that we have these big things that are coming, that are fairly evenly distributed, that are being embedded in different technologies already, we don't have to be better than AI. We have to be better than our competitors because we're all getting it at the same time. It's not like the Internet happened and it wasn't evenly distributed. Some people saw it for what it was and took advantage of it. Others took forever to do it.
AI isn't something where you can just go and sign up for it. I can't go and buy an AI domain name and get an AI hosting account. Now I have an AI and the person next to me doesn't. It's held by a few and it's permeating everything.
I'll tell you the thing that it will never replace. I just don't see it replacing humans. I know all my buddies, you maybe one of them in the singularity space and things like that—I have so many treasured friends who are in this—I'm not buying it. I just think that humans are amazing, fascinating, wonderful creatures and we are so complex, irrational, and illogical, that to think that a machine, that a computer ever match the utter irrationality of a human being, I just don't know how you begin to program that when we still don't know what the hell we're thinking at any given time.
Maybe it will come. I just don't think it will just be in my lifetime. Either way, I'm not that worried about it. I think the name of the game is to produce better offers, to have messaging that speaks more clearly and cogently into the current reality that your customers are experiencing and promises hope for a brighter tomorrow.
I think If you can do that, if you can cause someone to yearn—that's a distinctive human experience—then I think you will always have a job and I think you will always have a role to play in the society. That's what marketers, at the end of the day, all ever do. AI will be cool, but I'm not holding my breath for Skynet.
If it's Skynet, then all bets are off. Well, thank you so much, Ryan. This was a lot of fun. Very informative and illuminating. If somebody wanted to take the next step with DigitalMarketer, sign up, become a member, learn from all your wonderful courses, go to Traffic & Conversion Summits, sign up even for War Room, where can they go?
Let's keep it simple, so digitalmarketer.com. Go sign up for a free account. If you like some of our free offerings, maybe you'll like the stuff that costs money. If you're around the San Diego area in late March, early April, you should definitely come by Traffic & Conversion Summit. It's trafficandconversionsummit.com and we're planning to export that event to Europe and Southeast Asia in 2020. So, definitely get on the list if you're interested and excited about that. If you're a seven- or eight-figure business owner looking for a community of like-minded folks, check out warroommastermind.com.
Awesome. Thank you again, Ryan. And thank you, listeners. We'll catch you on the next episode of Marketing Speak. This is your host, Stephan Spencer signing off.
Ryan Deiss isn't the only expert marketer from DigitalMarketer.com to have been on this show. I've had a number of DigitalMarketer.com execs on the show over the years including Roland Frasier episode 70, Molly Pittman episode 37, Christine Haas episode 51 and Justin Rondeau episode 121. I highly recommend you check out all of those episodes. 
Important Links
Your Checklist of Actions to Take
Determine what the blind spots are in my business so that I can plan a path to overcome my biggest obstacles. 

Prioritize the highest value tasks first and delegate less important tasks. This will ensure I'm making progress in growing my business rather than getting lost in the weeds. 

Use a proven framework to guide decision making within my business. Check out Stephan and Ryan's recommendations under important links on this episode's show notes.

Document my internal business processes so that I can easily train new hires and optimize my systems.

Never stop learning. Acquire new knowledge through my peers, books, podcasts, courses, and mentors.

Map out a stellar and foolproof customer journey. My business' most vital asset is its customers.

Make my marketing more human. Understand how human behavior works on a deeper level so that I can be of better service to my customers.
Learn more about Customer Value Optimization. This is Ryan Deiss' methodology for a highly effective digital marketing strategy.

Register for Traffic and Conversion Summit's upcoming events in 2020. 

Check out Ryan Deiss' War Room Mastermind, an organization that gives business people a chance to work with some of the most brilliant and successful minds on the planet.
About Ryan Deiss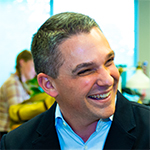 Ryan Deiss is a best selling author, founder of multiple companies collectively employing hundreds around the globe, and one of the most dynamic speakers on marketing in the United States today. Ryan is the founder and CEO of DigitalMarketer.com and Founder and Managing Partner of RivalBrands.com and plattr.com. Ryan is the creator of the "Customer Value Optimization" methodology and have introduced and popularized many of the digital selling strategies that modern companies now take for granted. Ryan is also the founder and host of the Traffic & Conversion Summit, the largest digital marketing conversion conference in North America.