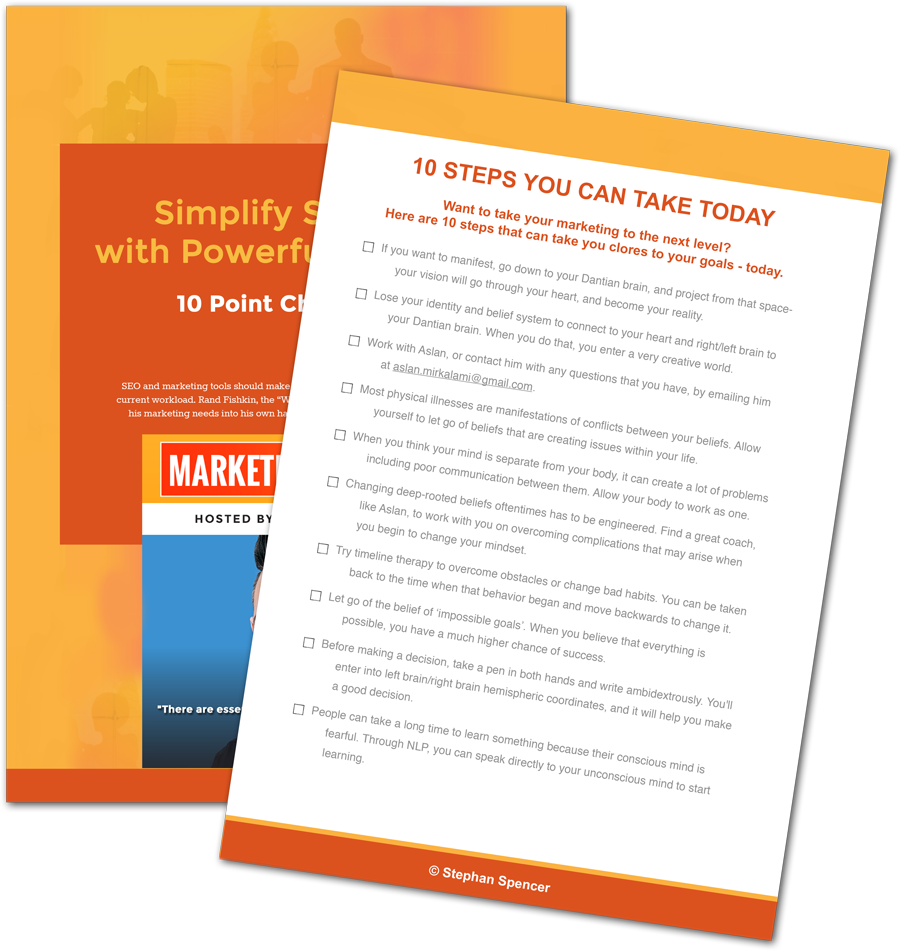 Get into action! Download your FREE Checklist
Put the most important tips from this episode to work and take your marketing to another level! Get your free 10 Point Checklist for your next actionable steps.
This Week's Guest:
There are three "M"s in transforming your business: mentors, modeling, and masterminds. In this episode, we'll hear about all three from the remarkable Roland Frasier. Roland is a principal partner at DigitalMarketer.com, which produces the Traffic & Conversion Summit. If you don't recognize DigitalMarketer.com in that context, you may recognize it because we've had two guests from the company on previous episodes of this podcast: Molly Pitman and Christine Hass.
But let's get back to Roland. He started in real estate at 18 years old, then went on to found one of the top law firms in San Diego. From there, he transitioned into marketing. Now, he's a principal at Idea Incubator, which owns DigitalMarketer.com and NativeCommerce.com. He and his business partners, Ryan Deiss and Perry Belcher, have four companies on the Inc 5000 list.
Find Out More About Roland Here:
Roland Frasier
Roland Frasier on Facebook
@RolandFrasier on Twitter
Roland Frasier on LinkedIn
In This Episode:
[01:52] – We hear about how Roland got started in online marketing, and how he made the transition from law. He also discusses getting to know Ryan Deiss and Perry Belcher 

[08:04] – Roland talks about the

War Room

, a high-end mastermind for people who are doing business. The minimum to join is doing 7 figures a year in business, he explains, then goes into more depth about the group itself.

[14:13] – Stephan reveals that he hasn't participated in the War Room yet, but has been involved with Tony Robbins'

Platinum Partnership

.

[15:00] – What makes the War Room different from other high-level masterminds?

[17:50] – Stephan steps in for a moment to talk about Tony Robbins.

[19:03] – Network and perspective are major foundations, Roland says, and explains that the perspective offered in the War Room is invaluable.

[20:10] – We hear about the fee for being in the War Room. Stephan then spends some time talking about

The Society

.

[24:20] – What did the evolution of working with mentors look like for Roland?

[28:49] – Roland talks about how to incentivize a mentor to work with you. He also explores the difference between coaches, mentors, and masterminds.

[33:22] – Roland is mentoring his sons, but also tends to be fairly available to help people who ask. He doesn't have any formal mentees, but has quite a few people to whom he provides ongoing support.

[34:42] – We hear more about Roland's business relationship with his 25-year-old son, who was interested in what Roland did from the time he was a teenager.

[38:14] – Stephan discusses the importance of not giving handouts to people (particularly your children) too easily. Roland agrees, and elaborates on the point.

[39:26] – Does Roland have his son pay to take part in War Room events? It's a trade, Roland answers, and explains the arrangement they have.

[40:50] – In response to Roland's talk about his son, Stephan talks about his daughter,

Chloe Spencer

, who has actually been on Marketing Speak.

[42:59] – Roland explains how his son found a business contact.

[44:14] – We learn about Roland's relationship with

Frank Kern

, who has become one of his closest friends.

[46:31] – Stephan and Roland talk about the idea that you're the average of the five people you hang out with the most.

[48:27] – One of the key things Stephan uses when he's deciding whether to hire someone is the "honesty test," which he explains here.

[49:40] – Roland offers some final advice.
Links and Resources:
Roland Frasier
Roland Frasier on Facebook
@RolandFrasier on Twitter
Traffic & Conversion Summit
War Room Mastermind
Platinum Partnership
Genius Network
Time Collapsing Academy
Flight Club Mastermind
Maverick1000
The Society
The Socratic method
Chloe Spencer (on Marketing Speak)
Molly Pittman (on Marketing Speak)
Christine Haas (on Marketing Speak)
Gary Halbert
Bread of Shame