"Focusing on individual tactics is to get stuck on tunnel vision; focus on a more holistic and intelligent approach and look at the 40,000-foot view." These are wise words spoken by Gareth Simpson, my guest on today's show. Gareth founded Seeker Digital—a link outreach agency for e-commerce, enterprise and SaaS brands. Within their first five years, Seeker experienced over 1600% growth, which is mind-blowing by anyone's standards!
Gareth has been an SEO and link building expert, recently doubling down on AI for his clients. In this episode, we talk about the future of Google search, the current AI situation, and the mistrust people have around its potential negative implications. We discuss the bias of AI, which, of course, correlates to the dataset it's using as training data. Since AI is in its infancy or pre-teen years, we're all responsible for molding and shaping its capabilities. So, it is an amazing time in tech and marketing, and in a broader sense, for society at large.
This episode is chock full of real-world SEO experience and insight into the future of AI, with a wide-lens view that helps bring this pivotal moment in human history into focus. So, without any further ado, on with the show!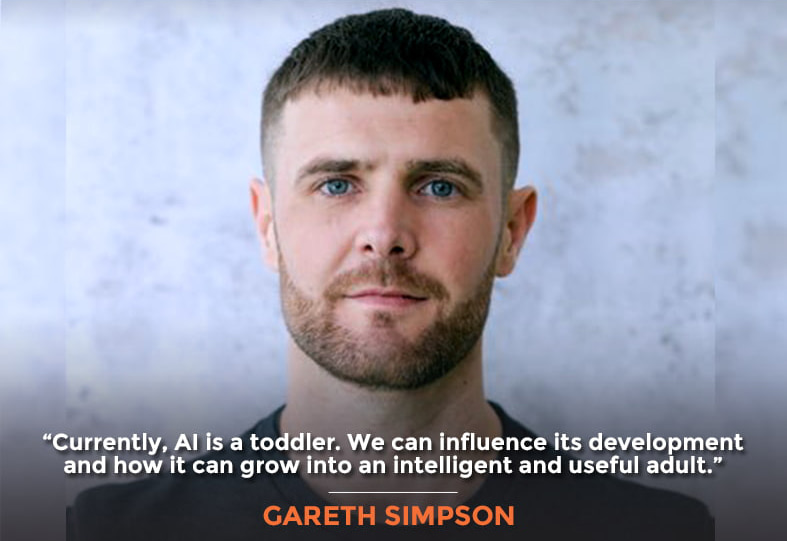 In This Episode
Gareth, it's so great to have you on the show. 
Thank you, Stephan. I'm delighted to be here. 
We've known each other for several years. We were introduced by a mutual friend, Michael Geneles, co-founder of Pitchbox, an incredible SEO software specifically for link building outreach. I know that's a tool that you and my team use. Do you want to comment on the synchronicity of this "chance meeting" of Michael putting us together when we happened to be in the same city for an event and how that turned out?
It was one of those light bulb moments when I received that email from Michael introducing us because I'd been reading your books. I learned technical SEO from you and your co-authors as well. It's no secret that I'm a big fan of Pitchbox, which powers a huge part of our link building operation at Seeker. And Michael, Alex, and the Pitchbox team, I think you asked them for some link building recommendations, and Michael put us in touch, which was fantastic news. Then, we met when we were speaking at Brighton SEO. We met there, and then we had brunch. That was six years ago now.
Yeah, we've known each other for six years now. We've collaborated on shared clients. You've been getting some coaching from me, and we've been just friends and colleagues over that time. It's been such a joy and an honor to know you.
Funnels turn visitors into leads and leads into clients.
Click To Tweet
Thank you. I appreciate it. We spent quite a lot of time together, especially with the coaching and mentoring, which has helped me a lot both with my agency and then, unexpectedly, certainly with my personal life.
That's awesome. I'm really happy to hear that. Please share something that excites you about SEO, link building, AI, technology, marketing, or anything that is just something peeking out over the horizon for you and all of us. What's jazzing you right now? 
I've been obsessed with links, building links, and the whole spectrum of link building, from the science to the creativity and the campaigns. I still enjoy running a campaign myself. I get the endorphins from winning a pitch or landing a great placement for one of my sites and clients. That's been my main focus professionally over the past seven years with Seeker. 
Even before then, I was really into link building. I've been doing SEO now for 15 years. I started as a teenager and invested so much time into learning it initially because I was an SEO, and technical SEOs did the full spectrum of work. But this one area of SEO, which was the most important—but also the hardest and the thing I was worse at—was link building. I got into the link building and made an active decision to get better at it. That eventually led to starting Seeker as a specialist outreach agency. 
There will be [AI] risks and threats that need to be mitigated and managed, which is what society is figuring out now.
I thought that would never change. It certainly hasn't changed, but the artificial intelligence revolution has just got me so enthused and excited that's my new thing. I'm so obsessed with it right now. Any content, any course, any experiments, any service lines that I can roll out, I'm on it. I'm doing it right now. I'm so excited about what's to come, what's around the corner for not only the industry but also for society as well. 
It's like the fourth industrial revolution or something. It's going to change everything.
Whilst revolutions have gone like this, all of a sudden, it will go like that and become very exponential, which is scary. There will be risks and threats that need to be mitigated and managed, and that seems to be what society is figuring out at the moment, but I'm championing the proper use and development of this tech. 
For me, the idea of being fearful about AI or even just being worried about it does not help take proactive, positive actions to help curb the potential negative influences of AI. That I encourage, of course. But losing sleep over AI doesn't help anybody. 
My wife, Orion, has a great expression that worrying is praying for what you don't want. So, why are you doing that? Why is anybody doing that about AI or anything else for that matter? If we can just get into a place of trust that everything that's happening to us is happening for us individually and generally across all of humanity and that the hand of God is behind everything that happens—absolutely everything, there are no exceptions—then you can just relax and know that you're being guided through all of this, everything happening in your life. Then you can look for opportunities and ways to reveal light and do good through AI rather than just waiting for the other shoe to drop in some inevitable dystopian future to happen, like some horrible sci-fi movie that keeps you up at night. 
Exactly. You've just reminded me of Mo Gawdat's book, Scary Smart. He has three rules, and certainly one of them is it's inevitable. 
I watched the Lion King Theater, and seeing Timon and Pumbaa on stage singing Hakuna Matata made me think about this. 
It's a great musical, by the way. I have seen it as well. 
It's very good. One of the best, for sure. We have to be optimistic, and it's inevitable. I went through this when I first started experimenting with AI for link building campaigns and using some, not just GPT, which still at the moment feels very much input-output, but that's not the full capabilities of this technology. It's when you get input, then it goes output. It's prompting itself effectively and guiding its agents, controlling over agents. 
I tried some tools like AutoGPT and Baby AGI that simulate artificial general intelligence (AGI), which we are so far away from, maybe not so far, but certainly that technology isn't mature yet but will be one day. We'll know about it when it is. They are watching what they can do and putting in a prompt. 
My first prompt was to make a link building campaign for Seeker. I gave it a small objective, an outcome, not the steps. Then, watching it kick into life. It went on for hours. I just left it running, and I kept working. I looked at it, and it started writing its code for an email client. I thought, "Oh my god, is it going to try and build an email client to start sending outreach emails?"
I thought, "This was just an experiment. I wasn't serious. Where's the stop button? Will it be able to pull this off and start sending its own outreach emails?" 
Then, it hacked into your LinkedIn and started sending LinkedIn connection requests.
We need to start caring about the influences and inputs we give to software because it will then learn and replicate our biases, strengths, and weaknesses.
Exactly. Watching that, I went through the seven stages of grief, and one of the first stages was shock and disbelief. A lot of people are going through that right now with AI. The resistance and mistrust are reasonable and understandable, but it's not AI that we need to trust or not trust. It's the humans that control it and that are designing it. 
And that the AI is based on the bias that an AI has based on the data set it's using as the training data. 
Exactly. In his book, Mo talks about thinking of AI as a young child. We can influence its development and how it will turn out when it's older, when it's more intelligent, and when it's an adult. We need to start caring about the influences and inputs we give this software because it will then learn and replicate our biases, strengths, weaknesses, etc.
Speaking of Scary Smart—a little corollary to that—is being street smart about AI. One great example I was just recently introduced to is the ChatGPT plugins. You need to examine them to know what they're doing.
Exactly. This is where some of that mistrust comes from and why we can't trust it right now in mission-critical applications and things for our clients and replace all of our SOPs (standard operating procedure) with AI-based SOPs because we don't know what's going on in that black box—the processing. Generally, we want to audit and sense-check software as well. 
We have all these fantastic tools in SEO, and I'm very grateful to use them, but I also know that I can always go back and manually do the same activity using a caller and some spreadsheets and things and check the workings out. I know how the software's behaving, but with AI, it's much more unpredictable. 
Also, little things like this could be built into the software, which advantage or disadvantage certain persons, groups, or brands. And that's a problem that we don't know. I don't know how we're going to fix those workings. We were seeing it with SGE (Search Generative Experience) as well. Where's it coming up with its answer? We just had an output that said we use these sources and these algorithms to come up with this answer, and then we might trust it a lot more.
The only thing I can think to do is—I don't know if it's even technically possible to reverse engineer how it got its answer—but maybe there'll be an AI auditing tool that will try to do that for you. We can audit AI's behavior, and it can tell us how it came up with the answer so you know whether to trust it or not.
As an easy, quick move in that direction, you can ask ChatGPT to score in terms of validated sources and accuracy of the information the answer had just previously given. "On a scale of 1 to 10, how accurate and validated is this information you gave me and all the sources?" It's a 2 out of 10. 
"Please now substantiate all claims you made and provide truthful information about the sources and everything you gave me." "Oh, okay. You've made a bunch of stuff up." Those are called hallucinations for those who are familiar with that terminology. That's how an LLM works. It just makes up the next words. It may make something up that sounds credible and true, but it's not. 
When I was looking at this AutoGPT experiment, is it doing these things, or is it as simple as often said, just predicting the most likely word to come next in a string, which is how it can appear very intelligent? GPT, ChatGPT, and LLMs don't encompass the whole of AI. AI is so much bigger than that. I understand why some people say, "Oh, this is not going to change much," or "It's low quality work."
GPT, ChatGPT, and LLMs don't encompass the whole of AI. AI is so much bigger than that.
It depends on what you apply it to. It will be low quality with certain things. It's going to be so much better than humans at other things. What you just described there with the hallucinations and things and having such a low integrity score on output, you have to put all of that into your prompts, don't you?
I've heard you talk on the podcast before about large prompts, and every time it does something wrong or hallucinates in some way, you have to go back and add that to your prompt. "Don't do this. Behave in this way." Then, over time, you start to narrow down its flexibility and what it will go out there and do until it's doing exactly what you want in the way that you want it to do it.
Right. You confine or constrain the output to just be like web browser output. I covered this in a previous episode with Peter Swain. The super prompt from Brian Roemmele that he gives as an example is a hypothetical or theoretical web browser of the entire corpus that GPT-4 uses. 
After you've supplied the website address and the theoretical year you're browsing, you will have your input. Then, you start selecting links by just providing the number next to the link. With a long enough, what Brian Roemmele calls super prompt that encompasses everything and constrains the output enough that this becomes workable, you can be surfing websites into the future using ChatGPT now. It's pretty wild. 
That's a very creative and very impressive use of AI. It sounds super fun and could be helpful for many things. 
Brian Roemmele is an incredible AI researcher. He was on Jordan Peterson's podcast. It's a phenomenal couple of hours-long episodes and highly recommended for those who haven't listened.
It's a brave new world. It's a very exciting time to be alive. It reminds me of the old Chinese curse, "May you live in interesting times."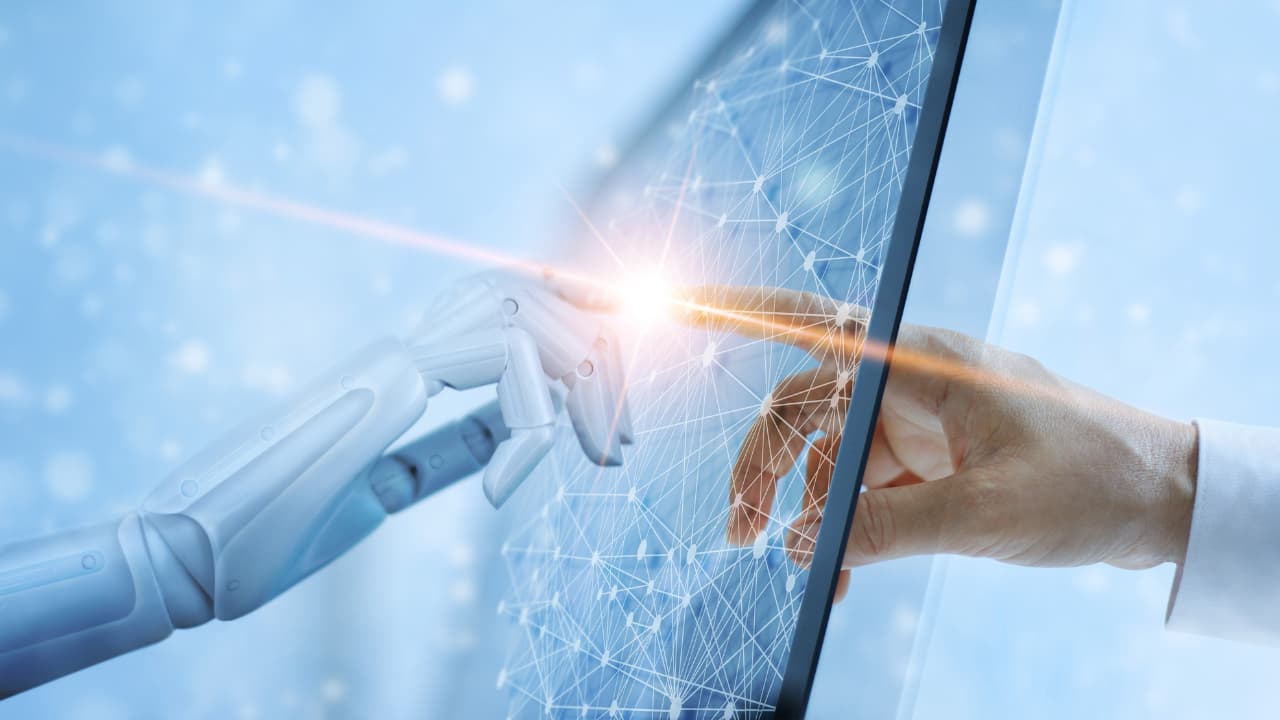 Let's talk about AI, specifically about link outreach. Link building is a very big discipline. Link outreach is an aspect of it. Pitchbox, which we briefly discussed at the beginning, is an essential tool for link outreach. There's more to link building than just the outreach. You have to create remarkable content; some SEOs call it skyscraper content. 
There is a lot of other stuff to do in the strategy and planning, but for doing the outreach part, Pitchbox is an essential tool. How does AI come into play with the outreach portion and maybe even Pitchbox specifically?
Bringing it back to the here and now to the present and how we can use the current AI technologies in our work and our everyday lives is something I'm working on every day and have been doing since 2018 or 2019. I've always enjoyed learning about AI in the future and technology. 
In 2019, I hired an AI developer to work at Seeker. I've also hired an ex-Amazon engineer who worked on language models at Amazon to consult and guide me.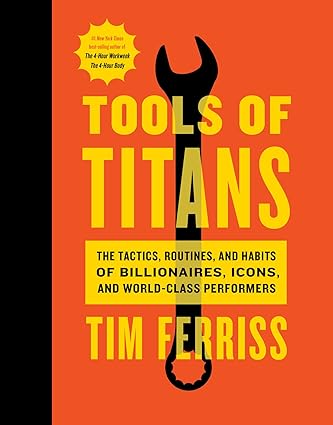 I built some cool stuff, very proof of concept, and talked about some of this at Brighton SEO. Some of those tools I've built have been used at Seeker internally for a while, but some things I wanted to try and achieve weren't possible back then. I was using Pitchbox as the whole platform. The thing I love about Pitchbox is the APIs (Application Programming Interface) and the integrations that it's got. Even if it hasn't got a feature you want, you can build it on top of the platform yourself.
For example, back in 2019, I realized that our research team's job was to find the contacts at a specific website, who got the keys to the website so that we could send our pitch, our guest post, our press release, our campaign to offer them some value in exchange for a placement on their website. That research element is super important but also boring and laborious, and there was quite a high turnover of staff on that team, and I understand why.
I don't mind doing a bit myself now and then if I run a small, very targeted campaign. But when you're doing it for a whole agency en masse all day, I can see how that's boring. I built my custom scraper and hooked it up with MonkeyLearn, which helped me recognize job titles. I'd input the job titles I would want and then any variations of those titles. 
The editor, head of marketing, writer, or somebody at that website would be interested in our link pitch. I extracted those people automatically, then used Clearbit, Rich Contacts, FullContact, and Hunter.io, those data enrichment tools, to find their LinkedIn profiles, a little bit about them, and then pipe that information into Pitchbox.
Now, that was a very effective method of speeding up the outreach process and also taking my poor team, who were there doing this mundane work all day, to take them away from doing that. 
Zapier is brilliant for prototyping stuff. The problem is it gets expensive after a while.
Otherwise, you're using a tool like Hunter.io to find LinkedIn profiles and email addresses, but then you're copying and pasting, and then you're using the next tool, then you're copying and pasting there, and then the next tool. You can connect all the dots and not have to use Zapier Zaps to connect all of them. You can just use an AI to take control of that overall process. 
Exactly. Zapier is brilliant for just prototyping stuff out of it. It gets expensive after a while. If you want to scale this out, manually coding it with direct or custom integration will save a lot of money. 
I had to stop some of these things I tried because the scale burned through so many API credits, and I wanted some autopilot link building tools. You'd hit a run, and you'd go and scrape all these sites and enrich all these contacts, and then I'd be left with a massive bill at the end. Much like prompting, if I didn't have the targeting just right, I've just gone and paid for a load of data I've no use for. 
That's one of the things that's super cool about some of the latest Pitchbox things that have just come out, and I've just had a sneak preview of some of their super cool AI features. They've baked all this stuff natively into the platform at no extra cost. 
They've got Open AI integrations. They're accustomed to their models because they've got years of outreach data. Probably, the first thing they did when they went to ChatGPT was, "Write me an outreach template, a link pitch template." What it produced is pretty good for a first run. It's a bit generic. 
Many of the outputs can be generic because it's trained on the World Wide Web. That's not always going to be the best source of knowledge to train a model on, which is the beauty of being able to tune your models, which is what Pitchbox has done in their outreach emails. They've run giant data studies on characteristics of outreach emails that work well. I know they've collaborated with Bibi Raven, an absolutely brilliant link builder and one of the reasons. 
Much like prompting, if I didn't have the targeting just right, I've just gone and paid for a load of data I've no use for.
One of the many reasons she's a great link builder is the humor and charm she puts into outreach emails, breaking the mold. It's that pattern-interrupted sales. They've got a goldmine of knowledge there, tuned their models, and hooked that up to Pitchbox. Now, anybody can write great outreach emails, which is great because anyone can write great outreach emails, but it is also not so great for link builders. It depends on how you look at it, of course. 
What's happened is the bar is just rising. It's getting higher. Before that, all you needed was a great outreach email. They thought, "Great, this person's confidence because they're using humor." I like the confidence that makes me feel reassured about their value proposition because if they believe in it, then I believe in it. 
It's well-written, so I know they're good writers. They've learned about me. They've personalized the email. They know what books I'm into, or what conference I spoke at, or they know about our latest investment round and that breaks the sentiment there. We're all suckers for, I certainly am, if something's being personalized, I think, "Okay, I'll give you the time of day. I'll listen to your pitch just because you've spent that much time perfecting it." If I feel like I'm being templated, we're all just blind to that now.
A great example of this is if you take the principles of influence. Dr. Robert B. Cialdini wrote the book Influence, which is an incredibly timeless book. He was a guest on this podcast, an incredible episode. One of his seven principles of persuasion or influence is unity. If I were to say, "Hey, I just happened to notice you also went to the University of Michigan. I went there in such a year, and we just missed each other. By the way, I'd love to contribute an article on X, Y, and Z." That unity principle works, but you can't scale that until now using a tool like ChatGPT, incorporating it into the pitch process. 
Exactly. We can scale out that level of care for each prospect. But is that a good thing? That's subjective, but certainly, what it means is you have to get better. We have to get better. Just having good outreach emails is not going to be enough. We now have to find that next competitive advantage to stand out because you can scale out that personalization because each email can be unique using Pitchbox and GPT technologies. 
That's exciting, and I'm so impressed with the team at Pitchbox for taking on board the suggestions you came up with and baking them into the core product.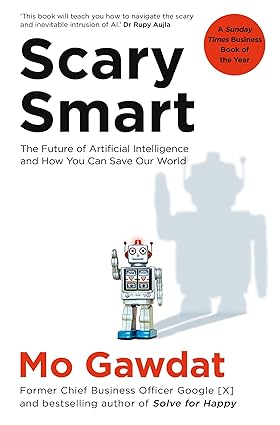 We often hang out, have called in the evening, and geek out on link building. I learned from them. Hopefully, they learn from me, too. We have lots of fun because link building is a fun game I enjoy. They're rolling out lots of really cool stuff. 
You were really at the cutting edge of things in the early days. I didn't attend that presentation, but I remember you and I speaking about the one you made at Brighton SEO in 2019. I loved the title, by the way. You're so clever. LMFAO: Leveraging the Machines for Awesome Outreach. That was clever. 
That was one of my first big conference talks. I've come back, and I've parked it all for a little while. The pandemic, R&D, and this technology had to be paused, and I had to focus on the agency instead of thinking in the here and now and 5–10 years ahead.
Many of these ideas I was trying to do are much more accessible. It's cheaper, easier, much better and more powerful. I'm back at it again, conducting R&D and seeing how I can use AI to automate SEO tasks, primarily link building, but also with building sites and programmatic SEO. I've got my first-ever AI consultancy gig, which has been super fun. 
That's awesome. 
I'm just advising everything I learned. It gives me a focus as well. Everything I learn, I'm speaking to a CMO at a very big organization. He just wants to talk to me weekly because he's at the top of this organization, and he wants all of the AI knowledge and things to be condensed down so that he can apply that to his planning for the future and the threats and opportunities it poses.
That's awesome. Speaking about speaking at conferences and Brighton SEO is a really big opportunity that started for you in 2019 or so. I recall talking about how the social proof of that could be further leveraged and the other conferences you speak at, too, not just Brighton SEO, and you take that on board. 
I remember finding a photo of you from the Chiang Mai SEO Conference. It's a picture of you and the entire audience. You're speaking to hundreds of people on stage, and I'm like, "You got to use that image. That's incredible social proof." I just noticed it's on your homepage for your personal homepage on garethsimpson.co.uk. Good job!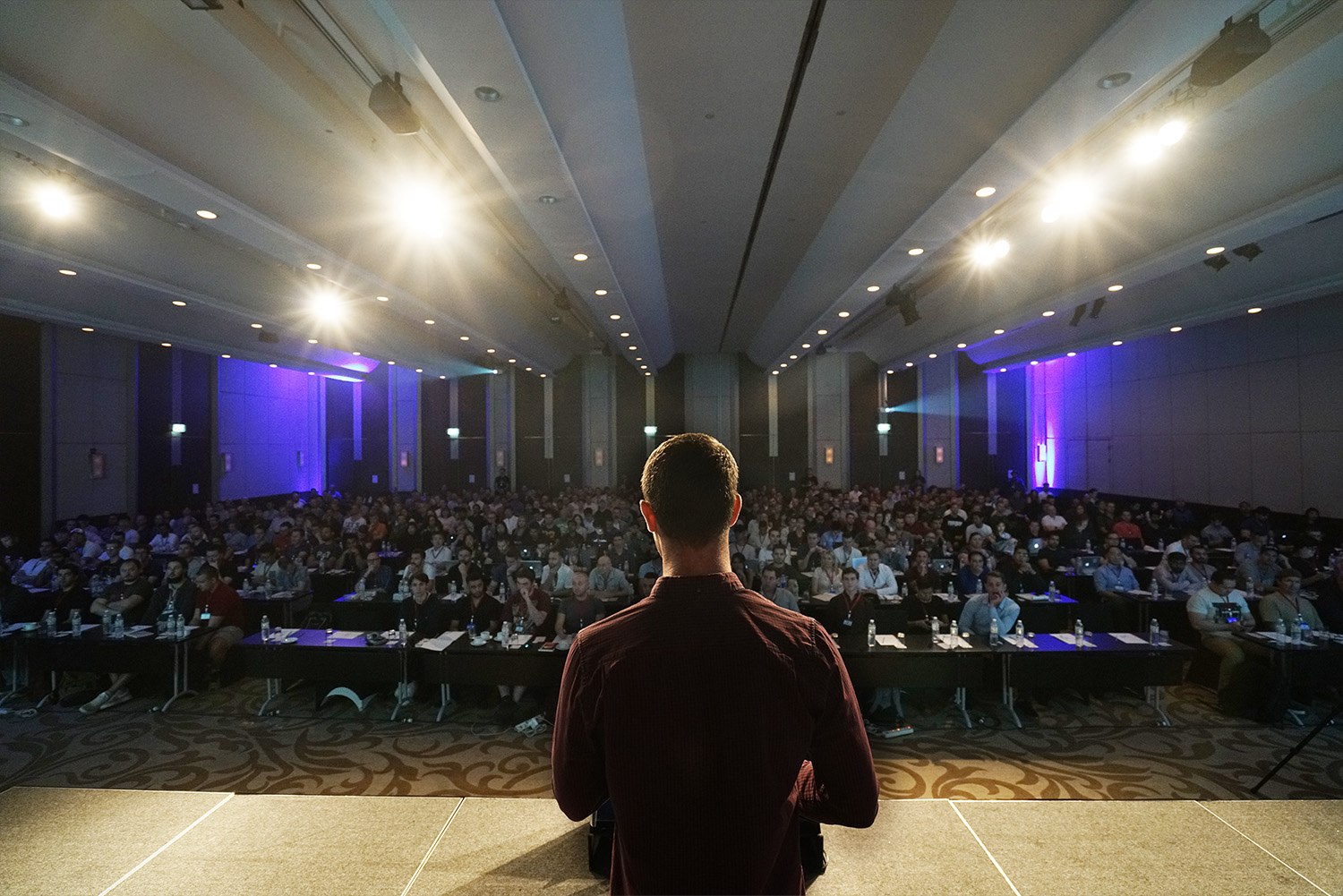 That was a great photo. More photographers should do that. Come up on stage, go over the shoulder and photograph the audience. It makes for a fantastic shot. 
Most of these photos of speakers, like professional speakers, are just them on stage, and that doesn't show that there's a huge audience wrapped in attention. 
Exactly. It's such a great photo op.
That's super cool. Another thing I want to call out as an awesome thing is that you've been talking about placements and not so much about links, and I love that this is digital PR that you're talking about. A lot of the folks who are in the link building industry are just talking about the link.
SEO will never die, but it constantly evolves and changes.
Click To Tweet
When you earn a placement, you have a different mindset about link building. If you are trying to maneuver into getting a link. One person acquiring a link will have a different mindset, intentionality, pitch, approach, and follow up process versus somebody trying to win or garner a placement. I want to acknowledge you for that. That's a very forward-thinking way to look at link building.
Thank you. It's an important distinction to make because there will come a time when the link doesn't matter anymore. We're already seeing it now. How we search is changing our behaviors, and the platforms we use to retrieve information are changing. Apple Vision Pro, I watched the keynote of that, and how is this going to change search?
Those interfaces, mixed reality, etc., will impact how we behave hugely and search online. I'm thinking of voice interfaces, talking to Alexa, Siri, or future voice models and things. Even BMW or Mercedes has integrated ChatGPT into their cars, into the dashboard so that you can talk directly from your vehicle. We will need to reverse engineer and work on these new platforms.
When they say, SEO is dead. We've heard that throughout our careers, and it doesn't die. What happens is it evolves, and it changes. Old methods die, and new ones are created. If we remove the SEO from the definitions here, what are we? We are organic search marketers, and organic means non-paid. 
Forget about the SERPs. Forget about links. How are we going to appear in SGE? If I ask SGE to write a tailored itinerary for a vegan guest joining me here in Bristol for a few days, we'll work with our clients to ensure their restaurant is included. 
Let's say the output says, "If your friend is vegan, we highly recommend you check out this vegan burger joint," for example. We have to think about how we reverse engineer that. How did the LLM come up with including that restaurant in the output? 
Then we have to look at the signals it's using, and the signals aren't going to be clearly defined ranking factors like we used to talk about, 200 ranking factors, as they used to say back in the day. It will use the signals it deems most fitting for the situation. And that's unsupervised machine learning, isn't it? It may not even use links in that scenario, or it will be much like the nofollow attributes. 
If we remove SEO, we are organic search marketers, and organic means unpaid.
We'd stopped caring about those long before Google announced a year ago that the nofollow attribute is now just an indicator. It's an optional directive. 
It's a hint. 
Yes, it's a hint, thank you, which we may or may not use. For example, if we land a placement on a giant media site for our clients and it's nofollow, is that link still valuable? Of course, it is. 
Even if it's not a link, it's just a mention of the brand. That unlinked mention can still be incorporated into the rankings criteria that Google is using.
Exactly. You're feeding the entity thereof that people, place, or thing. We won't need the links. When I worked for an agency 10 years ago, I remember an SEO head who talked to me about the link-less web. My mind was blown back then. I was like, "What? We won't use links?" Google will be able to understand that this brand has been mentioned in this local roundup of best vegan burger joints or whatever it is in Bristol.
We don't necessarily even need the link in the future. Right now, we do. If we can take it or leave it, we should take it because there are other reasons to have links. That's how we navigate. They're the bridges. 
In the future, I could see a time when the personal AI that I use as the user takes over and overrides a link with a new link so I can navigate with my preferences of the kinds of sources of truth and data, or if it's an unlinked mention, my personal AI could turn that into a link so I can click on it anyway. 
Transparency is important because there is a lot of power in personalizing AI.
Personalization will be based on your behaviors, basic things like search history, and all of the biometrics and things that our phones have, smart watches, etc. It goes back to the fact that transparency is very important because that's a lot of power, which requires a lot of responsibility. 
Of course, we need to be able to trust, for a good reason, the personal AI that we use, that it's not feeding the data that it's collecting on us that's not part of the public web to some big repository or the government. 
Hopefully, people vote with their feet, and we'll choose technologies aligned with our values and things. Fingers crossed. 
Yeah, hopefully. 
If we don't get a link, it doesn't matter. It's still a great placement for the client because we've contributed to the knowledge graph for our client. 
As an example, here's a great use case. We've got a client right now. They're a SaaS brand, and they have three main product lines. I've changed these numbers up. They have acquired a couple more businesses, adding additional complimentary products to their suite of tools. If you go to Bard or ChatGPT, I did this as a demonstration on a recent call for them, and I asked the model, "What does this brand do?"
All it came out with was the old offering that this brand has. Their whole strategy now is about pushing forward a full suite of applications for this niche of software solutions rather than just this specific couple they were founded on. Our job now is to help them change the model's opinion of this brand or its perception of this brand by feeding it these other signals. 
When we're doing PR now, we're not just doing PR for humans. We're doing PR for the algorithms for the AI as well. If the AI better understands what this brand does, then if I go and ask my AI assistant to give me some software recommendations, we want our client to be included in those if it's relevant.
Now, we are doing a lot of campaigns and link building, but just content and helping them win guest appearances on podcasts, panels, conferences, etc. The more they talk about these new products over time, the more the models will be associated with them to broaden the scope of solutions they offer.
Another great use for something like this from your client's perspective is that it's not a linked mention. It's unlinked. Still, as you said, it's great for the AIs and all these other reasons and a great mention of inclusion on their press page. It's just an additional credibility and legitimacy to their prospects already on their website.
The more they talk about their new products over time, the more the models will be associated with them to broaden the scope of solutions they offer.
Exactly. We want to help our clients win those logos we see on the sites for various reasons. E-A-T (Expertise, Authoritativeness, and Trustworthiness), being a big one, will only become more important as AI develops and becomes more mainstream. 
We've got two main considerations with AI to think about right now. We use AI tools to do SEO, but the algorithms will also have to react to us using those tools. Of course, SEOs are inquisitive experimental folks who like to find ways around hacks and things to increase ranking or certainly some. Some SEOs do, and those boundaries will be tested.
The algorithm will have to react to great content that used to be all you need, then in future content, the bar for content just basic copy is lower. The search engines and social media platforms have a big job on their hands, even YouTube, for example, because we'll be able to spin up a video with one prompt. Publish it, and post it. It goes live on YouTube, so the algorithms must learn how to surface the videos we want to watch. There's that. AI is being used by SEOs, and then AI is incorporated into search and social.
Interesting times. This reminds me of Charles Darwin's evolutionary theory. Many folks misquote it as "Survival of the fittest," but it is "Survival of the most adaptable." If you can be more adaptable than your competitor, as things are evolving with AI and technology, you can generally be ahead of the pack and survive. 
If you're not adaptable, you're just really fit. You go into the gym, but you're a dinosaur in how you approach things. You're going to get eaten. 
Yeah, and it's seeing it repeatedly with each revolution. It doesn't mean it's been replaced. It's just gotten better and quicker—the example of the combined harvester. Before, we were manually hacking away to harvest crops, and now, a combine harvester can do a whole field in a fraction of the time. We need to be adaptable, and that's what we're doing at Seeker now, regularly training and doing a lot of R&D on AI and rolling it out for our clients. It's a lot of fun. 
Something we discussed before recording was that you mentioned you had recently listened to a couple of episodes of this show. One with Dixon Jones talking about entities. One with Pamela Wilson talking about content marketing and the use of AI in content marketing. You had an interesting idea about connecting the dots between those two topics.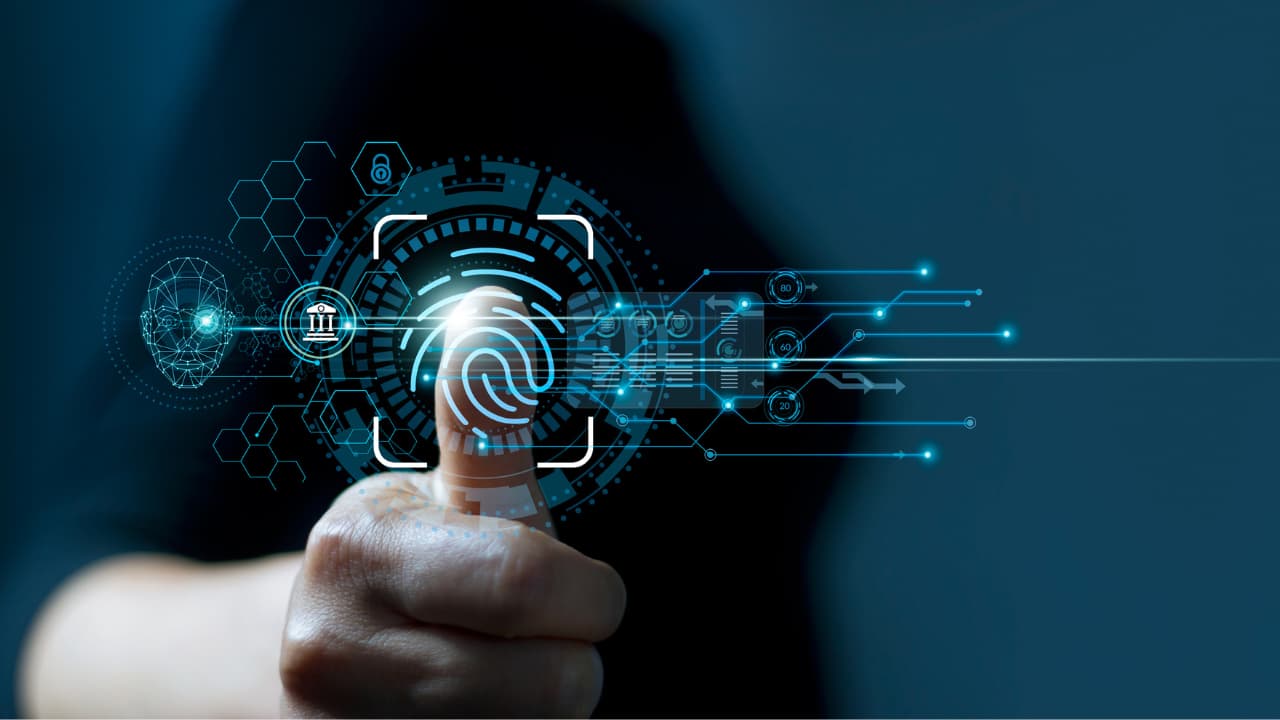 I just want you to share that for our listeners' benefit, too, because it's creative and it just shows an example of how outside the box you are in your thinking and applying these different strategies, ideas, and technologies in novel ways, which I think that makes you irreplaceable.
AI can replace a lot of different kinds of people and job functions, but where it doesn't work well is to find novel connections between disparate ideas, systems, or topics. You have that. I wanted you to share what you were thinking about entities and AI marketing.
They were two great episodes that got me thinking. I've learned from the past 10 years that the science of links is often overlooked as part of link building. I love all our creative work, but understanding why is important, and Dixon helps teach that. I've always enjoyed listening to and learning from Dixon. 
The discussion on content and AI was very thought-provoking and got me thinking because you presented this problem on your Start Here page. As I was listening to the episode, I wondered how I would approach this or what opportunities are available. It just got me thinking about what a goldmine of knowledge you've got. You've got E-A-T content for days. 
The science of links is often overlooked as part of link building.
Just for the listener unfamiliar with E-A-T (or E-E-A-T now it's called), that's mentioned by Google and the quality rater guidelines they give to their quality raters and human reviewers. It's experience, expertise, authoritativeness, and trustworthiness. I'm making sure everybody's on the same page in terms of what you're talking about, but go ahead and proceed. 
Thank you. That content of that nature is what's going to stand out in the future. AI can't produce experience or reiterate it. The expertise, of course, yes, because it's got the combined knowledge of every single expert ever to have written anything or it certainly will do one day. Not only that, knowledge is all passed back to the AI. Yeah, it could win on expertise. 
I don't know about that because it's also using the amateurs and the charlatans. It's all in the mix and the training data. 
That's a very good point, and that may lead to the next letter, the authoritativeness. That's where it's like waiting for, "Is this person qualified to speak about this topic? Have they got qualifications? Have they got a professional background? Have they got the research?" That's how the models need to evaluate what it's being trained on itself. 
Then again, that leads to trust as well, like votes of trust from other authority figures, which is why PR is going to become even more important in the future, as well as the content that you and your guests are producing here on this show, because there's experience in there, there's authority, there's trust, all of the elements. All of the elements there are embedded in this content. 
Going back to the real-life scenario, you do the transcripts, which is great because search results can pick it up. If someone's searching for something, it shows up, which is fantastic, but then the moment you've got these vertical columns of content. If we start to slice this content up laterally, we've already talked about several topics on this podcast, and your other guests do, too.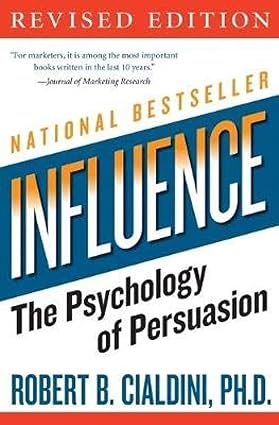 Let's say you've got multiple guests who have talked about meditation as an example and have different perspectives. They've all got different experiences with meditation. If you can then slice your content up laterally and take all of the meditation segments across all of the guests and then use that to train a model, you can output fresh content and summarize the content. 
Let's say the psychology of marketing, for example. If that's been mentioned and discussed with various guests, not only are you combining it to go then and create fresh content based on very experienced, qualified people, but then you are also combining different perspectives and diverse opinions on the psychology of marketing because you might have different guests that have approached it from different angles and then that's healthy content. 
If you have a category on your site about the psychology of marketing, it summarizes an article, and it says that out of all of the guests that have appeared on Marketing Speak, X number have mentioned the psychology of marketing. Here is a summary of what they have to say. Then, automatically generated below are the time code links to each episode where they can dive into the citations and the source of this summarized content. 
If you build a model and automate this, and you hit go, it can do all of this. It can ingest all of the content, transcribe it, understand it, extract the entities, take the entities and then create content pillars and hubs for different topics. You won't know what these are until you collect it all because it will tell you, "Here are the most commonly discussed entities on Marketing Speak." Then, match that up with search demand and get it to output the content for the site automatically. You've got a gold mine of new, fresh, synergized content based on this huge database of knowledge you've got.
I love that. It's so powerful to think about how you could micro-niche down from a topic, as you mentioned, meditation, which I've talked many times about with different guests on my other podcast, Get Yourself Optimized. 
You could micro-niche that into not just transcendental meditation and then one on mindfulness meditation, but you could do under mindfulness meditation, walking meditation, and walking meditation around labyrinths. You can go into such a micro niche because the AI is scalable to do that for you. 
Use a competitive advantage with AI and digital technology to make your outreach emails stand out.
Click To Tweet
By having entities working into this, labeling these different topics and subtopics, you could have an infinite version of Tim Ferriss' Tools of Titans book. If you're familiar with that, it's based on many recommendations from his guests over the years. You can do that like on steroids.
Exactly. You could even then go super niche and actually super personalize and even make some chat interface to interact directly with the content. Then, people build knowledge spaces on their SaaS brands and training chatbots. Why not apply this to your wealth of content and knowledge? Then, people can come and ask marketing questions, draw on the combined knowledge of all the speakers you've ever had on the show, and get a personalized output tailored to their particular prompt or question, like diving into certain elements of meditation. The output will be personalized to each individual. 
Even spinning it out and then creating videos automatically, we'll be able to do that or go back to the interfaces of the platforms. You put on your mixed reality headset, which follows you through your day. 
Let's say, I've come on a podcast today with you. I've heard on this podcast myself you are talking about public speaking, and you've certainly coached and helped me with these things.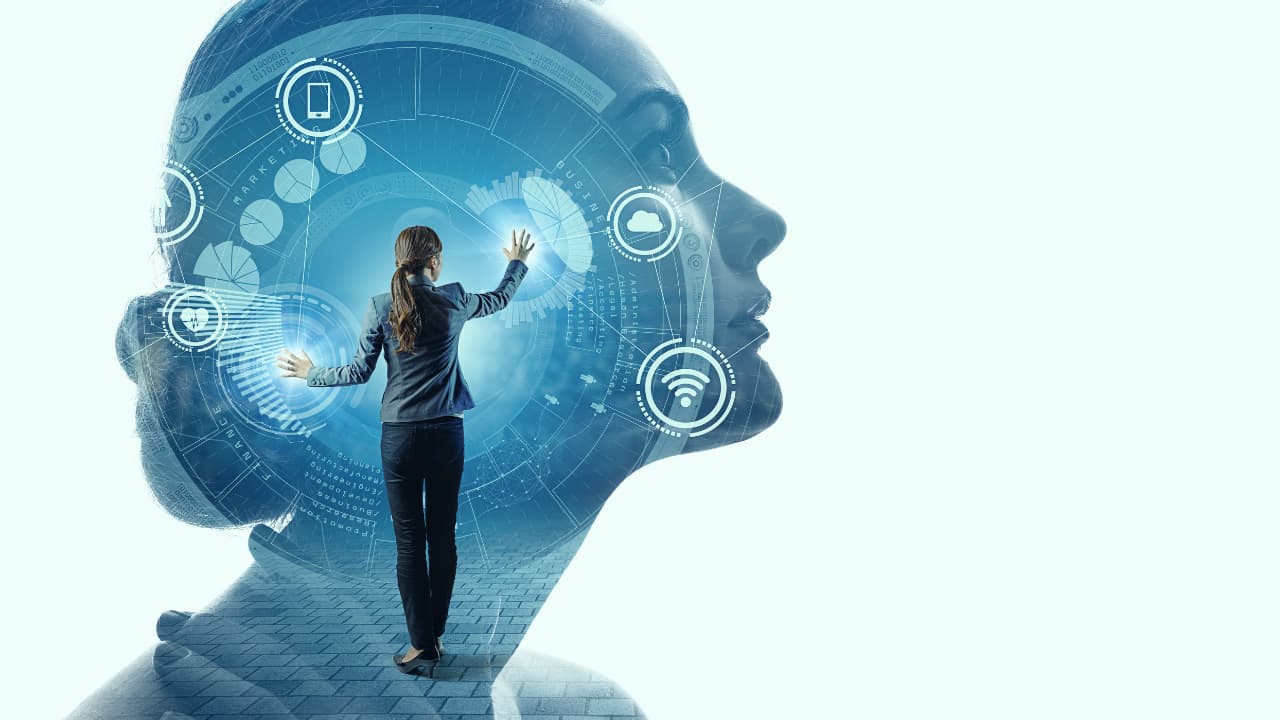 What if I'm going around with my Apple Vision Pro version four on or something, and it knows my calendar, and it says, "You're about to go onto a podcast. Here's a reminder of some tips to help you with your appearance on this podcast to articulate yourself, your body language, your tone, etc." 
My mind's being blown by just talking about the possibilities with this stuff. The key is you've got the source already. That's the hard part. You need that E-A-T content to be able to do all of this stuff. Otherwise, it's just fabricated, and it's thin. 
That personalization, I love that it's so powerful to think about your personal AI, your AI assistant, what's coming up for you during the day and "Okay, you're going to be on a podcast."
In my case, I'm the interviewer, and sometimes the guest doesn't know how to pronounce my name. They'll call me Steven, and then I have to correct them. If I didn't remember to tell them before the recording, like, "By the way, my name is pronounced Stephan." We've known each other for many years. I don't have to bring that to your attention. 
My personal AI could know that and say, "Hey, you're about to interview your friend. Here are some tips for having a great interview." Then, I don't have to include in that list of my standard SOP and also remind the guest how to pronounce your name. The AI can distill the essentials specific to that interview or meeting. Just the possibilities are endless. It's really exciting. 
The more AI learns about you, the better it can help, but it can also harm you.
Speaking of tailoring the experience, you mentioned the Start Here page we discussed in the Pamela Wilson episode. What if a tailored Start Here page is unique to the individual, and they don't have to issue any prompts into a chat interface? It's just automatically tailored. I see that in the future, too—very exciting times. 
That personalization is key there because, at the moment, you have to have that awareness of need. One of the flaws of search engines is knowing what you want. You have to know what you need to search for. But if it's suggested to you before you've even searched it because it's looked at your calendar, it's looked at your biometrics. It can then say, "You could probably benefit from learning about this today," or "Here's some content that might help you with what you've got coming up in your life."
Also, basing not just on your calendar, biometrics, and so forth, but everything you've ever said or since you started recording it and allowing your personal AI access to it. We already see Otter.ai and other tools as additional guests in Zoom meetings, taking the transcription and screenshots and recording the videos. 
Imagine that on steroids and all of that huge repository of all those conversations and all the stuff you've been consuming, the books you've been reading, the videos you've been watching, that's all fodder for the AI assistant as well. Crazy. 
Yes, allow access to everything. When that prompt comes up, it wants to access all of your data. I've got email inboxes from when I was 10 years old. "Do I allow access to that? All my social media profiles, my Google Drive, my Dropbox, Slack, my messages?" The more it learns about you, the better it can help you. 
Or harm you. There's a great article I was reading on futurism.com, and this was based on Meredith Whittaker. She's the head of the foundation behind the Signal app. Signal is a competitor to WhatsApp. She was raising concerns about privacy and AI and how if you give access to an AI that has all of this data about you, maybe it's even public. You didn't have any gate preventing the AI from using that information. Let's say it's just public tweets you've posted over the years. 
An AI can use that data against you and decide, "We're not approving your loan request." "Wait a second, why? I'm sorry, that's a black box. We don't know. We just got a note from our AI that makes these decisions, so I'm sorry. We can't give you that mortgage based on what you have been tweeting over the past 15 or 10 years." 
Yeah. Your tweets could affect your insurance premiums, for example. 
Your insurability, credit rating, creditworthiness and so many things. I know we are out of time here, so if our listener or viewer wants to work with you or your agency, or your awesome team at Seeker Digital, if they want to learn from you about link building, AI, and all of that, where do we send them?
Seeker.digital is where you will find my agency and my wonderfully brilliant team of content marketers, PRs, SEOs, and link builders. They primarily work with ecommerce, SaaS, and enterprise brands. We're a small agency, but our clients are generally long-term, high-value retainers. If you think we could help, then we would love to talk. We rank websites mostly very focused on the bottom funnel keywords. We try to make SEO like PPC in terms of its control but without the cost. 
Embracing AI may bring hesitation and uncertainty, but let's remember that we have the opportunity to trust and harness its potential.
Click To Tweet
Of course, as we have discussed a lot in this episode, we are very into AI marketing and AI SEO, right now, and we've got some super cool internal tools and solutions we're rolling out for clients. I would love to talk if you want to learn more about that. Thank you. 
Also, we're both big fans of Pitchbox, so if you're a listener working on link building and have a team, pitchbox.com is amazing. 
Absolutely. 
Awesome. Thank you, Gareth. This was fun, enlightening, and stimulating. Listener, I hope you take this information and do something with it because this is not edutainment. This is a call to action. You're supposed to do stuff with this, so I hope you are. We'll catch you in the next episode. I'm your host, Stephan Spencer, signing off.
Important Links
Gareth Simpson
Books
YouTube Videos
Previous Marketing Speak Episodes
People
Further Resources
Your Checklist of Actions to Take
Conduct a comprehensive audit of my business processes. Identify areas applicable for automation or AI-driven enhancement. Learn the fundamentals of AI systems to maximize their effectiveness for my business.
Establish clear objectives and measurable success metrics for AI implementations. Continuously monitor performance and curate high-quality datasets for training AI models.
Take a proactive approach to staff development. Adapt to evolving AI-driven roles and skill requirements. Leverage AI to complement human strengths, including creativity, empathy, and strategic thinking.
Strive to be remarkable and indispensable in my field. If I effectively solve high-value problems, clients will naturally seek my expertise.
Create meticulously designed sales funnels to offer valuable content upfront. Gradually introduce paid offers. Convert my website visitors into leads and leads into loyal clients.
Optimize conversion pathways across various channels, such as my website, social media, and email communications. Eliminate any sources of friction or distraction.
Implement automated lead generation strategies using chatbots, email drip campaigns, and targeted social advertisements. Nurture potential clients until they're ready for the sales process.
Deploy remarketing campaigns to re-engage visitors who have exited my website. Utilize retargeting ads across multiple platforms to recapture their interest.
Foster lifelong relationships rather than pursuing one-off transactions. Prioritize delivering exceptional value over my sales.
Explore Gareth Simpson's website, seeker.digital, for insights into ecommerce, SaaS, and enterprise branding to deepen my knowledge in these areas.
About Gareth Simpson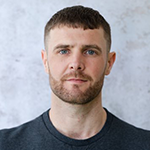 Gareth Simpson founded Seeker Digital—an SEO and outreach agency for e-commerce, enterprise and SaaS brands. Gareth has been doing SEO for 15 years now, mostly as a link builder and has recently been doubling down on AI for his clients.