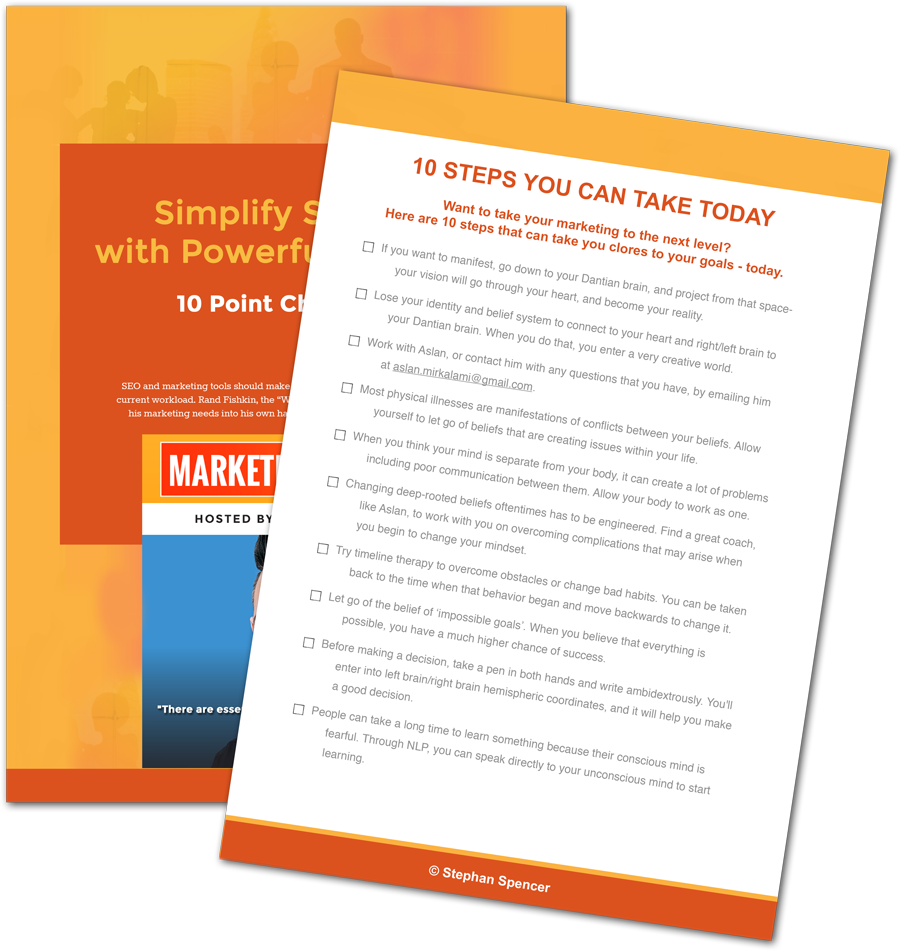 Get into action! Download your FREE Checklist
Put the most important tips from this episode to work and take your marketing to another level! Get your free 10 Point Checklist for your next actionable steps.
Don't miss Strategic Marketing Consultant @GaryNealon as he shares his story, how he discovered his calling, and his strategic methods on @mktg_speak.
Click To Tweet
This Week's Guest:
If you're ready to scale your e-commerce business all the way up to eight figures, this conversation with Gary Nealon is perfect for you! We all want to know how we can get more eyes on our content, the best way to outsource tasks, the right way to run contests and challenges, and more similar topics. Instead of trying to figure it all out yourself, this is your opportunity to learn from someone who has found his way over plenty of stumbling blocks and created incredible success.
Gary is a serial entrepreneur who founded two multi-million dollar businesses, one of which landed on the Inc. 5000 list five years in a row. Seeing inefficiencies in other companies convinced him that he could do it himself, so he liquidated everything he had and bought a business in the dollar store niche. He had to file for bankruptcy within the first year, but since then, has become an incredibly successful entrepreneur. In our conversation, you'll learn about his journey from bankruptcy all the way to $40 million in revenue.
Find Out More About Gary Here:
Gary Nealon
Gary Nealon on LinkedIn
Gary Nealon on Twitter
Gary Nealon on Facebook
In This Episode:
Links and Resources:
Your Checklist of Actions to Take
☑ Figure out what I want to sell or turn into an online business. With the right knowledge, skill set and team, I can be successful in this industry
☑ Be strategic with my content. Make sure that my prospects understand my message and the value in my offer.
☑ Repurpose and expand my content into different formats to optimize my production. I can turn a blog post into an infographic, a graphic quote, a video and more.
☑ Reach out to influencers via email, social media or public events to improve my network and expand my reach.
☑ Start small with ads and grow from there. Don't spend a lot on one campaign especially if I don't know its effectiveness.
☑ Outsource tasks and hire virtual assistants with Priority VA and Sidekicks.co to maximize my time and productivity.
☑ Utilize Amazon to get buyers into my buyer cycle. Create an outline of what my ecommerce site is good for.
☑ Share my website on social media and utilize Facebook Groups to develop a stronger relationship with my customers. Make it a closed group that offers full support.
☑ Communicate with my customers and prospects as much as possible. Make them feel that I or someone from my team is accessible and ready to answer their queries.
☑ Grab a copy of Gary Nealon's book, Notes to a Young Entrepreneur.
Transcript
S: In this episode number 139, you're going to learn how to scale your ecommerce business all the way up to eight figures. Our guest is Gary Nealon. He's a serial entrepreneur who founded two multi-million dollar businesses—one of which landed on the Inc. 5000 list five consecutive years in a row. Gary knows how to scale ecommerce businesses. You're going to learn all about his journey from bankruptcy all the to $40 million in revenue. Gary is also the author of Notes to a Young Entrepreneur. Gary, it's great to have you on the show.
G: Awesome, thanks for having me.
S: Let's talk about how you got to where you're at now. You had some very successful exits, and you've written a book, and now you're doing strategic marketing consulting. But how did you end up getting into a cabinet business of selling cabinets online? I'm really curious to hear that story.
G: Actually out of college, I went into logistics of all things. I end up working my way up to the VP of sales for a logistics company. We were helping companies get products into retail like Walmart and all the big chain stores and just seeing some of the inefficiencies in some of the companies like, "Man, I could probably do this for myself." At the time, I had a good friend that I went to college with. It was then the internet marketing space when I was still young. He's done some pretty impressive things. It spurred me to do my own thing. My first delve into entrepreneurship I actually bought a company. I liquidated everything I had, somehow found people that were willing to loan me some money, or give me some money towards it, and end up buying a business in a dollar store niche. It was supplying products to dollar stores which kind of fit with my logistics background. But then, about a year into it is when the economy really started tanking–everything was plastics, it was petroleum-based. When the cost of petroleum went through the roof, essentially all of our cost doubled. I ended up filing bankruptcy on that within the first year which is a pretty painful experience to go through for anybody. Cabinets certainly wasn't a passion for me, it was my business partner at the time, his uncle was importing cabinets. My background was marketing information systems. I just want to get back into building websites and catching up on the coding side of it. I offered to build him a website and he wanted nothing to do with it. He was just like, "Dude, they're not going to sell online. If you guys want to do it, I'll support you and be your supplier. But as far as me actually needing any of that is not going to work." Which is kind of just to prove him wrong. You could sell anything online–it's the internet. We built a really crappy website to begin with and started running craigslist ads, and sitting around the house just publishing them, and responding to them. Then we started doing some SEO, and writing content, and that's how I got to where I was. I really didn't know anything about cabinets. I was actually writing articles to learn about it. I've researched it and I figured, if I didn't know about it, then probably the average homeowner didn't know about it. I would just write content based off of things that I didn't know the answers to and it worked.
S: Wow, so you basically proved your buddy wrong. Is he licking his wounds now seeing that you had a successful exit and get that company under the INC 500 list?
G: Actually, they're still one of our vendors for the cabinet company. They've grown with us and I think he's finally seen his ways that it can actually work especially since the way the industry's exploded. It's been an interesting ride the last 11 years–constantly innovating, and changing and doing different stuff.
SaveSave