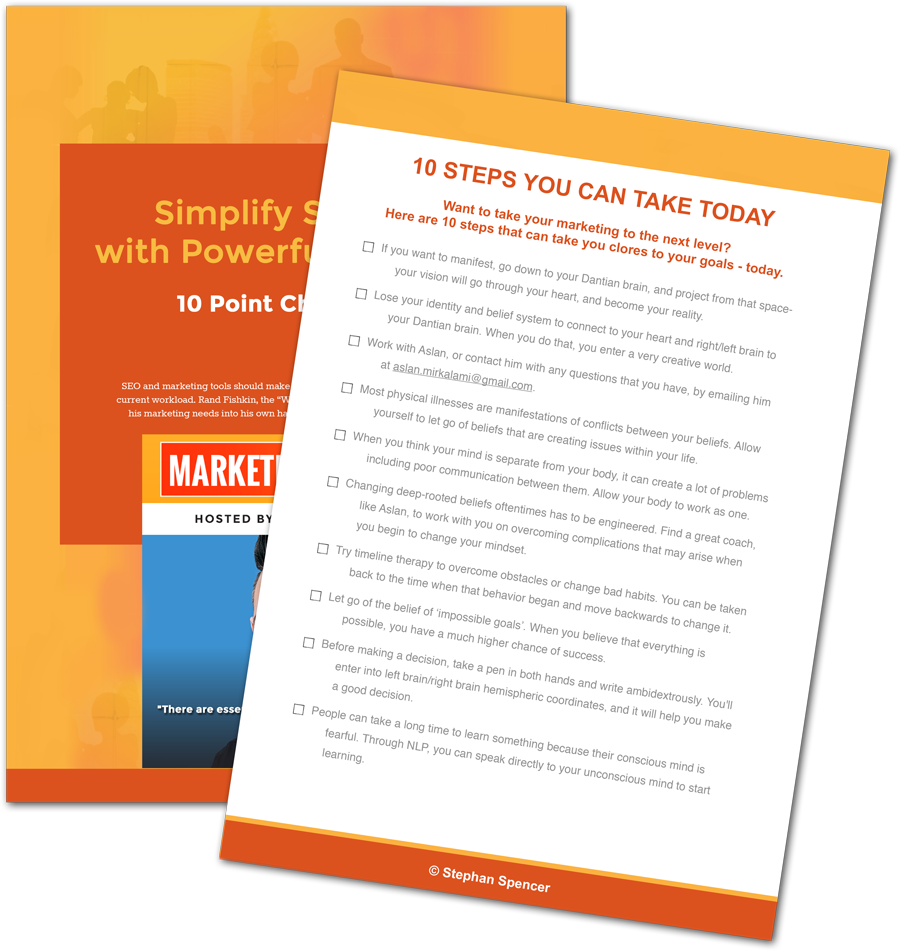 Get into action! Download your FREE Checklist
Put the most important tips from this episode to work and take your marketing to another level! Get your free 10 Point Checklist for your next actionable steps.
This Week's Guest:
For many of us, there are certain sales techniques that seem like incredibly bad choices. For example, isn't it giving too much information away if you list your prices online instead of sharing them with potential customers during a sales conversation? And wouldn't it be a bad idea to explicitly list people who you aren't a good fit for online, because that will drive away potential customers before you even have a chance to talk to them?
Today's guest, Marcus Sheridan, insightfully busts both of those myths, and more. Marcus, AKA the Sales Lion, has been called a web marketing guru by the New York Times, perhaps thanks to his sometimes unconventional advice on what really works. In today's conversation, Marcus will talk about how to influence the buying criteria of your prospects to preempt their objections, and how to differentiate yourself in a sea of competitors. Mashable called his newest book, They Ask You Answer, the #1 marketing book to read in 2017.
Find Out More About Marcus Here:
Marcus Sheridan on LinkedIn
@TheSalesLion on Twitter
The Sales Lion
Meet Marcus Sheridan
Marcus Edward Sheridan on River Pools
River Pools
In This Episode:
[01:17] – Marcus talks about the biggest mistakes that he sees people make in sales.

[02:48] – What would be some of the best practices or tips for getting your sales to be more effective? As he answers, Marcus explains that he owns two companies. He then gives deeply valuable information that gives insight into how customers think and behave, and how this relates to what you should do in your sales process.

[07:31] – Stephan agrees that there is reluctance to make costs public. Marcus then steps in to clarify what he's been saying.

[09:52] – Marcus steers the conversation to swimming pools to illustrate his point about being more transparent with pricing.

[14:10] – What are the best ways to package these buyer-based questions? Is it best done, for example, as an article, a YouTube video, a downloadable buyer's guide, or something else entirely?

[16:59] – The goal, Marcus explains, is to preemptively answer the 80% of questions that are the same across most first sales calls.

[18:06] – We hear about an interaction between

Chris Sacca

and

Kobe Bryant

that Marcus read about.

[19:29] – Stephan recently created a welcome or intake packet that includes a questionnaire for people to fill out before he talks with them.

[20:30] – Marcus makes one further point, talking about the pool industry again.

[22:08] – Point one is to list the questions that people ask and link to the answer on every product page; what are the other points that will transform the website and facilitate sales? Marcus offers an incredibly valuable exercise to help you figure out how to better address customers' concerns.

[25:54] – Marcus offers a third activity, which involves writing down every claim you make about your company.

[27:47] – Marcus gives us two more tips as a bonus round. He talks about making a website section called "Problems We Solve." His fifth and final tip here is to make a section on your website about who you're

not

a good fit for.

[31:48] – As Marcus went through those five points, Stephan was thinking about how they would make a perfect five-day challenge. He then goes into more depth about these challenges, including a recent one of his own.

[36:54] – What is the best approach to doing a webinar? After answering, Marcus talks more about what he does instead of webinars.

[41:20] – Marcus talks about how reacts to pushback about his insistence on using video during sales calls.

[45:21] – Stephan brings us back to the topic of public speaking. Marcus offers some suggestions on groups for listeners to check out, then gives advice on how to progress in a speaking career.

[49:32] – We hear more about moving from free national events to paid events. Marcus then offers one of the keys to speaking: if you do a good job on one talk, you'll likely get three or four others from it.

[52:43] – If you've just done a fantastic job on a speech, how do you turn the attendees into leads?

[53:58] – Marcus explains why he chose the name the "

Sales Lion

."
Links and Resources:
Marcus Sheridan on LinkedIn
@TheSalesLion on Twitter
The Sales Lion
Meet Marcus Sheridan
Marcus Edward Sheridan on River Pools
River Pools
They Ask You Answer
10 Marketing Books to Read in 2017 (Mashable)
Inc. Magazine
Chris Sacca
Kobe Bryant
Chris Sacca's interaction with Kobe Bryant
The SEO Maximizer Five-Day Challenge
Answer the Public
Mike Mandel on the Optimized Geek
Leaddigits
Instant Customer