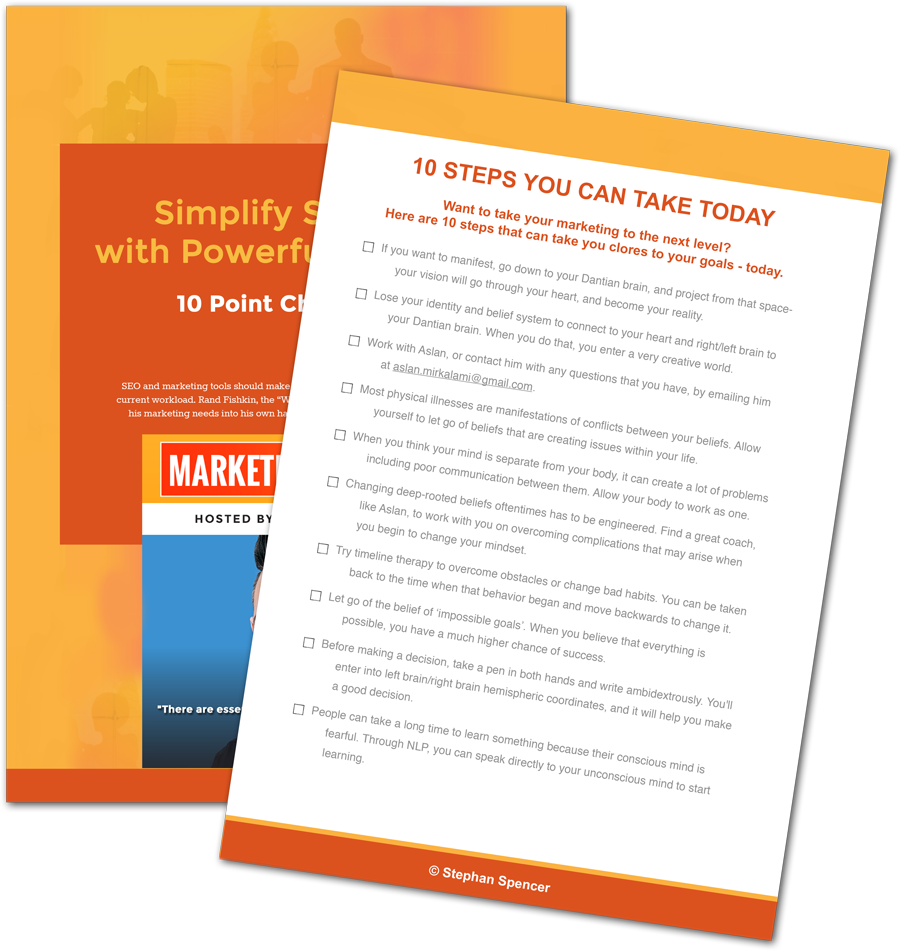 Get into action! Download your FREE Checklist
Put the most important tips from this episode to work and take your marketing to another level! Get your free 10 Point Checklist for your next actionable steps.
This Week's Guest:
Sean Cannell is an avid YouTuber and a cofounder of the popular YouTube channel Video Influencers. As you might suspect, that means he's an expert on YouTube marketing. And he's the real deal, with tens of millions of views across his YouTube channel.
In addition, Sean is a bestselling author and lifestyle entrepreneur. He's the go-to guy if you want to improve your YouTube engagement or deepen your understanding of the platform. For example, in this conversation, he talks about which metrics really matter, and what they should be. In addition to all his YouTube videos and the insight he provides in this conversation, Sean has a free online course at learnyoutubetoday.com.
Find Out More About Sean Here:
Sean Cannell
@SeanCannell on Twitter
learnyoutubetoday.com
In This Episode:
[02:03] – Sean discusses the difference between tactics and strategy as they relate to YouTube. He emphasizes the importance of starting with a strategy instead of tactics.

[04:17] – What advice does Sean have for podcasters wanting to leverage their podcasts on YouTube?

[07:29] – Sean is doing video everywhere, not just on YouTube, he explains. However, YouTube is his favorite outlet. He talks about the different psychology between Facebook and YouTube users.

[11:17] – Sean touches on the use of YouTube videos on LinkedIn.

[11:26] – Stephan offers an example of his own (involving

Jonathan Fields

) about the importance of understanding the algorithm you're dealing with.

[13:31] – We hear Sean's thoughts on SnapChat and its lack of lasting, ongoing content.

[15:30] – Sean talks about his thought process when decided between different kinds of show formats (such as one-man shows, interviews, etc.) and possible topics.

[19:26] – How important is whiteboarding? It's critical, Sean answers, and explains why.

[22:19] – Sean talks about his usage of b-roll and screensharing.

[24:18] – Sean discusses using webinars as YouTube videos. He gives advice on how to create interest in the replay of the webinar.

[27:16] – What sorts of funnels is Sean using across the different monetization strategies that he uses?

[29:09] – Sean talks about baby offers or tripwires, explaining what he means with the terms and how he applies the concept.

[32:09] – Stephan recaps some of what Sean has been saying to make sure it's clear.

[32:33] – Making a video unlisted is the YouTube equivalent of a gateway video, Sean explains. He and Stephan then talk about

Wistia

and its turnstyle option.

[34:33] – Sean discusses his views on scaling. He also talks about viral videos.

[39:49] –

VidCon

is more fan-based than business-focused, Sean says, and suggests getting industry tickets if you decide to go. A better conference is

VidSummit

.

[41:26] – Stephan talks about his experience at VidCon, including learning who

The Try Guys

are. Sean expands on what Stephan has been saying and talks about influencer marketing.

[44:41] – Sean discusses metrics in terms of the price of influencer marketing.

[49:07] – Sean talks about his video

How to Get Free Stuff on Amazon

, which has close to two million views. He then explains YouTube's analytics and the metrics that the site particularly values.

[52:39] – Stephan starts off a lightning round of quick questions and answers. The first question: what's the best time to post on YouTube?

[53:52] – What's some of Sean's favorite equipment? His biggest tip is to start with whatever you have. He then goes on to give tips on some product

[56:13] – What software does Sean recommend?

[56:56] – What does Sean do to pimp out video thumbnails?

[57:44] – How do you pimp out your channel page? In response, Sean offers seven quick tips.

[61:39] – What's the best way to get in touch with Sean?
Take Your Marketing to the Next Level:
Take a step back and think about the content that I'll be delivering to add value to my target audience. Use this to create my strategy for my YouTube channel.

Think of my YouTube channel in terms of having a show. This means uploading something regularly (at least weekly, if not more often).

Instead of trying to add videos to my podcasts, shoot solo videos for YouTube. I can then use the audio from those videos as podcast episodes.
Links and Resources:
Sean Cannell
@SeanCannell on Twitter
Learnyoutubetoday.com
The School of Greatness podcast
Jonathan Fields on the Optimized Geek
Marie Forleo
Rand Fishkin
Moz
Brendon Burchard
OBS
Video Ranking Academy
Wistia
Jamie Salvatori on Marketing Speak
VidCon
VidSummit
VloggerFair
The Try Guys
Social Bluebook
How to Get Free Stuff on Amazon
YouTube Equipment List for Making Videos
Rode smartLav+ Lavalier Microphone
Rode NTG2 Condenser Shotgun Microphone
Mevo – Live Event Camera for iOS devices
Arkon iPhone Tripod Mount
limo studio
Wirecast
Canva
How to Make a YouTube Custom Thumbnail Tutorial
The Very Thing That Terrifies You Is Where Your Treasure Lies: Stephan Spencer Huffington Post Article