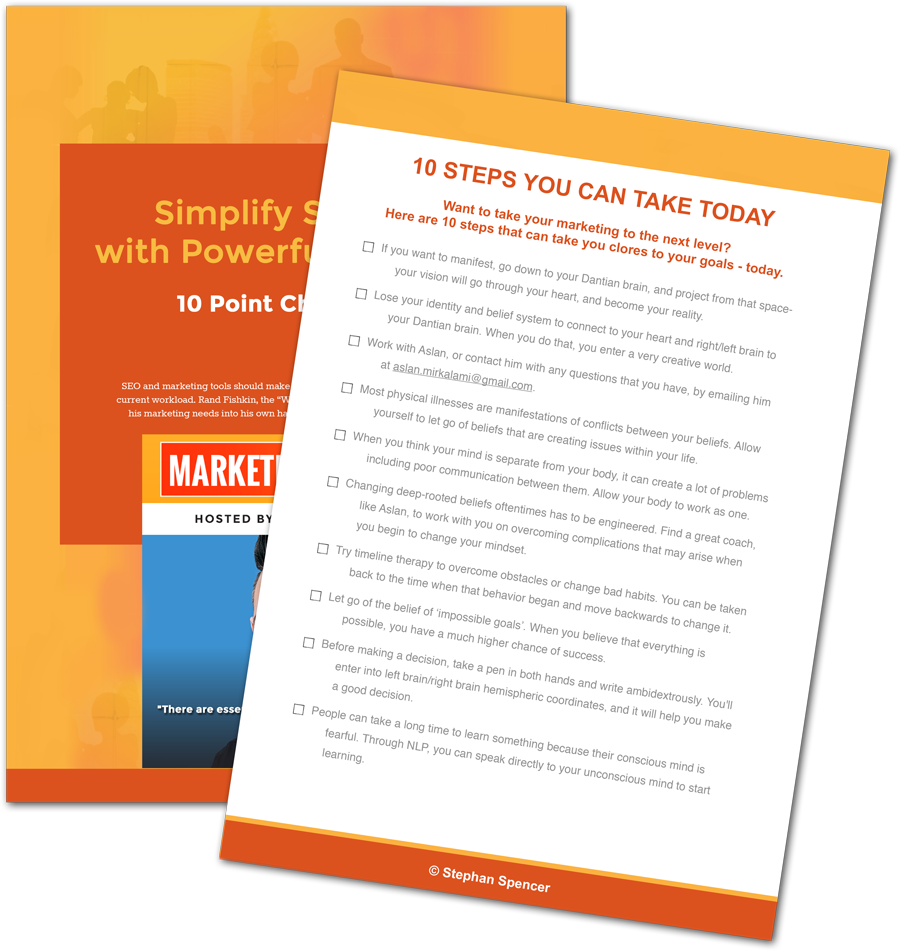 Get into action! Download your FREE Checklist
Put the most important tips from this episode to work and take your marketing to another level! Get your free 10 Point Checklist for your next actionable steps.
This Week's Guest:
Jamie Salvatori is the founder of Vat19.com, which you've likely heard of through their amazing viral videos. In case you aren't familiar with the company, Vat19 is an eCommerce store featuring unique and quirky gifts, toys, candy, and curiously awesome oddities. It's perhaps most famous for its giant gummy bears.
Vat19 is also known for its YouTube channel, which currently boasts 3.5 million subscribers and nearly 3 billion video views. The company is remarkable for its ability to create viral videos, like the 26-Pound Gummy Bear music video and the Real Food vs. Gummy Food Challenge.
Find Out More About Jamie Here:
In This Episode:
[01:02] – Jamie talks about reaching that high level of YouTube success, crediting a lot of it to luck.

[02:28] – We hear about Jamie's background in computer science and engineering.

[05:24] – Jamie responds to Stephan's comment that it seems like they have creating viral videos down to a formula.

[07:15] – Jamie walks us through the steps of the ideation process at Vat19.com, and explains how different it used to be from the way it is now. He also explains the benefits of a silent brainstorming session. Stephan responds by talking about how this relates to his conversation with

Bill Donius

on the Optimized Geek.

[12:08] – We hear about

Vat19's party gummy music video

.

[13:59] – What would be a video that Jamie is particularly proud of, and came up with the idea for?

[16:46] – Jamie talks specifically about Vat19's scripts, describing their format.

[18:10] – In the

Real Food vs. Gummy Food Challenge

, Jamie had to eat a real worm. He and Stephan talk more about the video.

[21:23] – Stephan and Jamie talk more about videos, using the metaphor of planning a trip to emphasize the importance of planning your outcome. They then talk about the videos that fell flat instead of going viral.

[25:45] – What are some of Jamie's favorite Vat19 products? He then talks about some of his current favorite products, such as a

dual-scented prank candle

and prank

birthday cards that don't stop playing until the battery runs out

.

[30:56] – Jamie talks about the watch time on a four-hour video. He then compares Facebook and YouTube for video content.

[34:44] – Stephan talks about some of the primary difference he hears about viewing habits between Facebook and YouTube. Jamie then adds his insight.

[37:42] – Jamie's advice for getting your videos out there is "try everything." He also talks about the importance of a long-term YouTube strategy.

[42:41] – Jamie isn't convinced that there's a formula for going viral, and credits much of their success to luck.

[44:19] – Stephan returns to the topic of going viral on Facebook rather than YouTube. Jamie then talks about Vat19's strategy for Facebook, and he and Stephan then talks about techniques (and a couple other Marketing Speak episodes you should listen to:

Molly Pittman

and

Nicholas Kusmich

).

[49:40] – Jamie talks about his views on marketing, which involve trial and error as well as committing to something long enough to see whether it pays off.

[53:06] – Jamie clarifies that he's speaking from his personal experience with this one business, and isn't necessarily advocating that these strategies would work for other businesses.
Take Your Marketing to the Next Level:
Find amazing and interesting products that I love to feature, and then have fun creating the videos for them.

Start by deciding how long I think it should take to shoot the video, what the goal of the video should be, and what I want to accomplish with it.

Bring my team together for a brainstorming session. Everyone should write in silence for a few minutes, then give what they've written to the script writers to use in making a draft.
Links and Resources:
Jamie Salvatori on LinkedIn
Bill Donius on the Optimized Geek
The 26-Pound Gummy Bear
Real Food vs. Gummy Food Challenge
Orbeez
Stank Prank Candle
Joker Birthday Card
Oval Office Cold Open on SNL
Molly Pittman on Marketing Speak
Nicholas Kusmich on Marketing Speak
6ft inflatable soccer ball
Pouch Couch
Beardo