Have you ever felt like an imposter just waiting to be exposed? You're not alone. Even superstar consultants experience impostor syndrome when standing in the spotlight. My guest on today's episode, Michael Zipursky, had feelings of inadequacy when he advised billion-dollar Asian conglomerates as a young entrepreneur. But he shifted his mindset to recognize the unique value he offered, which fueled his rise to consulting fame.
Michael is the CEO of Consulting Success, which has helped over 1,000 consultants boost revenue by six or seven figures. He has advised organizations like Financial Times Japan, Dow Jones, and RBC, and helped Panasonic launch new products into global markets. 
In this episode, Michael shares how consultants can move beyond dependence on referrals by becoming recognized thought leaders. We discuss psychological strategies for overcoming impostor syndrome and building confidence in your capabilities. Michael discusses the Japanese concept of kaizen – pursuing continuous improvement and leveraging small, consistent actions to achieve enormous outcomes.
Michael shares actionable, practical tips for taking your consultancy to the next level and delves into how mindset is the key that unlocks growth, success, and fulfillment. So, without any further ado, on with the show!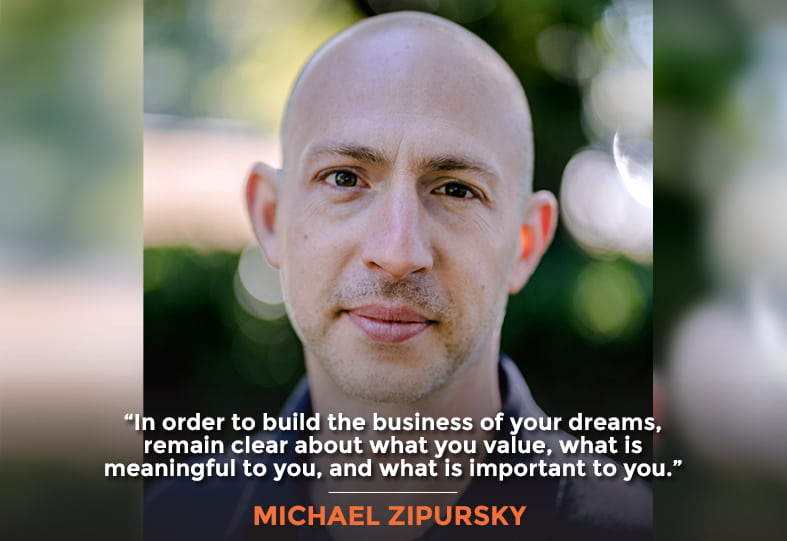 In This Episode
Michael, it's so great to have you on the show.
Hey, Stephan. Thanks for having me. It's great to be with you.
First, Let's talk about how you ended up focusing on the consulting world and not some other industry like consumer-packaged goods (CPG), ecommerce, or something like that. Why consulting?
It's where I got started. Going back to when I was transitioning from high school into college, my cousin Sam, who to this day is my business partner and co-founder in Consulting Success, as well as other businesses we've had in the past, started a company together that was focused on web design and development. This is in the early years of all that stuff.
Sam assumed the role of doing the design and development. I did more of the marketing and client communications. We didn't know it, but that was the beginning of us starting to get into the consulting world. That led to another company we created a few years after, called Kankei Culture. Kankei is the Japanese word for relationship.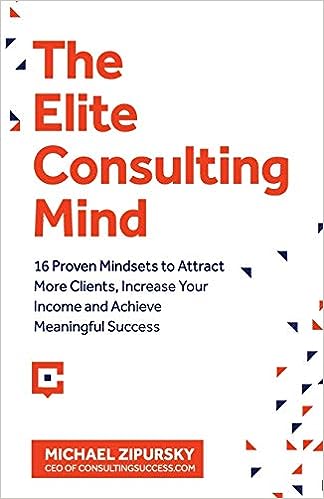 I went to Japan and opened a branch office for that business. That's where we work with some very large Japanese organizations, helping them to market, communicate, and sell more effectively in English-speaking markets. When I returned to North America several years later, I started another consulting business called Relagy Marketing. Relagy stands for relationship strategy.
We've always been big on the importance of relationships in business. That was a consulting firm focused on lead generation strategies for professional services businesses. We worked with different consulting firms, insurance companies, investment firms, etc.
Sam and I were sitting at a family barbecue one summer. We were doing different things at that time, even though we had worked through several other businesses together over the years. We said, "We should do something together again, but this time, let's do it online because every business we had had to that point was just brick and mortar."
We still obviously use the internet and could run the business from different places, but it was connected to interacting directly with clients locally. We wanted the ability to live and work anywhere we chose to. That's when we decided to start sharing our experience building all these different consulting businesses, what worked and what didn't, because many things didn't work.
I remember feeling like I got punched in the stomach multiple times. The dread and wondering, "Am I cut out for this?" All of that stuff about impostor syndrome, the typical stuff any business owner goes through as you work out to build a business. So our goal with Consulting Success was to share stories from the trenches, hopefully helping people avoid the common mistakes that we had made and accelerate their success. That's really how Consulting Success got started.
That's awesome. How do you add value to a consultant who's already found their stride? They have some clients and make revenue and a profit. But maybe they don't even realize that the boiling frog is in the pot. Maybe they don't even realize they need any help, so they're not even problem-aware and not seeking you out. How do you help somebody like that?
If they're not looking for ways to improve their business, we probably can't help them. We tend to focus on those who have realized that they've reached a plateau or things are going great, but they just know that they could go better or achieve more. If you look at any successful person or business in any walk of life, you tend to surround yourself with an external party, whether a coach, a mentor, an advisor, or somebody who can help you see things you're likely overlooking.
Through sharing stories from the trenches, Consulting Success can help people avoid mistakes and accelerate their success.
Click To Tweet
We have many clients who are running six-figure or even seven-figure consulting businesses. They're doing well. But in many cases, they've got to where they are based on referrals in their network. Maybe they're still charging hourly, or it's been them doing all the delivery, and they want to learn how to transition so they can build a team, make a greater impact, scale the business, and all those things.
What we really do with clients who come to us who are already established is review what they've done to this point. We get very clear on what they want to achieve and what success looks like for them. Then, we'll help them put together a step-by-step strategic plan to move forward and achieve that.
What it comes down to is that for all of us and our businesses, if we're looking for improvement, then we're not just going to get there ourselves. We could, but it's going to take us a lot longer. What we provide is that external perspective.
We've seen a lot of what works and doesn't work specifically in the consulting space because we've not done this with over a thousand consultants and consulting firms over the years. We can identify big opportunities that people are just sitting on, which can greatly impact their business.
Having spent time in Japan and working with Japanese companies and culture, I'm guessing you're familiar with the concept of Kaizen. Can you speak about that? How does that apply to a consultant or consultancy?
This is about continuous improvement and not just settling and becoming complacent. The moment that any business just accepts that things are good enough or okay is when you're starting to decline, even though you may not see that for several months.
The concept of kaizen as it applies to all businesses, and even more important from a mindset perspective, is you're always looking to make continuous improvements. When you start to work through each area of your business, there will be opportunities to improve who your ideal client is.
We have clients who are already doing a million or 2 million dollars per year, but they've never really done a good analysis of their client or project profitability. When they go through that, all of a sudden, their eyes are open to, "Wow, we've been treating all of our clients the same way, but the majority of our revenue or profitability is coming from a certain type of client. We should adjust our messaging and marketing to attract more of that kind of client. We should not be working with this other kind of client."
You can go from applying the concept of kaizen to your ideal client, to your messaging, and further refining that to your marketing, to how you deliver on projects. In every area of your business, you can apply this concept. That's why it's so powerful. I think that's what makes business enjoyable because there's always more to learn.
You can go from applying the concept of kaizen to your ideal client, to your messaging, and further refining that to your marketing, to how you deliver on projects.
I don't mean more just for the sake of more, but if you view building a business as an opportunity to enjoy the journey rather than just thinking about a destination and trying to force yourself to achieve that goal as you work through that journey, every challenge that comes your way is just an opportunity to improve. That's something that you welcome.
That's not how I felt about it in the early days. When I encountered a challenge, it would give me pause. But now, more than 20 years of doing this have allowed me to view challenges differently—in a way where we welcome them and look at them as only really allowing us to become even stronger.
Powerful concept I learned from studying Kabbalah. A general Jewish principle is that everything is a blessing. Whether it's been revealed or not to you as a blessing, that's where we get stuck. We see it as a challenge but a blessing yet to be revealed. If we want more blessings that we recognize as blessings, pray for more revealed blessings.
If everything is a blessing, and it's just being hidden from us, or it's temporarily disguised, then we go through life in a very different way. In this idea of kaizen or continuous improvement, when everything is already perfect, you're just looking for opportunities to reveal more light in everything you do. It's just a different way of playing the game.
It's much more enjoyable. Simon Sinek has the book The Infinite Game, whose parts are very relevant when you view the game as infinite in that it never ends. It doesn't have a clear ending. You go about your day differently. You think about the challenges you encounter differently. You apply less pressure on yourself.
Entrepreneurs, especially as you start to reach new levels of success and accomplish much more, it's easy to judge yourself and put a lot of pressure on yourself. Whether it's week-to-week or quarter-quarter data, these are very short-term in the scheme of things. But when you allow yourself to have a little bit more room and look overall if things are going in the right direction, if you're feeling good about where you are, then using your words there, Stephan, isn't that a blessing in and of itself?
What was your biggest lesson, aha moment, or epiphany from The Infinite Game?
Most people look at business as a game, like if you think about a sports game. You have a start time. You have your halftime, and you have the end of the game.
I learned from Keith Cunningham. that if you're not paying attention to your profit and loss, your balance sheet, and your cash flow projections, it's like playing football without having access to the scoreboard.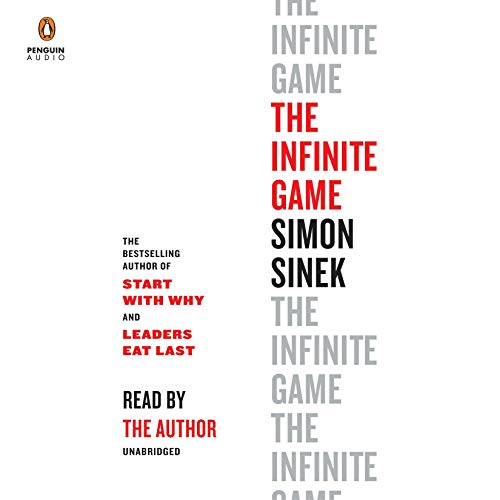 Yeah. The real concept or idea I took away from that book is that you can view business in that way, where it has a very clear start and finish. But Simon's argument is that that's not the best way to think about building a business. Instead, if you allow yourself to see that this business has no ending, why does there need to be a specific ending?
If you can open yourself up, "Well, I get to create what I want. I get to mold this business in the fashion that suits me, my lifestyle and those I'm working with and serving." It opens up a lot more freedom to maneuver and structure things in a way that supports what's meaningful to you.
I often talk with clients about this idea of if you think about a triangle, at the apex of the triangle, many people put their business right at the top. Then they put their lifestyle at the bottom, meaning their lifestyle has to support their business, meaning they have to make sacrifices within their lifestyle, relationships, health, whatever it might be, to support the business. I'm a big believer that it should be the other way around, where your lifestyle should be at the apex or the top of the triangle, and your business goes below that. Your business supports your lifestyle.
If you're very clear on what lifestyle you want to have, what is important for you, and what is meaningful for you, then you get to structure your business in a way that allows you to have that kind of lifestyle. That's what we're doing with many of our clients.
The consultants and the firms that come to us are not looking to necessarily grow into $100 million companies, to go public, or to achieve that. They're thinking, "How do I build a very profitable, lucrative consulting business that allows me to make a great impact but also enjoy the lifestyle I want?" That's where we spend a lot of time.
That's awesome. How do you recommend folks apply kaizen to their messaging, marketing, delivery, and client work? What does this look like tangibly?
There are different ways to go about it. As a starting point to offer people, it would be to break down your business. I know that not everybody on here is running a consulting business, but I suggest breaking down your business into all the different functions and parts. In many businesses across industries, you're going to have to start with a marketing function, a sales function, a fulfillment function, an operations function, and there might be other functions inside of that.
Each aspect of your business creates opportunities to refine your standards for ideal clients.
Click To Tweet
If you understand some of these categories, you can look at each and ask questions. If you have a team, it is great to talk to your team about what you are doing well in each of these areas. Where do you have room to improve these areas?
I had a quarterly meeting with some of our team in person. We went over some of these things. We look at our annual goals. We start thinking about how things are going in each of these areas and how we can improve in each of these areas.
From that, you get some ideas, and then it comes down to prioritizing them based on your resources, time, or what you think will have the biggest impact. And then, you make a plan to implement or to take action on those ideas. You measure them, talk about them, and figure out what's working and what isn't. If that's your mindset, where you're always improving and always looking for ways to improve, you can't help but see great results.
The way I talked and had this conversation with our team before our quarterly meeting, we sent it out to everyone and said, "Hey, here's a couple of things to think about before meeting in person. One of them was, what's one thing that you feel you did well over this last quarter? How did it impact the company? How did it impact you?"
Another question was, "What's one thing you feel you can improve? How does that impact you? How does it impact the company? What suggested actions do you have around that?" The feedback that we got not only that it made for a great conversation and a valuable one when we met, but the feedback I got from some team members was that having that in advance was helpful for them to think about how they wanted to show up and what they want to improve on.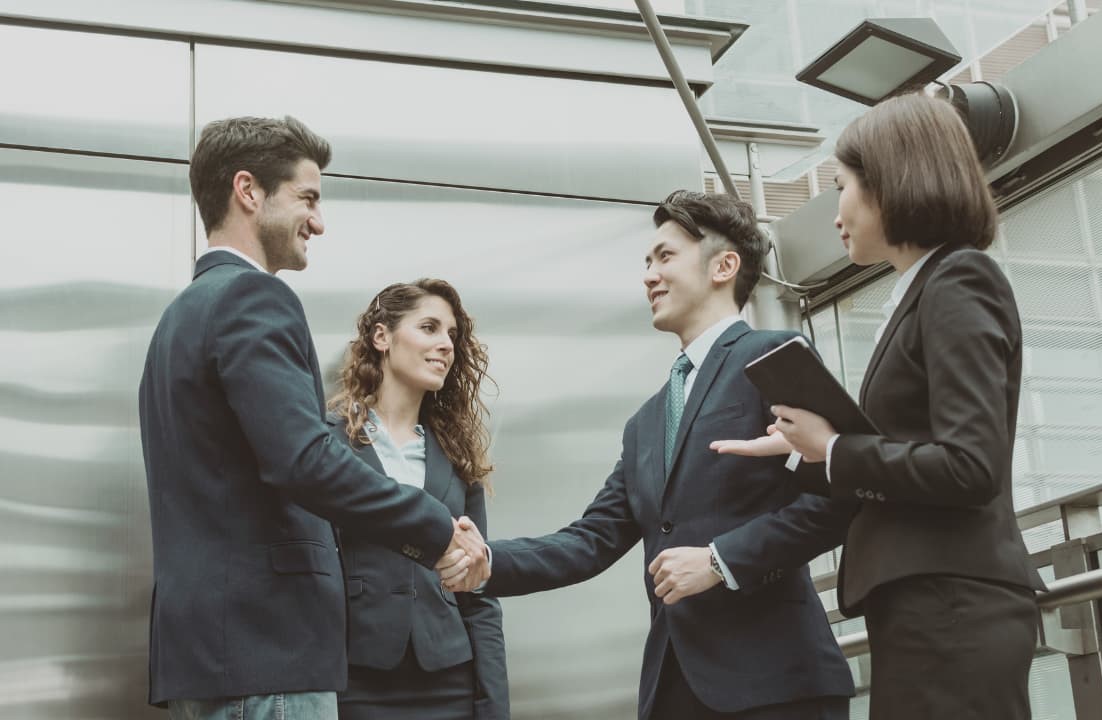 I think the real opportunity for any company, especially if you have team members, if every person has this mindset, embraces this mindset of improvement, and looks for ways to improve, if each person is making even a small improvement, collectively, whether you have 5, 10, or 20 people, it compounds. It's not just one person; it's now 5 or 20 people making one little improvement every quarter.
You can't help but make significant progress when everybody is aligned around that idea. That's why it's so powerful. We've all heard Warren Buffett talking about the power of compounding, which also applies to business.
Great point. You mentioned that everyone went around the table and shared an area where something they did impacted the business and so forth in an area, or they saw an area to improve upon. What was your area to improve upon that you shared?
One thing that we worked on or was a goal for us in Q2 was a specific area around lead generation for one of our programs. Things are going very well for it, but there's a lot of opportunity to do even better. We started working with an external company to test some of this stuff. That was my responsibility, and it did not go the way that we had planned. We just did not see the results that we were expecting to see.
The company in person that we have been working with is very good at what they do. They have a great track record. But for whatever reason, they have not been able to deliver in the way that they expected that they would or the way that I expected that they would.
Our goal should be to feel great about our optimized business, deliver great results for our clients, and continue to grow.
Click To Tweet
That's been, for me, personally frustrating. It's been challenging, but it doesn't mean we give up. It just means we must keep thinking through how we make this work. We know that it can work.
When I shared with the team, I let everybody know I'm taking responsibility for this. I expected a certain level of results, but it didn't happen. Things don't always happen. The main thing in this situation is they're all trying to make it happen. You can't always guarantee the outcome, but you can guarantee the effort.
That's the mindset I want all of our team to have. You're not only judged on outcomes but also effort. In this case, that didn't work out how I wanted it to. I have to take responsibility for that. We're back at the drawing board, trying to determine how to see better results in that area. That's really what I shared there.
How does that jive with the old adage, "To hire slow, fire fast?"
In this case, I don't know if I would have done anything differently looking back. It's one of these things, and you know this as a marketing guy. In every business, especially in the marketing area, you're going to try some things that will work right away, and you're going to try many things that don't. What matters at the end of the day is that you're seeing improvement.
This is an example of something that we invested in quite heavily. It did not work out the way that we wanted to. Now, at that moment, it's acute. That sucks. We didn't get the result we wanted. We made a big investment, and that is unfortunate. But if we fast forward 6 months from now, 12 months from now, or 24 months from now, we'll look back at this and go, "But look at where we are now. It will just be like a little blip in the rearview mirror."
When one door closes, another door opens.
Also, back to what you and I discussed earlier in our conversation today, as a business owner, it's how you view everything. In this one experience or this one exercise, we did not get the results that I was hoping for and that I expected. But there are other things that, as a result, are not working.
One of the things that I mentioned or said to myself and the team, or one of our team members, is, "What if this doesn't work? I'm planning that it will. This person is very accomplished, they have a great company, they have a real track record of success. They work with some very big names that many people would know. But what if this doesn't work?"
Even from the beginning, we started thinking about, "What is plan B? Is there something else we could do?" That led to many other conversations and looking at new and different opportunities. It's like when one door closes, another door opens.
The main thing is not just to focus on what is not working. We will still try and make that work, but we're also looking at what else we can do. At the end of the day, we'll be up ahead. We'll make the progress that we want. It's all good. It's just part of building a business.
Yeah. Have you heard the concept that 10x Is Easier Than 2x?
Yeah. Dan Sullivan and Benjamin Hardy. I got that book. Steve Gordon sent that to me, so shout out to Steve. It's a very interesting concept. It makes a lot of sense. I'd read and listened to that concept before I even got the book. It's a good one. Do you want to get into that one?
I do, but I want to see how that concept applies to what you discussed here. Were you trying to 2x with this vendor and this person you were working with, and maybe you needed to zoom out and see more of a 10x opportunity here, or were you trying to 10x? I'm just curious.
It's a great question. The ultimate goal of this was 10x or more. The realistic plan of what we expected to see within the first quarter would have been more trending towards the 2x. If I give more detail, this is related to paid acquisition.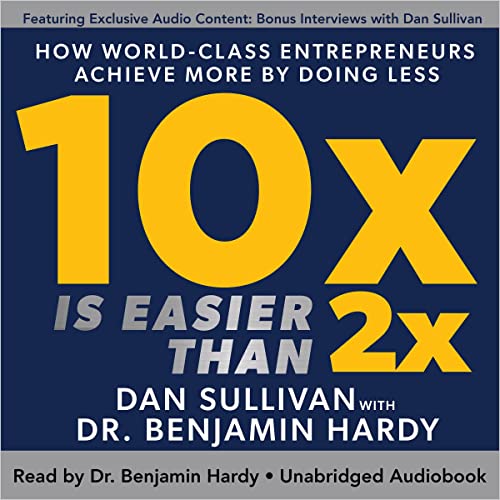 For us, most of our growth in our business has been organic. It's been through the Consulting Success podcast, it has been through books that I've written, it's been through people coming to our website because they've found us through Google. We've always just put a lot of content and shared.
It's more of an attraction strategy.
Yeah, we view the long term. We want to give people a lot of value. If it makes sense for them, we know they will reach out at some point because they will feel like, "Hey, I think this company can help me. These people can help me." That's served us very well. But what we've also looked at doing is as we continue to grow, we don't want to rely on Google or only on the podcast.
Now, we're testing new channels. This paid acquisition channel potentially allows for significant scale once you dial in. That's the whole idea of paid. When you get it to work, you can feed it more and more.
We haven't done that at that level, although we do some paid acquisition, but this was on a whole new level. The thought behind it was from a 10x perspective. Again, we haven't cracked that nut yet.
Are you at a point where this is paying for itself, or is it a money loser?
With a test, it's definitely losing money right now.
Are you focusing on LinkedIn advertising?
Yeah, we do LinkedIn. It works well for us.
I had a terrible experience working with one of the top experts in the world on LinkedIn advertising. I won't name him, but he came very highly recommended. He's had lots of great testimonials and case studies, and it was not successful. It was a huge money loser, not huge in the overall scheme. It was a five-figure loss.
We didn't even get a single lead from it. I'm like, "What are we doing here? This is not working." So, we pivoted to focusing on Facebook ads. I don't really do Facebook advertising or Google advertising at this point. We're all organic.
But when we were doing Facebook advertising, we were getting much more value than LinkedIn. I've heard multiple folks tell me that LinkedIn advertising is terrible. 
One of these things that's very interesting about business is that there is no rule. You can find so many exceptions.
Every business is unique in the sense that that might not work for you, but for somebody else, it's going to work. Facebook will not work for somebody else, and LinkedIn, Instagram, or Google will. One of these things that's very interesting about business is that there is no rule. You can find so many exceptions. Part of that learning process is being willing to invest and test things to figure out what works for you and your specific business, style, and brand values.
We've talked to some people who say, "Yeah, we can help you do X, but you need to push more hype and big promises. That's not something that we're comfortable doing. It's sometimes walking a fine line with marketing to figure out marketing that will work and have a strong enough hook. But at the same time, our brand and reputation are very important because we're playing the long-term game.
We've been a company for over a decade. We have no plans to stop doing what we're doing. We always want to think about what will support the brand. Does this align with what we want to be known for and our values?
It's good, and best of luck with this initiative. Once you crack that nut, it will give you more diversity in your sources of leads and opportunities. It's important to experiment, try new things, and stay nimble.
Let's go back to the book 10x Is Easier than 2x. Have you finished reading the book yet?
No, I have not.
Okay. Is there anything that jumps out at you from what you've consumed so far that you're like, "This is applicable to me or my clients or the market in general?"
The overall concept is so powerful. For those who aren't familiar, the idea I've taken from it is that it's easier and more beneficial to think about 10x. You can see 10x the results, let's say, from a business perspective, although I think you can apply this to many aspects of your life as well, rather than 2x.
Another application of this would be in our world, consultants who think, "Oh, I need to try and land a small client first before I can land a big client." In many cases, the amount of time, energy, and effort to land a small client is the same as that of a big client, but a small client will require much more hand-holding. They're going to, in many cases, be a more involved client, taking up a lot more of your time, but the compensation you'll get from them will be significantly lower.
It's a great concept to look at. If we're going to do A or B, how much energy, effort, time, and so forth is required for each one? Is there that much of a difference? If one of them will give us a much bigger potential upside, doesn't it make sense to lean more into that?
Taking the time to identify who your clients are is a game changer for your business.
It's very similar to the 80/20 concept in some ways, where there's going to be a smaller percentage of, let's say, clients, but they provide the majority of your profitability. Taking the time to identify who they are is a game changer for your business.
Yeah, and the marketing channels that brought those high-value clients because that's part of the 80/20.
These concepts, like 80/20, are frameworks and concepts that are so powerful. Once you understand them, you can apply them in many different areas of your business and your life. They change the way that you think about things.
Let's apply this now to you right as an impromptu case study. Imagine your business now as 10x larger in revenue and profit. What does this business look like?
Are you still working day to day? Are you still doing the same thing? Have you brought in a CEO to replace you? Are you serving the same kinds of clients? Have you incorporated AI or some SaaS offering into the business? What does it look like?
I will push back on that, Stephan, and say I don't know if we want our business to be 10x worthy right now.
Why are you reading the book then?
I'm looking at possibilities. This is a question that we know or a topic that we've been discussing internally. Growth is fantastic. We've been growing every year since we started and continue to grow. But what's important for us is not just growth for the sake of growth.
We're looking at how we grow top-line revenue. How do we make sure that profitability follows that? We're building a business that, again, supports the lifestyles that we want to have. As you continue to grow, we have six full-time people today. We have another 10 contractors, so we're about 16 or 17 people right now. That's a big difference from where we were just a few years ago.
How much more can we do with our current team? Are we interested in doubling that or tripling that in terms of the number of people and clients? There are so many different considerations. But right now, our goal would not be to 10x.
If somebody says, "Hey, you can 10x where you are today." We have to think about that. "Do we want that? What would our roles be inside of that? What would be the positives of that? What potentially would be the negative? Is there a way to work around those negatives?"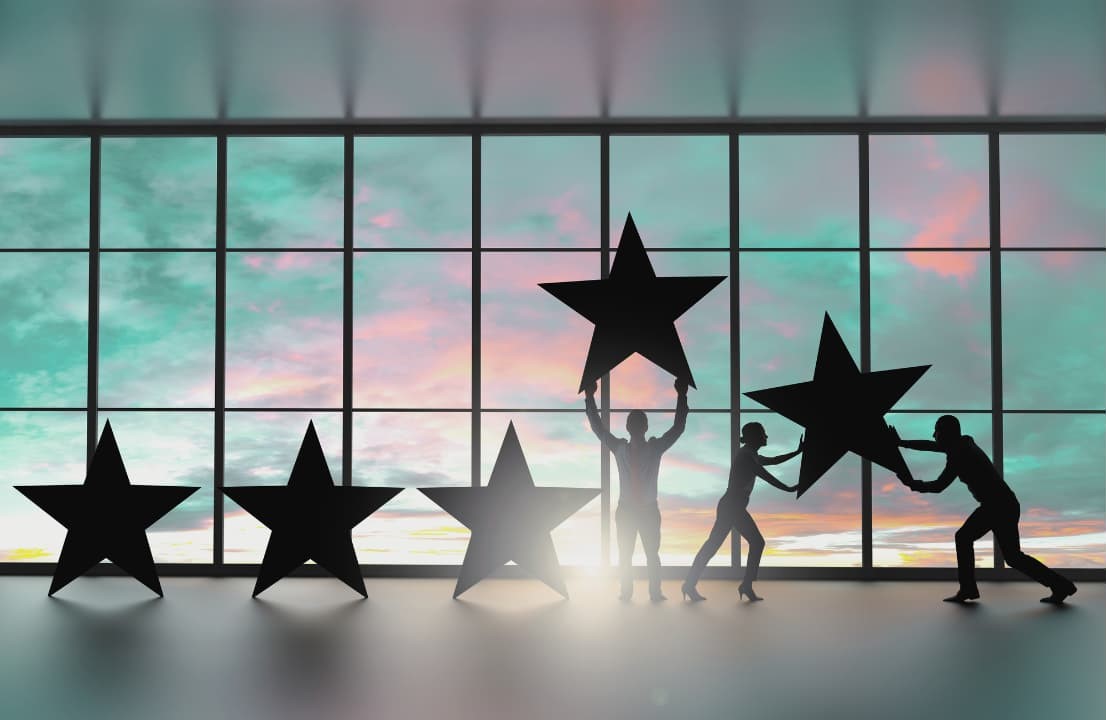 It's a great exercise. It's an exercise I've done with clients, not necessarily with the 10x, but helping them see a bigger picture for their business and planning what you need to do. And what would you need to have to support that business?
That can be a pretty eye-opening experience or exercise for people thinking about that, creating the future org chart, and looking at your role. I don't know what that would be like because that's not where we want to go.
I want to share with you an exercise that I have just learned. I went through it myself as a virtual attendee of this course. It was taught by David Ghiyam, a guest on my other podcast, Get Yourself Optimized. He's a Kabbalah teacher and a part of The Kabbalah Centre. He's also a very successful entrepreneur.
He and his wife are owners of MaryRuth Organics, which has 25 million customers. It's huge. This concept or this exercise that he did was around understanding your self-limiting beliefs that are holding you back or self-sabotaging you in your, let's say, growth mindset or your ability to grow your business, your lifestyle, your prosperity, and everything.
An example he gave was, let's say somebody is looking to grow their business, but they also have the self-limiting belief that's in the back of their mind that, "Oh, wow, what's going to happen for me when that business grows is I'm going to have to work more, or I'm going to be more stressed out because I'm already somewhat stressed." As more team members and clients come on board, I become even more stressed. Therefore, more growth equals more stress.
So then you work towards growing, but you're also, in the background, self-sabotaging without even realizing it. Identifying those limiting beliefs and laying them out on the table so that you're like, "Okay, now I'm clear that I'm working counter to my growth and outcome that I'm after. It helps not just clarify but remove those obstacles."
Network reactivation allows you to take an inventory of all of your professional and personal connections.
Click To Tweet
It's a great exercise. If I go back several years, before we start building the team, adding more coaches that we've trained that work with our clients, we were also wondering about these things. If I go back even more years, when we were a very small team, that was our belief. More people equals more headaches, equals more challenges.
We finally got to the point where we realized (1) the demand was there, but (2) we wanted to make an impact. We want to reach and help more people, and we couldn't just do that with a small team we had at that time. That drove us to build a team and put better systems and processes.
I completely agree with that sentiment or that exercise. People often apply limiting beliefs. That happens at every stage. As you reach stage A, you will have certain limiting beliefs. When you go to stage B or C, you'll have different limiting beliefs, potentially. Those are always things that are fun to work through and think about.
At the same time, I've also talked to many successful entrepreneurs who have looked back on a decision they've made in terms of growth for the sake of growth and going bigger or taking on external funding. In some cases, people have preferred to stay small. In some cases, they want to go for the next.
The main thing is there's no right or wrong. We continue to grow. We continue to make investments. Things are going great. The goal is not to just grow the business for the sake of growth and top-line revenue. The goal is to have an optimized business that we feel great about, delivers great results for our clients, and continues to grow.
The most powerful step is to publish or put your content where you can demonstrate value.
We're just very conscious of that and finding that right balance. That doesn't mean to say that we might feel completely different a year from now. Whether we go smaller with another type of client or significantly bigger with a different client or offering, the beautiful thing about business is that we all get to create whatever we want. That's where we spend a fair bit of time talking internally about what we want this business to stand for. Are we on the right track? Do we want to make any changes?
Is there an area or metric you want to 10x the business? And so for me, as an example, I'd love to 10x my podcast reach, particularly the number of listeners, subscribers, and downloads.
That's a great question. Sure, I'd love to do the same for our podcast. The nice thing with the podcast is that it is very leveraged, meaning you can 10x that number. Let's say 10x of qualified, right kinds of listeners. You don't want just any kind of listening. You likely want people who could become clients or get value from what you're offering.
That's the number that, in my mind, it doesn't take any more energy or effort for you to have 10x the number of subscribers or listeners. But if you 10x your revenue, profit, number of clients, or something else along those lines, you need to make changes inside your business in many cases, or your business will look different. If you have 10x the revenue, your business will likely look different. The number of people you have might be different, or the structure systems you use might also be different.
The podcast one is interesting. As a fellow podcaster, that would be great. We've seen growth with the Consulting Success podcast, but I'd love to continue working on growing that even further.
Yeah. What would be more important to you than 10x? Would it be podcast listeners, the downloads, or whatever? Or is the number of email subscribers to your weekly newsletter? You have 50,000 consultants in your newsletter now, right?
Yeah, we're both 50,000. I haven't checked the podcast in about a month or so. But last time I checked, we had about 60,000 monthly downloads, give or take.
Which one would I prefer to have? That's a great question.
Frank Kern always would say, "The money's in the list."
Right. My initial feeling is the email list because it's more of a direct way to communicate. Whereas a podcast, if they're subscribers, they will likely consume your content or your podcast regularly. But it's harder to get a response or to communicate.
You need to know who you truly want to speak to. You also need to know what you stand for.
What we found with a podcast is we know what our podcasts contribute to—we look at our clients, talk to our clients, and survey our clients. We know that many of them, if not most, are podcast listeners. But we can't just send them a one-to-one email through the podcasts. We don't know who they are. I'd probably prefer that, but the podcast feels very valuable.
Yeah, it's like a one-on-one conversation in somebody's ear. It's so intimate because even more than video, where you're watching talking heads or B roll coming here and there, they have rapt attention to you while going to the gym, taking their morning stroll, or walking the dog. It's intimate, and it's very special. It's a special relationship.
My listeners feel like they know me; we've never met in person. It's a different thing. I wanted to know what your answer was going to be.
I completely agree because I'm a podcast listener—every day when I go to the gym or run. I'm consuming podcasts. I watch videos, but I don't watch nearly as many videos as I do in consuming podcasts. My attention span if I'm at home, with the kids, reading a book in the evenings, or whatever it might be.
The podcast is saying that you can truly multitask. There's not that many things that you can effectively multitask. But with a podcast, you can run and you can listen, you can be stretching or doing weights at the gym, and you can be listening simultaneously.
You mentioned that some consultants might be limited in different ways by charging hourly, being more of a solopreneur than a team leader, or they're overly reliant on referrals. Let's take referrals as an example here. Somebody's very reliant on referrals. How do they apply your advice so they are no longer reliant on referrals? It's great when they get them, but all the referrals could go away, and they'd still do just fine.
The process we take people through is getting very clear on their ideal client. That's because as you take the next steps we'll discuss, you need to know who you truly want to speak to. You also need to know what you stand for. What do you want to be known for? That then parlays directly into your messaging. Those two things are critical.
The third is what we call- and it's a very low-hanging fruit, internally, we refer to it as network reactivation. Most referrals that people get they're passive. You do great work. People refer you, introduce you, and people contact you. It's great when it comes, but it's certainly not something you can reliably and consistently scale your business, feeling certainty around.
Network reactivation is an exercise where you take an inventory of all the different people you connect with in one form or another. We give our clients different templates to help them with it, but you just think through the inventory of who you know.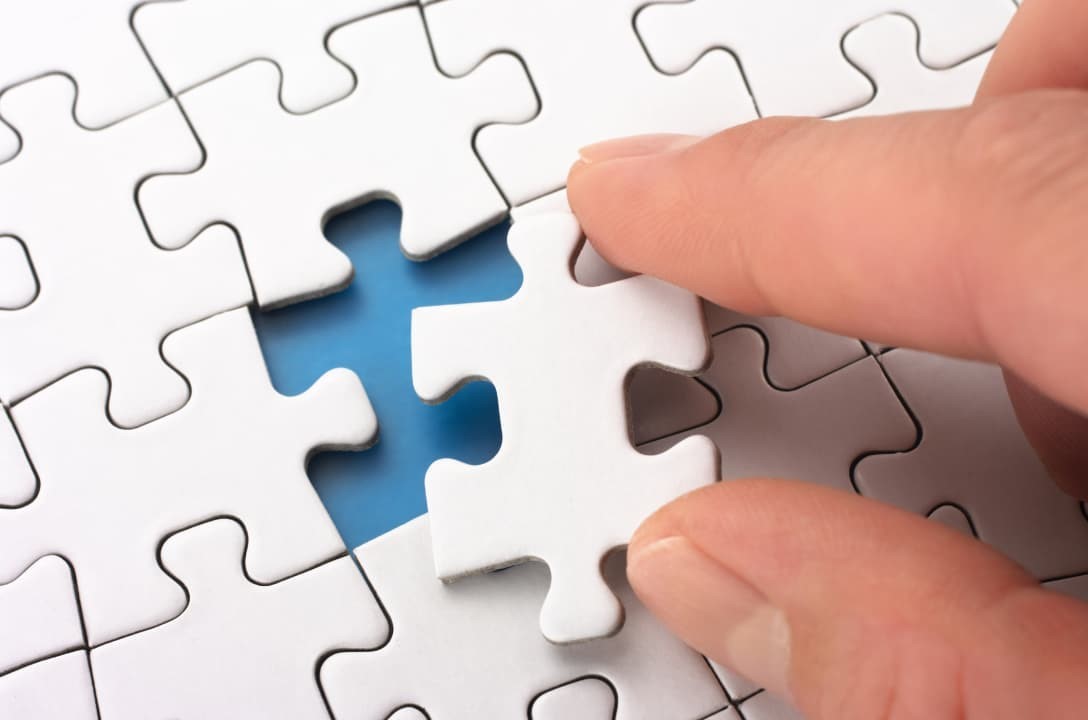 Now that you're very clear on who your true ideal client is, and it's probably not who you think it is, but when you go through a process, it becomes clear, and you know what you want to stand for, what you want to be known for, what your messages are going to get the attention of your ideal clients and speak to them, now you can go through this network reactivation, where you reactivate your network you get in front of them. You have a personal message, but you also tell them what you're doing and who you want to work with.
Just that exercise and that activity often lead to many people saying, "Hey, actually, we could benefit from that," or, "Hey, you should talk to Sarah, Joe, or Jennifer." That is a great activity to do regularly. Beyond that, it comes down to inbound and outbound. This will depend on what stage your business is at.
If you are at an earlier stage in your business, you'll need to do a bit more outbound, meaning that you're getting clear on who the ideal client is and reaching out to them directly because you can quickly see a response. But if you have a pipeline and a bit more time, you don't need new business instantly. The inbound approach, where you're focusing more on your intellectual property and content and putting it out there, is a better strategy.
There's a variety of things that you can do here, anything from a podcast to YouTube videos, to speaking in front of audiences live, attending conferences, delivering presentations or webinars online, writing for industry publications, trade association journals, or newsletters, partnering with different types of organizations, whether they are associations or software vendors.
Or masterminds like how we met with Joint Venture Mastermind (JVMM).
Yeah. The interesting thing is there are so many different paths that you can take, and you should not try and do all at once. If somebody hates writing, then don't write. You may enjoy speaking. One client loved drawing cartoons a while back, so they started doing them. But for their specific industry, this segment of technology they focused on working for them.
Don't try and compensate for your weaknesses. You want to focus on your strengths. As long as your ideal clients will consume whatever format you are creating, that's the most powerful step you can take: to publish or put your content out there because you can demonstrate value. 
If you converse with a buyer, you can ask meaningful, valuable questions demonstrating your industry or sector knowledge.
If you get a referral from someone, there's an exchange of value. The person referring you tells the buyer, "Hey, you can trust this person. They do great work." If you have a conversation with a buyer, you can ask meaningful, valuable questions demonstrating your industry or sector knowledge. That's also a way of asking great questions to demonstrate value.
Of course, if you do actual work with a client, you can demonstrate value through doing the work so the client can see that value. But how can you demonstrate value if you don't have any of those happening? The best way in that scenario is through content because I can tell you that I'm good at something.
But if I just show you that I'm really good by writing a very detailed, valuable article, or I give a talk that blows your mind, or I'm on a podcast, whatever that might be in whatever format it is in, I don't need to sell you on what we as a company do. You can just see that expertise coming through in the content.
That's really what we tend to suggest that people do. But again, it depends on if the earlier stage or a little bit later stage is more established, and then going through and figuring out the right channel, what is the right format for them, and then helping them to think through how you do that.
There are many different topics that you could talk about how you figure out the right ones. How do you make sure you have a proper call to action? When is it the right time to have a call to action? When should you not use a call to action? There are a lot of variables, but that's the process that we help people go through that generates some very solid lead flow for them once they have it up and running.
The keyword here, Stephan, is consistency. It's not about both yourself and myself. We're showing up on these podcasts over and over again. We do what we do, not short term. We do it long-term because we know the benefits come through compounding and consistently showing up. When people get excited, "Oh, I'm going to start a podcast. I'm going to do some YouTube videos, or I'm going to write an article," they do one or two, a couple, and then stop, you're typically not going to see great value from that.
How reliant are you on referrals these days?
Referrals are a part of our business. We do studies where we ask thousands of consultants about how they generate their business and so forth. One of those questions is, "Where do you get the majority of your business from?" For most consultants, it's still referrals, which is not surprising. You do great work. You tend to get referrals.
We get referrals, but we don't rely on them. We've invested much time, energy, and focus on content. That's how we started Consulting Success back in the day. Before we had anything to sell or offer, we shared our experiences through blog posts.
We have a podcast, YouTube channel, books, and we do different events. I speak for different consulting associations or different groups. We have partnerships.
There are so many places where we could improve, but you have to always look at your current priority.
We're not relying on any channel, but we're always looking and asking ourselves, "How can we generate even more referrals? How can we get even better results from our podcast, paid acquisition channels, SEO, or whatever it might be?" Again, going back to our earlier conversation on kaizen on continuous improvement, we want to try to get it working even better when we find something that works.
Yeah. This is an out-of-the-box idea for you. Have you ever considered founding your association for consultants?
No. It could be an idea. We jumped around a little bit, but no, we have not. It's interesting because we have relationships with different associations. I talked to one association recently; they've been around for a long time. They're well known, but they have 300 or 400 members. I was like, "That's interesting because we have 50,000 people on our email list who are consultants."
We have the biggest or one of the biggest consulting communities out there. We could do something like that if we want to explore it further. It's a great idea. We've not given much thought to it, but it is something that we might do going forward.
Yeah. Maybe one of those 10x is easier than 2x ideas. It could be. Do you have a Facebook group for consultants where they can all hang out and shoot the breeze?
We have a Facebook group. We have a LinkedIn group. We don't do very much with them. For us, social media is an area where we have much opportunity to improve. I'm not big on social media. I'm on different channels, but I don't enjoy it. We would need a dedicated person to manage that.
Facebook is also interesting that, speaking of many of our clients, they don't spend much time on it. It's one of these areas where it's like, "Yeah. We could definitely do a lot more there. It's everything."
There are so many places where we could do better and make an improvement. Our biggest thing, Stephan, is always looking at where's the priority right now. Where should we be focused? Based on our goals and what we want to achieve, that's where we focus.
We can't do everything. There's just too many opportunities for us to push all the different buttons. We're always selective in which buttons we want to push and which ones we feel will have the biggest impact or align best with our values.
I know we're getting close to time here. I'm curious if you currently have or had an impostor syndrome. If you wanted to share any experiences or words of wisdom in relation to that.
You can always choose to focus on either the positive or the negative. You can choose to focus on the opportunity or the lack of opportunity. It all depends on what you're seeing.
I'll take you back to my time in Japan. As I mentioned, I went there to open up an office for our company, Kankei Culture. I was in my early to mid-20s. I was consulting with and advising billion-dollar organizations like Panasonic, Dow Jones, Financial Times Japan, Omron, Shimadzu, Sumitomo, and a whole bunch of big players.
I would go into boardrooms, where I was the youngest person. In almost all cases, I was the only foreigner, the only white guy amongst a bunch of Japanese people. Most of the Japanese people that were in those rooms were in their 50s, 60s, or, in some cases, 70s. They were much more senior to me, not only in age but also in their accomplishments. Just looking up, I felt inferior. It was how I would often feel.
I remember one specific situation where we had a problem with one of our clients. They were unhappy with a specific ad we created for them because the image in one of the ads was the same one that some other companies had used.
Back then, you got royalty-free images, or there wasn't royalty-free. We paid for the image. But some other companies also use the same image. They were very unhappy about that, which was understandable. I was living in Osaka, where the office was. I had to go with our partner from an ad agency up to Tokyo.
We jumped on the bullet train that morning. I went up there and had a four-hour meeting to work through this whole thing. In the end, it was fine. Again, it showed the importance of investing in those relationships and getting everybody back on track. But I remember that feeling in the pit of my stomach, like, "What am I doing here?"
Looking back, and probably a few months after that situation, it wasn't a big deal. But at that moment, it felt paralyzing. It was challenging. I remember asking myself, "Why am I doing this?"
I remember I had received a six-figure job offer back in Canada, and I had left that to continue building this business. Here I was, a foreigner, an outsider, and I didn't fit in. My Japanese language at that time still wasn't as good. I was still learning.
All these reasons make me feel like an imposter like I don't belong. I shouldn't have a seat at this table. But the flip side was—I write about this in my book, The Elite Consulting Mind, specifically for consultants, although I've heard it applies to many other types of people— it's the grass is always greener.
I was focusing on what I thought were my deficiencies. What I wasn't focusing on enough was the reason why I was at that table. I was there because these companies were looking for an advantage and an edge in reaching English-speaking markets. They didn't have that capability internally, at least not at the level that they were looking to have. That's where we had experience. That's where I could add value.
The moment I realized that it helped to shift to go, "Okay, well, there is a reason why I'm here." I talk about this from the perspective that sometimes, when somebody is younger, "I'm younger, and all these older people have this experience." You can flip that and say, "Somebody older looks at these younger people and goes, 'They have all this energy and time.'"
You can look at any situation from a different perspective and turn it into an opportunity, a gift, or a blessing.
I remember back, before COVID, people would say, "I'm in a big city. There's so much competition here. It's so hard to be successful." Then you talk to other people, and they say, "I'm in this small town in the middle of nowhere. There are no big companies near me." You can always choose to focus on either the positive or the negative. You can choose to focus on the opportunity or the lack of opportunity. It all depends on what you're seeing.
To me, that's been the big leap when it comes to impostor syndrome. If you let all those things weigh you down, if you put the lenses on, "Why won't this work? What do I not have? What do I lack that's going to hold you back?" But if you look at it and go, "Well, there's a reason why I'm here," and you start seeing it as an advantage, seeing a lot more opportunity, then that idea of imposter syndrome, I think, starts to fade away.
Yeah. Wouldn't it be cool if that was a divine setup? That photo that ended up being the same one the competitor used wasn't random, but it was divinely orchestrated from above.
I don't have the answer to that, but I remember I can tell you the photo. It was a guy with his head in a trash bin because it was for an RFID company product. The idea behind it was that instead of finding things lost in the trash with RFID, you can track the location of stuff everywhere. For the other company, I'd use it for a completely different purpose, but I still have the memory of what that image looks like.
That's what my intuition tells me. That was a divine setup. That photo was meant to be the same as the one the competitor was using so that you would have this opportunity to look inside, self-reflect, grow and evolve, and see this as a valuable lesson.
What you're seeing right there is a lesson for everybody. You can look at any situation you encounter and dwell on what's wrong with it. Or you can look at it from a different perspective and turn it into an opportunity, a gift, or, in your word, Stephan, a blessing.
What a great way to end this episode. If our listener or viewer wants to work with you, learn from you, and learn from all the wonderful resources you've developed, the books, the podcasts, and so forth, where should we send them?
Consultingsuccess.com is home to everything. There are about a thousand free articles on the growing consulting business there. We have the Consulting Success podcast, the YouTube channel, books, and resources. All that is there, so I appreciate it. Thanks, Stephan.
Thank you. Thank you, listener. Apply what you've learned, even if you're not in the consulting world, and make it a great week. We'll catch you in the next episode. I'm your host, Stephan Spencer, signing off.
Important Links
Connect with Michael Zipursky
Books
YouTube Videos
Previous Get Yourself Optimized Episodes
People
Further Resources
Your Checklist of Actions to Take
Embrace the kaizen mentality. Adopt a focus on continuous improvement in all aspects of my business. 
Focus on ideal clients. Prioritize clients who offer higher profitability and align better with my business goals. Analyze client and project profitability to refine my targeting and messaging.
Visualize my desired lifestyle and design my business to support it. Prioritize building a lucrative and impactful consulting business that aligns with my lifestyle goals.
Shift to 10x thinking. Consider aiming for 10x growth opportunities rather than incremental improvements. Assess the potential for exponential growth. Reflect on the energy and resources required for 2x and 10x growth goals.
Diversify lead generation channels. Experiment with different marketing channels to diversify lead sources.
Stay nimble and adaptable. Be open to pivoting and adjusting strategies as needed. Continuously monitor outcomes and make data-driven decisions.
Plan for scalability. Create a future organizational chart that reflects the growth and evolution of my business. Consider whether roles and responsibilities need to shift as the business scales.
Utilize network reactivation: Engage with my existing network by reaching out personally and letting them know about my current focus and offerings. This can lead to referrals and new opportunities.
Focus on consistency: Consistency is key to long-term success in content creation. Regularly produce and share my content to build a loyal audience.
Create a centralized online hub for my content and resources to make it easy for my audience to access valuable information. This hub should include articles, podcasts, videos, and other resources that showcase my expertise and provide value to my audience.
Visit Michael Zipursky's Consulting Success website to access their resources, including free articles, podcasts, and books, and link to their social media platforms.
About Michael Zipursky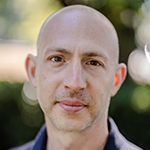 Michael Zipursky is the co-founder and CEO of Consulting Success®, which specializes in helping entrepreneurial consultants grow profitable, scalable and strategic consulting businesses. He has advised organizations like Financial Times, Dow Jones, RBC, and helped Panasonic launch new products into global markets, but more importantly, he's helped over 1000 consultants from around the world in over 75 industries add 6 and 7 figures to their annual revenues. Over 50,000 consultants read his weekly consulting newsletter. Michael is also the author of the Amazon Best Sellers ACT NOW: How Successful Consultants Thrive During Chaos and Uncertainty, The Elite Consulting Mind and Consulting Success®.