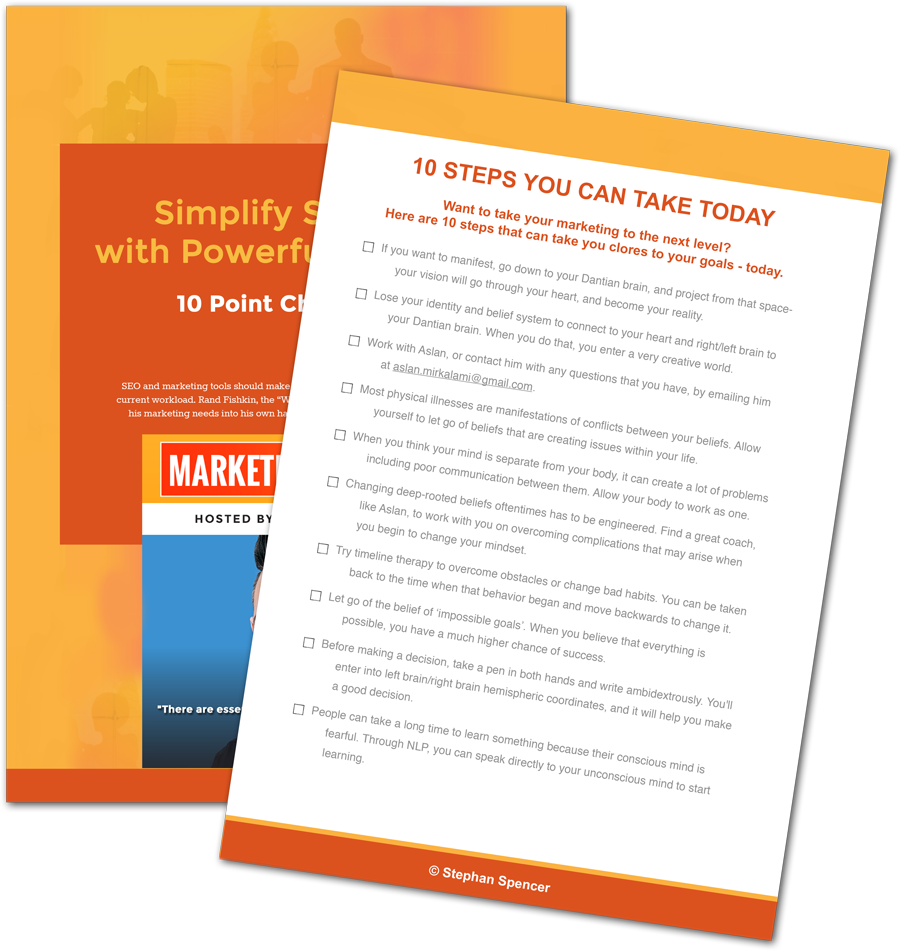 Get into action! Download your FREE Checklist
Put the most important tips from this episode to work and take your marketing to another level! Get your free 10 Point Checklist for your next actionable steps.
This Week's Guest:
How do you make yourself stand out when you give a presentation? You may tend to emphasize things that set you apart from your listeners. You want to present yourself as someone special, exceptional, and unique. Your audience would have no reason to listen to you if you were just one of them, right? Rattling off your accomplishments is not the best way to lead a presentation. You don't want your audience to think "so what?" You want to get a resounding "me too!"
As you may already know, I'm a big fan of mastermind events. I recently attended a fantastic one run by today's guest, Doug Allen. Doug joins me this episode to share some of the fascinating and powerful studies, tools, and technologies that he explored in this mastermind. Doug is also a five-time best-selling author, hedge fund manager, business development consultant, and the founder of the Destiny Partnership Mastermind Group. Join us to get some valuable insights into presenting yourself to others.
Find Out More About Doug Here:
Doug Allen
Doug Allen on LinkedIn
Doug Allen on Amazon
In This Episode:
[01:42] – Doug starts things off by sharing the history of how he became someone who helps others by running masterminds.

[04:34] – Was Doug doing

Facebook ads

as well, or just

AdWords

?

[06:34] – Stephan clarifies what Doug has been saying, and then Doug elaborates. Stephan discusses a study done in Israel involving parents turning up late to pick up their kids.

[09:50] – Doug shares a case study about his mastermind, explaining why his video was compelling.

[12:32] – We hear about one of the things that Doug taught, and that Stephan got a lot of value out of.

[13:14] – Doug explains this compelling concept, which relates to categorizing things into "me too" versus "so what?"

[16:39] – Stephan points out that in most

Shark Tank

episodes, the sharks are thinking to themselves "so what?" Doug then talks about an event on

Dragons' Den

.

[19:41] – We learn more about Doug's work with

Tony Robbins

.

[22:41] – Doug shares the results model that he came up with in Fiji when he was there for Tony Robbins'

Date With Destiny

.

[27:17] – Stephan shares a story about a lunch conversation he had recently that ties into what Doug has been saying related to discipline.

[31:13] – Doug and Stephan talk about a strategy for keeping listeners engaged.

[32:11] – Doug discusses a proactive formula, beginning by explaining its necessity through telling the story of an incident at a recent mastermind involving Stephan's wife,

Orion

.

[36:13] – We hear about the proactive formula in more detail, with Doug explaining each of its several steps. He and Stephan also take a moment to dig into the concept that everything is a gift, but the bow may be on the bottom.

[39:42] – The fifth step of the proactive formula is doing it and taking action, Doug explains.

[41:23] – One person making a more enlightened, evolved decision can make a difference in a more powerful way than bringing your "Truth" to the situation, Stephan points out.

[42:28] – This perspective is what Doug loves about Stephan and Orion.

[44:46] – Doug returns to discussing the

LinkedIn

strategy that he briefly mentioned earlier in the episode.

[47:06] – LinkedIn gives you the ability to download all your LinkedIn contacts' email addresses, Doug explains, then offers a creative and effective way of using these email addresses (instead of just spamming them).

[50:23] – If someone wants to work with Doug, how can they reach him? He suggests texting him and gives his phone number (if you want it, you'll have to listen to the episode!).
Links and Resources: