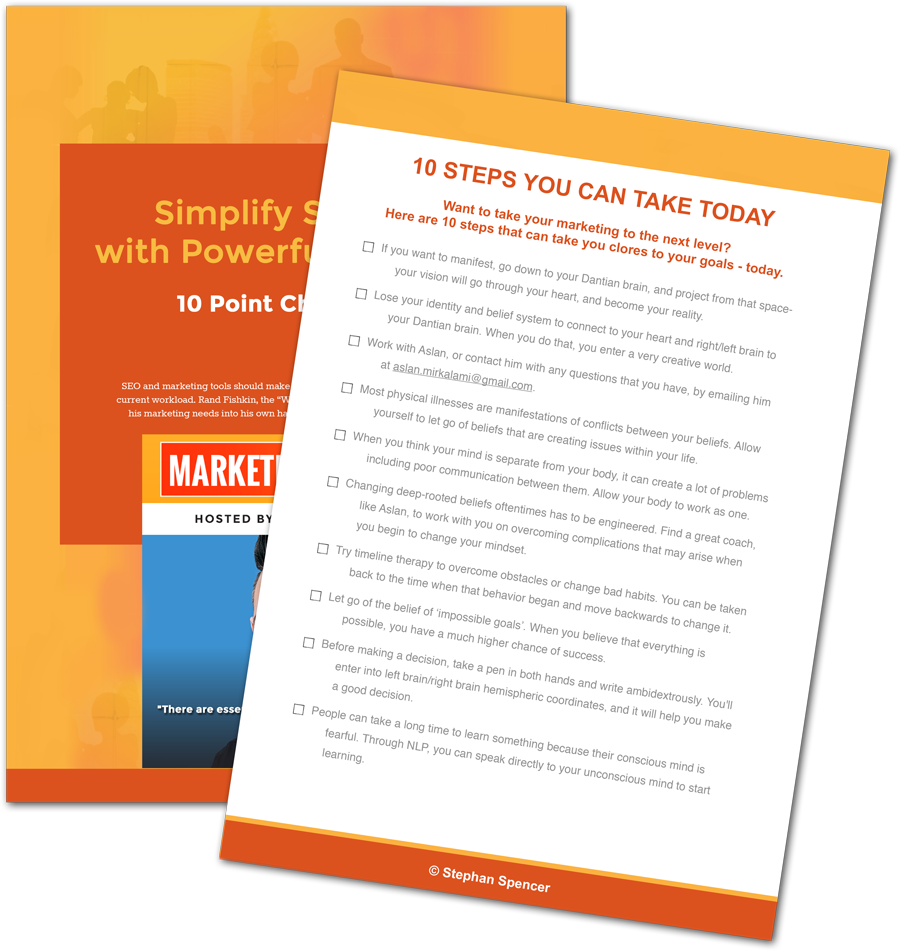 Get into action! Download your FREE Checklist
Put the most important tips from this episode to work and take your marketing to another level! Get your free 10 Point Checklist for your next actionable steps.
ManyChat CEO @mikedyang is here to talk about scaling, automating, and best practices of Facebook Messenger marketing on the next @mktg_speak.
Click To Tweet
This Week's Guest:
If you think that email is the present and future of online marketing, think again. Facebook Messenger has over a billion active users, and their open rate is astonishing compared to other forms of communication. While this may not be a viable marketing method for those trying to handle every message themselves, using a bot can help you scale and automate your Messenger interactions.
Today's guest is Mikael Yang, the cofounder and CEO of ManyChat. This is the leading Messenger marketing platform, with over 250,000 businesses in over 200 countries using its services. (I'm proud to add that I'm one of its happy users, as well.) Mikael will take a deep dive into marketing through Facebook Messenger. He'll explain why it's such a valuable marketing avenue and how best to take advantage of this opportunity to streamline communication with customers.
Find Out More About Mikael Here:
Mikael Yang on LinkedIn
Mikael Yang on Facebook
@mikedyang on Twitter
ManyChat
In This Episode:
Links and Resources:
Your Checklist of Actions to Take
☑ Prioritize customer engagement. Find ways to connect with my clientele to keep them taken care of.
☑ Utilize ManyChat and take advantage of the growing number of Messenger subscribers.
☑ Provide my subscribers with the utmost convenience. Make it easy for them to reach out, conduct purchases, and send feedback.
☑ Wait for my customers to express interest in my business before connecting with them on messaging portals.
☑ Be systematic in my communication and eliminate interactions with poor leads. Use effective CTAs and curate auto-replies for better engagement.
☑ Make it easy for my contacts to unsubscribe. Even if I don't want them to unsubscribe, it's better to honor their request.
☑ Find out which other messaging apps work for my subscribers. See if they're comfortable using Viber, Messenger, WeChat or Instagram.
☑ Integrate eCommerce into messaging apps with the help of tools like ManyChat and other bots.
☑ Automate my process to eliminate the need for constant monitoring. Determine my customers' common needs and create auto replies to handle their requests.  
☑ Try ManyChat to reach out to my followers via Messenger in an engaging and interactive way.
Transcript
S: Email marketing is great but Facebook Messenger has over 8 billion active users and the open rate is astounding. Often times, it's 60%+. You can use bots like ManyChat, for example, to help you scale and automate these interactions that you have with folks through Messenger. It's pretty incredible what you can accomplish with ManyChat. In fact, I'm one of its customers. Today, we have on this episode number 141, Mikael Yang. He's the co-founder and CEO of ManyChat which is the leading Messenger marketing platform with over 250,000 businesses in over 100 countries using the platform. Mike, it's great to have you on the show.
M: Hey, thanks for having me.
S: Let's talk about Messenger as a marketing platform, first of all. Because I think folks tend to think of Facebook as a marketing platform, but not necessarily Messenger or even just like any of these messaging clients such as WhatsApp or anything. What is it about the Messenger platform that makes it so ideal for marketing?
M: That's a great question. I think the thing that makes Messenger a great marketing channel is because there is over 1.3 billion people using it monthly and the audience is very engaged. For example, the difference between Messenger marketing and email marketing, we like to point out that we have over 70%, 80%, even 90% open rates on Messenger while on email you get usually 20%, 25%. In terms of CTRs, email is 1%, 2% CTRs and Messenger is like 10%, 20% CTRs. It's a really engaging channel. It's really hard for you as a consumer to not read that message. That is why we think it's going to be the next big marketing channel. I can dive deep if you want to but I'm sure there's many more interesting questions that you want to unpack.
S: Let's just qualify a couple of things about what you're saying. It's hard not to read a message in Facebook Messenger–is that because it just kind of screams at you if you leave it as an unread message more so than an email or what is it about Messenger?
M: Yeah. Messengers came as a substitute for SMS–a lot of them came as a substitute for SMS. Not a lot of people from US know this but outside US, texts usually cost you money so there is rarely a concept of unlimited text. When messengers and mobile internet came along, messengers like WhatsApp were a great way to save money on texts. If you think about historical open rates of SMS messages, they're actually over 95%. It's very personal, it's very private, and you're trained to open messages on Messenger as a consumer and yes, it is really hard to not read any message there.
SaveSave