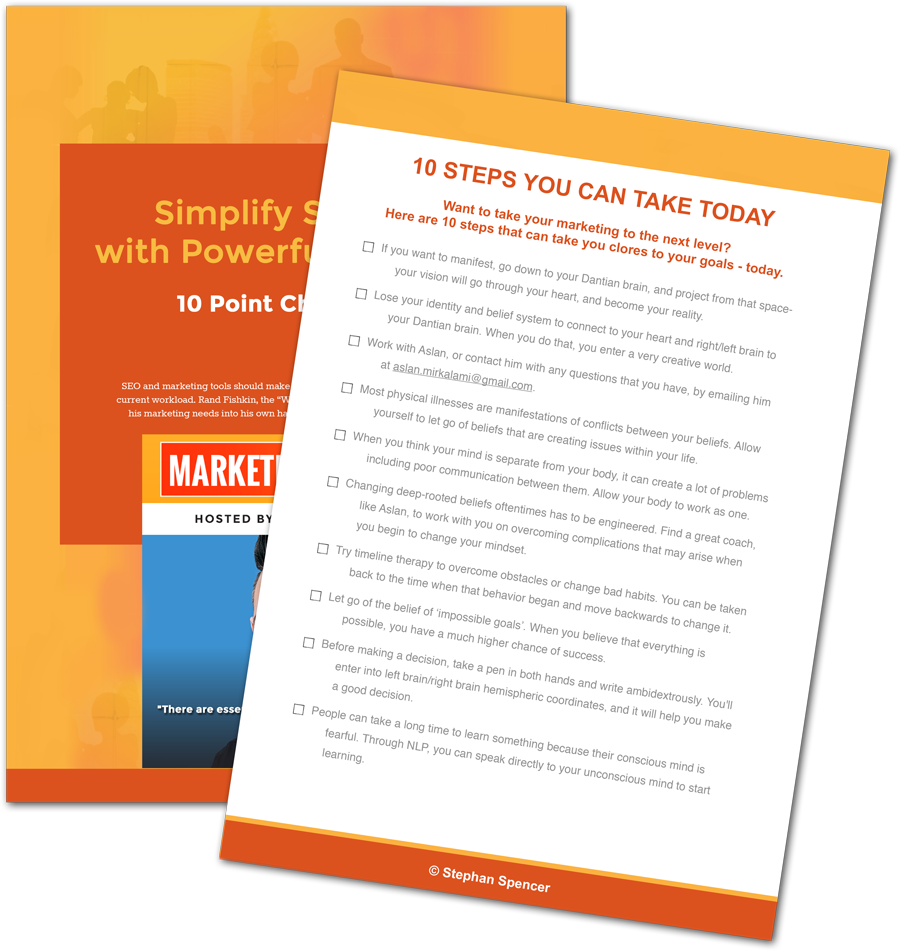 Get into action! Download your FREE Checklist
Put the most important tips from this episode to work and take your marketing to another level! Get your free 10 Point Checklist for your next actionable steps.
This Week's Guest:
John Chow is the original dot com mogul — as well as being an author, speaker, blogger, father, and entrepreneur. He rocketed onto the blogging scene when he showed the income power of blogging by taking his blog from making $0 to over $40,000 a month in just two years, working just two hours a day. This all began with a case study to see what it would take to make $3,000 a month through blogging.
JohnChow.com is now one of the biggest blogs on the internet, with over 200,000 active daily readers and followers. In this conversation, John walks us through many of the details involved in how he achieved this overwhelming success. The interview is full of invaluable tips and insights on various aspects of how to succeed in making money online.
Find Out More About John Here:
JohnChow.com
@JohnChow on Twitter
John Chow on Facebook
John Chow on YouTube
In This Episode:
[01:37] – John shares his biggest 'aha' moment, which was when he discovered that you can make money online.

[05:14] – How long did it take John to go from making $0 to making $10,000 a month on his site? He answers, then walks us through the journey of his site through the dot com boom and bust.

[08:55] – After Adsense came along, John had a bit of a learning curve in figuring out ad placement, colors, and so on. After four to five months, he was making good money again.

[09:47] – John talks about the social media boom, which was when things started taking off for him again. He explains how he got into blogging, and talks about being called out on talking about making money by blogging when his blog wasn't making any money.

[13:05] – In response to being called out, John made a case study involving monthly posts about his blog's income. The goal was to make $3,000 a month on two hours a day.

[16:18] –  John explains why other bloggers are able to post their monthly income still, even though he needed to stop due to requests from his advertisers.

[17:10] – John stopped using

AdSense

after about a year and a half. He then explains why he decided to focus on making more money per visitor instead of getting more visitors.

[19:08] – We learn more about the products that John has on his site now.

[20:26] – John talks more about affiliate marketing.

[21:58] – Did John create a course specifically about email marketing using

AWeber

, or was it more generically about email marketing? After answering, John talks about his choice not to disclose his affiliation with AWeber in his first ebook, before there were stringent guidelines on doing so.

[24:34] – John gives us some sense of approximately how much of his income is from affiliate marketing versus his own products. He then discusses adding higher-price items without increasing his time per day.

[26:52] – John still works around two hours a day on average.

[27:35] – Is this podcast part of John's two hours a day, or is it in addition to that time?

[28:45] – John walks us through how he monetizes his videos.

[30:18] – What does John recommend as a next step for someone who is using AdSense?

[32:18] – John offers some insight into how to best use AdSense in terms of size, placement, and style.

[35:49] – Stephan reveals that his oldest daughter made money on AdSense as a teenager.

[37:21] – How often does John recommend blogging to keep up momentum? In his answer, he reveals that he believes his consistency is one of the main keys to his success.

[41:28] – Does John theme his days, as recommended by

Mike Vardy

? Stephan then brings up the concept of having free day, buffer days, and focus days.

[43:54] – John sometimes does episodes while he's driving, he explains. He and Stephan discuss the safety of multitasking this way.

[45:32] – Currently, all the traffic to John's YouTube channel and blog is organic.

[47:06] – What is John doing from an SEO standpoint? As he answers, he talks about another (somewhat inadvertent) case study he did on whether you can build a blog without Google.

[49:52] – John recommends

Affiliate Summit

as his favorite conference. The book he's currently reading is

No Excuses!

by Brian Tracy

.
Take Your Marketing to the Next Level:
Consider vlogging on YouTube. Be sure to include a call to action at the end of every video, such as an invitation to visit my site or download a free ebook.

Rather than using Google AdSense for ad space, check into programs like OIOpublisher, a WordPress plugin that allows me to sell my own ad space on my blog.

Make my ad unit look like my blog. The more it looks like my native content, the higher the click through rate.
Links and Resources:
JohnChow.com
@JohnChow on Twitter
John Chow on Facebook
John Chow on YouTube
The TechZone
ResellerRatings
AdSense
AWeber
Sean Cannell on Marketing Speak
OIO Publisher
Chloe Spencer on Marketing Speak
Mike Vardy on the Optimized Geek
The Marketing in Your Car podcast by Russell Brunson
Affiliate Summit
Shawn Collins on Marketing Speak
No Excuses! by Brian Tracy
Eat That Frog! by Brian Tracy