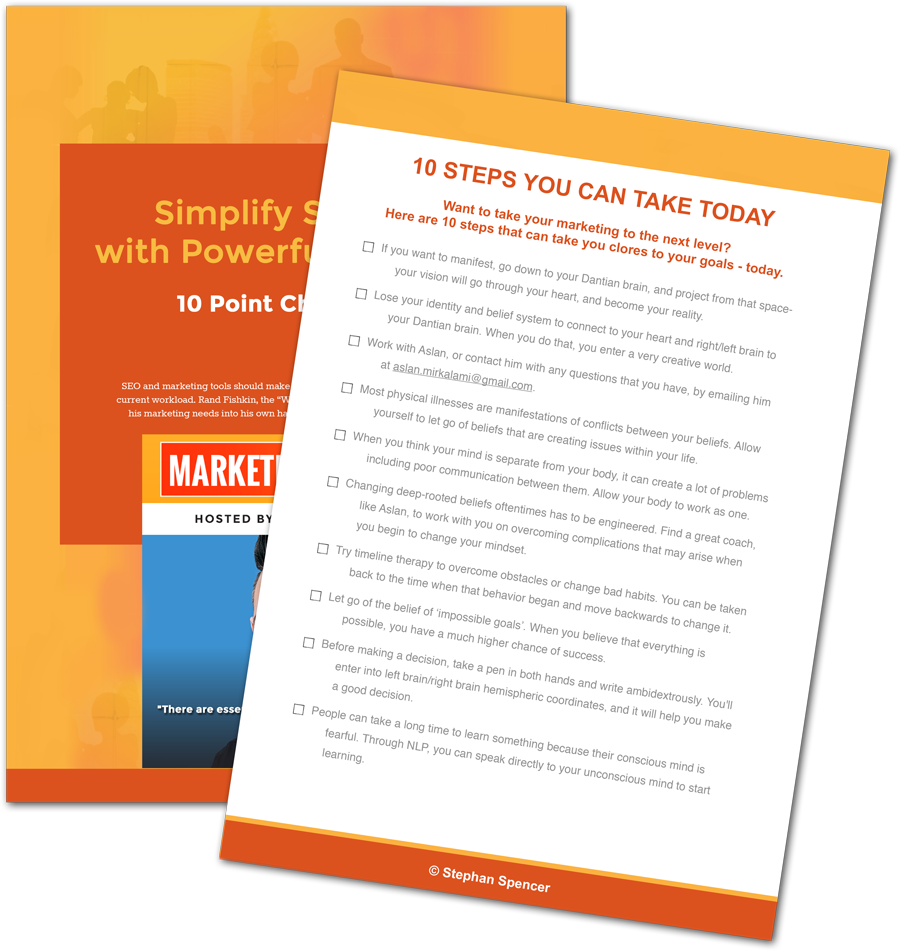 Get into action! Download your FREE Checklist
Put the most important tips from this episode to work and take your marketing to another level! Get your free 10 Point Checklist for your next actionable steps.
This Week's Guest:
There's one simple trick that builds rapport over the phone faster than any other: using the name of the person you're talking to frequently through the conversation. It can feel odd to do this, but don't worry, the other person won't (consciously) notice. Subconsciously, though, they will absolutely notice — and they'll feel a level of connection and trust that will lead to being more receptive of everything you can offer.
Here with this insight, and much more, is Nick Cownie. Nick is an award-winning entrepreneur who specializes in rapid mindset change. He and I met at a mastermind run by Neil Strauss, where I became familiar with his expertise and insight. In addition to being an entrepreneur, Nick is a world-recognized expert on NLP. This allows him to understand how to influence people, and — as I hope you saw in the tip above — he's very willing to share his wisdom.
Find Out More About Nick Here:
nickcownie.com
Nick Cownie on LinkedIn
@NickCownie on Twitter
Nick Cownie on Facebook
Success Dynamics Institute
In This Episode:
[01:58] – One thing that stymies a lot of marketers and salespeople is the cold-calling process, thanks to its potential for rejection. Nick offers his tips for turning cold calls into cash.

[05:41] – Nick explains that he doesn't leave anything to chance.

[07:50] – Is there a book about NLP that Nick recommends listeners pick up and read ? He answers, then shares some of the reasons why he wrote his book,

7 Minute Mindset

.

[10:43] – Nick talks about his impressive conversion rate of 95%.

[12:00] – Nick recommends another book,

Maximum Influence

, then moves onto his advice and insight for an initial cold call.

[15:30] – The first call Nick makes is the "activate call," the second is the "insights call," and the third is the "solutions call." He clarifies what each of these calls should achieve.

[18:01] – Nick suggests ways to be persuasive with gatekeepers even if you aren't currently writing a book. Stephan then offers a suggestion of his own.

[20:56] – We learn more about what Nick does and says once he gets past the gatekeeper and is talking to the person he actually wanted to talk to.

[25:20] – Stephan explains that he has to buy his traditionally published book from the publisher, so he doesn't send lots of copies of it to people.

[25:58] – Nick talks more about his "opening paragraph" and the initial three questions he asks when he talks to new people.

[30:43] – Stephan relates what Nick has been saying to techniques he has learned for LinkedIn.

[32:05] – We hear how Nick came up with his third question. He then reveals how successful the technique has been for him.

[35:33] – Stephan jumps in to share something critical: if you just show up unprepared, the other person is always going to have the upper hand. So, everywhere you go, you should have a powerful intention.

[38:13] – Nick relates this concept of intention back to what he has been talking about. He then explains the next steps of his process.

[43:13] – How does a 'thank-you' pack move people toward the goal of signing them as a client? Nick answers, then digs more into the pack itself, including an explanation of why he's vague about what goes in it.

[47:53] – Nick suggests using an Excel spreadsheet to track what you've sent to people. He then discusses following up.

[49:24] – Nick shares more information about how he follows up, and why he makes the follow-up calls himself.

[52:08] – Stephan explains what ringless voicemail is.

[53:22] – We move on to learning about the insights call, with Nick explaining the two things he tries to find out and accomplish in this call.

[56:41] – Nick goes into more depth about this call and trying to learn what people have done already (and why).

[59:22] – We move onto the solutions call, which Nick says is similar to the insights call but involves digging much deeper. He also offers a way to get people to assume that you have the solution to their problems.

[66:11] – Nick lists the three big things you need to explain to someone if you're selling some kind of coaching, and gives insight into how to approach these things to potential clients.

[71:32] – How could someone contact Nick, and is he available to take on new clients? In his answer, he offers a free script to listeners! To get yours, go to this link:

leapmembers.com/lp/stephan
Links and Resources:
nickcownie.com
Nick Cownie on LinkedIn
@NickCownie on Twitter
Nick Cownie on Facebook
Success Dynamics Institute
Neil Strauss
NLP
How to Win Friends and Influence People
7 Minute Mindset
Provocative Hypnosis
Influence
Pre-Suasion
Neuromarketing
Brainfluence
Roger Dooley on Marketing Speak
Maximum Influence
Huffington Post
Lifehack
YourTango
Magestic.com
Kent Littlejohn
House of Cards
The Good Wife
The Good Fight
Stratics Networks
slybroadcast
Tony Robbins
Taki Moore