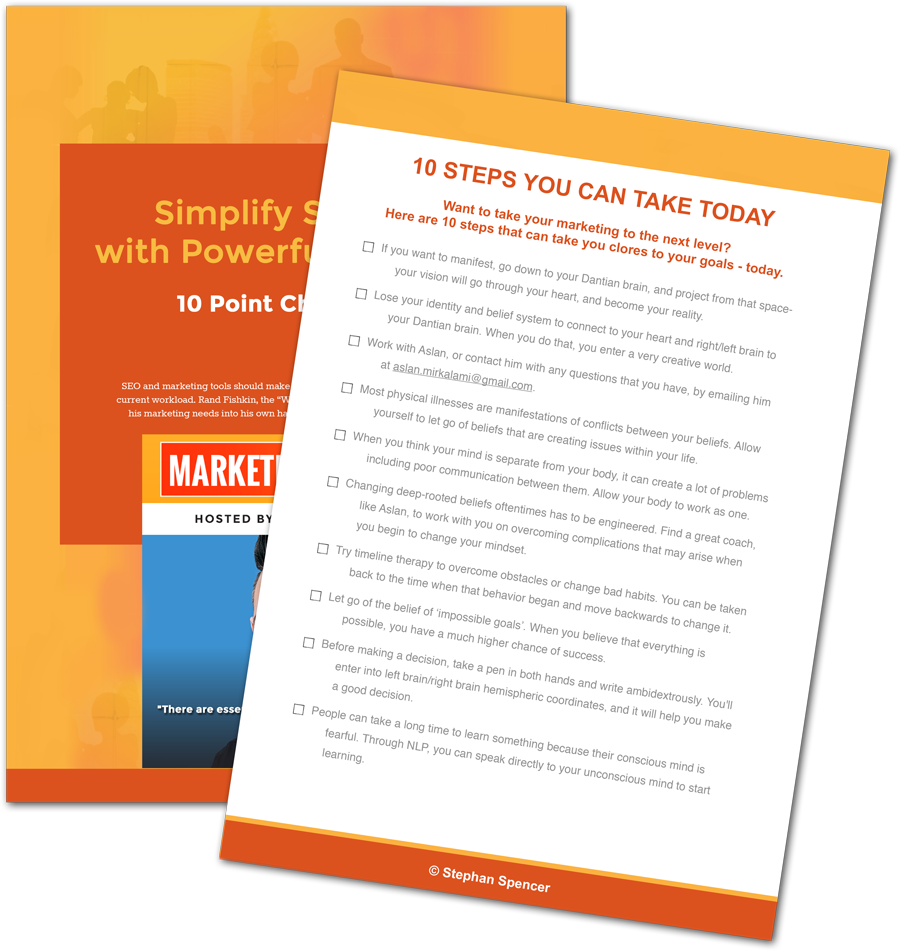 Get into action! Download your FREE Checklist
Put the most important tips from this episode to work and take your marketing to another level! Get your free 10 Point Checklist for your next actionable steps.
This Week's Guest:
Roger Dooley was one of the earliest proponents of neuromarketing; he began writing about it in 2005, long before it was widely accepted as a valid field of study. If you have any doubts about its validity, though, you need only look at Roger's accomplishments to see how well it works.
He co-founded the extraordinarily popular College Confidential and now writes a regular Forbes column, Brainy Marketing as well as his own blog, Neuromarketing. After you've heard today's conversation with him, check out his book, Brainfluence: 100 Ways to Persuade and Convince Consumers with Neuromarketing for even more of his insights.
Find Out More About Roger Here:
Rogerdooley.com
@RogerDooley on Twitter
Roger's podcast
Neuromarketing blog
In This Episode:
[02:31] – What exactly is neuromarketing? At its most basic level, Roger explains, it's using the tools of neuroscience to gauge people's reactions to ads, marketing, products, and so on.

[04:04] – Roger doesn't do his own neuromarketing research, but he's been writing about it since 2005, well before it was commonly accepted.

[05:05] – Subconscious, unconscious, and non-conscious generally mean the same thing in this context, Roger tells us. He also talks about non-conscious and conscious decision making.

[08:14] – Roger recommends

Thinking, Fast and Slow

by

Daniel Kahneman

for anyone who wants to understand how to work with the brains of consumers. Daniel explains our thought processes into two systems, which Roger briefly discusses.

[10:13] – Roger offers an example of the two types of thinking systems by discussing the election.

[12:12] – Other books Roger recommends include

Influence: The Psychology of Persuasion

by

Robert Cialdini

. Robert's new book,

Pre-Suasion: A Revolutionary Way to Influence and Persuade

includes new research and a seventh principle to add to the six from

Influence

. We also hear an example of how timing can work in persuasion.

[18:21] – Stephan asks about the critical faculty, which he describes as a guard against things going straight to the non-conscious mind. Roger responds, and in doing so discusses the role of flattery in persuasion.

[19:52] – What techniques would Roger recommend listeners use for persuasion? His biggest recommendation is liking, which involves finding things you have in common with your customer or potential customer.

[25:25] – Stephen asks how to use these techniques in an online context where there's no common element among the people coming to your website. Roger points out that one shared attribute is an interest in the product that you're selling.

[27:50] – Roger describes some tips and best practices for presenting your social proof and authority. He also talks about turning testimonials into stories.

[32:27] – How does Roger eat his own dog food? In other words, how does he apply the techniques he knows to his own marketing?

[35:48] – Roger talks about the techniques he uses in his public speaking.

[39:00] – Roger tends not to use urgency and scarcity in his presentations or messaging, even though he believes it can be extremely effective in making you want to act quickly.

[42:44] – Amazon is one of the smartest retailers out there, and Roger describes why. They use many of the techniques he's talked about throughout this conversation. He also explains that giving too much information can actually be a bad thing, because it forces the customer to think too hard.

[47:19] – We hear about Roger's thoughts on the ethics of marketing and persuasion techniques.

[49:56] – Stephan talks about

The Loyalty Effect: The Hidden Force Behind Growth, Profits,and Lasting Value

by

Frederick Reichheld

. Roger goes on to discuss the concept of loyalty, and in doing so recommends

Evergreen: Cultivate the Enduring Customer Loyalty That Keeps Your Business Thriving

by

Noah Fleming

.
Links and Resources:
Rogerdooley.com
@RogerDooley on Twitter
Roger's podcast
Brainy Marketing
Neuromarketing blog
Thinking, Fast and Slow
Daniel Kahneman
Influence: The Psychology of Persuasion
Robert Cialdini
Pre-Suasion: A Revolutionary Way to Influence and Persuade
The Loyalty Effect: The Hidden Force Behind Growth, Profits,and Lasting Value
Frederick Reichheld
Evergreen: Cultivate the Enduring Customer Loyalty That Keeps Your Business Thriving
Noah Fleming