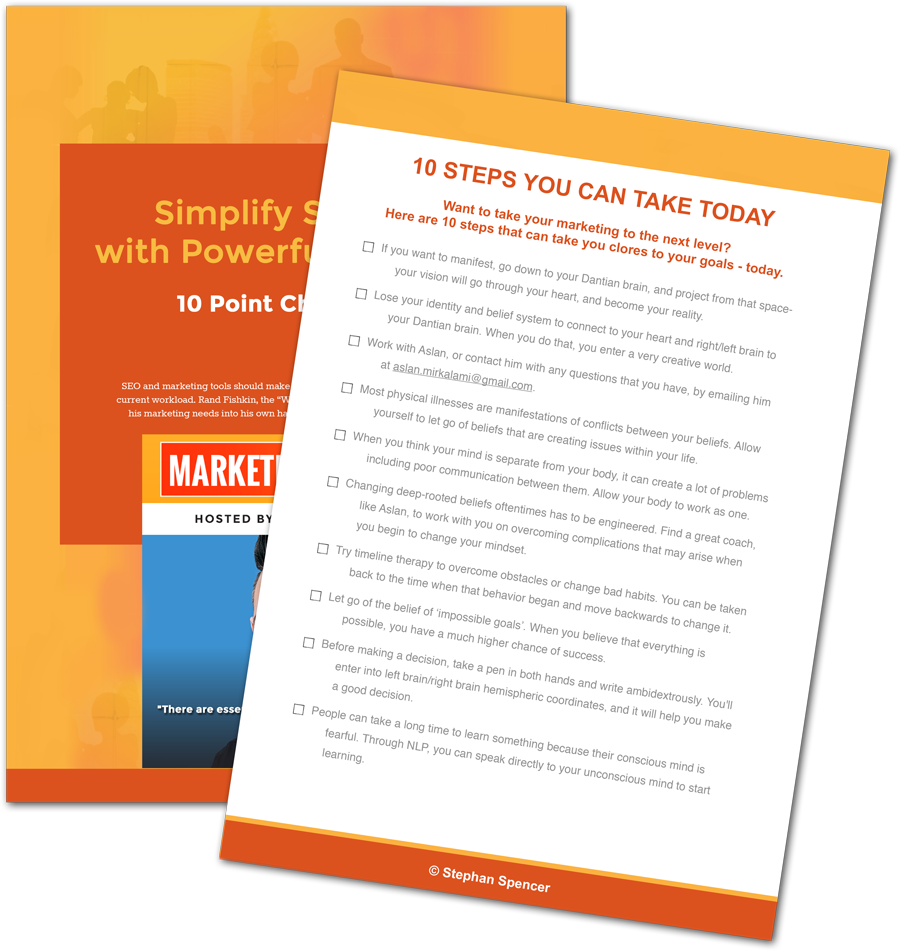 Get into action! Download your FREE Checklist
Put the most important tips from this episode to work and take your marketing to another level! Get your free 10 Point Checklist for your next actionable steps.
This Week's Guest:
There's a difference between having authority and leveraging your authority. If you don't have authority, there's no point in trying to leverage it yet; you need to spend some time building it first. If you already have authority, it's important to leverage it in effective, credible ways that don't undermine the way your audience perceives you. Whether you're still building authority or are ready to leverage it, authoring a book can be an incredibly powerful strategy.
Adam Witty joins me today for an in-depth discussion on authority marketing and the role that writing and publishing a book can play. We'll discuss the seven pillars of authority marketing, as well as how to do market research to ensure your book will meet the needs of your audience. Adam is the CEO and founder of Advantage Media Group (which has been on the Inc. 5000 list for five out of the last six years) and of Forbes Books.
Find Out More About Adam Here:
Adam Witty on LinkedIn
Adamwitty.com
Advantage Media Group
@adamwitty on Twitter
awitty@advantageww.com
In This Episode:
[01:29] – Where does having your own book fit into the equation of authority marketing? Adam lays out the map for us, explaining what authority marketing is.

[03:01] – Adam talks about the difference between having authority and leveraging your authority.

[03:03] – We learn that there are seven pillars of authority marketing: content marketing, PR and media, speaking, branding and omnipresence, lead generation, referral marketing, and events.

[06:59] – Adam discusses content marketing, explaining that educating your clientele builds deeper relationships than advertising to your clientele. He also talks about the importance of being a "safe bet" for media.

[10:16] – Stephan brings up another way to be a safe bet for media appearances.

[11:56] – If you've already built up some authority, what are some things you could do to leverage this authority that you already have?

[14:14] – Authority marketing is a marathon, not a sprint, Adam explains.

[15:46] – How can someone successfully turn a blog into a book? As he answers, Adam explains what purpose a book should serve for your target customer.

[18:54] – We learn about some ways to test your market inexpensively before writing your book. One strategy involves creating several book covers.

[21:01] – Stephan recommends a free tool:

answerthepublic.com

.

[22:49] – What is the process for turning a great idea into something amazing? Adam points out that there isn't an exact formula to follow, but says he has some tips.

[25:20] – Adam lists the tips he has just mentioned.

[29:03] – A book can raise your credibility, and it can just as quickly destroy your credibility, Adam explains. He points out that your book has to look credible and professional, not self-published.

[30:35] – Adam offers another tip about the power of a foreword and endorsements for your book.

[32:34] – Adam discusses the strategy of paying to have a chapter in an anthology book with one major name on it. He recommends saving your money.

[33:37] – Another of Adam's tip is that when it comes to books, bigger is not always better. He offers the recommendation to aim for 30,000 to 35,000 words for your first book, or 120 to 160 pages.

[37:10] – We hear some details on how you can thicken up a book.

[38:37] – What would Adam recommend for Stephan, considering his book is over a thousand pages long?

[42:09] – Adam offers another piece of advice: "bait the hook to suit the fish, not the fisherman."

[44:16] – Adam discusses the concept of selling something before you build it by talking about your forthcoming book.

[47:39] – The book is the only form of media that has permanent shrines (meaning bookshelves and libraries) built for it, Adam points out.

[49:21] – Adam shares a case study about a client who wrote a book on leadership development and the success he has achieved.

[55:15] – How can listeners get in touch with Adam? As he answers, he offers listeners a free book, which you can get by visiting

forbesbooks.com/marketing-speak

. He also suggests taking their

Authority Assessment

.
Links and Resources: