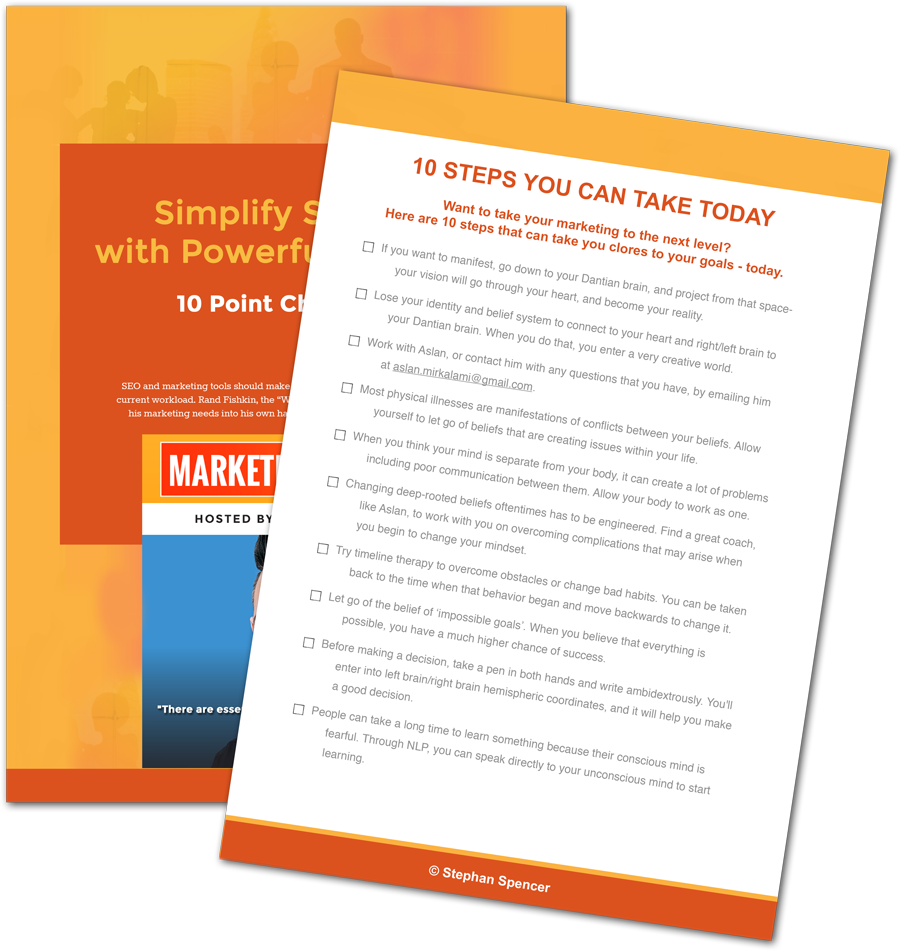 Get into action! Download your FREE Checklist
Put the most important tips from this episode to work and take your marketing to another level! Get your free 10 Point Checklist for your next actionable steps.
This Week's Guest:
65% of Americans are likely to leave an online review about their experience with a business. With two-thirds of customers and clients potentially ready to review your business, you can no longer get by with assuming a customer with a not-so-great experience won't leave a review for the whole world to see. Instead, you need to work on the assumption that you will get a review, and seek to provide exceptional service and value to stay on top of your online reputation.
Here to explain this and much more about online reputation creation and management is Mike Blumenthal, an expert both in these topics and in the field of local search. He's the cofounder of GetFiveStars and Local U. In our conversation today, he uses his expertise to offer a huge amount of actionable advice. If you have a business with any sort of an online presence, you need to listen to this episode!
Find Out More About Mike Here:
Blumenthal's
Mike Blumenthal's blog
@mblumenthal on Twitter
Mike Blumenthal on LinkedIn
Mike Blumenthal on Get Five Stars
In This Episode:
[01:14] – Mike suggests starting off by talking not about reputation management, but rather reputation development.

[03:30] – We learn what a

Net Promoter Score

is, and why it's a valuable number to keep track of.

[05:24] – Mike touches on why most small businesses don't like

Yelp

, then explains that many reviews are now showing up on Google anyway.

[07:29] – If Yelp is ranking #2 for your company in Google, that makes its contents more important, right?

[08:57] – In general, Mike suggests just leaving sites like

Ripoff Report

alone and ignoring them.

[09:34] – Stephan steps in to explain a bit about how Google features various sites. Mike then defines

rich snippets

.

[11:15] – Mike explains more about the use of rich snippets and other review-related items on your own site.

[13:04] – Are you allowed to take reviews you find elsewhere (like from Yelp) and put them on your website?

[14:40] – We hear about Mike's suggestions on the process of getting reviews on your own site. He then offers advice for what to do if you already have testimonials.

[19:39] – The term for paying for fake reviews is "

astroturfing

."

[21:22] – Mike discusses how to correct

Knowledge Panel

information about your business.

[25:38] – Can

Moz Local

fix things in existing listings, or is it only for new listings?

[26:37] – Mike strongly recommends hiring a consultant to write your Wikipedia content instead of doing it yourself.

[27:27] – We move on to Facebook, with Stephan and Mike talking about its increasing popularity as a review site.

[30:35] – Mike offers advice for how to get Yelp reviews if you need to manage a currently negative Yelp profile. He and Stephan also discuss the importance of having Yelp friends.

[33:27] – Should we pay attention to sites like

YP.com

and

Superpages

?




[35:44] – Mike discusses

Glassdoor

and how to use it to your advantage.

[38:43] – Stephan recommends a previous

Marketing Speak episode with Kenton Hutcherson

if you want to learn more about Ripoff Report.

[39:25] – We hear Mike's tips for getting better images to show for your business.

[42:25] – Do you still need to upload inside photos if you run a home-based business rather than a retail store, for example?

[43:42] – Mike offers

Barbara Oliver Jewelry

as an example of a site that has done a great job with its reviews page. Stephan then talks about his own testimonials page.

[46:59] – In the world of reviews and ratings, what does Mike recommend that people do in terms of badges?

[49:27] – Mike shares his thoughts on

Trustpilot

.

[50:31] – Does Mike have any suggestions on types of awards to apply for?

[51:51] – Local search is fundamentally different than organic search, Mike explains. He talks about how these differences are relevant and how to take them into account for your business.

[57:13] – Mike points out that it's important to have followers who engage and share your content, not just disengaged followers.

[59:04] – Mike offers listeners several resources, including his

Moz Local 2017 presentation

.
Links and Resources: