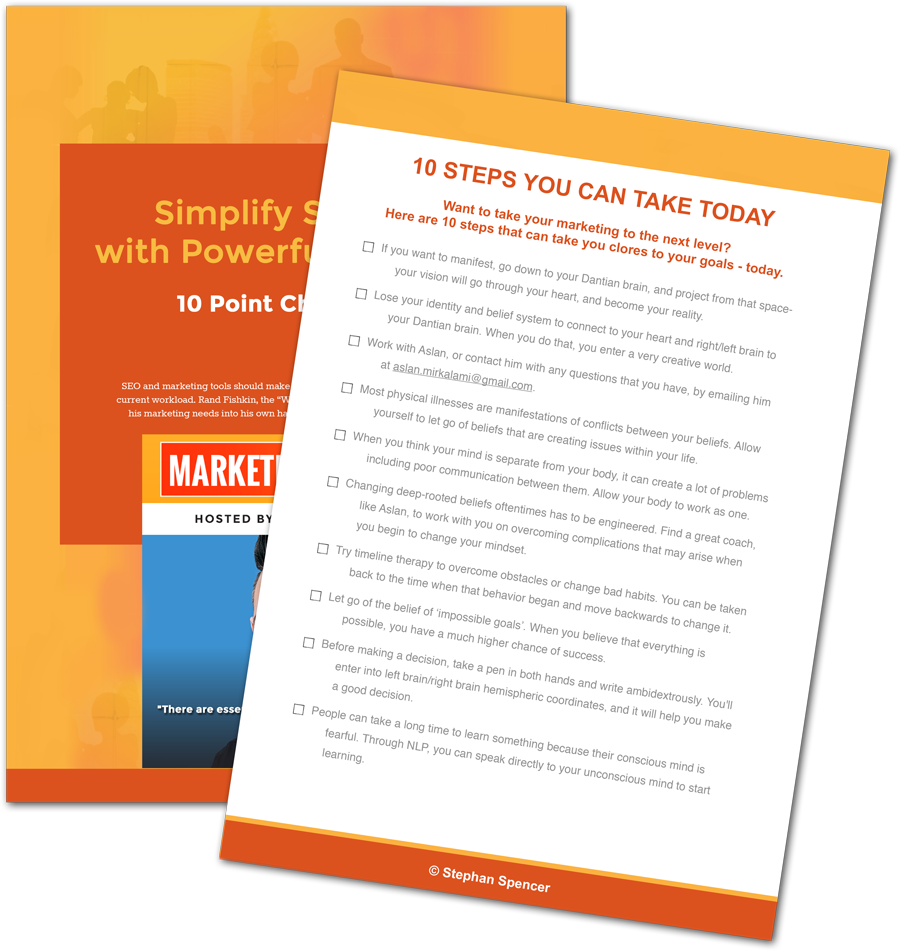 Get into action! Download your FREE Checklist
Put the most important tips from this episode to work and take your marketing to another level! Get your free 10 Point Checklist for your next actionable steps.
This Week's Guest:
Once you understand the basics of marketing, there are a few key strategies that set true (and possibly viral) success apart from being simply adequate. Here's one: the secret to going viral isn't really secret: it's to tell a story that's so compelling in some way that other people want to retell it for you. Another key is offering swag that's memorable and that people will keep, not just (yet another) pen or USB stick.
Here with these insights, and many more, is Joel Comm. Joel is an internet pioneer who has been around since the early days of the world wide web. In addition to his work online, Joel is the New York Times bestselling author of over a dozen books, and has recently released a new one: Self-Employed: 50 Signs That You Might Be An Entrepreneur. In our conversation today, he shares the insights he has gleaned throughout his career as a professional speaker, futurist, influencer, and serial entrepreneur.
Find Out More About Joel Here:
joelcomm.com
Joel Comm on LinkedIn
Joel Comm on Facebook
Joel Comm on YouTube
Joel Comm on Instagram
@joelcomm on Twitter
In This Episode:
[01:16] – Joel talks about his new book, which he explains is interesting because you don't have to be an entrepreneur to read it. He then discusses his other books (of which he has 15 total).

[03:22] – We learn about Twitter, such as how to get verified and how to get a lot more followers.

[05:29] – How many Tweets a day is a good number, and how many is too much?

[06:24] – Joel shares his views on whether Twitter is a dying platform and his somewhat surprising perspective on where it's going in the future.

[08:31] – We move onto another social platform: Facebook. What does Joel think is the secret sauce to going viral on Facebook? As he answers, he reveals the importance of two things: being compelling and being authentic.

[12:17] – Stephan draws out a thread of what Joel has been saying, which is that vulnerability is important. He then reveals that he has done this himself by sharing his story of being a foster child when he was younger.

[14:21] – For Joel and his business, what was the impact of being vulnerable in his

TEDx talk

?

[15:48] – Joel talks about his

iFart

app, explaining the reasoning and process for creating it, and its success (which was so great that it's still available today).

[18:42] – What are Joel's tips for getting TV appearances? As he answers, he explains the importance of writing books, because the printed word elevates you to a higher position in the minds of others.

[20:15] – Joel discusses which of his books created the biggest impact for him in terms of business.

[22:36] – Does Joel recommend getting a co-author, or is the positioning better if you write a book yourself?

[24:19] – Joel offers a quick overview of what

AdSense

is for those who aren't familiar with it.

[26:30] – Joel lists some of the things that you need to do to be successful on Adsense. Content is still king, he explains, so you need to create good original content (and do so regularly).

[27:14] – Stephan shares his own experiences with Adsense, and reveals that his daughter was successful with it when she was just a young teenager.

[29:05] – Does Joel have any case study examples of anyone who was amazingly successful because of Adsense?

[30:08] – In response to being asked about some of his favorite tools for researching keywords, Joel explains that he doesn't use Adsense much anymore. Stephan then lists some of his own favorite tools.

[31:48] – Joel talks about his

Kaching button

, which he reveals has been successful because it meets the criteria for good swag.

[37:20] – Stephan talks about Joel's description of swag that works versus swag that doesn't. He then talks about the difference between books and swag. He and Joel then discuss standing out while adding value.

[40:09] – People come up with some really interesting things to hand out, Joel says. Stephan then reveals an out-of-the-box marketing campaign he used successfully.

[41:46] – What are some of the key things people need to do to turn their expertise into cash? Joel discusses using an "ethical bribe" to get people to exchange something of value to him (their name and email address) for something of value to them (a 19-page PDF he created).

[44:29] – Now that you've driven people to your offer and have an email list, what would be the process for the next step of a product launch?

[47:11] – Joel offers some secrets to success if you were about to launch a hypothetical $97 ebook. Part of his answer revolves around live video, which he explains is very powerful.

[50:25] – What does Joel recommend as a platform for live video?

[51:53] – Joel talks about a third-party tool for live video. He then recommends that people brand themselves appropriately if they're going to do live video.

[54:14] – Joel offers listeners a discount code to get a .live domain. To get it, go to

joel20.live

!

[54:49] – Who are some recognizable names who have .live domains?

[55:26] – Does Joel have a final, life-changing tip or nugget of wisdom for listeners? He reveals that there is a philosophy in business right now of hustle and grind, and he's strongly opposed to it. He then reveals a better solution and explains what leads to deeper happiness.

[58:25] – Joel explains how to get in touch with him if you want to work with him.
Links and Resources: