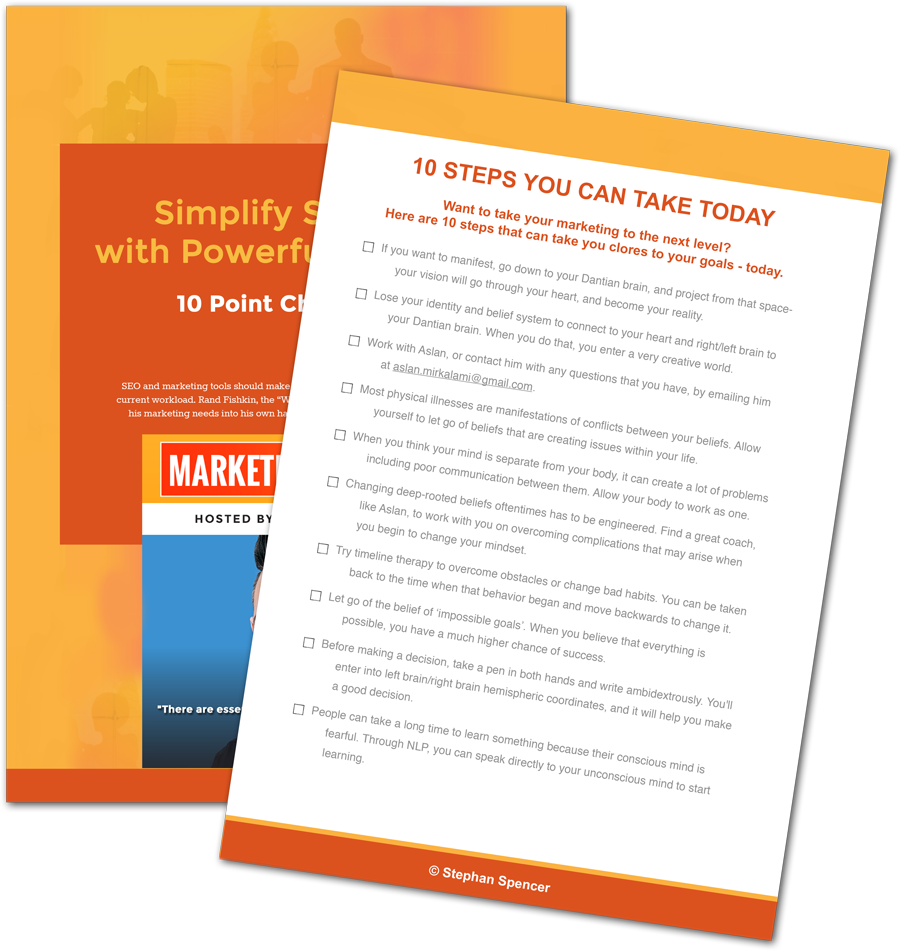 Get into action! Download your FREE Checklist
Put the most important tips from this episode to work and take your marketing to another level! Get your free 10 Point Checklist for your next actionable steps.
This Week's Guest:
Jeni Hott, also known as 'brilliant Jeni', is a professional blogger at the top of her game. Jeni makes millions of dollars while only having to work once every three to four months, and traveling the world. Jeni is well known for her passive income blogging strategies. She has over 100 million visitors to her blog, has moved from Google AdSense to Affiliate marketing, and uses online forums as a way to encourage her fans to provide feedback on the engaging content they want to see. She loves to help others, and now enjoys teaching others how to design the lifestyle they dream of, using her genius techniques.
Episode
When you think about starting a blog, do you think it could lead to making millions of dollars per year? Well, it's possible, and Jeni Hott is here to teach us how. She shares an important lesson-we're working too hard, and not automating enough of our lives. Jeni turned her blog into a profit center, quickly becoming a seven-figure blogger, able to take off several months and even years at a time without hurting her income. Turning your blog into a real marketing channel is a possibility, and Jeni is going to tell us how.
We discuss:
How to connect with your fans through natural human needs.
Forums vs. Blogging and how to use them to your advantage.
How to manage reader content on your site.
Living life exactly how you want-and automating the rest.
Here's what I learned:
The Six Human Needs
The Six Human Needs is a technique that Jeni and Stephan learned from Tony Robins.
The needs are the same for everyone, but each person has a different hierarchy.
Jeni's first need is contribution. She loves to give, it's her greatest joy.
Next is love and connection-how you interact with people and the quality of your relationships.
The third is variety.
The fourth need is growth-you have to learn and always be moving forward.
Then there is certainty, which is security, a sense of safe and well-being.
The last human need is significance-the need to feel special.
You can put these in order based on their importance to you, personally.
When you touch on these needs for your audience, you are going to be successful.

If you meet one need, you are doing a good job.
If you meet two, you've got a fan.
If you meet three or more, you've got a raving fan.
If you meet all of these needs, you've got a fan for life.
Jeni tries to meet as many needs as possible, and brainstorms around the needs to ensure that they have been met.
Using the Six Human Needs
Jeni works to use the six human needs in a positive way.

If your message comes off as negative, you can easily turn fans off.

The most common need is love and connection-it's the most important to focus on.

Jeni meets this need through her forums.
She watches what is being posted, and gears her content towards the needs of her fans.
She also asks great writers if she can use their content, which also hits on significance.

Jeni uses contribution by asking for success stories or testimonials.

She doesn't just ask for them-she words her question in a way that shows them how much they can help others by sharing their story.
Living Life Your Way
Jeni was at Unleash the Power Within when she decided to drastically change her life.
She realized that you don't have to climb the corporate ladder, you can live life how you want.
She left her corporate job, her boyfriend, and gave all of her belongings away.
She moved to Puerto Vallarta, and made about $1,300 that year, continuing with self development.
She started her blog, and in two years she was making six-figures-in three years, seven-figures.
She went on vacation for five years, still making seven-figures, and has gotten back to work the past couple of years, but no more than once every two to three months.
The Master of Automation
Jeni started her forum because she wanted to give her readers their own blogs.
She would feed the best blogs into another blog.
Google loved it, and the readers loved it.
She was outsourcing her content to her fan base, generating more views.
Controlling User Content
When having other people post content to your blog or forum, you need set rules in place.
Jeni uses volunteer moderators, with one main moderator, which is an employee, looking over those.
Finding moderators isn't difficult because it hits on a need-significance. They get a special title and role.
She recently brought on her first two new moderators in ten years-they generally stay because of the significance, and some of them volunteer for up to eight hours per day.
Automating Everything
Jeni only does things that make her happy, which is why she only works once ever few months.
She does this by using automation, and having a great team in place.

She worked with a developer in the past that was negative, and she realized he was bringing her down. Having the right team is essential.
With her new developer, if she wants something done, he will always find a way.

Before even looking at tools and automation-ask yourself what you want. What do you need out of this for it serve you the way you need it to?
People ask her about automating, and she always says yes before knowing what it is-because you can find a way to automate everything, even if you have to get creative with it.

She has used outsourcing, software tools, and paying a coder to tweak something so that it works on her terms.
AdSense vs. Affiliate
Jeni used AdSense for many years, then shifted to being an affiliate.
AdSense is easy and aligned with her goals, you just add the code to your website and then create great content.
She switched to affiliate programs, because she wanted something that was more grown up.

Affiliate programs are making her more income, and align better with her current goals because she is also launching her own products-possibly a health supplement line.
Step up your marketing game!
Head over to blogbrilliant.com later this year to find Jeni's course that will either be given away for free or all proceeds go to charity.
Decide what you want for your life and build your business around that. How often do you want to work?
Build a marketing plan around the six human needs-how can you meet at least three of them each week?
Links and Resources Mentioned
Busines Mastery 2
Platinum Partnership
Kevin Kelly 1,000 True Fans
Dr. John Demartini's Values Determination process
Unleash the Power Within
Moz
YouMoz
The Life-Changing Magic of Tidying Up
The Web Master
Infusionsoft
Google AdSense
The Optimized Geek
Blog Brilliant
Thank you for listening!
As always, thank you for tuning in. Please feel free to contact me or leave a comment. If you enjoyed this episode, please share it!
-Stephan