It's not that easy for me to toot my own horn, and it's not something I really do on the Marketing Speak podcast. But one of my mentors, the marketing genius James Schramko, has turned the mic on me and asked me to talk about the intricacies of SEO and my passion for it.
In this episode I'll also be speaking about the evolution of Marketing Speak, and I'll give not only an explanation of what it is that I do, but also the why behind all that I do. I talk about how I have personally evolved and transformed as a person doing both my Marketing Speak and Get Yourself Optimized podcasts. GYO just passed the 300-episode mile marker, and Marketing Speak is also nearing 300 episodes. I discuss how rather than being a leaf blowing in the wind, you can take charge and get a better understanding of how Google, its algorithms and its humans, work.
I feel very fortunate to have worked with such amazing clients, including even household names. As I and my business have evolved, I can now say I work with businesses and people who are revealing light and making a difference in the world, which is way more rewarding. This higher-level intention really juices me so much more than just growing a company and being profitable. And I'm guessing, since you were attracted to listening to my podcast, you can relate. Thanks in large part to James and his masterful interview style, I think you'll really enjoy this episode. Now, on with episode 292 of Marketing Speak!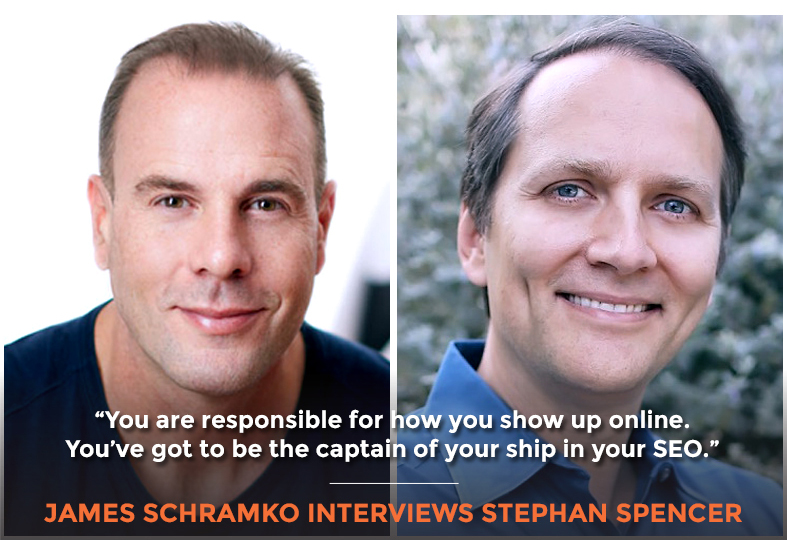 In the Episode
Transcript
James Schramko here. For a change, we're actually having a chat with Stephan Spencer, about Stephan Spencer and the SEO universe. I know this is a little bit of a different take to your regular episode, Stephan. But as someone who's known you for a long time, I think it's easy to always be focusing on everyone else. You're such a server of others. You go out there and investigate what's happening and bring the best stuff back for your own audience. 
I think sometimes the audience wants to know more about you because every time I've shared with you, I've learned so much. Let's see if we can give something back to your listener, step in to the Stephan Spencer story a little bit, and see what we can learn. 
I think it would be a good start to give us a little bit of the back story of how this podcast came about because you have been on a wild journey. Certainly, since the first time I met you, which was many, many years ago. You expressed an interest in a podcast training session that I was doing at the time with Ezra Firestone. 
Here we are with all these podcast episodes downloaded by listeners all around the world. The super high production quality, the design, and everything, the effort you've put into it. How did this all start?
Well, the podcast started because I wanted to write a book about my journey, self-development, and how I transformed myself. I'm literally unrecognizable from who I was a little over a decade ago. In fact, after I started showing up at conferences again after my transformation, people didn't recognize me. It was pretty fun. 
You are responsible for how you show up online. You've got to be the captain of your ship in your SEO.
Click To Tweet
I was working on this self-help book and I hired a ghostwriter to help me. That ghostwriter needed to interview some subject matter experts. He wanted to record those and then just throw them out after he was done extracting the useful bits out of them to incorporate into the book. I thought, wow, what a colossal waste and shame to toss out those audio recordings. Frankly, I should be the one to do the interviewing so that those could be used in a way that maybe serves others beyond, just the snippets that are pulled and incorporated into the book. 
That's how the podcast Optimized Geek got started, which is now Get Yourself Optimized. Then a couple of months into it, I realized, wait a second, I really should be doing a marketing podcast as well, thus Marketing Speak was born. This was all in 2015. I guess it was a false start with podcasting back in 2007 because I only did a handful of episodes back then, maybe 10. Then my pod faded, I stopped it. 
It took a good 8-years until I revisited that. I'm so glad I did. I've been on it ever since. I haven't missed a single week. I'm almost 300 episodes in for each of the two shows. I'm not going to stop. 
That's just the podcasting. I think you also were alluding to what was the kind of story behind why I'm doing what I generally do in terms of internet marketing, SEO, personal development, and so forth. Is that what you were alluding to as well?
I think you've gone up a few categories. You started in the technical area, you went to a personal area in your life, and then you brought them back together. Perhaps you've built an audience of people who have an interest in both business and in personal. I'm really keen to know, what things have surprised you on your journey of podcasting and building this show that you have?
It's okay that these podcasts are not a big lead source because I know I'm revealing light in the world by having them.
So many amazing epiphanies and opportunities that have presented themselves because I've been podcasting and not trying to extract as much value for myself are just trying to be helpful and give to my audience. These podcasts have not been a big lead source. They haven't been ROI positive in the traditional sense. If you put it on a balance sheet, sure, there's goodwill, but the bottom line is this has been a money loser ever since I started. That's okay because I know I'm revealing light in the world by having these two shows. 
I guess what surprised me the most is how I've evolved as a person, transformed even because of the podcast and because of certain guests that I've had on. I've had, for example, a guest on Get Yourself Optimized to save the family member's life during the episode. It sounds like a crazy story. 
Just the fact that I was open to having a psychic medium on my podcast in the first place because a year prior I would have said, no, that's a little too out there for me. But I just felt compelled to have this advertising and marketing guy who was really good at it, copywriting, and so forth, who also happens to be a medium. He just mentioned that on the side in a mastermind meeting online, I got to interview you. Something about you makes me really intrigued, and I want to have you on my podcast. He said, yes. Next thing you know we're doing the interview. 
It just so happens that one of my family members was having a medical emergency but she didn't believe it was. My wife, Orion, interrupted the podcast to ask if this was actually something that was serious. It was, and he said exactly what the outcome was going to be, and that was not good. We convinced this family member to go to the emergency room, and thank goodness, it saved her life. Crazy stuff like that.
It's an exciting and challenging time to be alive, but I'm ready for the challenge.
I've had epiphanies from different biohackers. I had an Akashic Record reading during one of my podcast episodes that was pretty wild and amazing. It's been an incredible, wonderful journey. I'm looking forward to what's to come in the coming months. It's an exciting and also challenging time to be alive, but I'm ready for the challenge. 
I want to challenge you a little bit today, Stephan. I know in your podcasts you're speaking to other people, normally they're the guests. Do you ever get to talk about your SEO stuff? 
Not really, a little bit. I'm mostly focused on the guests, and I want them to look amazing, I want them to get leads, deal flow, and partnerships, JVs, and so forth from being on my show. I always asked at the beginning before we hit record, what would make this the very best podcast interview you've ever done? Most people say, "Well, that's a question I've never gotten during a podcast, I appreciate you asking me that." Then they have to think for a minute or so because they weren't prepared to answer that question. 
It does provide for a better outcome for everybody if we think in those higher terms what is the endgame here? What's a more powerful intention for the episode? That's how I normally show up for a podcast. I think about how I am going to reveal light or make a difference for people through this podcast interview I'm about to do? How do I add significant value to the person I'm interviewing? It's not much in terms of dropping gold nuggets of my knowledge in the episode because the star is the guest.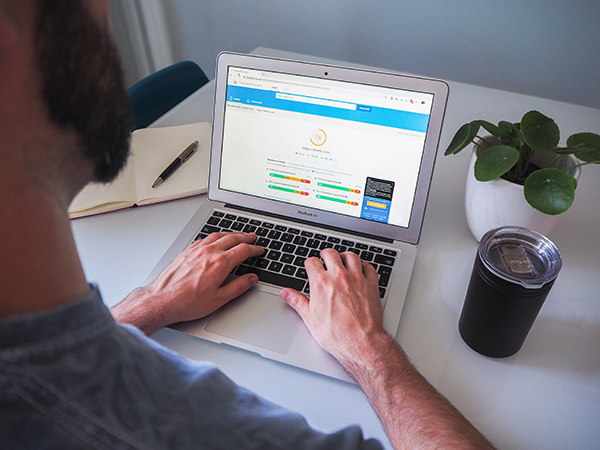 Today, the spotlight's firmly on you Stephan, and I'd like to go there. I'd like to talk about SEO. I'd like to think about what would make this a great episode for you and for your listener because that's why you do it. Clearly you give so much. I'd love to start off with where do you see SEO going in the very short term? I'm going to ask you a different question later. But is SEO still hot? If it is, what part of SEO should we be focused on? 
It is very important and will continue to be, at least until personal agents or digital assistants take over the role of finding, curating, aggregating, and sorting all that information overload that we're deluged with. 
Typically what we do is we get deluged in our email inbox, then we go to social media, and we get another deluge, then we hop onto Google and specifically search out things that we're trying to accomplish, problems we're trying to solve. We think we're laser-focused, we're also getting a deluge there too in millions or billions of search results returned. We could go down endless rabbit holes.
If there's a digital assistant, an AI that understands us, our needs, our desires, and what makes us tick; does all the Google searching for us and perusing through the news feeds and all the deluge, that's going to be a pretty significant sea-change in how we interface with the internet. That's coming, but it's at least a few years away. I do think that there are some privacy and security concerns that will need to be addressed before people feel comfortable giving so much power away to a digital assistant. Especially one that's run by a big tech company. That's probably getting monetization or some sort of incentive from your data.
If you're not doing SEO, that's a big problem that erodes your credibility with searchers.
But setting all that aside, if you're not doing SEO, if you're not proactive about managing, curating the results that appear for at least your brand searches and things like company name, your personal name, and so forth. Making sure you have a knowledge panel over on the right-hand side. Making sure that it's the best stuff possible—your best media mentions, feature stories, mainstream media, and so forth should be on page one and not just social profiles. Hopefully, your home page is number one for your brand. If it's your LinkedIn, a competitor who has the same name, or a totally unrelated site, that's a big problem that erodes your credibility with users, with searchers. 
Even if you get all your business from referrals, if people are doing their due diligence by googling you before they pick up the phone or send an email to you, and then they decide, you know what, maybe, I'm not going to make this contact because this person doesn't seem like a fit, or this business doesn't seem very big or that legit. Big problem. That's just what the brand serves. 
What about the non-brand SERPs or search engine results pages where you need to know what keywords or search queries your ideal target audience is typing into Google. Then to match those queries with your best content, content that solves their problem or speaks in their language at least, as to what the problem is, is clear about a path forward and allows them to take the next step with you. If that's the point for you of having a website, which usually is the point, right?
If you can identify those right search queries, match that up with your best content, and think about conversion in the process, and optimize for both SEO and conversion, that's the one-two punch. AI, more specifically these days, machine learning, and then a general artificial intelligence as the months and years continue on this decade, you're going to really need to have some assistance in the form of AI tools and probably a consultant. Somebody like myself, to advise you and help you down this path. 
SEO is critically important and will continue to be.
If you're not proactively doing it, you're just a leaf blowing in the wind, susceptible to whatever the next Google update is, or a competitor coming in damaging your reputation with Google by doing negative SEO techniques. You got to be the captain of your own ship, the person in charge of your own destiny. SEO is critically important and will continue to be. 
That's one of the reasons I got online in the first place. I actually purchased my own domain name because I had been an actor in a film. The IMDb listing was what came up for my name. I wanted to take control of that. Then many years later, I'm talking about 15 years later, you gave me that same tip about the knowledge panel. I realized that this is a moving target, you can take control, you can get it all set up, and then it moves. With the interaction of you, you help me brush up again and get back control. 
I think it's really important to get help with this. Just before the next question. Where do we go to get Stephan Spencer to help us with our SEO?
The easiest place to go is stephanspencer.com. I have a new website offering agency services that I'm very excited to announce, it's netconcepts.com. You can work with my team there, you can work directly with me by contacting me at stephanspencer.com. More kind of high-end, high touch, not that an agency isn't high touch. If you want to work with me directly, that's a pretty awesome and unusual opportunity to work with a thought leader in the SEO space directly and not just with their team. I still offer that, even though I'm now offering some agency services with my team of about 12 people.
SEO is not too much about looking at past mistakes and making sure you don't do them again. It becomes a more excellent strategy if you're able to implement preemptive measures. Click To Tweet 
That's the kind of thing where I say, getting on that while you can before Stephan changes his mind. I remember I had a quote from a client of mine when I was doing coaching and his little sentence was, "Work with James while you still can." As of last year, I stopped that service for new people. I can relate to where you're going here. While you can work with Stephan, that's how you do it. 
Now, I imagine you've got access to tools and resources that the average ecommerce store owner may not have access to, and then you probably know how to use them better. Do you want to talk about how important having the right tool kit is for an SEO practitioner? 
For a business owner, it's important to work with the right SEO practitioner expert who has all the right tools for the job. If you can't see what is coming down the pipe because you don't have tools that are giving you predictive or pre-emptive information, it's all looking in the rearview mirror to see what already happened. You can't drive a car just looking in the rearview mirror, you'll crash. 
You can't manage your SEO by only looking at what has happened in the past in Google Search Console, in Google Analytics, and so forth. You need proper SEO tools that will give you predictive metrics that tell you if you're heading in the right direction before the traffic shows up. That would include—from a link analysis standpoint—looking at, for example, linkresearchtools.com will give you LRT Trust and LRT Power metrics. 
For a business owner, it's important to work with the right SEO expert who has all the right tools for the job.
Not every tool out there that does link analysis will tease apart trust from importance or power. That's critically important because Google has this drive to give more authoritative and important websites higher visibility and to demote those sites that have lower credibility. This is called E-A-T, expertise, authoritativeness, and trustworthiness. That acronym actually came out of Google. That was first published in the quality rater guidelines from Google. 
Back in the day, a long time ago, those quality rater guidelines would get leaked because they were confidential. They were for the human reviewers that Google contracted—I was going to say employed but they were actually contractors. This army of people would go through websites and determine if it was credible or not. If it was well-constructed if it was helpful, not helpful. They would grade all these web pages and they continue to do so.
You might wonder why the heck does Google have a bunch of humans, that seems kind of counterintuitive. But then, when you think about how machine learning works, you need a massive training data set to give to the machine learning algorithm, so it can figure out what is good or not good based on the training data. It's not a direct correlation of somebody in this massive army of human reviewers. 
It's a big red X on your website because it's poor quality, isn't credible, or authoritative. You're not going to have that show up immediately as a penalty. They don't have that kind of power. That goes into an algorithm that then learns how to treat the entire internet, not just your website. You are still kind of up a creek, but it's not immediate. It's eventual if you get that big red-X on your website from these human reviewers. 
E-A-T: Expertise, Authoritativeness, and Trustworthiness.
E-A-T, expertise, authoritativeness, and trustworthiness. Getting the trust component from a link analysis tool, so you know if you're considered trustworthy or not—very, very important. There aren't very many tools that offer this. Linkresearchtools.com is one of them, another is Majestic, which gives you Trust flow and Citation flow. Trust flow is the trust component, and citation flow is the importance component. 
Another thing that I really like about linkresearchtools.com is LVT, Link Velocity Trends. If you have a negative percentage in LVT, that means you're losing links faster than you're gaining them. You are looking less and less relevant to the global conversation as far as Google is concerned if you're on a downward trend, losing more links than you're gaining them. It's not just the number of links, it's quality, it's importance, it's trust—all that is baked into it. But just this metric gives you some insight into the velocity of your link acquisition. 
If you aren't doing link building, good luck to you. You can't just assume that it's a beautiful day, can't wait for somebody to just discover my website and link to me. I'm really excited. I wonder who it's going to be today. It just doesn't work that way. You need to proactively do outreach. That's where another tool comes in. It's my favorite outreach tool, it's called Pitchbox. 
Pitchbox, which my team uses, does outreach in a way that is scalable but not spammy, provides workflow, and pipeline reports. It's almost like a salesforce.com for link outreach. It's not just for link outreach. You could use it for just general PR, doing strategic partnerships, trying to get JVs, and so forth. Mainly it's used for link building. That tool is essential. Many people aren't aware that it even exists, surprising. All the big agencies that offer link-building services know that Pitchbox is the tool to have for trying to do it without the ability to keep track of everything.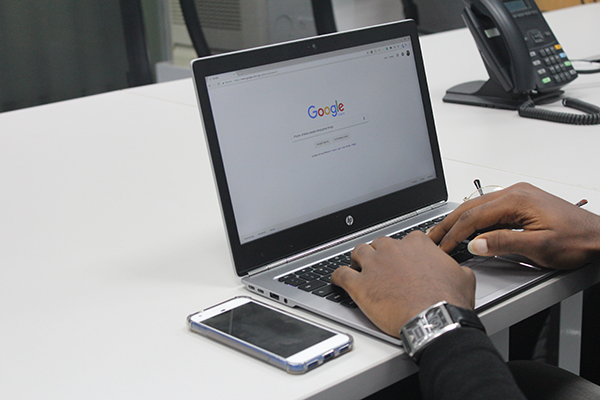 Whether somebody followed up, and then send an automatic follow-up after X number of days, which you can set to 10 days or whatever, you load in all your templates. Those templates can be customized per each outreach, so you can employ a separate team to do the backfilling of data that goes into these personalized emails based on the template, it's just super cool. I can't imagine trying to outreach to a lot of website owners and bloggers without a tool like this. 
Then from an on-page and just auditing standpoint, tools like Ahrefs, SEMrush, Ryte, Searchmetrics, and RankRanger. There are a bunch of really great tools out there, Conductor Searchlight, that will give you insight into what's broken and missed opportunities on-page, on-site. There's on-page SEO and there's off-page SEO. Off-page is all the stuff that's related to links and things that are helping build your reputation as far as Google sees you outside of yourself. Then there's the on-page SEO, which would be everything from title tags, to body copy, placement of the keywords and topics on the pages, et cetera.
Knowing how hard it is to build an SEO agency, to power up with all the tools, and then the actual implementation, how practical is it for small to medium businesses to try and even come close to replicating that in-house versus just hiring someone to help them as a contractor? 
I can't imagine trying to outreach to a lot of website owners and bloggers without a tool like Pitchbox.
It's a lot easier just to hire an outside firm or contractor. I'm actually speaking at brightonSEO's Outreach Summit on the topic of building an in-house link-building team. That's a very exclusive set of folks who have the means and the desire to stay at the very cutting edge of SEO, to invest in some pretty expensive tools and training, and send their team to all the SEO conferences or virtual conferences at this point. There's a lot of investment involved. 
If you do it wrong then you're not just wasting your time, you're potentially damaging your SEO and having to dig yourself out of a hole. Because the link profile that looks artificial and engineered to Google is something that would need to be cleaned up, and not just I'll disavow all those links that look a little too engineered to Google. You've given Google a big heads up that, hey, I'm doing link building so you should scrutinize my stuff a lot more than you normally would. 
That's not the kind of attention you want to get from Google. Just saying, I'll just clean it up after the fact by putting a bunch of these spammier links or more artificial-looking links into a disavow file and uploading that into Google Search Console. That's not great. If you can just think about, from a common-sense perspective, the repercussions of that, it doesn't look good. 
I imagine there are still SEO practitioners out there who might lean on tactics that may not necessarily be in the best interests of their customers and can actually cause a lot of damage in a short time. Do you have any suggestions? Obviously, people should hire you. But what would be on your little checklist of things to ask an SEO agency before you decide to invest with them? 
It's really tricky when you don't know SEO.
It's really tricky when you don't know SEO. 
There is no chance they're going to know even what's contained in your pinky about SEO. They've got a really unfortunate situation. They have to try and hire a contractor for something they won't fully comprehend. Are there some red flag questions where the answers would be an indicator?
Yes, there are. I actually created a free download on stephanspencer.com called the SEO BS Detector. 
A few examples of questions in that document. For example, what's your process for optimizing my meta keywords?
If you're just an innocent, naive business owner, naive to SEO, they're just going to maybe slightly correct you and say well, meta keywords probably aren't that important these days or it's not as much of a signal as it used to be. Those are all wrong answers. The only right answer is meta keywords never counted in Google. Whoever advised you to focus on meta keywords is not good at SEO. That's the only right answer. 
If you can't see what is coming down the pipe because you don't have tools giving you pre-emptive information, it's all looking in the rearview mirror to see what's already happened.
Click To Tweet
Many people will just answer the question in terms of here's our process, here's what we do, we don't really consider this an important signal anymore. But Google never ever, not on day one, counted meta keywords and good SEOs know that. That's an example. 
You could ask them about what SEO tools they use. The challenge with that is if you don't know anything about the tools that they respond with, then you won't be able to ask a follow-up question. I remember interviewing on behalf of one of my clients, a candidate for an in-house SEO rule, and I did ask him that question, what is your absolute favorite SEO tool? When he responded, he said Majestic SEO. I already knew something was amiss because Majestic rebranded to just Majestic years ago and no longer referred to themselves as Majestic SEO. 
I asked a follow-up question, what's that metric that's really important in Majestic? He answered what I thought he would answer, AC rank, which was deprecated, at the time, 2–3 years prior to that interview. This favorite SEO tool of his, he clearly hasn't been into for 2–3 years minimum. I knew to quickly wrap up that interview. But if you ask questions that are on this cheat sheet that I created, there's really only one right answer for each one of those. 
Keyword density is another lousy metric that was popular many years ago which I thought was ridiculous.
For example, another quick one just off the top of my head is asking about keyword density. What's a good keyword density to aim for? What's typical, how does that work? Keyword density, of course, is another lousy metric that maybe was popular 15 years ago. Even then, I thought it was ridiculous. The number of occurrences of that keyword on the page is actually making a positive impact on your rankings. That just sounds silly. 
I want to rank for lawn mower, I should put the lawn mower on my page 5 ½ times. 
You'll have all the associated words in this little cluster. There's some great joke about that when you're at a dinner party talking to an SEO and they start keyword spamming the conversation. I remember people used to ask if they can put white text on the white page to trick the search engine by having the keyword there more.
That was a long time ago, but yeah. 
Some people actually ranked alphabetically. They wanted to add an "Aa" domain to come up tops in the search results. 
There are still companies out there that probably still exist that their name begins with a number one because they wanted to be number one. 
That's okay if number one is in your domain. If you do your design or whatever. What about the budget? I think people look at SEO as an expense and it's a bit like your podcast. There's probably a lot of upfront work and expense with not a lot to show for it at the beginning. What do you think is a reasonable timeframe or expectation for a return on investment? And what kind of return on investments have you seen?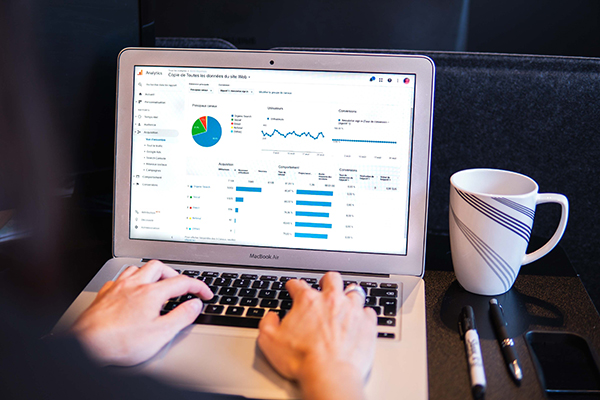 I want you to think about people you may have worked with over the last couple of years to any stand out that have shocked them or disappointed them. Is there a balance or is it always an upside? Is there sometimes a downside? What would be the difference, and what numbers are we talking about here?
Okay, those are a lot of questions. Let me see if I can remember them all.
It's a big question. It will make you think. 
First of all, let me address some of the last parts of that. Some clients who have really stood out as getting amazing results. I do have case studies on my website on stephanspencer.com. I found netconcepts.com as well. I'll just name a few examples and the kinds of results that we achieved. 
Other World Computing, which makes Mac memory, RAM, and solid-state hard drives. They, within six weeks of implementing my audit, received millions of dollars in additional revenue that they were not counting on that was over and above the whole work from home trend that did also benefit them because they did see an uptick in their business. 
But separate from that, they saw a huge uptick in their online sales, and they attributed that to me and the work that I did in the audit and their implementation to that. My oversight of them implementing that, and that is a very unusual circumstance in terms of a six-week turnaround because SEO takes time. Amazing results. 
By the time this episode airs, there should be a case study published for Other World Computing on my website. Check that out. 
Allow at least five months to a year for SEO to really kick in.
Typically, I'd say allow six months, at least five months to a year for the SEO to really kick in. You're not going to get an ROI on a strategy deliverable until it's implemented. Think about the implementation time, then getting to completion, and then add an additional 5–12 months. I'm not just making that number up. 
Google has mentioned on the record that 4 minimum to 12 months is a timeframe that you should allow for SEO results to occur from the work that you did. That was Maile Ohye at Google on the Webmaster Central team saying that on a Webmaster Central video. That's from Google's perspective, and I totally agree with that. 
Some other examples of results may be smaller businesses not an eight-figure business necessarily. You as a listener may not have an even seven-figure business yet, but you can get incredible results for your small business with SEO if you think strategically and then you execute that strategy. 
A great example of that is Chris Parker, whatismyipaddress.com, a small business. I'm not sharing data out of turn here because he said this publicly. He was actually a guest on this podcast some months ago talking about the work we have been doing together. Still a client. Have been working together for four years now, I think. He implements very well. He's on it. He gets stuff done. Things that I recommend and guide him to implement, and also my team does a lot of implementation for him. 
Writing articles, creating Lumen5 videos, infographics, and other content marketing stuff, workbooks, and buyer's guides. I also guided and oversaw the big site redesign that he implemented. That is a great small business example. Numbers-wise, he started at a sub-seven-figure business, he was like $600,000. He's now doubled that, and he's expecting to do great things in the coming months and years because we've got a great road map and strategies mapped out. $2 million, $3 million, $4 million, who knows. Sky's the limit. He's very excited. 
We're actually also looking at other opportunities beyond just his one website. That's another thing too is you could do roll-ups, you could acquire other web-based businesses, you could create a new brand from scratch. 
If you aren't doing link building, good luck to you. You can't just assume that it's a beautiful day. You can't wait for somebody just to discover your website and link to you.
Click To Tweet
In fact, Chris did that. He created Easy Prey, a podcast about scams, malware, security vulnerabilities, privacy, and all the things that you as a consumer need to be aware of so you don't get snookered, you don't get scammed, you don't get your cryptocurrency wallet empty, all that sort of stuff is really, really important. He wants to add a lot of value out there for people through his podcast episodes.
That idea of a podcast came from me. The name of the podcast came from me. He's really happy with where things are at. Just a fun little example of a podcast interview he did was John McAfee, the founder of McAfee Antivirus. He was quite a character. Two ends of the spectrum there. But I've worked for even bigger brands, and have had clients like Chanel, Sony, Zappos, Volvo, and so forth. But I think for our listener, smaller business examples are more relevant.
I think so. I mean how much are we talking about here? How much are they gonna have to pay for the strategy, and then of course you hinted at some of the resources that will be required. It's clear there's going to be a huge correlation between implementing and getting the result because you can get the strategic ideas. You can have all these wonderful things you're going to do, and then you could just get bogged down on the next 12 months of thrashing out a website design. 
Obviously, it comes with the requirement that you execute and implement. But how much can they actually start off with if you want to give us sort of a budget? 
The pricing that you'll hear in the marketplace runs the gamut anywhere from hundreds of dollars per month to hundreds of thousands of dollars per month. I know some agencies that work with, for example, online casinos and other difficult to optimize industries, payday loans, and so forth, which I don't work with. That's not my jam, but they'll charge six figures a month to work with a big online casino or whatever. 
If you're spending $200-$500 a month, whatever they're doing for you is probably essentially nothing.
But if you're spending $200, $300, $400, $500 a month, whatever they're doing for you is probably essentially nothing. Just shuffling some papers around and looking busy. Creating a report every month without doing any real heavy lifting behind the scenes. That's a waste of time and a waste of money, even though it's a little bit of money. If you're spending, let's say, $2000 a month, even that is not enough to hire somebody who's really good, who understands SEO deeply. 
People who are $2000 a month are not at the top of their game, they're not at the top of the industry. Now, if you're talking $4000, $5000, $6000, $7000 a month in monthly retainer, now you're talking about getting potentially a really pretty good SEO. If you want the very top SEOs, somebody who kind of wrote the book on the topic sort of thing, co-wrote the book, somebody like myself.
I can see the books on your bookshelf, several. 
Actually, me and my co-authors are working on the next edition now. I'm hoping it won't exceed 1000 pages because we're at 994 pages. The publisher has gently warned us not to go past 1000 pages. A book that's 1500 pages won't sell like a book that's 500 pages. Just makes good sense, right? 
If you want to hire and work directly with a person who has that level of knowledge, expertise, and industry cred, you're going to pay probably a minimum of $15,000 a month. That's actually my minimum to work directly with me on a consulting basis. 
An SEO audit is a primary key to your ROI. Implement them regularly and monitor your growth.
Click To Tweet
But as I said, I've got an agency and we do take work that is at the $4000, $5000, $6000, $7000, $10,000 price points. It depends on the scope. Let's say you need link building because you pull up a tool like Ahref or Majestic, you're authority scores and you see wow, those aren't very good. Those are low numbers. Trust flow of let's say 10 or something out of 100 in Majestic or DR, Domain Rating, in Ahrefs of let's say 10 to 30 would not be good. 
That is an urgent and important problem to solve and to address that, you're not going to build your in-house link building team and use Pitchbox, linkresearchtools.com, and all the appropriate tools. You just want to outsource it. You'd be looking at probably about $5000 a month in monthly retainer. But with the difference that it's on a pay-per-performance basis, I don't know very many SEO firms that will do this. I do. I personally offer this. It's my team that is doing the work on a performance basis, and if we don't get you the links, then you don't pay or you'll get a refund. 
We would give a refund if we couldn't get you the links.
We don't end up giving a refund because we always deliver. But we would give a refund if we couldn't get you the links. Sometimes it takes a little longer. If somebody gets furloughed or laid off on the other side, it's the editorial manager or whoever handles articles, submissions, and things like that, and the opportunity disappears, the journalists that we were working with decides we're going to scrap that or the boss does. Nothing we can do about that, we just go and get another link. But it takes a little bit of time to replace a link opportunity that we weren't able to land. 
Each link is costed out on a sliding scale based on authority metrics like DR and Ahrefs. A more powerful link is going to cost more than a less powerful link, but that's to be expected, right? If you're doing a $5000 a month retainer, you'll get some great links out of that. We focus on quality so we never pay for links. That's another great question to weed out those SEOs that you shouldn't be working with. 
Do you have a pay for links? Do you buy off the webmaster or the blogger? Is that an appropriate thing to do? If they said, "Well, you know what, this is the real world. Yeah, we do it. Everybody else does." That's the wrong answer. That's an answer that should make you turn and run. 
This is such good advice. What if someone's not sure if you can help them or not? They're on the fence thinking, okay, Stephan's obviously the guy, I hear you. There are examples of businesses that have gone really well. It's going to cost a little bit of coin and it's not going to happen instantly. I can be okay with that, but can I just ask if you could have a look at their site, tell them if they're going to get help, or can they buy an audit? Is there some process for them to get reassurance that you feel confident that you could help them?
That's a great question. There are multiple paths to solving this. I'm more than happy to jump on a call with any of my listeners. You guys are my tribe, my peeps. Anybody who wants a 20-minute free consult with me, happy to do that. I'll include a link in the show notes to that, that's a given. 
But also if you're thinking well what can I do from a paid standpoint to get a roadmap or some sort of assessment that's a deeper dive in just a 20-minute call with screen sharing and pulling up a few different tools. An audit could be with my agency or could be with me directly, it will be more if I'm doing the audit and delivering it than if it's the agency. 
Depending on which path you want to go down, either go to netconcepts.com, the agency, or go to stephanspencer.com to work directly with me on an audit and book a strategy call. We'll talk through the details and get that going. If you don't implement an audit though, you're not going to get ROI. That's really important to understand—unimplemented deliverables do not produce results, and that's not good for either one of us. 
A referenceable client is the only kind of client I want to have. If they're willing to be a reference, that's great. But if they wouldn't provide or wouldn't have the results to provide on a call or an email to someone, that's not good for either one of us. Success is the key. You could be happy with me, but not get the success, and that's not workable for either one of us. You have to be successful with what we're doing together. 
One thing that I noticed when I started doing SEO was Google was like this praise machine. If you did a good job, it gave you praise. It was quite this discovery for me that finally, I can be acknowledged for doing good work. I get a sense that for you, there's quite an element of satisfaction when you can get a result for a customer. I think that's why perhaps, you're happy to be on a performance basis. Do you still get a special feeling when you see that result come up on the top of the search results? Do you have this little happy dance feeling inside?
Yeah, I do. You might think it makes me a real geek to be jazzed about SEO updates, nuances and things that I learn, and reverse engineer, but it does really juice me. It does light me up. I like figuring out the black box of Google or whatever the algorithm is. 
It's a game, isn't it?. 
It's fun. It's like putting a puzzle together or it's like rebuilding an engine from scratch. 
What do you think someone listening to your show would be dying to ask you now that we've got you in the spotlight? By the way, you've been a fantastic guest today. I've been really interested in this, and I've spoken to you many, many times about SEO. Every time I speak with you I learn something. I can't say that about everyone I speak to. 
I like figuring out the black box of Google or whatever the algorithm is.
I think you've revealed a little bit of yourself, but also the way you operate in your own business. We don't get to see that when you're the host and the spotlight's firmly on the guest. But what do you think a listener would just love to get out of Stephan while he's the guest on the show? Do you have any special guest segments, tricky questions at the end, or a little ritual that needs to be done before we close this session?
I don't have. I don't believe in having anything scripted in a podcast. Just free-form everything. You're asking me, what would a listener who's part of my regular tribe most want to know from you that we haven't already discussed?
If you can't think of something, I can guess what it might be as well. 
Well, let's start with what sort of strategies and tactics would make a big difference that is easy to implement, wouldn't require hiring Stephan or even any SEO, and would give a feeling of success or positive momentum? 
And an answer to that I would say start by going into Google Search Console and making sure that you've claimed your domain property. That's not just https://www.whateveryourcompanyname.com, whatever. It's the entire domain and all subdomains in HTTP, and HTTPS included, all of that wrapped together into one. Make sure that you've claimed that in Google Search Console, which is a free tool. Everyone who's listening must have a Google Search Console account set up with their website in there. And again, domain property.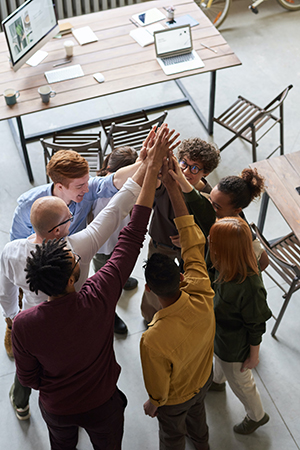 Then go into the performance section, where you get to see what keywords are bringing in organic traffic from Google and go to the tab that's Pages or URLs and see what the top-performing pages are beyond just your homepage. Probably your homepage is the top of the list there, but what's the second, third, or fourth most traffic visited from Google searches page? 
Pick one that you're passionate about that'll get you excited to work on. Click on that one. Maybe it's your top-selling product. Maybe it's a blog post that just everybody seemed to love and ended up getting shared a lot on social media, lots of links to it, et cetera. Click on that and then click back onto the queries tab that shows the search queries for that particular page. 
So now you have filtered down this huge list of keywords that people are typing into Google that land them on your website. Now it's just those keywords that are delivering visitors from Google to that particular page, that single blog post, that single product page or service page, and imagine what gaps are not showing up in that list. Now you got a much smaller list, what are the gaps there? Maybe there are some synonyms or some ways of framing the problem, or the solution in the customer's vocabulary that you're not doing and thus, those words are not showing up on the list. Go back to that page and add the additional section or revise the content to do some copy edits work on that page to incorporate those topics and those phrases into your page. 
So that's easy to do. It's replicable because you can go back and do this to the next most important page of your site, then the next one, and the next one. You don't need to hire an SEO expert in order to start plowing through these most important pages that are already delivering for you. They're just gaps that you did notice.
That's a great tip. In closing, Stephan, what are you most excited about this year? 
What I'm most excited about is making a difference for people and the folks who I'm working with making a difference in the world, and helping them to amplify their message and the value that they're delivering.

Stephan Spencer
What I'm most excited about is making a difference for people and the folks who I'm working with making a difference in the world, and helping them to amplify their message and the value that they're delivering. If you looked at my clients from a few years ago, three, four, five years ago, and those that I'm working with now, I'm much more focused on those kinds of clients that are revealing light in the world, making a difference for people. Doing good and not just creating a widget, selling some plastic widgets that they just want to sell more of. 
It's fine if that's what you're doing, but if you have a higher level of intention, that really juices me. It makes me work with you. 
Stephan, you're a good man, and thank you for being vulnerable enough to share your story and your expertise on your own show. It's a brave and bold move. I hope it's a hit with the listeners because this is just a way that you can serve them. By the way, if you're listening to this show or watching this show wherever it's published, let Stephan know that you watch this show, that you enjoyed it. Let's pour some love back his way because he's a good human. 
Thank you, James, and so are you. I really appreciate you. You've really made a difference in my business. Looking forward to doing great things together in the coming year.
Awesome.
Important Links
Your Checklist of Actions to Take
Be proactive in dealing with my site's SEO. Don't only act when rankings take a hit or if an undesirable link about me shows up on the first page of Google. Best to build my foundation early, so it gets stronger over time. 

Claim my knowledge panel. A knowledge panel is an excellent opportunity for professionals to connect with their target audience by providing immediate results in fewer clicks.

Implement a regular SEO audit. Always check how my website is performing. Every few months will give me a more precise overview of what I need to improve next.

Pay attention to my metrics. Set up Google Analytics to monitor my site's performance. As the famous saying goes, "what gets measured gets managed."

Take advantage of SEO tools. Stephan mentioned a bunch in the episode and they can be found in the Important Links section. 

Be familiar with the acronym E-A-T in SEO. This means Expertise, Authoritativeness, and Trustworthiness. These three characteristics are what positions professionals better in SERPs (search engine results pages). 

Continue working on my link-building strategies. This is a long-term digital marketing strategy that requires maintenance to keep me where I want to be on SERPs. 

Watch out for my LVT, also known as Link Velocity Trends. It's a metric in LinkResearchTools that when I have a negative score, I lose links faster than I am gaining them.

When hiring an SEO, make sure to ask the right questions. For a quick guide on what to ask, Stephan created a resource called the SEO BS Detector.

Take advantage of Stephan Spencer's free 20-minute consultation to learn more about how my site is performing. I can reach him at his website, or if I prefer to hire an agency, Stephan introduces the relaunch of Netconcepts.
About James Schramko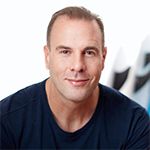 James Schramko is the founder of Superfastbusiness.com, host of the Super Fast Business podcast, and co-host of three other podcast shows, including Think Act Get, Sales Marketing Profit, and Freedom Ocean. He lives in Sydney, Australia.