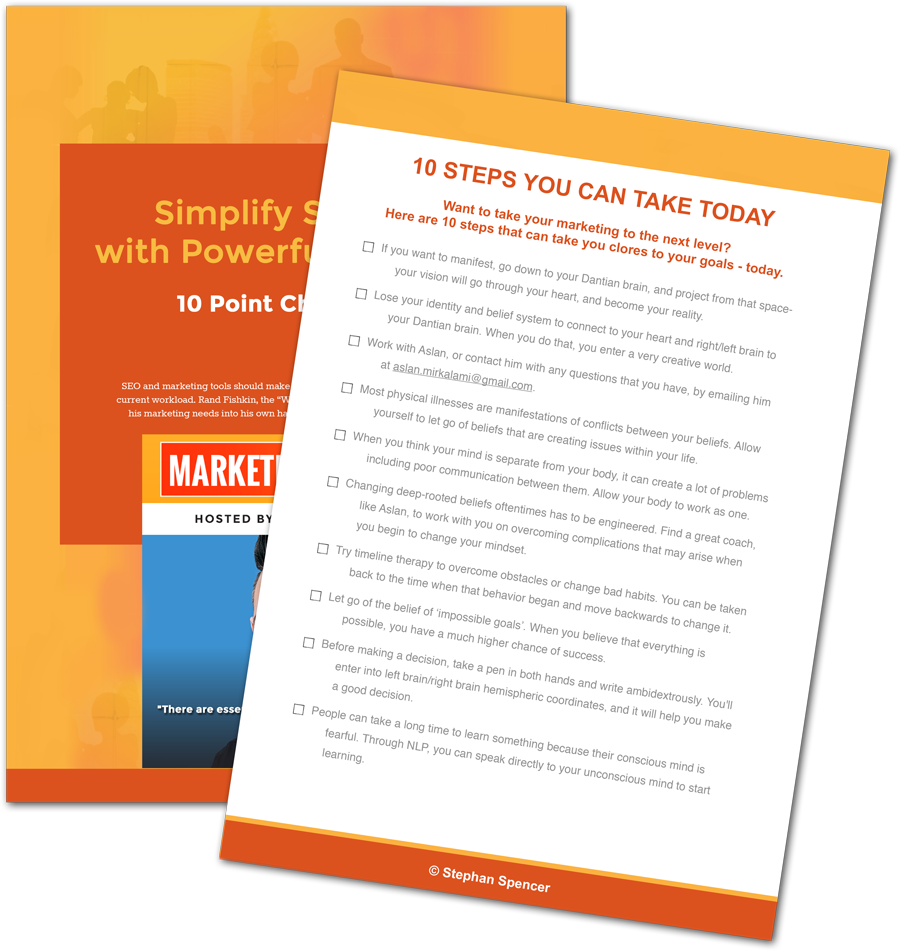 Get into action! Download your FREE Checklist
Put the most important tips from this episode to work and take your marketing to another level! Get your free 10 Point Checklist for your next actionable steps.
This Week's Guest:
When you embed a YouTube video on your page, don't let it autoplay. Instead, make sure your viewers need to click to start the video. This may seem counterintuitive, but YouTube doesn't count any viewing activity for embedded videos that autoplay. If your website's visitors manually start the video, you get the credit you deserve for the time they spend watching it.
Jeff Martin, the Senior Vice President of Search and Social at Touchstorm, joins me to share this and many more tips related to YouTube. In this super tactical episode, we talk about all things YouTube including keyword tools, search ranking trackers, optimizing your thumbnails, the importance of descriptions, and whether having your YouTube content translated is worth the extra effort.
Find Out More About Jeff Here:
Touchstorm
Jeff Martin on LinkedIn
@Jeff_Martin on Twitter
In This Episode:
[01:16] – Jeff talks about the single most important thing to do on YouTube, which is also the hardest thing: consistently getting content out there.

[04:47] – Stephan points out that with his podcasts, he has to publish each episode at specific times each week, which is in accordance with what Jeff has been saying.

[06:01] – Would Jeff say that subscriber count is a more important metric than view count?

[09:10] – Anybody can use Jeff's tool,

Voot

, now (compared to the beta, which required an application).

[11:22] – Stephan takes a moment to clarify a couple of things for listeners, offering a specific example from his career to explain why it's so important to choose the right keywords.

[14:17] – We learn why Stephan isn't a fan of using Google Adwords Keyword Planner data for YouTube. He then offers some tools that work for keyword research for YouTube.

[19:55] – Jeff talks about whether there is anything inside of

VideoAmigo

that's keyword related and hasn't been discussed yet.

[21:22] – Which metric does Jeff think is the most important for a marketer to pay attention to?

[25:46] – Jeff points out that you need to keep an eye on your competitors on YouTube, meaning any other channel that puts out content similar to yours.

[29:25] – Jeff gives a specific example to clarify what he has been saying about watch time on YouTube.

[31:45] – Stephan clarifies that YouTube is looking not only at the watch time of our own videos, but also the session watch time.

[33:28] – We hear more about the importance of playlists, which Stephan has described as a "secret weapon."

[38:59] – Does it help you to create playlists of other people's content when you're just starting out and don't have much content of your own?

[38:45] – Jeff talks about whether thumbnails are more important than the title of the video.

[42:53] – Stephan mentions a few more things about thumbnails that Jeff hasn't covered. He points out, for example, that the thumbnail doesn't need to be a still from the video.

[44:41] – We learn more about the text-based aspects of YouTube, including the title, description, tags, and closed caption file or transcript.

[48:47] – Jeff explains that the description is a great place to put your call to action.

[50:59] – Jeff discusses the strategy of translating your YouTube content into other languages to show up in more searches.

[55:03] – Stephan and Jeff offer some easy and fast tips for YouTube.
Links and Resources: