The French philosopher and mathematician Blaise Pascal famously wrote: "I would have written a shorter letter, but I did not have the time." Anyone who has worked as a storyteller or pitched a project in Hollywood, as my guest today, Brant Pinvidic has, can tell you that being concise and winning people over with a brief pitch is an incredibly difficult thing to master. 
Brant is an award-winning film director, veteran television producer, and the #1 bestselling author of The 3-Minute Rule: Say Less to Get More from Any Pitch or Presentation. He has taken the life, business, and storytelling lessons he's developed during his Hollywood career and used them to become one of the most sought-after C-level sales and presentations coaches. Once I experienced his palpable energy it was easy to see how Brant is the master of this domain. 
In today's episode, we break down the art of how you can whittle away at your proposition to show the true value that you're offering to the person who will use your service or product. Brant is a lot of fun to talk to and he is just a force of nature, so let's get on with this excellent episode of Marketing Speak right now!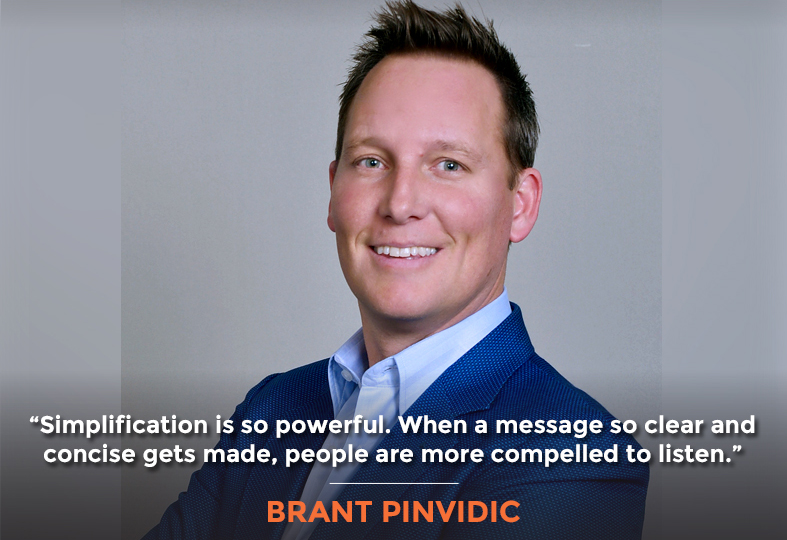 In this Episode
Transcript
So great to have you on the show, Brant.
Thanks, man, I really appreciate it. Really fun being here. I love that intro. I should take you on the road with me, that sounds great. It's almost like I wrote that myself.
Perhaps you did. 
Perhaps I did.
Let's talk about this 3-minute rule. I've heard The 5 Second Rule from Mel Robbins. I've heard of all these different rules. What is the 3-minute rule, and why should our listener care about this?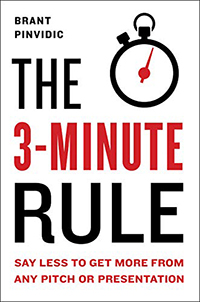 The 3-Minute Rule pretty plainly states that everything about your business, product, or service has to be conveyed clearly, concisely, and accurately in three minutes or less. In those first three minutes, you have to capture your audience's attention, you have to maintain their focus, and more importantly, you have to create engagement. Now, it's more about the actual process of the way human beings make decisions. Whether we're motivated to approach—it's called approach motivation, it's a very scientific study—the basis is why people are attached to brands, listen to stories, or whatever it is.
The 3-minute rule is based on some science and how we used to do it in Hollywood when we were creating scenes of the optimum time you can capture someone's attention, feed them very valuable information, so they make a decision that's favorable to you. It's not an elevator pitch. It's not about condensing your ideas super simple, which is, of course, one of the biggest things. 
It is about putting the right information in the right order in the right way so that people follow your story and want to be involved. That's how you convert more, and that's how marketing works better. In today's hypersensitive audience, it's wildly important. 
Can you give us an example of a situation where you had, let's say a client who had failed that 3-minute rule, then you worked with them, and they completely transformed and got all sorts of success. 
I'll give you a great example. These guys approached me, they wanted me to work with their company. They were some technology company with batteries and electric vehicle stuff they were talking about and processing. When he explained it to me, I was like, "Yeah, I'm not interested in that, at all. I have no idea what that is." I looked at the company, it was tiny. They were having a hard time raising money. They are a publicly traded company out of Canada, little small-cap, maybe $11 million market cap, just struggling. 
He called me one day and he said, "Listen, I know you're not interested, it's not the size and the scope, but we just got a new CEO and I'd love you to meet with her. Just talk to her. See if that influences you any." I was still very hesitant, but when he said, "She was the former CEO of GE Small Industrial Motors and she left her job to move to Calgary, Alberta on this little company and move her family there." I was like, whoa, that does not make any sense at all. There's got to be something going on.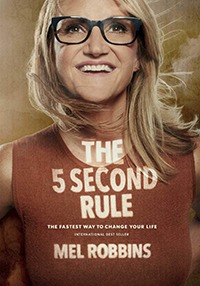 After five conversations, I had no idea what this company did and the potential. I talked to her on the phone, and the very first question I said is, "Why would you take this job? It doesn't make any sense." She's like, "Well, do you know anything about electric motors?" I said, "No." She says, "Well, I do and I had no choice, I had to take this job." 
She started explaining the technology and it's very dense, it's a dense, dense thing. I finally sort of understood what the company did. I could see their presentations and their pitches. It was obviously something so powerful that it got the CEO of one of those powerful organizations. She had one of the top jobs in all of the electric motors in the industry to leave that job to move to Calgary, Alberta to run a company that nobody heard of. 
The technology was something very, very valuable and super inspiring, and yet nobody could see that, nobody understood that. They would pitch it, they would explain it, and they would have run into a brick wall because not everybody understands electric motors the way she does.
When I finally unpacked that for myself, let's put this together in a way that people could actually understand. We restructured it and put it in through the 3-minute rule piece as I started working with them. It became Exro Technologies, the company that makes electric vehicle controllers. The controller becomes the brains of the electric vehicle and tells motors how to behave. Just that sentence alone—it has taken me 20 years to learn how to say things in three minutes—made people understand, you make electric controllers. You make controllers for electric vehicles. It's like, oh, I get it.
We use coil switching technology that tells the motor how to behave in real-time and acts as an electric gearbox inside the motor. Now people are understanding like, oh, what this company does. Your electric vehicle can go farther on the same charge. We put that into play and the simplicity of that deck, 10 slides, walking through it. We've been working together for about 14 months. Went from $0.10 a share to over $5, from an $11 million market cap to a $600 million market cap. 
I didn't reinvent anything. All I did was help the business tell its story effectively and efficiently to the right people.
I didn't do anything in the company. I did nothing. I didn't change the technology, I didn't reinvent anything, I didn't hire people—I didn't do any of that. All I did was help them tell their story effectively, and efficiently, and to the right people. When that happens, the ball starts rolling. 
If you think of any of the companies that you know, there's a story behind them. When you understand the story you are interested or not depending on the relevance, and that would help this company explode because it was like, oh, I understand what this company does now. Then they can actually engage from a process and a place of interest. Then people want to look at the technology because now they understood what it was. They wanted to verify it, they wanted to validate it, they wanted to see how it can work in their vehicles. 
That was a game-changer because I was able to contact other manufacturers and large automotive companies and explain what it was, so that they were like, "Okay, well, you can do what you say, we're interested. Show me the data, let's do a test bench or whatever."
That has been repeated over and over again. In the book, I have a lot of really good examples. A lot of science guys and technology guys inherently believe their information is so complicated. It's like, yeah, I hear that every single time. The more complicated your business is, the more simplified you need to start out with your information.
Yes, that makes total sense. It reminds me of the adage, "facts tell, stories sell."
Right.
If you're telling a story of the growth of a company, the story of the origin of the idea that created this industry-leading company, or you're telling the story of how a CEO of a major corporation left her job in order to bet big on this tiny little company, those are great stories that make the listener get engaged, want to learn more, and follow that journey—that story of struggle, that underdog story—and root for them. 
Simplification is so powerful. When a message so clear and concise gets made, people are more compelled to listen.
Click To Tweet
It's been a really fun run living the day-to-day of television into this world. I meet so many interesting people. I get to see so much undiscovered awesomeness. I see that pain in the CEO space where they know they have something that's great, people would want, but they just can't quite tell people to understand it the way they do. They understand it so well, they know every nuance. 
That's what we need to focus on and only that. It's really hard for people to separate what needs to be said from what they want to say. The art of this is knowing what needs to be said and knowing that it's not everything you want to say. I know you want to say everything, I get it. Everybody wants to do that, but that's not the way it works.
Looking back, whether it's a podcast interview, a presentation from the stage, a short YouTube video, or even a TV commercial, people remember not what you tell them about your product features, they remember how you made them feel. I think that applies across the board. I know you give training and coaching on giving great sales presentations, transforming your brand messaging, and all that sort of stuff. Every department in the company needs to understand that they're creating a feeling in the prospect or whoever it is that they're trying to reach
That's the thing, I use that as the cautionary tale because it's very classic marketing and sales techniques is to inspire, to tell stories, and to do that. The problem is that you cannot reverse engineer that anymore. You cannot come at your presentation, your sales pitch, your target audience from their feelings. What feeling can I give them? Let's go reverse engineer that. The problem in today's world is your audience will smell that coming a mile away and nobody wants that. Nobody wants to be sold anymore. 
Everybody wants to say everything, but that's not the way it works.
I am tired of the marketing, and the clickbait, and then click funnels, and the over-promising. I don't want to deal with that anymore. Do you know what I want? I just want the facts, I just want to know what you do, how does it work, am I interested? That's it. I don't want your neuro-linguistic programming. I don't want you to use my name in a sentence over and over again. I don't want any of your tricks. 
What I want is to know what it is and how it works. I'll make the decision if I'm interested. I will develop a feeling for it if I'm interested. I will become emotionally invested if it means something to me. If your story is giving me the facts that I want and lets me do my thing as a consumer because I'm very sophisticated, that's the way you're dealing with this now. 
I'm sophisticated and I'm skeptical. If you treat me like I'm not, I will reject you before you even start. You won't even get the rest of your sentence out and I'll be like, I don't like this guy. I see that a lot because people make big promises or they use the sales techniques that used to work in the '80s and it does not work like that anymore.
This very hypersensitive audience, if they're going to give you their precious attention, they want value right away. If they don't get it, they are off into the world looking for something else. Their attention span is so short. It's not so bad for a lot of companies, but from a marketing perspective, the marketer's team has a very bad habit of that. They go in to try to inspire brand feelings and whatnot. 
It's like, yeah, that's like a company saying we're going to create a brand and they hire graphic artists to create a logo. That's like, yeah, that might've worked 10, 15 years ago that if you had a great logo that looks like Apple designed it, people would think you're a big brand. But my 18-year-old kid can give you a logo that looks like Apple designed it. No one gives a crap. That's not going to work.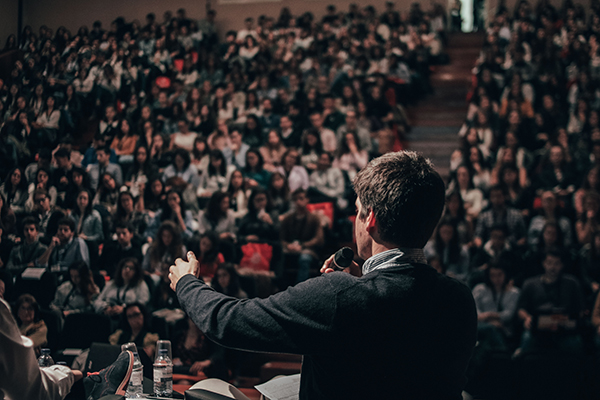 The same thing with trying to tell a story, trying to inspire feeling, or try to create that artificially. If that is the end goal and you go into it, you will fail. That's why people struggle so hard with marketing right now to get attention and you find people and things don't work because you're going about it wrong. You're trying to, in essence, manipulate your audience's results, you're not doing it with the facts, and you're not doing it with the product itself and what it really represents with them. You are trying to force-feed it to them. They are resistant to that right now. 
I hear what you're saying. I want to make a distinction and see if this lands for you. If you're trying to manipulate the consumer or the prospect, trying to get them to feel a certain feeling and reverse engineer a story or some sort of process that will get them to that desired end state, you're going to fail because people will smell that a mile away. 
However, if you're trying to create a real experience, I think then your potential is huge. For example, in your business, you have these crazy experiences that people remember for a lifetime.
Before we started recording, I was telling you that Brad said, hello. He told me a story of one of the trips that you put together and how memorable and crazy it was. You are somebody he thinks of very fondly because of the multiple trips that he went on that were so memorable and life-changing. Maybe you could share a bit about these trips that you've put together and why and how transformative they are for people?
People don't want any of your tricks. They need the truth.
It came from the idea that I wanted to do, I want to fill my life with a little more joy. That was my thing because I have worked very hard, I've done relatively well in the scheme of things. I found that I didn't know why I was doing it. At this point in my career, I was just chasing bigger contracts, and I didn't even know why I was doing that. It didn't make any sense. 
I realized that when I lived in LA, I did have a lot of friends, I did a lot of fun stuff. I just started creating these events on the weekends and inviting people to go do fun things that brought me a lot of joy because I like doing fun stuff. I like jet skiing, I love surfing, I'll go off-roading, that kind of stuff. When I created these experiences for people, it had a lasting effect on their life in general because people who are more joyful and experience things tend to do that better for others in their life and their business. 
I started doing it through my nonprofit almost like it was like an organized thing. Because it's so organic, I do it through my nonprofit so it's not a business. I'm not selling anybody anything. I'm not trying to create an experience so I can sell them something. It really resonates because you're there for one reason. If we're here for three days doing something, it's like how much joy can we squeeze into these three days. 
The byproduct of all that or the relationships that you just talked about and my ability to connect with people, and all that kind of stuff is great. But it comes from a more organic place. I think that I could relate that to brands when I'm doing seminars or whatnot. You need to have confidence in the value you bring to others in the core element of your product or service. If you really believe in what you do and then it brings value to others, that's where the focus should be. The focus should be, here's the value that I bring, here's how I bring that value to you. 
Basically, exactly what my 3-minute rule teaches is here's what I do, and here's how I do it. The 3-minute rule is based on a system called the WHAC method: What is it? How does it work? Are you sure about that? Can you do it? When you put a pitch to that context, it goes through the very core decision-making process that we make as human beings. We need to understand what it is. We need to conceptualize what it is we're looking at. 
It only takes three minutes to capture people's attention, maintain their focus, and most importantly, create an engagement.
Click To Tweet
Then we need to contextualize it. I need to understand how it works. I need to understand how it works for me. I need to understand how it might impact my life. That's contextualizing. Then we actualize. Then it's like, okay, can I get involved? What does it cost? Is it too expensive? When's it going to be available? How do I order? Those are all actualizations.
The WHAC method puts that pitch in that order. I deal with clients where I'm like, "What is it? Just tell me what it is you offer?" "I am a personal trainer that specializes in training actors for leading movie roles." That's 15, 18 words. You already know exactly what this person does. You kind of know what they do. When you simplify something in that sense, it's powerful. 
Then it's like, "How do you do that? What's the deal?" "It's like I move into the celebrity's home 90 days before their role starts to make sure they follow the training and get to the desired goals." It's like, "Okay, how does the person train celebrities for big roles?" "They move into your house for 90 days." Do I need to explain a lot more stuff? You get it, right? You already know. That's right, he's going to be training two to three times a day. You're already moving towards like I understand this process, and he hasn't said anything about details, or any of that stuff, no.
Now that I understand those things, when I say I trained Vin Diesel for The Fast and the Furious, I trained The Rock. That's like, "Okay, are you sure you can actually do this?" "Yeah. Well, I've done these big things. I trained Angelina Jolie." You're like, "Okay, now I get it." It's like, "My schedule booked up six months in advance, I cost $30,000." Whatever it is after that, now it's okay. 
Now you go to all that, now it's like, do we need to talk further enough? If you're in that world, you're like, yeah, I want to talk further because I'm interested. Or it's like, no, I'm not an actor, I don't have anything to do with it. It's so clean. It is so clear. When you start laying it in those pieces, not only does it get your audience to understand the core elements so they can be like, okay, now we can engage, but it also conveys an unbelievable level of confidence because confidence is conveyed inversely proportionate to the number of words you use, end of story. 
I use this created example when I'm on stage. It's like I want you to imagine that you're getting married, you're prepping your wedding, I want to be the caterer and I'm trying to pitch you on the chef that's going to be there that night doing the food. Very important night for you. I have, as the chef, to bring Gordon Ramsay, a friend of mine. He's going to be the chef at your wedding. How many words do you think I need to pitch you and your bride that idea?
Two.
"I have Gordon Ramsay." Now, am I going to be talking about his Michelin stars? Am I going to try to convince you he's going to be great? Am I going to do any of that? No. I'm going to be, "I have Gordon Ramsay."
Now, imagine it's my brother-in-law, an ex-convict, who just got out of prison, doesn't cook, he's really mean, and he's demanding that I get him a job. How many words am I going to need to try to sell you that idea? I am going to be there trying to explain to you that the chef isn't really the "thing." I would be trying to sell you with as many words as possible. 
You instinctively, in today's world, you'd smell that. You'd be like, not only do I feel sold, but I know that this person doesn't have real confidence in what he's selling because he is talking and more words and more words. Instinctively, people understand that means you are not confident in the value. The more confident in your value, the less words you use. It's a scale that you can see. At its essence, that's what the 3-minute rule helps you understand is that you can say less and get more out of your pitches and presentations by doing that. 
Human beings need to conceptualize what it is they're looking at before they accept new information.
That reminds me of something I learned a while back. When you look at an email exchange or text message exchange between two people, the person who uses fewer words is the one in the power position. 
That's right. It's always like that. I see it every day. I get submissions every day. So many people start their presentations or start their pitches with information that has no relevance to anything. They want to talk about the market size, what's changing in the world today, or the feeling that you should have with the product. It means nothing. Can you just tell me in a sentence or two what you do? If you can't do that and be like, that's what I do. 
At Exro, e make controllers for electric vehicles. It's like, okay. We just tell them, switching technology so you get more range out of the same charge on an electric vehicle. It's like, "Oh wow, okay." Your brain goes, "How do you do that?" Then we talk about how you do that. Once your brain understands that, you naturally want to be like, "That's really cool, but like is that real?"
You instinctively want to verify and check a box if this isn't just hype, "Is that real?" "Oh yeah, we did it with this company, we do it with this company, here's our patent," or whatever that is that validates it, now I check those boxes. Now you're like, "Okay, I want to know, can I get it? Is it real for me? How do I actuate this? Am I interested? What does it cost? How long does it take?" The natural process of human decision-making is so clean and so simple. 
On stage I'll ask people, "I want you to picture the car you drive. I want you to explain to yourself in your mind, your eyes closed, why you bought that car? Why do you drive that car? What's the first thing you say? Go deep, ask why that's important." You realize, one of the largest purchases in your life, you explain three sentences, four sentences that are so simple, no big adjective, no descriptors, nothing. It's just simplicity. Why? Because that's the way we process information.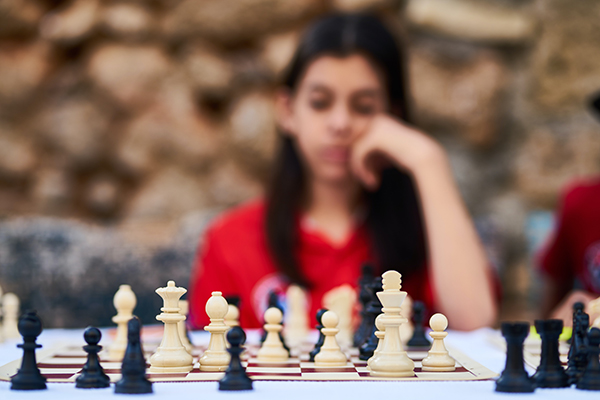 When you're making your pitch, how does the person you're pitching explain it to their wife or husband when they ask, what did you do today, why did you buy that, or why are you interested? Are they going to go into your nine-minute pitch? No. They're going to give a few sentences. This is why I'm interested, this is what it is, this is how it works. You want to mimic that as best as you possibly can. 
Comparing WHAC with, let's say, SPIN. The WHAC method was SPIN Selling or some other system. A lot of people say, "Well, this is a great method, this is a great acronym." How does that hold up to WHAC? 
I mean, listen, if I had a time machine and I can go back into the late '90s, it's going to be brilliant, it's a great system. But today, people know it, they recognize it. They're just like they tune out, they just tune out. You can overpower them if you've got great information even if your pitch is terrible. I've had lots of those where companies are successful and they have terrible pitches because their products are so damn great or it's a captive audience. 
I worked with Harley-Davidson. It's a Harley Davidson. I don't know what to tell you. People want them, they show up at the store wanting it. For me, it was like trying to explain to them that the consumer knows more about the models than the sales guy. That's not why people are there. You don't need to sell that. Even if you have terrible sales guys working there, who cares, it doesn't matter.
Confidence conveyed is inversely proportional to the number of words you use.
Maybe your product is so genius you don't need a great sales system. You can do any of the crap that tells people you're trying to sell them and they'll still buy it. If that's what you want to be when you make the pitch, you go on and do that. But for the rest of us, it's like, I don't want my audience sour before I get to the valuable information. I want them to come along for the journey. 
To do that, you just have to be aware that if you paint the situation, if you start with the problem, "Did you know that if you try this?" "Sharks, have you ever tried to do this and you're… Well, welcome…" You're giggling because that's exactly the way you think. You're like, "Oh boy." 
People think if you start with the problem and then offer the solution it's like, I have to go back in my mind and rethink the problem again. You stated the problem, I don't know where we're going yet. Then when you state the situation, now I got to put it together. The way I would teach is in reverse. I start with what my product does and how it works, and your audience will automatically go where the problem is and how it solves it. 
If you don't think that's more powerful then you don't get it. Your audience finding their way through with you as you go is more powerful. Most times, the audience actually comes up with things faster, and they get more excited and they see the potential of what you can do before you say it, which is really what you want. You do not want to tell your audience the potential, the size, the scope of the market, or where you can go because they won't believe you. They will be skeptical. If you're pitching somebody who can't put those things together, that person is not a buyer anyway.
So you want them extrapolating the trend and seeing the huge potential future?
It's a challenge to publish information that makes people feel invested in a story. You not only have to be interesting but be valuable and authentic as well.
Click To Tweet
That's right. I mean, duh. It's like if they had all the information you have, they would have to know that. That's the point. It's like, of course. If what your product, service, or business does leads to a certain result and it doesn't lead there on its own, that's a phony premise that you're trying to sell. You will run into a brick wall every time. Because I should be able to get it, you should be able to get it.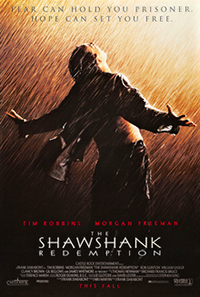 If I could try to convince you of that, now you're selling timeshares. I've worked with timeshare guys, and it's like, my God, you can't trick people anymore. It just doesn't work. It's not how it works. You can't convince people of the potential for good in their life. They just won't buy it. If you think about how Hollywood tells a story like my favorite movie The Shawshank Redemption. We don't say, "Hey, Andy Dufresne escaped from this horrible prison and I'm going to tell you why." Spoiler alert, by the way. 
By the way, that's how a lot of people pitch their ideas and pitch their businesses. It's like, no, we start with the character, the history, and we build the story to it. When it comes to that scene, I don't care how many times you've seen that movie, you want him to escape. You want him to try, you want to make every single time. Before we even show that scene, you want him to try to get out, you're desperate for it. That's the feeling you want from your customer. They want it, they see it, they build it. I didn't have to tell you he's going to want to escape. I didn't have to tell you that in the beginning. Don't worry, I'm going to get you there. Where you are rooting for him. 
Think of all those movies. I don't need to tell you Rocky's going to get knocked down, but don't worry, you're going to want him to get up and you're going to feel great about it. Here we go, let's tell the story. That's not how it works. Rocky's down and you're like, get up. Because we built that, we made that story happen. We in Hollywood can put you in a theater for three hours to watch a movie about a boat that you know sinks. You already know how it ends and you still watch it. Why? 
Because James Cameron can weave a story that you want to end a certain way. You want to see it resolved, and you can create that in your pitch. You can make people follow your story, of your product, your business service, and want the outcome that you want, that you see. You can have them understand the result before you have to state it. 
That's the difference between informing and leading, which is what I teach. I'm going to inform my audience and lead them, and state and prove. I'm going to state a fact and then I'll prove it with my facts. "Hey, I have an investment opportunity that can make you 10 times your money in the next 3 years. Would that be something you're interested in?" "Oh yes. Tell me more." No. People were like, "Oh God." "Would you like to lose weight?" Anything you want. Now, when you hear that, you go, "Oh yeah. I absolutely would, for sure. Why don't you share that with me?" No.
It's the core principle of state something somebody wants, they get excited, then you prove it to them, bring them along, and reel them in. That's not how it works anymore. You can't do that. You state it and then you try to prove it. The entire time people are thinking there's something wrong, it's a catch, or it's not going to be like that. They just don't buy it. Like I said, sometimes you get through and maybe your product is so amazing, you can still do that. But for most people, they need a better way to convey information to their audience. 
The 3-minute rule helps you understand that you can say less and get more out of your pitches.
Instead of becoming preeminent if you're doing that kind of hard sell, you become an adversary. 
Exactly right. 
Now how do you apply the WHAC method in let's say a podcast interview where you are the host? Because you have your own podcast. How do you apply this? How do you get the best out of your guests if you want to apply that WHAC method to a podcast? 
For me, it's how do you get your best out of your guests from your audience's perspective. And your audience, if you're going to be interviewing somebody that they don't know or they're not predisposed to want to hear some celebrity interview, then it's sort of a similar thing. You want to explain to them, here's this guest, here's what they do, here's how they do it, and they have credentials (make this real). Now you want to hear them, right? And that's the way we naturally decide if we're going to keep listening. 
Who is this guy? Is he interesting? What does he do? Will that affect me or should I be interested in that? It's the same as any sort of story. You got to get that stuff up relatively early. Imagine a podcast interview, if you tried to hype it up in the first couple of minutes, try to tell people what they're going to get and how great it's going to be. People would be like "Next," right? Or it's like, "My guest does this, here's how they do it, here's what you can learn from this one." Then you're into that. You started with what's a three-minute rule. 
If we would have started with like, "Where is your background? Where do you come from? What do you do? How did you get here?" People would be like, "What on Earth am I listening to?" But when you're like, "Hey what's a three-minute rule?" And my first sentence is basically something that says to them, "Oh okay, I know what this guy does now. He wrote a book about how to make my presentations better." Almost like you've got to buy in right there. "That's interesting, how does that guy do that?" You have to break it down, use Hollywood storytelling.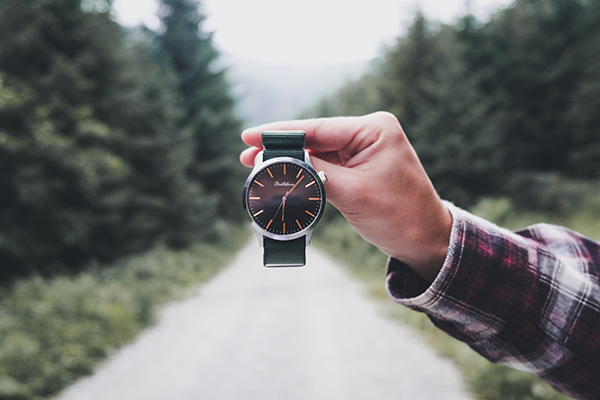 "Okay, I'm kind of interested in that. The guy might actually know what he's doing. Let me see how I might apply it in my world." Now you have people listening who still are listening because you set it up in that way. But lots of podcasts will start with, "Tell me your backstory, where are you from, that kind of crap." That's all great, except nobody cares about that yet. 
It's kind of like starting a presentation with an off-color joke or something. You haven't built rapport yet and they don't know why they should care about you and your message yet. You failed to calibrate because they don't know you, you don't know them. 
And even closer to that is when they start their presentation with the size of the market. "The automatic doorbell industry is $4 billion and growing." That's their very first slide. Who cares? What does that have to do with me? You haven't even established how you're in that yet. So what? And also, it's a little bit like, "Yeah, I know. I know it's a big market, great. The packaged food meal delivery service is approaching $9 billion. So what?" 
If I'm a serious investor or whatever, I know these things. I don't even need to know how big it is. I got the idea. Later, if I understand what your meal prep delivery service is and why it's unique. Now, when I see the size of the market, I go oh. Now I understand how big this could be. Now, I understand what it is to be like this. You start with that. It's like who gives a crap and it also makes it like you don't know what you're doing. 
It makes me wonder, so you're going to be competing with who? Is this what's coming next? You tell me this is a $ 4 trillion industry. Let me guess, you're going to take a market share of this. I don't even know who you are and you're setting up to try to be one of the big competitors in this space. I don't even know why you're explaining this yet. That's what happens in a flash in people's minds. You tell me how big a marketplace is and to me it makes it seem like you're going to try to compete in that marketplace. I instantly go like, good luck. Because if it's a big marketplace, guess what? It's highly competitive and it's massive money. Why are you sitting in front of me? 
You don't want to tell your audience the market's potential, size, and scope; they won't believe you.
If it's such a big marketplace and you got something so great, why are you sitting here? That's maybe not even what you're doing. You may not even be trying to take a big piece of it or whatever. But you've already set yourself up for somebody going like whatever dude. It puts you in the wrong space. 
I use it all the time. I get more clients and more client requests for bigger price tags now that I don't take new clients than I did when I was taking clients. It's because when somebody reaches out and asks me what I do when I explain it, I don't really explain it. I just tell them, I help high-level CEOs in large companies simplify their message. They're more interested because I'm not selling anything. I got nothing to sell. 
Buy my book, don't buy my book. I don't need to sell any more books. You can't hire me as a consultant anymore. Just like I'm not selling you anything. When I'm telling you what I do, you know I'm just explaining it for the sake of the information. There's no ulterior motive. 
That captivates people's attention more than if I was trying to sell something. Just scroll through your Instagram and all those people that make money and give you out are like everyone is telling you how to be successful when they're like, "Yes, send me $29.95 for my course." Is your mind like, "Oh great. I can't wait to sign up with this guy because he must be so smart. He's selling his course for $30 and tell me how to make money in real estate?" Your instinct is like, "Oh God."
You can mimic that in your marketing and your pitch, you can mimic the strength of I have something great. I'm going to tell you about it. You're going to be interested because it's great. I don't need to tell you how great it is. I just need to tell you what it is. You'll figure out that it's great. If I have to tell you how great it is, you're cooked.
The more complicated your business is, the more simplified you need to be with your information.
Click To Tweet
I, as the listener or the prospect, want to extract out more information from you rather than you trying to lead. I know leading is a good thing in some sense, but you don't win over the prospect by vomiting information on them. I'm curious, how did you end up abandoning the whole Hollywood scene to do this and work with C-level executives when you had a good thing going with Hollywood? 
Anything you do for a living is a job, right? Hollywood has the appearance of being very sexy and all these great things. It's a lucrative industry, that's true. But it's a grind. I was never a big fan of the last probably five years, six years. I was just like, ugh, it's a lot of work and there's not a lot of upsides. 
An investment banker saw me at a bar. I had family there and I was pitching them ideas of shows that hadn't sold because I had a bad day that day and one of the networks had passed on a bunch of stuff. I was like, "Here's the show idea. They were like, "Oh my God, that's the greatest idea I've ever heard." I was like, "I know, wait until you hear this one."
I was pitching some TV ideas that weren't selling and my ego is swelling up from that. This guy came over. He's an investment banker. He says, "Hey can you teach my clients to do what you do?" I was like, "No, I can't teach people how to sell reality shows, no thanks." I said, "No, I can't teach you how to sell reality shows." "No, I want you to teach my clients how to pitch their ideas without putting people to sleep." I was like, "I don't know. I never thought about that." 
He's an investment banker, he runs these conferences, and basically, it's a lot of small-cap public companies that come and pitch for investment. They pitch their ideas to rooms full of investors.
I happen to be in Florida and he happened to be at a conference in Florida so he invited me over. I went there and I sat in on an oil and gas presentation. It was the worst thing I've ever seen. I hadn't seen a pitch outside of television for so long. I had no idea, and this is a billion-dollar company. I was like, oh my God. It was 29 minutes of torture. 
They want it, they see it, they build it.
I talked to the guy and I said, "Hey, let me rearrange a couple of slides." and I asked a few questions. He's presenting eight or nine times during the next three or four days. I worked with him a couple of times on the phone and I redid his thing. I just basically looked at it like I would do a television show. How would I explain this to the network? It changed the way that pitch went for that day. He started to get questions, people were engaged, and things were going well. 
He called me and said, "Hey, I need to work with you, you need to redo my pitch from scratch." I was like, "I have a job." But he flew out to LA on the weekend, I sat with him, we redid the entire thing, and about two weeks later, he left this message on my phone. He said, "I can't thank you enough. You have changed my life. I used to hate going on the road, I used to hate doing this, and now I love it. We've completed our round. My wife thinks you put something in my drink. I'll never forget what you've done for me." 
I was like, "What the hell? No network president had ever said anything like that to me." My ego was like, I would like some more of this. This is good. I make the joke, if you want to be friends with investment bankers, just make them some money. That round completed, they were struggling with him, and they got paid. They were like, "We have somebody else you should talk to." I just started doing that. I found that it was just more rewarding, more fun, more engaging, and more creative than television was.
Eventually, I was just like, I don't want to do the day-to-day on TV anymore. I'm not interested in it. I decided to write the book. Now I'll direct a movie once a year. I'll do some fun stuff in Hollywood. But for the most part, I love doing that. I just love it.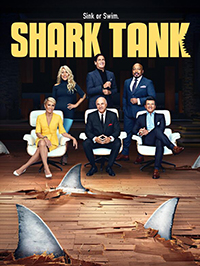 That comes through. Have you ever worked with folks who have pitched the sharks on Shark Tank? 
Many times. I know the industry very well. It's not what you see on TV. It doesn't work like that. Those pitches, ironically, it's about three minutes that it takes that entire section as I pitch it. But that is a highly produced moment. 
Again, I have to tell people how to get the core of the information out, but then they still have to make good television. They need reactions, they need reaction shots, they need structure. But you see it when they pitched the shark. It's like, here's the product, here's how it works, try it out. And then there are sharks, like, okay, now, let's talk details. Now it's, what are your sales? That never comes upfront because it's not relevant yet. Let me know what you do. 
Is there a favorite pitch from Shark Tank that really stands out for you that wasn't a client of yours?
I like the guy who did the wine bottle. I don't know if you saw where they put the balloon in the wine bottle. It was one of the best ones.
No, I haven't seen that one. 
It's like a single serving wine bottle thing that sealed the wine. It was really well and it was just one of these pitches where it was just like, yeah, here's what I do. There you go. Everyone was like… It is kind of neat. I tend to like those simple ones where the product's like, just let me show it to you and then we can talk numbers because I don't need to sell you on it because you're going to try it or see it. And that fits my narrative really. 
The product sells itself.
Listen, that's the easy side of it. A good portion of my clients is service-based because then it's a little more nebulous. If you've got a product and the product doesn't work, you're buggered. You got a product and it's really great, it's a little bit easier for me because I know how to get it to explain to people. I had a client who's a really interesting, wonderful, beautiful woman. I just loved her, she's so awesome. She was struggling because she made this—I don't know how to explain it when I don't give the core pitch so easily. 
That's one thing too. When I try to explain how bad it was before to how it is now, I can't even think how to pitch it badly so I can't give you an example. But basically, women have a drawer where they stuff all their bras and lingerie. It gets crushed, crimped, and whatever. She invented this, it's called Hanging Secrets. It hangs on the back of a door and it displays your lingerie and keeps them protected. It's really a really good product because also then you're seeing your lingerie more, which triggers you to feel a little bit more sexy, maybe more intimate, you might want to try them on more. 
Everybody can understand the problem and how it works. It's the services that need a little bit more coaxing.
It was really interesting because she wanted to tell the story so much. She wanted to tell the story of how by displaying her lingerie more and seeing it more, it changed her marriage, it changed her life. She felt more feminine because she would see these things, and she would actually use them more because they were there as opposed to stuffed in a drawer that she never saw. She wanted to tell that story so badly because it was so important to her that that's where she was leading. 
You don't get it. You're like, what? I don't understand that. When I saw the product, I was like, it's a great idea. Stores 18 bras and your underwear and stuff. It perfectly hangs out of the way behind the door. You can see them, they don't get crushed. It's a great product, you get it right away. You need to start with that. 
Let's explain how the product works. And then once you understand how it works, then you can be like "Oh." "And by the way, now that I understand it, here are some of the benefits. When you see the expensive in the beautiful lingerie every day when you walk into the closet, you're more inspired. You will put it on more. Good things will happen."
That process is usually very easy for a product. If you've got a product that's good, that works, guess what you need to start with? "Here's what the product does." Everybody can understand the problem. Everybody understands how it works. It's the services that need a little bit more coaxing to be like, I need to build your story.
If it's a superhero standing in front of me, I want to see that superhero's powers before I hear their origin story because I don't care yet until I see that they're actually super powerful. 
That's right. 
The art of this is knowing what needs to be said and knowing that it's not everything you want to say.
Click To Tweet
Awesome. Now we're coming to the end of this interview. I'd love to get just one or two tips from you. What would be something that you've really wanted to get across to our listener as we close out this interview?
I think the biggest thing that will help you of all is to say less. Focus on how few words you can use to convey your message. If I had to pick one exercise that somebody can do right now at home, I would tell them to tweet their business pitch in the original 140 characters, not the new bloated version. But the real six sentences or whatever it is. That is an incredible exercise because you cannot believe how much information you can convey when you have to put it in this box. 
If you watch TikTok and you see how these teenagers can convey a story in one minute, one minute is all they get. The amount of information they can cram in there, they're cutting their videos and it still comes through. It's amazing. I think that's the key. I use this example, in the turn of the century Niagara Falls actually froze. Very freak occurrence and this raging, crashing, roaring, falls water smashing the rocks three in the morning. 
About 5000 residents were at Niagara at the time and they were jarred out of their sleep, jumping out of their beds actually in the streets wondering what's going on because the silence of the falls was the loudest sound they had heard in years.
In today's world, marketing, advertising, and promotion is a raging, rapid of crashing who gives a crap in people's worlds. They tune it out. They don't hear it. When you speak plainly, when you speak simply, and when you use fewer words to describe what you do and when you get the core of the value, it will be the loudest sound that your audience has heard in years and it will cut through. That is what they will actually hear and they will listen to. It's hard to do because we're all so personally connected to our information. I'll give you a quick story. 
When I was writing the book, I wanted to write the intro to be four pages, three minutes to read. An average business book intro is 12 pages, the average business book reader decides what they're going to read first in the first 4 pages because it's about 3 minutes. The first time I wrote the intro to the book was after I wrote the entire book. My editor said, right after you write your entire book go back and read the intro, you'll know everything. Wrote the intro, 13 pages long. Crap. 
When you get pressured about your information, it's difficult to see it objectively.
I had two weeks on vacation to write this intro and I was like great, I'm going to enjoy my vacation. Thirteen pages. I tried 11 pages. I tried 9 pages, 7 1/2 pages. I started negotiating with myself. I think maybe this information I have here is so valuable and it's so good. It's written so well I think it probably does need to be longer. I didn't get it done, two weeks. 
I'm a guy who does this for a living. I'm a professional at this, and I couldn't get my own intro done. I had to go back, go home, put the post-it notes on the board, and restructure it. And in fact, even after that, I got a call when I got the proofs, the early editions, and one of my friends said, "Oh it's really good, but I wish chapter 2 was the first chapter, the first ones, a little slow."
I went and read it again. Sure enough, I had taken stuff in that seven-page intro and I pushed into the first chapter because I was so partial to it. I loved it so much. When I read it again, I was like it's all crap, it's all fluff, and thank God I got that in time, I cut it out. But that's how when you get pressured about your information, how difficult it is to see it objectively. Even the guy who wrote the book had trouble getting that intro down to four pages. The most important element is to look for those ways to make it simple. Start with a tweet, see if you can do it there. 
Start with a tweet, see if you can do it there.
That's great. It reminds me of the famous quote from Blaise Pascal. "I would have written a shorter letter, but I didn't have the time." 
That's right. I make a joke all the time when people ask me about my speaking fees, they're expensive. Somebody will ask me, "Could you do 20 minutes?" I was like, "Yeah, it's twice as much to do 20 minutes." They're like, "What?" I'm like, "Yeah because that's going to take me way more work to figure out what to cut." Not literally, but that is sort of the joke. Oh, no problem. It's $50,000 for a 20-minute speech.
That is awesome. I like that a lot. Okay, so how do our listeners find you online, follow you, learn from you? 
I'm easy to find, @brantpinvidic. You can go to the website, brantpinvidic.com. You can go to the website, threeminuterule.com and you can connect to me there. I'm on all the social media, @brantpinvidic. If you want to follow my latest venture, I'm on a 48-state RV tour of the country for the next six months meeting people, connecting with people, helping businesses, doing fun things just out roaming around. If you're out there and you want to meet, hang out, connect, you can go to rejectaverage.com and follow me there. I'm going to be out here until September just rolling around. 
Amazing. I love that.
That's fun. 
How did that come to you? 
With corona and my kids sitting at home for a year, I just was like, I can't do this anymore. Why am I doing this? The kids start talking, I start talking, we're going to go do something fun. I knew they weren't going back. We're in California. I knew they weren't going back to school until next September. I was like we just got to go do something. 
It just started building and the next thing you know, my kids would like to see all 48 states. I was like well I don't have a job. I can go anywhere and do anything. The next thing you know, I have a giant RV and we're leaving California and we're off. We've been on the road for nine weeks now. I'm going to see all 48 states and just meet people and just have fun. It's great. It's an amazing experience. 
That is so cool and that's a gift for your kids that they'll always remember. 
It's been great. 
It's homeschooling but level 10. 
Exactly. 
Amazing. Have a great time with that. And Brant, thank you so much. This was fabulous. 
Excellent. Ride on.
Important Links
Your Checklist of Actions to Take
Remain concise in presentations. Always talk directly to my audience. Avoid being passive, eliminate redundancy, and steer clear from wordy sentences. The simpler I make my message, the easier it is for my audience to understand. 

Sort my thoughts out into a bulleted format. Prioritize the most important messages first, so I don't get on tangents when talking in front of an audience.

Study the four questions of the WHAC Method. The WHAC method is about organizing information, so the audience processes it in the correct order and receives all the information I want them to have to make their decision.

Produce high-quality, valuable content. Never succumb to clickbait or deceptive marketing. My goal is to build trust by being transparent with my audience. 

Utilize the art of storytelling to create stronger connections with people. Sharing real-life experiences and showing a side of me that's vulnerable can take the professional relationship to the next level. 

Practice delivering my presentation multiple times. Constant practice will give me the confidence to perfect my pitch. Doing so will help me feel confident, relaxed, and in control of my presentation.

Walk my audience through the entire process, so they fully grasp the solution I am providing. When people are highly informed, they are quicker to make sound decisions. 

Record myself delivering the pitch to play it back and ask for feedback from my friends or colleagues. Asking for feedback may seem daunting, but it will add value to what I can bring in the future.

Provide a long-lasting experience to my audience. Don't just treat a single event as a one-hour talk I have to deal with. Make it a worthwhile occasion for people to acquire valuable takeaways they can carry even after the presentation. 

Learn more about The 3-Minute Rule method. In this book, Brant Pinvidic helps readers convey only what needs to be said, clearly and concisely, in three minutes or less.
About Brant Pinvidic
Brant Pinvidic is an award-winning film director, veteran television producer, and the #1 bestselling author of The 3-Minute Rule. He has taken the life, business, and storytelling lessons he's developed during his Hollywood career and used them to become one of the most sought-after C-level sales and presentations coaches, keynote speakers, and top-rated columnist for Forbes.