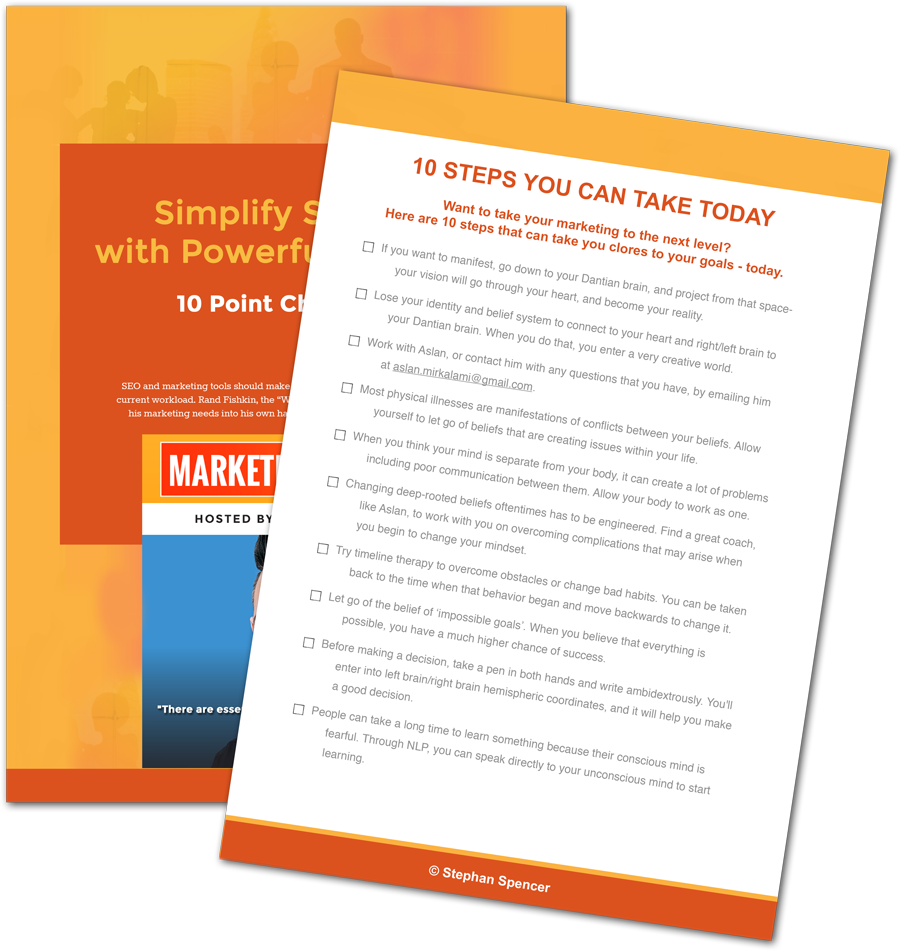 Get into action! Download your FREE Checklist
Put the most important tips from this episode to work and take your marketing to another level! Get your free 10 Point Checklist for your next actionable steps.
This Week's Guest:
When it comes to advertising on Facebook, Keith Krance is the expert. He's the author of the bestselling book The Ultimate Guide to Facebook Advertising. In addition, he's the CEO and founder of Dominate Web Media, which manages and oversees $1.5 million to $2 million per month in Facebook advertising spend, spread across over 80 different ad accounts.
Fortunately, his expertise isn't confined to his agency's clients. Keith co-hosts the top-rated podcast Perpetual Traffic along with Molly Pittman and Ralph Burns. And today he's here with us! You'll hear him get into the nitty gritty of Facebook advertising, sharing tips, strategies, and techniques for how to get the most out of your Facebook ad spend.
Find Out More About Keith Here:
Dominate Web Media
Keith Krance on LinkedIn
In This Episode:
[01:24] – Keith talks about his recent five-day Facebook advertising event. He explains why he held the event, and talks about some of the topics that were covered there.

[05:22] – We hear more about effective (and ineffective) hooks in Facebook advertising.

[9:01] – Keith returns to the upside he mentioned a moment earlier, using an example of being in health and fitness.

[11:31] – We learn what the letters stand for in the UPSYD (pronounced "upside") ladder that Keith talked about. U is for unaware, P is for problem-aware, S is for solution-aware, Y is for your solution, and D is for deal.

[16:43] – Stephan steps in for a moment to clarify what Keith has been saying.

[17:12] – Your sweet spot may be the people who are aware of the problem but not the solution, Keith explains. He explains what he means using the example of playing bass guitar.

[21:15] – Keith responds to Stephan's comment about providing results in advance by offering an example of one of their clients.

[23:08] – Stephan changes things up by inviting Keith to critique one of his ads. He describes it in detail, setting the scene for Keith's advice.

[25:35] – Keith offers his feedback to Stephan's ad. His biggest point is to move further down on the UPSYD ladder to appeal to less of a niche audience. He also goes on to recommend simplifying terminology and gives a couple examples of how to do so.

[37:25] – Does Keith think that driving people directly to a webinar sign-up from a Facebook ad is too much too soon?

[40:22] – Stephan mentions that it sounds like he should be replacing his image ad with a video giving a keynote presentation that offers value on its own. Keith agrees, and clarifies. He mentions his

three-step video ad guide

. He then goes on to talk about the length a video should be.

[44:54] – How do you "Facebookize" a YouTube video?

[46:51] – Keith talks about how to scale campaigns on Facebook, explaining why using a smaller budget and letting Facebook have time to do its work can be an effective strategy.

[52:22] – With only a few minutes to go, Stephan starts a rapid question session for Keith. First up: what is critical to have in the first few seconds of an ad on Facebook to capture the audience's attention?

[53:01] – Does Keith ask any trick questions when interviewing people to hire?

[53:41] – Any tips about Facebook exclusion lists?

[57:03] – What are Keith's best practices for the images or the headline?

[59:06] – Keith lists the best ways to reach him if you want to learn more, take his training, or work with his agency.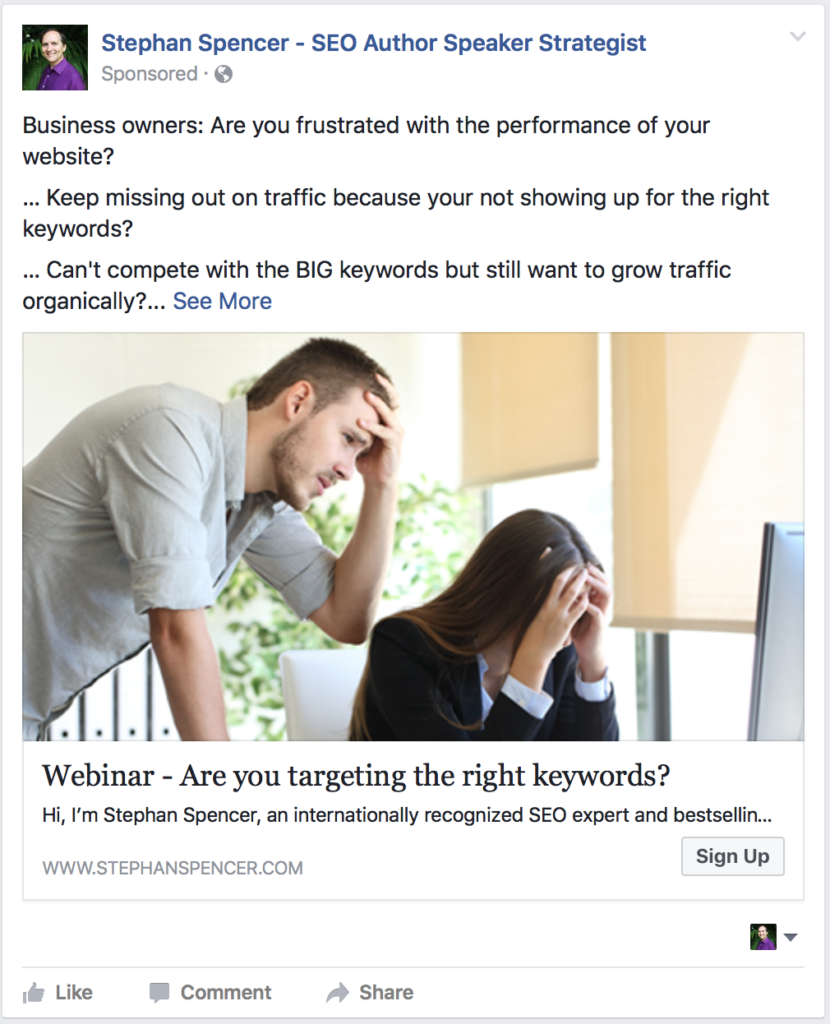 Take Your Marketing to the Next Level:
Offer something of value to potential customers without necessarily including a pitch at the end. This can pay off in the long run.

Write down three potential effective hooks for my product or service, and three that might be less effective, to help clarify the difference.

Write down five compelling hooks for my product or service: one for people at each of the five UPSYD stages.
Links and Resources:
Dominate Web Media
Keith Krance on LinkedIn
The Ultimate Guide to Facebook Advertising
Perpetual Traffic
Molly Pittman on Marketing Speak
Ralph Burns
Eugene Schwartz
SamCart
Intermittent fasting
The Optimized Geek
Bulletproof
Dave Asprey on the Optimized Geek
Frank Kern
Dennis Yu
Perpetual Traffic interview with Dennis Yu
Contagious: Why Things Catch On by Jonah Berger
Youtility by Jay Baer
SEMRush
Searchmetrics
SimilarWeb
The Wizard of Ads by Roy H. Williams
The 3-Step Formula
The 3 Biggest Mistakes Businesses Make With Their Social Media Marketing Strategies
Pre-Suasion by Robert Cialdini