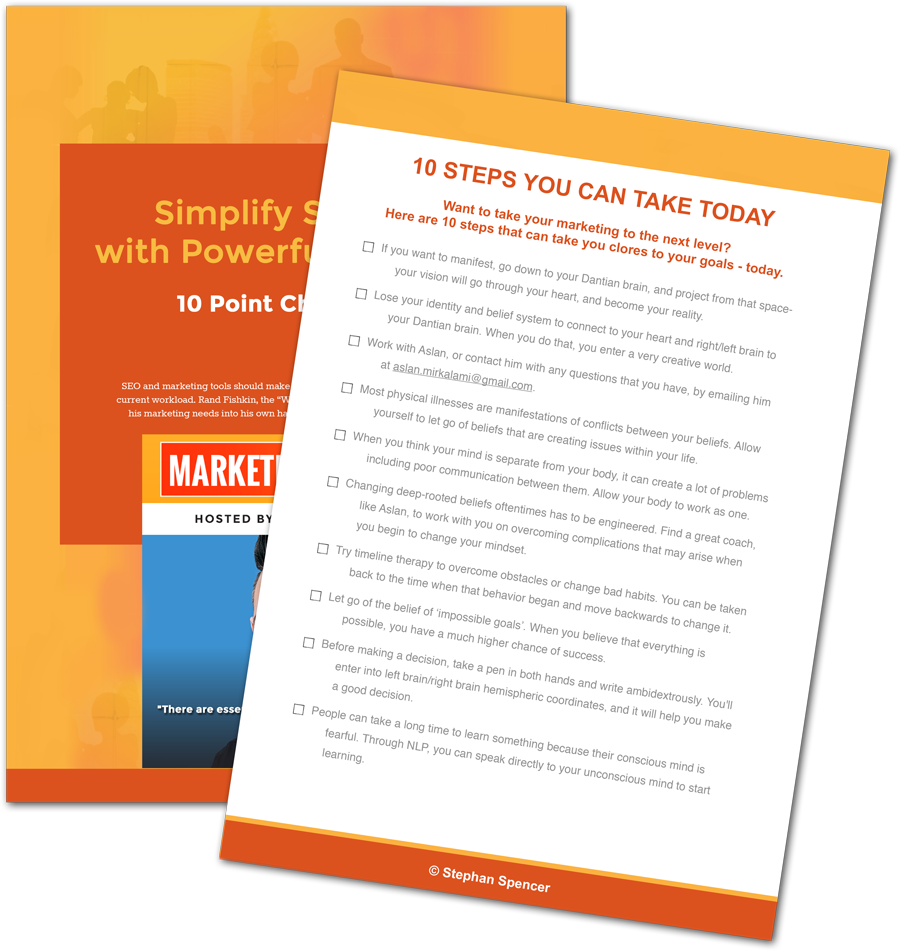 Get into action! Download your FREE Checklist
Put the most important tips from this episode to work and take your marketing to another level! Get your free 10 Point Checklist for your next actionable steps.
This Week's Guest:
Imagine that you're jobless and struggling to make ends meet. You hear about a program that can teach you to make money working on your own so you submit an application. You make it to the final round of applicants, only to get a call saying you've been rejected and the program has chosen someone else. What do you you? Do you accept the rejection? Plan to apply again next year? Or tell them that they've clearly made a mistake and you're the right choice for the program? Today you'll learn how to turn this kind of rejection into a new opportunity.  
Robert Allen is here to inspire you to do extraordinary things in your business and to transform your finances. Robert is a #1 New York Times bestselling author who has already written 11 books (and has 10 more in him). He has written some of the most influential financial books of all time, including Creating Wealth, Nothing Down, Multiple Streams of Income, and the One Minute Millionaire.
Find Out More About Robert Here:
robertallen.com
robertgallen.com
connect@robertallen.com
@OfficialRobertGAllen on Facebook
@BestSellerBob on Twitter
bestseller_bob on Instagram
In This Episode:
[01:21] – Robert has written eleven books so far and has ten more in him, he says. He also addresses which book he's most proud of, and how he ended up getting his first book deal.

[06:14] – Stephan takes a moment to share the story of how he got started in his business while in grad school for a completely unrelated subject.

[09:13] – Behind the scenes of most success stories, you'll see someone doing something out of the ordinary, Robert points out.

[13:14] – Setting goals is old technology, Robert explains, and offers a more successful alternative.

[14:07] – Robert discusses the premise of his book

The Challenge

.

[17:34] – We hear about one of Robert's favorite students. He then explains that what really motivates him is changing other people's lives.

[19:44] – Stephan shares some words of wisdom that he shares with attendees of his sessions and presentations.

[21:45] – How did Robert choose the three subjects of his book

The Challenge

, who he has just been talking about?

[24:36] – Robert mentions that another of his books involves the story of a woman who lost her husband, children, and job.

[26:51] – We learn that Robert has an upcoming challenge, and how he plans to run it.

[30:26] – Stephan emphasizes the necessity of being willing to put everything on the line, using

Elon Musk

as an example.

[34:35] – Robert mentions the difficulty of "living it forward, but revealing it backward."

[36:22] – Stephan digs into what

Gary Vaynerchuk

means about hustling, then shares the story of how he got into a

Tony Robbins

event.

[39:05] – Robert shares his own favorite story involving Tony Robbins.

[44:36] – After his bankruptcy, Robert wasn't the best candidate for a book about how to make money, but having the right people around made all the difference.

[45:48] – Stephan circles back to the idea of a rejection test and shares something that he uses in his hiring process.

[47:39] – Robert discusses the process of buying properties with no down payments in his book

Nothing Down

.

[52:17] – How could someone possibly become a millionaire in a minute?

[55:34] – Robert talks about where listeners can find him.
Links and Resources: