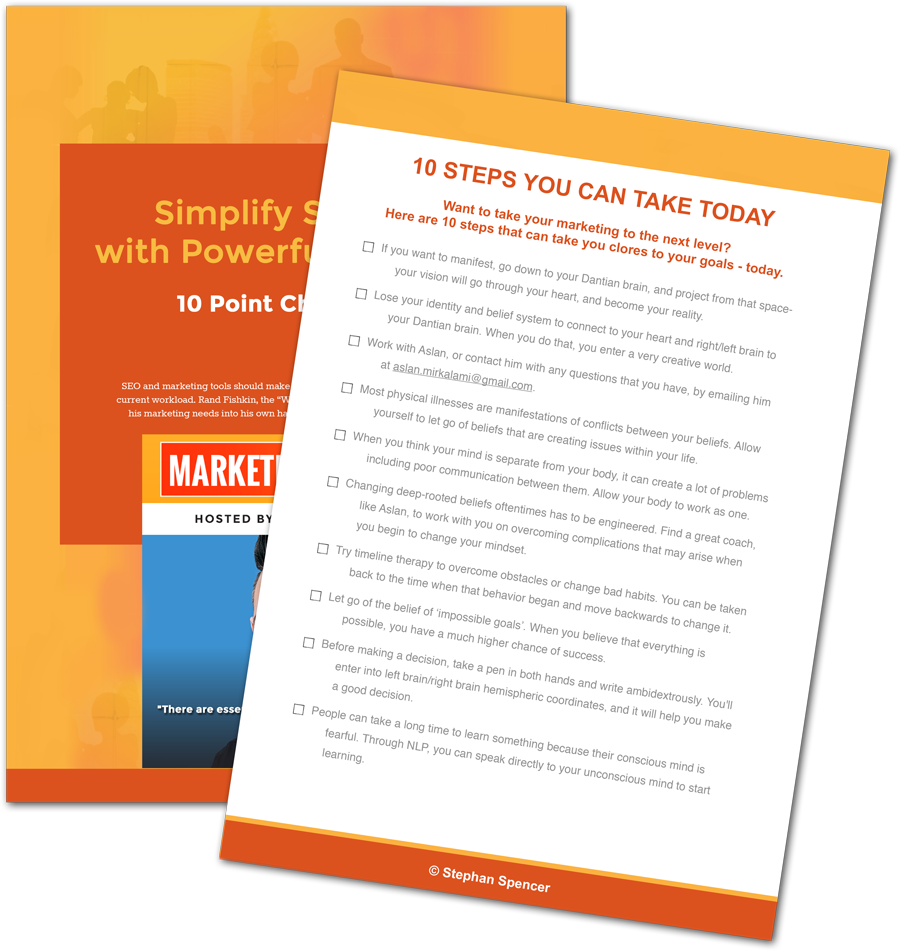 Get into action! Download your FREE Checklist
Put the most important tips from this episode to work and take your marketing to another level! Get your free 10 Point Checklist for your next actionable steps.
This Week's Guest
It's easy to get so caught up in the world of online marketing that we forget about its connection to physical, brick-and-mortar reality. Today's episode is a perfect combination of the best of both worlds, as we discuss SEO and online marketing for businesses with at least one physical location. Local SEO has some important differences from traditional SEO, such as the way that directory links are handled.
Greg Gifford is the VP of Search at DealerOn, a software company that provides websites and online marketing to new car dealers all over the country. I recently saw him give a fantastic keynote speech at UnGagged and just knew that I had to share his wisdom and expertise with you! In this conversation, you'll learn how to get your businesses highly ranked in Google's various search results, why it's so important to keep your name, address, and phone number consistent, and which tools you should use to reach the top.
Find Out More About Greg Here:
ggifford@dealeron.com
Greg Gifford on Twitter
Greg Gifford on LinkedIn
Greg Gifford on Facebook
In This Episode:
[01:24] – Greg talks about some of the most important signals that people need to be aware of and work into their strategy when it comes to local SEO.

[02:47] – Any links will be beneficial, Greg explains, and goes into more depth about getting local links.

[04:17] – What are some of counterintuitive or surprising opportunities to get great local links? One example he offers involves working with ethnic communities; another is websites for local neighborhood watch organizations.

[08:20] – Greg shares his thoughts on being listed on sites like

Nextdoor

, where links don't necessarily offer SEO value.

[10:00] – We hear about an example of how participating in a community can dramatically help your business.

[11:57] – Stephan points out that in traditional SEO (as opposed to local SEO), directory links are usually frowned on as being low quality. Greg then talks about how they function in local SEO.

[13:55] – Greg discusses the role of

Meetup

in local strategy.

[16:25] – Will it be a detriment to you if most of your links aren't local links? There's no hard and fast rule, Greg answers.

[17:45] – Greg dives into localized content and internal link structure. He and Stephan then discuss anchor text in terms of internal linking structure.

[22:08] – Stephan clarifies that Greg is using

Google Analytics

to assess which pages are at the top of page 2 and could get onto page 1 with a little push. He then gives an example of a related phenomenon involving

REI

.

[24:10] – What rank checkers is Greg using?

[26:04] – Greg talks about what

Places Scout

does and why he likes it so much.

[29:19] – Stephan clarifies for listeners that it's important to monitor reviews on an ongoing basis and stay on top of incoming reviews. He and Greg then dig deeper into the topic of reviews and review sites.

[34:04] – Is it possible to simulate hyper-local mobile search results without actually going to the city or location in question?

[35:15] – Greg talks about what

Possum

is, and why it's so important for listeners to know about it.

[37:44] – Google has explicitly said that you can't use a virtual office, PO box, etc. to create a location for your business.

[39:01] – Greg talks about another Google update,

Pigeon

.

[42:57] – You can learn more about local content silos and Greg's strategy from an article he wrote, which you can find at

this link

.

[43:40] – Any business that serves customers in a brick and mortar location is typically going to pull a map pack on searches related on that business, Greg explains.

[45:21] – Greg emphasizes how important it is to claim your business listing on Google.

[48:30] – We hear Greg's thoughts on using review site content on your own site. He also elaborates on what he mentioned about

Google+

.

[51:54] – NAP (name, address, phone number) consistency is a huge part of the algorithm, Greg explains.

[54:37] – Is there a tool that will help you keep your NAP consistent across various sites and citation sources?

[57:14] – Greg talks about structured versus unstructured citations.

[60:04] – In general at his day job, Greg works with car dealerships, but he does freelance work on the side for other industries. If people want to reach him, the best way is to email him at

ggifford@dealeron.com

or to follow him on

Twitter

.
Links and Resources: