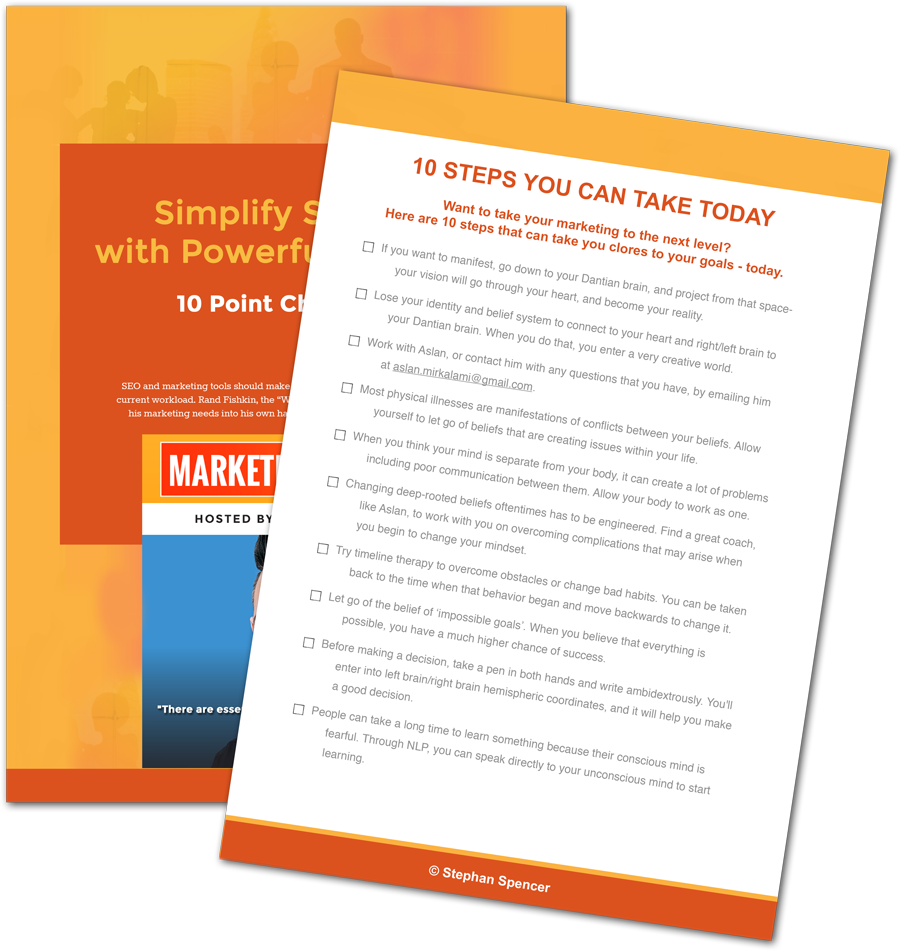 Get into action! Download your FREE Checklist
Put the most important tips from this episode to work and take your marketing to another level! Get your free 10 Point Checklist for your next actionable steps.
This Week's Guest:
Today's guest, Rob Kosberg, has an impressive list of credentials. He's a two-time international bestselling author who has been featured on ABC, NBC, CBS, Fox, and more — in addition to having had his own radio show.
What he does now is, perhaps, even more interesting: through his company Best Seller Publishing, he offers a revolutionary hybrid ghostwriting system that lets entrepreneurs, coaches, consultants, and other professionals write a book in their authentic voice without doing the writing personally. What's more, he guarantees that the resulting book will become a bestseller.
Find Out More About Rob Here:
bestsellerpublishing.org (and bestsellerpublishing.org/apply)
robkosberg.com
RobKosbergCoaching on Facebook
@RobKosberg on Twitter
In This Episode:
[01:31] – If you don't have a book, how do you create one? If you do, how do you turn it into a bestseller? In his answer, Rob gives more insight into how his company works and discusses the biggest challenge people have with creating content — as well as how he gets around this challenge.

[06:45] –

Malcolm Gladwell

does a great job of engaging people in his books such as

Outliers

,

Rob explains, by keeping the loop open long enough to keep readers' attention.

[07:26] – On average, an author Rob works with creates about one chapter of content per week in about an hour to an hour and a half, so a book can be done in a couple of months.

[08:40] – Rob discusses how

Taki Moore

went through the process of creating his book, which is different than anything else the company had done before.

[10:47] – How long should a book generally be? Rob answers that the sweet spot tends to be 150 to 175 pages. He and Stephan then go on to discuss the issues and intimidation factors involved with long books.

[13:02] – "When you pay, you pay attention," Stephan says, and Rob goes on to discuss his thoughts on the intricacies of giving books away.

[14:55] – Rob describes the process of getting to do a

TED Talk

, emphasizing the importance of building relationships.

[17:04] – We learn more about the different types of bestsellers, suggesting focusing on those that you can control rather than worrying about those that you can't control (such as the New York Times bestseller list).

[19:40] – Rob explains how to drive traffic to your book, which absolutely isn't doing a book signing at Barnes & Noble. He also talks about his company's process of releasing a book.

[24:19] – Do a bunch of reviews get removed from Amazon? After answering, Rob emphasizes the importance of getting reviews, because having lots of good reviews builds a good foundation for future sales.

[27:17] – Rob suggests taking screenshots of any Amazon category or country where your book ends up in the top five of the bestseller lists.

[28:55] – Stephan asks about making different sites for each of your books, potentially including some content from each, versus having one site for all of your books or products.

[30:43] – Rob talks about where to make big money from your book (and it's not from the royalties). He starts by talking about how to turn your book's success into paid speaking gigs.

[35:48] – Rob details some other methods for lead generation, and mentions the "free plus shipping" model.

[37:45] – How does shipping itself work with the "free plus shipping" model? Rob recommends using a fulfillment house and recommends

Joe Foley

at

Disk.com

.

[39:34] – Rob offers more details on how he makes the "free plus shipping" model work, such as pulling a template or content sample out of your book and offering it to a potential audience for leads, and the pros and cons of each method.

[41:32] – We hear Rob's thoughts on publishers in general.

[42:48] – How do you get big media opportunities? Rob gives his advice on how to show that you're qualified and professional enough to appear on a show.

[45:55] – Rob talks about how one of his clients got to appear on the Howard Stern Show, and how much of an impact it's had on his sales.
Links and Resources:
bestsellerpublishing.org (and bestsellerpublishing.org/apply)
robkosberg.com
RobKosbergCoaching on Facebook
@RobKosberg on Twitter
Taki Moore
Neil Strauss
Cat string theory
Malcolm Gladwell
Outliers
TED Talk
Ryan Levesque
Ask
Tony Robbins
Money
Joe Foley
Disk.com