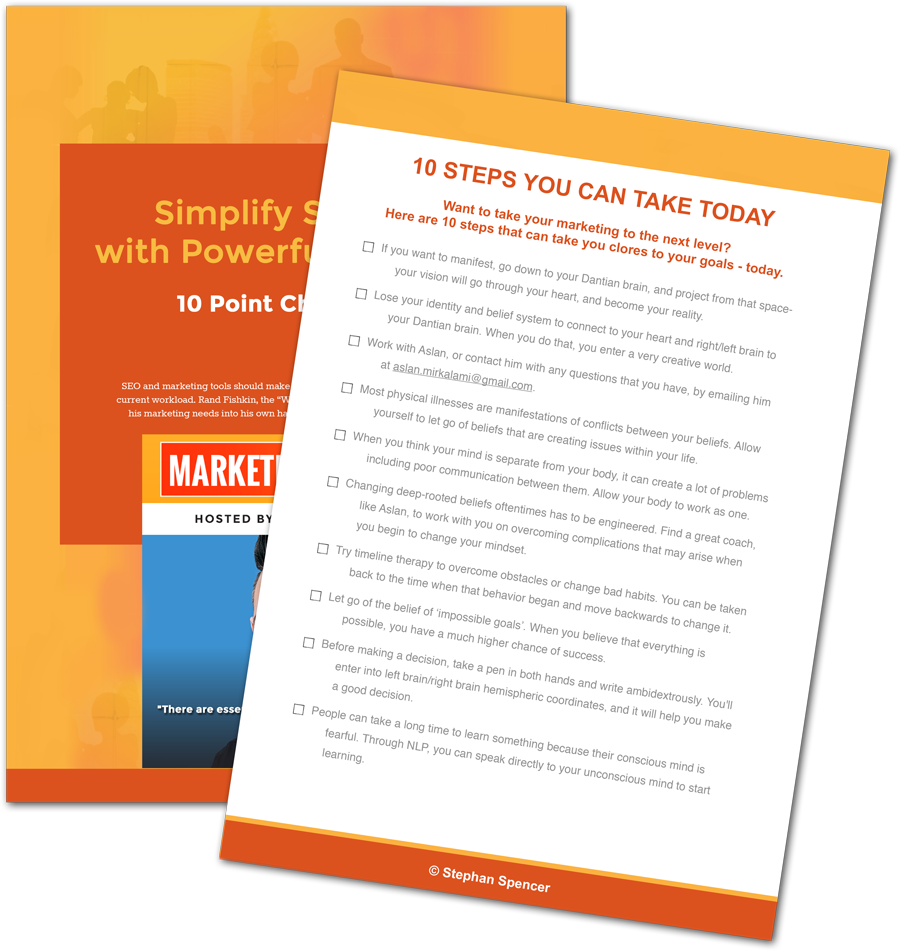 Get into action! Download your FREE Checklist
Put the most important tips from this episode to work and take your marketing to another level! Get your free 10 Point Checklist for your next actionable steps.
Conversion Scientist @bmassey is here to talk about how to motivate, influence, and persuade using the latest data driven techniques.
Click To Tweet
This Week's Guest:
Conversion Rate Optimization, or CRO, is the science of getting more of your website visitors to buy your product or click on your submit button. Whatever it is you want your visitors to do, optimizing for conversions is the way to make that happen. In the past, landing page design was set up by guessing or following the latest in trendy design features. Today, you can optimize your website using data that uniquely applies to your customer. Data that was once too difficult or expensive to get is now readily available for anyone willing to find and use it.
Brian Massey is a true Conversion Scientist™. He is the founder of Conversion Sciences and the author of Your Customer Creation Equation. His 20+ years of experience as a computer programmer, entrepreneur, corporate marketer, international speaker, and writer has uniquely qualified him to be a data driven conversion rate expert. This episode is packed full of actionable information like how to start optimizing a page, what tools you can use to see exactly what your customer is doing, and how to implement each step to take your conversions to the next level.
Find Out More About Brian Here:
Conversion Sciences
Brian Massey on LinkedIn
@bmassey on Twitter
Brian Massey on Facebook
Your Customer Creation Equation
In This Episode:
Links and Resources:
Your Checklist of Actions to Take
☑ Aim to stand out and be remarkable. Find a branding style that my audience will easily remember me by.
☑ Test and monitor everything. A/B test my campaigns and install Google Analytics to process my viewership data.
☑ Create a web design that resonates with my audience. UsabilityHub is a tool that will help me determine which design brings out the best response out of my viewers.
☑ Use sticky.ai or Crazy Egg to track emotional and visual data. These tools track my viewers' data when they are consuming my content.
☑ Hire a copywriter to create taglines, email subject lines and ad spiels. A copywriter can help me get higher conversion rates on these items.
☑ Utilize Facebook Ads' dynamic audience targeting feature to reach highly targeted prospects. Hire a Facebook Ads expert to assist with all my Facebook ads.
☑ Place important information, especially hot leads, at the top of my pages. This way my viewers will see the information instead of scrolling down to see it.
☑ Use a mobile friendly interface on my landing pages. More people consume content via their smartphones than ever before.
☑ Use a statistical significance calculator to make campaign estimates. This can help me identify how long to run tests or how many conversions to make.
☑ Get my exclusive Marketing Speak discount on Brian Massey's training, Everyday Behavioral Science for Digital Marketing, to learn more about higher conversion tactics.
Transcript
S: CRO–Conversion Rate Optimization, this is the science of getting more of your website visitor to buy your stuff or at least to do the things that you want them to do on your website such as download a white paper, or fill out an inquiry form, or sign up for your email newsletter. CRO is more definitely a science. It's based on facts, on data—hard data, experiments are reproducible. In today's episode number 140, our guest is Brian Massey. He's a conversion scientist, literally. He founded Conversion Sciences in 2007. Brian is also author of Amazon bestseller, Your Customer Creation Equation. His rare combination of interest, experience, and neurosis were developed over almost 20 years as a computer programmer, entrepreneur, corporate marketer, international speaker, and writer. Brian, it's great to have you on the show.
B: I'm so glad to be here. Thanks for inviting me.
S: Yeah, you bet. Well, let's talk about conversion since that's near and dear to your heart.
B: I do love the conversion.
S: How the heck did you get started in this conversion world? Did you start specializing in that in the beginning or did you start in more general web marketing space?
B: I almost had no choice. I'm a computer programmer by training. I've had Bachelor of Science in Computer Science that's why I can call myself a scientist. But when I was co-oping in college, I saw my first IBM sales person with the red power tie, the blue coat, and the tan. I was like, "Maybe that's what I should do with my technology degree." After school, I got into sales—not IBM, unfortunately but semiconductor sales. I guess I rose to the highest level of incompetence in that role. It wasn't a good fit after all. I came back and got back into coding, worked for a small company, started my own business in the 90s with an engineer there. We did internet graphics. We had Google maps working in the late 90s with satellite photos and everything across dial-up. We were still on dial-up in the late 90s.
S: I remember those days.
B: Well, dotcom crashed, took out a couple of our customers which took us out. I spent the beginning of the Ots, wrote my own analytics package because I was helping technology companies, mostly build out their web lead generation platforms—their web marketing platforms. It didn't have Google Analytics until 2005.
SaveSave