When you and your team are mapping out a marketing campaign, be the annoying toddler in the room! Ask why, and when you get an answer, again ask…why? Repeat. My guest today is someone I go way back with in the marketing world. Her name? Krista Neher. Krista has delivered over 1,000 presentations globally and is a leading expert in digital marketing, marketing strategy, social media, personal branding and strategic marketing. She has authored 4 books on digital marketing, including her latest, Digital Marketing that Actually Works: the ultimate planner to help you implement digital marketing complete with templates, action planners, quickstart guides, tips and tricks and more. Krista has worked with some of the giants, such as Verizon, GE, Nike, and NASA. 
In this episode. we talk about why all the whys? It has to do with zeroing in on who you are selling to. Unless you have the budget of Coke, don't attempt to reach hundreds of millions of people. We discuss having an intelligent strategy to match your budget, and how to execute it for the best results. Krista has so much experience and actionable advice to impart, get ready for a value-packed episode on Marketing Speak right here!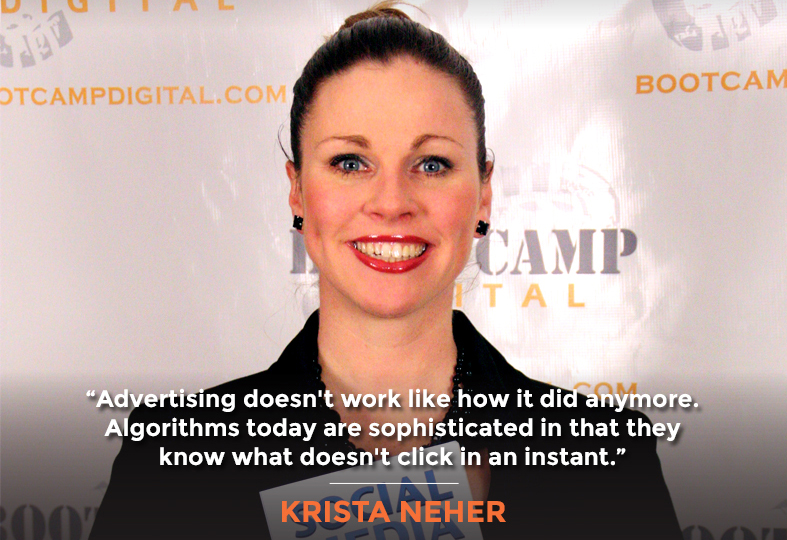 In this Epsiode
Transcript
Krista, it's so great to have you on the show.
Yes, thanks so much for having me. A pleasure to be here.
We've known each other for many years, decades I think. 
I think so.
Yeah, and you were one of the early pioneers in the area of social media and leveraging it from a marketing standpoint. How has social media changed in ways that are important for our listeners to know over the time that you have been involved?
It's kind of funny. They say the more things change, the more they stay the same. I feel in social media there's this expectation that things are constantly changing so fast, no one can stay up to date. 
What's interesting is the first book I wrote was on social media and it's now well over 10 years old. When I was doing the second edition, I went to update it. It was eight years old at this point or something. What amazed me is that most of the stuff wasn't that different. If you step back, the way Twitter basically works is the same. The way Facebook basically works is the same. 
But here's what has changed. What's really changed everything is the algorithms, artificial intelligence, and competition. That's what people underestimate, is the importance of great content because it just has become so much more competitive to earn people's attention.
What's really changed in social media are the algorithms, artificial intelligence, and competition. It's now a more competitive arena.
Click To Tweet
When you're talking about earning their attention, you're not talking about paying for with advertising are you? Or are you talking about both advertising and the organic side of it?
It really is both and it's actually not even just social media for that matter, but almost everything is algorithm-driven, and now artificial intelligence and machine learning get smarter. One of the mistakes people make is they say, okay, my organic reach isn't great. I'll just boost it with an ad. But even if you run an ad, one of the elements of your deliverability on almost every ad platform is quality score. They just call it different things. Facebook used to call it relevance score, now it's quality rate ranking or something like that. Google has this on all of their ads.
Essentially, what you end up paying is linked to how relevant people find your ad. If you want your ad to be seen for a lower cost, even then your content matters. But really, if you can layer back for a second, more importantly, is that even if you run an ad all that it does is it guarantees you a spot in the speed that I'm scrolling through super fast. It does not guarantee any level of attention. You still have to earn that attention even if you run an ad or you've paid for me to skip it as fast as humanly possible, which probably doesn't link well to whatever your business goals were for running that ad anyway.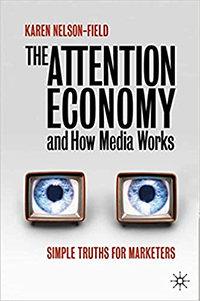 Yeah, so earning attention is critically important. In fact, isn't there a book by that name, The Attention Economy, or something that I think?
Probably.
It should be if it isn't already. So, earning attention. What does that look like from a practical standpoint, on a day-in day-out basis for our listener, for the business owner, or the marketer, the consultant who's listening? What do they need to do each day?
The first thing—digital has made this fresh again, but it's been around forever—is you need to understand your customers at a deeper level and get better at creating stuff that speaks to them in a meaningful way. When we do content workshops, one of the examples I always like to use is that Snickers hangry campaign, "you're not yourself when you're hungry." So, how did they get to that campaign? It starts with we're a chocolate bar company. Why do people eat chocolate bars? Because they're hungry. 
If they had just stopped there, which is where almost all of us stop with the depth of our ideas, it would just be like, eat this, you're hungry. That's not meaningful. Instead it's like, okay but hungry when? Why would you eat this instead of a bowl of spaghetti? Well, you have a Snickers for a snack not a real meal. Okay, great. Well, why is it different from all the other stacks you can have? It's heavier. 
Now, we have our unique selling proposition—great—and our consumption moment. Well, what are the reasons it matters that you have a heavy snack when you're hungry? Because you get angry and act like a totally insane human. Then, you have an actual insight, and because of the speed of content on social media, we feel we have to put so much stuff out. We don't do a good-enough job of making the content at just a conceptual level very interesting. 
I'm sorry but Merry Christmas from every business in the world is not very interesting to people. What is it about that holiday that has relevance to your business? Then, you can make some kind of a meaningful connection. But where I see, is the starting point of why our content isn't often good enough is oftentimes it doesn't have a real idea. 
If you've ever read Simon Sinek, he talks about what you do, how you do it, and why you do it—those three circles. His point is no one cares about really what you do. How you do is a little interesting but it's why. The same is a little true with your content. Even if I think of myself, we do digital marketing training. If all we can say is come and get our training because it's great, come and get our training because you get certified, that's not really something that is playing to a need or a benefit of people.
The first starting point of great content is really that side. Now we need it to be a message that travels well in digital. It needs to be short, entertaining or interesting or emotional, and bite-sized. The third step is it needs to be optimized for digital. 
If a picture's worth a thousand words, a video's worth a million words.
I always think video is the best example here because if you look at a food video, what does the food video start with on Facebook? Food video starts with like, OMG, don't you want to make this totally amazing thing? That's why somebody watches the food video because you start with the end results. In traditional video, we do the opposite. It starts with like, oh my kids are so hungry, what I'm going to do? 
We really need to think about quick value for the audience to draw them in, and that gets into more optimization. Those are the three steps that get us to greater content that statistically is more likely to earn attention in the news feeds.
How does this differ for visual social versus text-based social? I know you have several books on the topic of visual social marketing. Are there some nuances that are important for our listeners to understand?
If a picture's worth a thousand words, a video's worth a million words. Images and videos are the cornerstone of earning attention because it's just what people's eyes are drawn to. But often, we don't use those elements super strategically. If I had the right image, I could show it up to you and it could make you sad. It can make you happy. It could remind you of your childhood. A picture can do all those things in a fraction of a second. 
A lot of us don't use images that way. We find a vaguely related stock photo and then we're like, okay, well, I'm talking about social media tools and there's a picture of a tool box. I feel we're good to go. That used to be good enough, but it's just not really conveying much. 
What I always say is make your picture's worth a thousand words, meaning, they should be conveying something that's an easier, better, more emotional ticket to communicate versus your text. To me, what I see as the real key is using your visual assets smartly to convey more than you would just by using text alone.
That reminds me of this scene in Mad Men, the TV show. Have you seen that show?
Yeah.
I actually don't really watch it. I just saw the scene and I thought that's really powerful. It was where the ad guy was going through all these pictures from childhood, like a slideshow with one of those carousel things, and the people in the room were practically in tears by the end of it. I just thought, wow, that's some powerful selling right there. Do you know what scene I'm talking about?
Yeah, I totally remember it. We don't think of ourselves that way sometimes. We get super functional in a way where it's, I need an image and it needs to be professional-ish and kind of about it. What's really interesting is a client I'm working with, I saw a presentation that LinkedIn had given this client—they're B2B—and one of the things that to me was most impactful in this presentation was they had a slide up, and it was 10 posts from 10 different companies. They all looked exactly the same and exactly the same as my client. 
He was like, you could just swap who posted it and no one can know the difference because so much of this stuff isn't distinctive. If it's B2B, we just use pictures of stock photos of smart people sitting around or typing on computers. I sometimes think that when I look at our lifestyle imagery compared to our competitors, it's happy people typing, that's online learning. 
You lose your distinctiveness, sometimes, in it too. It just really got me thinking about the need to have that distinctive visual image, which is something before only big brands thought about, but now we all need to just stand out and build that brand image we want on social.
It's a brand identity, and I love the definition of brand that I've forgotten who I heard it from, but "a brand is a promise delivered."
Yeah, and this is also the thing people miss, is that when it comes to brand, it's like when I teach personal branding, we say a brand is what people say about you when you leave the room. The same is true with the business brand. How is it transported without you mapping everything out for someone? How can they remember it? Could they identify it? 
A brand is a promise delivered.
Something I saw someone do a while back was strong versus weak brands. You can take a social post, hide who it's from—like something with no logo—and for strong brands, you know immediately. Oh, that's Target, that's KFC. Even in the B2B space, if you're in that space and it's a known brand, you can identify them from the visual look. But a lot of us aren't really there yet in that level of complexity, I think.
Let's talk a bit more about B2B and how a B2B brand can succeed in ways that they didn't think possible, that was perhaps relegated only to the B2C world or perhaps they just didn't understand it was applicable to them too.
What's really interesting to me is that when you think about B2B, this is where we are totally wide open when it comes to social media because it's amongst the last industries to go there. It gets me really excited because in some spaces it's tricky to stand out of the news feed. It's tricky to earn attention. 
B2B is totally lagging, so to me this is the most exciting thing because there are two things going for B2B: (1) most people are not doing it super well, and (2) your cost per customer or your profit per customer is so high you don't need a thousand people. A lot of these are our "why" discussions. You can just say if you get one person this year, you have a hundred times positive return on investment.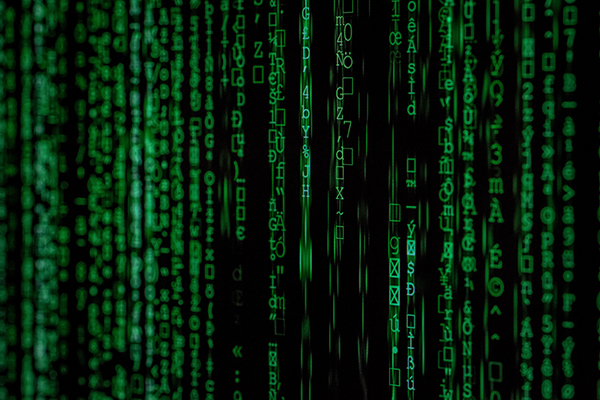 To me, all the elements are there for it to do well. What I see where B2B struggles is that they feel very limited, primarily to LinkedIn and maybe Google search, although a lot of them don't even do Google search well, organic or paid, especially organic. Now, I would say more are into paid but really not that many and not that well. Really, there's so much opportunity, and part of it is there's this really narrow mindset, like all we have to use is LinkedIn. 
I would give LinkedIn a ton of credit. They launched tons of amazing features over the last year, two years, so you can get more visibility organically there, you get tons, but most B2B businesses just are not using the tools well enough to see that traction. They feel, well we tried LinkedIn, it's not getting so much for us, maybe we will run some ads. But really, LinkedIn advertises their platform on Facebook. Literally, you get ads for LinkedIn ads on Facebook. You also, at the same token, get ads for Facebook ads on LinkedIn.
My point is just there's a lot more opportunity there than most are taking advantage of and that's where really I see the opportunity for B2B is that there's so much possibility that most of them just don't unlock because of these pre-existing ideas about where they belong.
Do you see any particular standout examples of B2B marketing, not just on LinkedIn but across multiple social platforms, that really is a standout case study of success?
'Merry Christmas' from every business in the world is not that interesting to people. What is it about that holiday that has relevance to your business? That is how you create that connection.
Click To Tweet
If you look at big enterprise, General Electric (GE) does a great job everywhere. Now, they have ginormous resources, so potentially—I don't know if this is true—they could even have a TikTok account because they just have so much. Whereas a normal B2B company, that would be 20th on their priority list. From enterprise, I would say GE does a nice job everywhere and they're very good at storytelling and finding the stories in their products.
From a more medium-sized type of business, HubSpot does a pretty good job almost everywhere, which makes sense because it's an Internet marketing tool. They tend to do a really good job. When you look to the online marketing companies, you find two total separate spaces—some who don't have the time or energy to do well at all, and others who totally nail it. A lot of the digital and social tools do a great job because they know the power that it brings, so they're often good aspirational points to look at.
Can you maybe share an example of great storytelling with regards to a product? I think that's really hard for companies to execute on. They could tell stories about how they were founded, their origin story sort of thing. They can tell stories about board members or advisors or about—I don't know—their customers, but their products?
Here's the thing. No offense, but when I post about my own business, my mom cares and that's it. It's nice that she cares, but that's not my goal. If I want to make my mom happy, I'll send her flowers. What you see with a lot of B2B, especially, is this very internal content about employees, about board members, blah-blah-blah.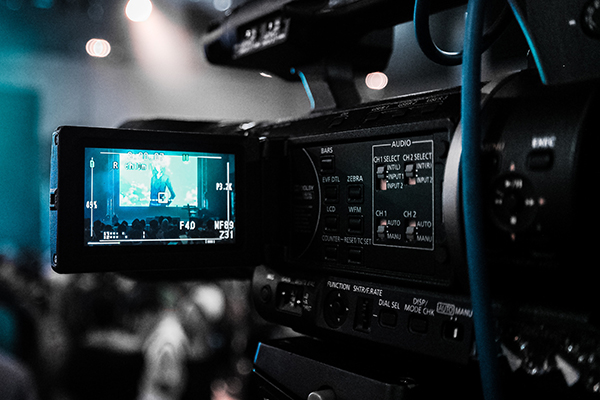 One of the things you need to do is shift your mind to the value for your audience. Here's a great example. We launched a video marketing course. I see the copy for it. My big red flag goes up—we, us. First of all, they shouldn't refer to themselves like people. We can't emote. We are not excited as a business. This is actually super patronizing to people for the most part. If you're using we, us, our, you're showing that it's about you. 
You need to, again, it's like what I said with Snickers digging down. I always say things like, why, why, why, why, and I have two toddlers. Put yourself in their shoes. But why? But why? I've already explained this, but keep making it deeper.
With our video marketing course, this is what we normally would do. We're so excited to watch a video marketing course, then we would list all the features of it. Instead, step back. Why are we excited that we launched that course? Because we know it will help people. Why would it help them? They'll get better results from their digital marketing. Why would they get better results from their digital marketing? Because video is the number one form of content, and 90% of businesses suck at it. 
You could do this however many times, but then suddenly, the post instead is, are you getting the results you deserve from the number one type of content on social media today? We created this course… well, I shouldn't say we, but find out how to accelerate your success on the fly. Not so good, but the idea is you need to keep positioning it them, them, them, them. When you talk about your product in the sense of the benefits and the problems it solves, that's when you get this magic sauce.
As a marketer, you have two jobs: make your product relevant to your target audience and effectively sell that to them.
Click To Tweet
The other example I'll share, I used to work at Procter & Gamble. They make toothpaste. How do you sell toothpaste? It's not like, oh toothpaste. It keeps your teeth clean and your breath won't smell. I mean, a little bit of the breath smelling maybe, but normally it's confidence. It's feeling good at your wedding because your teeth look whiter. It's feeling you're not going to offend someone if you get close to them because your breath is stinky. 
It's not functional. It's about the benefit and the range of benefits. We miss that sometimes because we're just feeling the need to turn out so much content. Even with a product, how does that help someone? You can tell a story around how it helps someone. There are so many ways to position that kind of stuff, but you need to get to that benefit and that why, why, why, why to figure that out.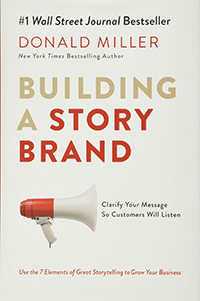 That's great. I am also thinking that, in terms of the problem that's the unspoken problem, or the internal problem, to use Donald Miller's terminology from the StoryBrand, SB7 framework, and his Building a StoryBrand book, so the internal problem is something that people don't speak about. It's under the surface. 
For example, you might go car shopping. Your external problem is you need a car. But the internal problem—this is an example he pointed out from CarMax—for people who are car shopping is dealing with that annoying salesperson who's hard selling them, using all these aggressive tactics, and high pressure. They want to avoid that and yet nobody thinks about that outwardly. They just think maybe I should put off this car-shopping thing because they're not looking forward to that aspect of it.
It's a really good point to look at the pain points and all of that stuff. I'm working with a global organization right now with their APAC (Asia Pacific) office. They have all these sales people. They used to just visit the people they needed to sell to, and now they have to go virtual. What drives me insane is all they want to talk about is how do we make a better webinar. It's very event-driven how they market, so it sales calls and events. That's what they've done for everyone. Now that doesn't work what COVID, but all they care about is how do you make better events. 
What I have been trying to explain to them is to figure out the answer to that. I can give you a hundred gimmicks. I can show you here's a poll app. Use props, have the speaker be really interesting. I can tell you a hundred tips. But your problem isn't how to make a better webinar, it's how to get more of your target audience to go to your webinars. The way you do that is understanding the problem you solve for them and/or the problem that the webinar solves for them, it's not that they don't have time.
I personally just hate giving my time to a salesperson because they drone on and on, and there's a tiny part that I care about. If there was a medium where I could skip ahead two chapters of the webinar, that would save me time and maybe I'd be more likely to attend, but that's because you have to switch your mindset to how do you benefit me as your target audience. I think that's what it goes toward is this internal problem. As marketers, we're not so good at that.
Choose your ad objective strategically because AI and machine learning are built to get whatever you ask for.
Got you. Let's switch topics to algorithms and differences, similarities across these different social platforms, and how we as marketers can leverage the algorithm in our favor.
Every single digital platform uses algorithms, artificial intelligence, and machine learning. Email marketing does it. It impacts your deliverability. Search engines have done it for many years. I think that's where you started off; you were one of the first SEO guys.  Ads do it. They have quality scores where they look at how people are responding to this, and that feeds into it. Everything online works off of this. 
I feel like at the end of the day, it all comes down to the same stuff. Is it relevant and useful for the target audience? As a marketer you have two jobs: is it relevant and useful to the target audience and is it effectively selling my stuff? If I just want something everyone looks at, I can be like, oh free iPads. Well not iPads anymore, but whatever, something. But that wouldn't build my brand or sell my products, so it's finding that match.
If you look at all of the algorithms somewhat they basically work on, it's one, the quality of your account in general. When you send stuff, is it generally well-received by people or generally not? What you see there are five bad posts impacting your six good posts. There's a downside over time. It's the same with email deliverability. Five emails that go into the promotions folder by people, your six emails go in there automatically. Same thing with social media. It's based on the previous interest people had in your account in general.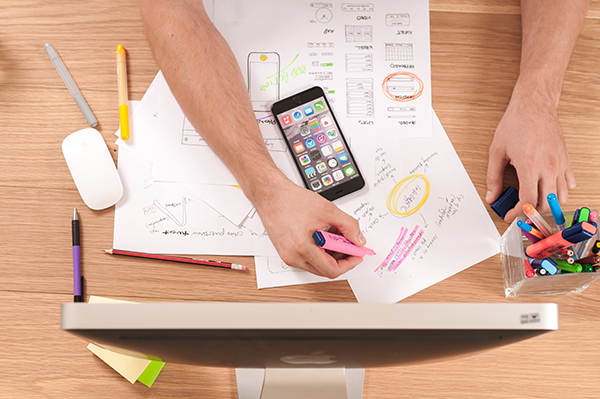 The second thing it generally looks at is the post itself. They say, okay is this post itself doing well? If it has early traction that will get it higher on the news feed, usually. Also, it will usually look at the type of content you've posted. None of the social network's admit this, but every user would acknowledge that when they launch new types of posts, they tend to give those priority.
For example, right now on LinkedIn, polls are all over my LinkedIn feed. They're not that new, but they've done something with their algorithm. I swear, 25% of what I see is polls. LinkedIn also pushes lives towards the top and they do notifications for them. On Facebook, they prioritize videos.
The thing about these prioritizations of type of content, some of it is self-serving to the network. Probably, this is a new feature. Let's just boost it to get more people used to it, but the second thing is it's based on what people like. The reason Facebook's algorithm would be expected to generally promote videos over images is because generally, people prefer video content over image content. LinkedIn, what I see with their polls is I know they're feeding them in the algorithm, but so many people are engaging. So, it matches what people want, really. 
From a business standpoint, you need to make sure your campaigns also serve your business.
To me, the best long-term strategy to beat the algorithms is just check consistently, create great stuff that people are interested in. From a business standpoint, you need to make sure that it also serves your business. When you look at the range of social networks, you have Facebook which has the most aggressive algorithm for business pages. There are pages worth hundreds of thousands of people that are getting in the very low hundreds of views. That reach rate is horrid. Instagram is somewhere in the middle. Twitter has no notion of business accounts, so they announced they're going to start creating them. 
Then you have LinkedIn which is actually really interesting because LinkedIn has discoverability built into their platform. They feel like if not a lot of people are responding to you, they're going to try and show it to more people who might respond because they want you to have this validation (I guess). LinkedIn is a little bit different, but it's all the same kind of stuff which is just create great stuff.
Sometimes I see these hacks that people post. It's like post four images instead of one because they're collages, or—I even gave you these—post polls. The polls are working now. In 3–6 months it'll shock me if those are still getting that same bump. It's a short term hack or trick. Those work only in the short-term, so the long-term way you win is really with great stuff that people are interested in.
Yeah, to use the example from terminology from Seth Godin, it's being remarkable, worthy of remark. If you don't have that, you're not going to last.
Right. I've consulted with businesses on their social media for ages now—15 years—and the number one thing that I say to people—I do feel slightly bad about it—it's just boring. A lot of the times you read the strategy and you're like, I get why you're going to post. This type of content sounds great for your target audience. Then you look at how it comes to life, and you're like, oh my goodness. This is super boring stuff. It's a combination of marketing speak, no idea behind it, just not optimized for the platform.
Advertising doesn't work like how it did anymore. Algorithms today are sophisticated in that they know what doesn't click in an instant.
Click To Tweet
An example, I had a client years ago and they did marketing for a restaurant. They had a stock photo of two wine glasses. It was like, come on down for Wine Wednesday. We'd be really excited to see you. Grab your girlfriends, blah-blah-blah. It's five sentences. I told them their content was boring, and they're like, how do we make it interesting? I'm like, I don't know. I'm not a creative director, but I do like wine.
So I'm like, look, you don't need to spell everything out for people. That makes it super boring. You need to think, what about wine is interesting. It could be the price point. You could just go half-price and make that your headline because people like to save money. If it's about a girlfriend, show happy girls with wine instead of this boring stock photo. It can be these hysterical wine jokes. Go to Pinterest. 
I showed them, like I'd go to Pinterest and search for wine. Go to Instagram and search for wine. Look at popular stuff about wine and find an angle to this. It can be useful. It could be about explaining the different varieties. Sometimes, you'll think it has to be funny. It doesn't have to be funny. It could be emotional. It could be useful. 
It could be interesting, like fact. People who drink three glasses of wine a day are likely to live to 100 #nottrue. Whatever, I guess I made that funny, but I'm sure there's real facts that suggest wine is good for you that you could use. I don't know, but we don't often make that effort to make our stuff interesting enough, I guess is my point.
Yeah, it makes sense. Now, Pinterest you mentioned. Is that a social platform that you consider important these days or has its importance waned?
It really depends what you're doing. For recipes, fashion, online products targeting women, it's absolutely vital for those. But the other thing I would say about Pinterest is there are still all sorts of content that does well there. 
I'll tell you something really interesting. We're mostly B2B. You can buy our certifications and our training online, but mostly we sell to businesses. And even for consumers it's a business need, so we consider ourselves B2B. Interestingly, we analyze all of our traffic and all of our social traffic. I don't think we've intentionally posted to Instagram for many years with any real strategy. Maybe we had some light automation two years ago. 
Anyway, Pinterest was our number two traffic source with no effort. It did get me rethinking that platform because what it does that the other networks don't do is: (1) it's full of organic stuff, whereas you struggle with organic on a lot of these other platforms, but (2) Pinterest's model is about pushing that traffic to the source where the content comes from to learn more. I do think it's a bit of a hidden gem in that respect.
There are countless good options for a myriad of different objectives. Still, you need to be laser-focused on an individual goal and then know enough to make every single decision precisely right.
Click To Tweet
The other thing that I see with Pinterest still that is very cool is it shows up really well in organic search, especially when I'm looking, strangely enough, for examples of, let's say, email marketing for IT businesses. I kid you not, these Pinterest boards were all coming out. 
A lot of people don't realize the SEO impact because I don't think you see it. I can't think of a LinkedIn post that ranks in search engines. I don't think posts on most networks are ranking, actually. I don't know, you maybe would know. But Pinterest boards rank super well, so I think there's these hidden opportunities. It's just usually more a question with Pinterest where it falls on your priority list, really.
Yeah. I've seen pins on Pinterest ranking well, too.
Yeah, and nobody seems to think about it, which is what I kind of love in a way.
That's a good point that you maybe get LinkedIn profiles to rank in search. Good luck getting a post to rank from LinkedIn.
Exactly, yeah.
Let's talk a bit about AI. How does AI make things easier and more difficult for the marketer?
I think where you see the most of it is in the advertising platforms. I should disclose Facebook is a client of ours, but they all work the same way. I just choose Facebook as an example because it's the most prolific, but I don't have any inside scoop on Facebook for the record. I'm not telling you anything that's not public knowledge.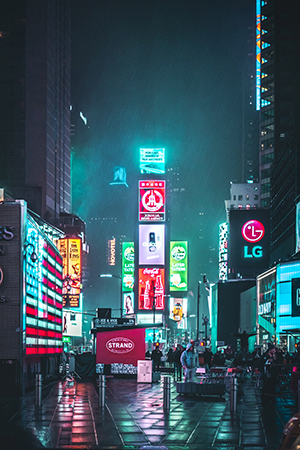 Here's the thing about how the algorithms work. I go to Facebook to place an ad. The first question Facebook says is what is your objective. What we still don't do a good-enough job about is really choosing that objective strategically because all of the AI and machine learning are built to get whatever you asked for. I could take the same post and the first time I run it as a reach ad. The second time I run the exact same creative as a traffic ad. The reach ad will reach a ton of people and no one will click, and the traffic ad will get a ton of clicks and very low reach. 
It's the same creative. If everything else is the same—creative, targeting, everything—I'll get totally different results based on the objective. What they're good at doing is saying, this is what you want? We're going to get you exactly what you ask for. Marketers struggle with this because they often say, well I'm doing a reach ad, but surely if the ad was good I would get traffic, or I also wanted traffic. That's not how advertising works anymore. These algorithms are so sophisticated that they know who or what doesn't click. They know who doesn't fill out lead forms. They know so much.
Where marketers need to do a better job is really thinking through the strategy. If you've not thought through your strategy well enough, you maybe don't choose the objective, you maybe don't choose the targeting, and all of these choices are optimized by AI, but the AI only works if what you say you want is right. It's going to get you what you ask for and nothing else, and a lot of times we don't really know what we're asking for. 
Even on Facebook, you can run an ad for reach or brand awareness. They sound almost the same—they're not—but a lot of marketers would struggle to really think through which of those two they actually want to have happen.
This is where we need to get everyone to say strategic, strategic, strategic, but what does that mean? What strategic means is that you have an end in mind, and every step along the way, every decision you made is the best possible decision to get what you wanted. There's a myriad of good options for a myriad of different objectives, but you need to be laser-focused on a single objective and then know enough to make every single decision exactly right.
This is where that strategy is often lacking because even if I think of targeting, I see someone with the $500 a month Facebook budget targeting 50 million people. That's a shotgun. It's just spraying something everywhere and hoping something happens.
We see AI in the ad platforms. We see it in the user experience, of course, but what I think it means for marketers is that we just need to be more strategic and more discerning about what we want to be able to get the best results possible.
Are there any particular AI-based tools that marketers should use? I know that AI is built into the targeting, the ad generation tools, and so forth that are offered by Facebook, Google, and so forth, but what about third-party tools? Anything in particular?
Be different. Be distinctive.
We're seeing AI creep into everything. If you use a social media scheduling tool, a good one allows you to schedule across different platforms at different times. A great one can figure out the best time to post a certain type of thing on each social network and do that itself. There's a handful that are doing that to varying degrees of good, I would say, but there's a lot of other tools trying to get into this space right now (I think) in the next handful of years is when we'll start to see it really start to come to fruition. Chat bots would be the best example. Seriously, have you ever had a good experience with a chatbot?
No, not me.
Right, nobody has. I had one. Kaelin has an awesome chat bot, but they're huge and spending obscene amounts of money. And still, so many marketers have these stupid chat bots on their plans, but they're so horrid. It's a longer, more difficult way to achieve something. We took the potential and we made it suck. 
Chat bots—good ones—should be built on AI and machine learning, but I think we're not there yet in being able to apply that stuff so well. Where I see it is in these little optimizations. You see a ton of it in ad platforms. Now, if you look at advertising, you have campaign budget optimization instead of asset optimization. Google's done the same thing. You can optimize for an objective at the campaign level instead of setting unique budgets within your keyword groups.
We're seeing AI options being offered, but honestly, a lot of marketers are super resistant to this  stuff because they all think they're smarter. It's just as hard for me to believe you're smarter than math. You could win some, but you're overall not going to beat the algorithms for the most part. They're AI, so I think it's coming along, and you see these little spots where people are like, oh yeah, that would be easier for me to let it do this stuff. 
Even if you think about one of the easiest things, when you do a Facebook ad, the best practice for many years has been to upload four or five different images and the algorithm will show the right image to the right person. Oftentimes, what you find is if I upload five images, we are not so smart. We think of it as binary. We think this is the best so turn off the other ones.
That's why we'll never be smarter than machines because the truth is this is the best for most people, but ad, too, is still the best for some people. That's why you still see some deliveries in it, and good AI knows this. Whereas, we're binary. 
I had a big debate with someone about ad placements. He was like, Instagram isn't performing as well as Facebook. We need to turn off Instagram. No, the budget will go to where the results are. It's smarter than you because if you turn off Instagram you assume no one on Instagram is going to click. The algorithm knows some people well and they still can work it out that way. 
I actually think the problem is more human. We don't trust these algorithms and we're obsessed with control. Maybe it sounds crazy that I'm saying trust robots, but even with an automatic scheduler, most social media managers would not feel so comfortable loading their calendar and just say, algorithm decide when these things are to post. I don't know many people that would do it. I don't know many clients that could be easily sold on this. I think humans are the problem, really, because the technology is there. We just suck at using it.
Going back to this idea of picking your objective, let's say it's reach or brand awareness, how do you have the right distinctions or the right information or understanding to choose the right objectives so that the AI can optimize for that and give you the best result?
It's hard and this is why you won't hopefully be replaced by a robot because this is where you have to use your brain and creative thinking. Same with finding the user problem. It's hard. I know we're in an age where everyone just wants these easy answers, but that's not my deal. I show you how to do stuff the real way that works. 
If you want to learn these hacky things, go watch some YouTube videos. It probably won't work well in the long run because to get real results is hard, and anyone who's actually done it knows this. This get-rich-quick hacky idea feels so appealing.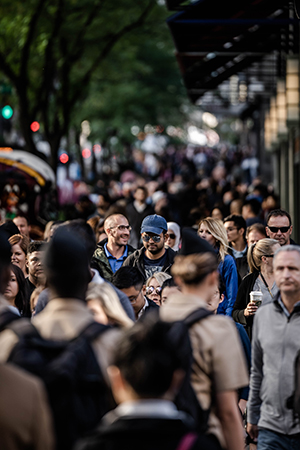 The short story to my rants is that you really have to think deeply and carefully about your marketing strategy. Not a lot of us have done it or have done it well enough. We often will say our goal is awareness. Awareness can be a super valid goal, but usually it's just a cop out that we have no real plan behind what we're doing. 
Again, let's say my goal really is awareness. That could be a totally valid goal. If I have $500 to spend and my target audience is 50 million people, you could also spend that money while I was looking to see if it matches. You could literally burn it and that would probably be just as effective. 
Reaching random 50 million people once a year, not even, this is not how you grow a business. You need to really think, if I want to grow awareness, who do I really want to grow awareness with? What is the goal of that awareness? Just refine, refine, refine. It's hard for us to make decisions oftentimes because we think and, and, and, and that's why we get nowhere. We define our audiences way too big, for example, because they could buy it, could be an okay idea, but then you end up not focused enough and you end up wasting your money.
It kind of sounds similar to what you're saying earlier about figuring out the why, and the why of that why, and the why of that why. 
Yeah. The Annoying Toddler in the Room, that should be my new book, right? Maybe The Annoying Toddler in The Room gets better marketing. You just got to really think it through. Also, there is nuance to it because there's context behind it. 
If I'm Coca-Cola and I'm marketing Cinnamon Coke, which, by the way is a real thing and it's horrible; never buy it. Seriously, have you ever tried it? I don't know why it exists because why would you? It's horrible. But if I'm marketing Cinnamon Coke other than hating my life, the point is my target audience is actually probably 70% of the population. I want these big audiences. I want high frequency. It's a combination of my business goal, my budget, and my market maturity. All these things are coming together because Coke has a budget to reach 70% of the people.
I could have a product that is ideally more appealing than Cinnamon Coke but that 70% of the population could buy. But if I use that same strategy, I don't have the budget to reach that many people. I'm just wasting my energy. A lot of it comes down to this strategy and nuance where we have to say, what's realistic for what I'm trying to do?
A real example I can share with you is I worked with a company that was selling yoga pants. Their targeting was people interested in health and fitness. Any guesses what percent of the US population according to Facebook is interested in health and fitness? Any guess?
Seventy percent.
Close. Sixty percent. That's not targeting. It's the same as not targeting because everyone's vaguely interested in it, and you haven't really identified your real target and the problem you're solving for them. As a small business they could reach 0.01%. We just need to be more strategic when we don't have the budgets to be reaching everyone, which no one does except these huge brands. It's hard to be discerning and say no, I'm not going to target these people because these people are more important to me.
If you had a small budget to spend, let's say it's $2000 a month, would you spend most of it on creating remarkable content, like infographics and things like that? Or would you spend most of it on the advertising because it costs so much to do advertising. You might only have a few hundred dollars left over to spend on the actual creative?
For most small-medium businesses, we're at this amazing DIY stage, where you can DIY your way to great stuff.
Good question. Here's what I think about creative. For most small-medium businesses, we're at this amazing DIY stage, where you can DIY your way to great stuff. This was not the case 5 or 10 years ago, but now you can make a great video on your phone. I mean, there's TV commercials made on phones, literally. As a small business, I would try to find ways to DIY my content because with Canva, with video editing tools, if you have any internal resources it's much more cost-effective to do that stuff in-house.
What we find, too, is social media doesn't require the same polish of your creative that it used to. People prefer the more unfiltered, uncut stuff. Well, maybe heavily filtered but authentic-ish, whatever that means. Everyone loves these Instagram filters where you end up looking like a mutant. 
You can create content yourself. If it was me, I would focus on a handful of good creatives that I can have, where I can run evergreen ads around them. If I think of my business, if I boosted every post for, let's say, $50, I can blow through $500 or $1000 and I could claim it's for awareness, but it's just lazy marketing. There's no real point to it.
Instead, if I tested 5 or 10 different ad creatives based on benefits, I can test different target audiences. What you see now, the businesses that are winning from an ad standpoint have an evergreen strategy, where essentially what you do is you spend the time upfront, test-learn, test-learn, test-learn, you get your winners, just optimize on those as you go, and you have a really sustainable long-term strategy.
Too many people still think in this mindset of social media of like, I need new stuff, I need new stuff, and that's not really what matters so much anymore. It's more about getting the elements which often require some testing, and then you have something that you can repeat and scale. That's where you would get more profits.
Awesome. Is there a particular tracking methodology or tool or process that you would recommend in terms of measuring your success tangibly, with regards to ROI, with regards to profits, ROAS, and everything else?
It's tricky because if you focus too much on measurable ROI, you miss the bigger picture and you'll spend all your money at the bottom of the funnel. I could run a conversion ad that's focused on getting people to maybe sign-up for my free trial, and I can feel really good about my ROI, but that's not also the sustainable way to grow a business in the long run. 
There was actually a research report that Facebook just came out with maybe two months ago. They analyzed—I don't know—X number of campaigns across all different industries. What they found which surprised me, to be honest, was that top of funnel ads, awareness reach ads actually drove more short-term sales than conversion-focused ads.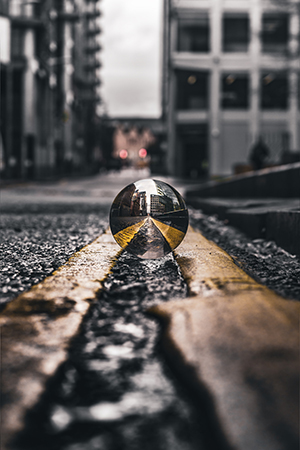 You want to think that. I kept saying AI is smarter than you. But when you run a conversion ad, it's about a trackable person buying in a certain window, which is just such a small segment of behavior. But if you focus on your benefits, your why, your problem, being seen as the best at something, then that's going to get you stuff in the long run.
From a KPI standpoint you need to track things, but I actually think it's a huge mistake to focus too much on these directly measurable conversions or sales or even leads because marketers who've been at it for a long time inherently know the longer-term value. Internet marketers are less good at that, in my opinion, because they've seen the crack of the immediate sales and they're hooked on it.
One of my first clients that I got from a search conference, I met with them and I was like, okay blah-blah-blah, let's talk about your strategy. They were like, well the first thing you need to know is we don't believe in branding. Okay, but that was the mindset, was get the clicks, convert the clicks. That's all we care about. 
To me, it's not an either/or. It's maybe an end and a balance. It does come down to resources, but a nice balance strategy is a little more full-funnel, where you have some things you do for awareness, some things you do for nurturing, and some things you do for conversions. 
Take me being on your podcast. What's the ROI on this? If you're listening, go and buy something and then I know it's great. But what is my ROI on being here? It's a nurturing strategy. It's not reach. If I just wanted to reach a bunch of people, there are ways that I can do that in less of my time. I don't know how many people listen. Maybe it's way more than I think, but either way…
At least 10.
Right, at least 10. Let's say it's 100 people. In under an hour, I could reach way more people than that by putting a post on LinkedIn, for example. If I spend an hour optimizing a LinkedIn post, it would reach 50,000 people. But how deep is that impact? It's awareness. To me, this kind of stuff is nurturing. My goal here is that people think I'm smart, they want to learn more about what I do and how I can help them, and over time the conversion takes care of itself. 
If I used a ROAS (return on ad spend) mindset, I would come on this and I'd be selling at you super hard. I'll go throw in, by the way, we have a free trial. By the way… And it wouldn't actually appeal to a lot of people except someone who's already maybe really far down the funnel. If you just think of yourself as a consumer or what makes sense to you, usually you can see that this full-funnel approach is actually more logical. You have to have the experience to know which things serve which purpose for you, and then track the right things for that purpose.
Yup. All right, good stuff. And speaking of free trial, we should send our listeners to some great resources and things. If it includes the free trial, that would be quite valuable for some of our listeners. How do they find you? How do they learn from you, get access to tools and books, and get those free trials?
We do digital marketing training. We have the broadest and deepest online library that you'll find. The easiest way to get started is with a free trial. If you go to bootcampdigital.com/aap you'll get our All Access Pass page, and the only way to sign-up is with a free trial because we want to make sure that you want it before you give us any money. That's how you can sign up for a free trial.
Get a good website, optimize for search engines, consider some online ads, be active in social media.
We also offer certifications. If you prefer to read books, my latest book, Digital Marketing That Actually Works. Literally, it speaks for itself. It takes the hype and gimmicks out of it all, and lays out what are the big picture things to focus on. 
Going back to our first conversation about what's changed in social media, I feel ever so hung up sometimes on TikTok, and this and that, but if somebody asks you how to grow your business online, you're going to tell them all the same stuff you've told them 10 years ago. Generally speaking, get a good website, optimize for search engines, consider some online ads, be active in social media. That's what this really focuses on is the best practices for the foundations and how to add them to your strategy.
Awesome. Krista, this is fabulous. Thank you so much, and thank you, listeners. Now, please apply some of this in your business or in your job and be a hero in your company and for your target audience. We'll catch you in the next episode. This is Stephan Spencer signing off.
Important Links
Your Checklist of Actions to Take
Produce excellent content that people find interesting, valuable, and share-worthy. Providing helpful and relevant information can build a stronger relationship with customers and prospects.

Communicate with my customers in a meaningful way. Relatable advertising, an authentic social media presence, and a well-designed website can impact customer expectations.

Optimize my strategies for digital and leverage my visual assets. Utilize infographics, images, and videos to convey my message more effectively. Visual content grabs attention faster and can influence emotions.

Establish my company's brand. It represents who I am and what my promise is to my customer.

Talk more about my audience rather than my business. Instead of saying "we, we, we," position the message to "them, them, them." They are your greatest business asset, and building them is one of the most valuable marketing investments.

Determine my target audience's pain points. If I know what my customers struggle with, I can pitch the product or solution in a way that solves their problems.

Be consistent with content management and creation. Consistency establishes credibility, builds trust, and strengthens my reputation.

Be familiar with the social media platforms and how to use them for communication with my audience. Having an online presence as a business is a great way to interact with and connect with my audience.

Build an excellent, well-designed website and optimize it for search engines. An optimized, informative and updated website boosts credibility.

Visit Krista Neher's company's website, Boot Camp Digital, to access resources to fast-track in advancing your skills in digital marketing.
About Krista Neher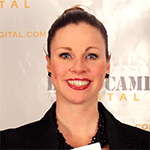 Krista Neher is a 6-time bestselling author, international speaker, award-winning entrepreneur and the CEO of Boot Camp Digital. She wrote the first textbook on social media and created the first accredited program. She is passionate about helping businesses grow their results by increasing their digital knowledge.