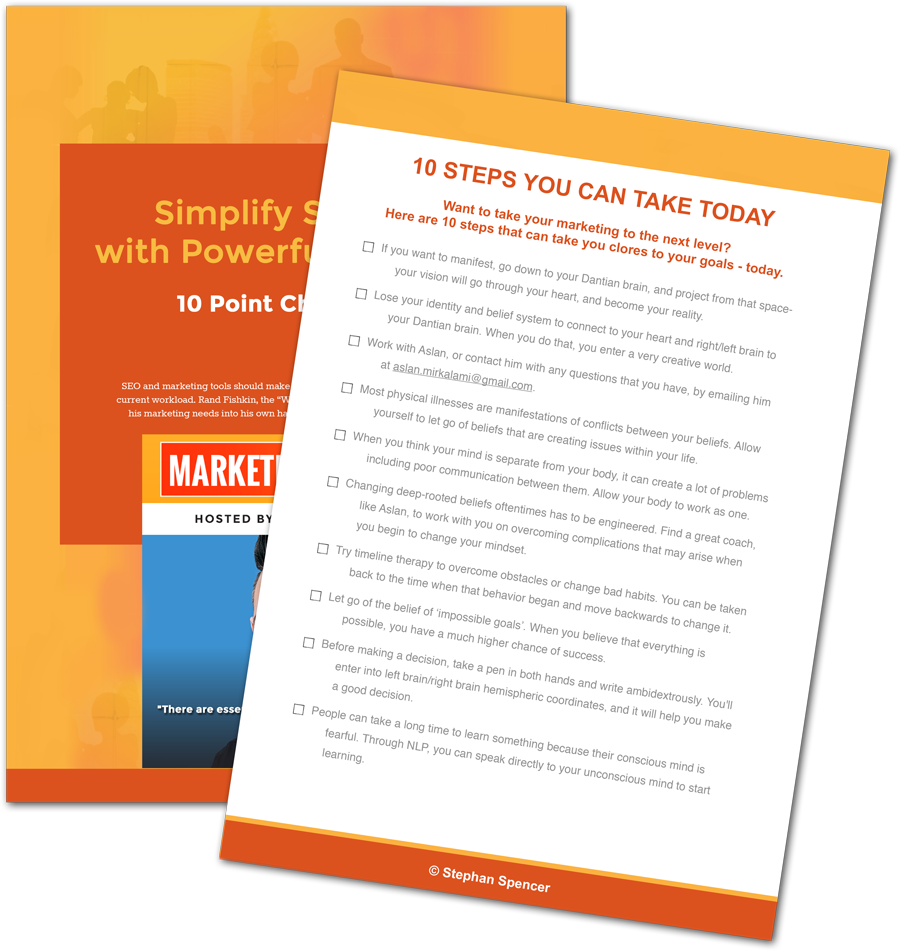 Get into action! Download your FREE Checklist
Put the most important tips from this episode to work and take your marketing to another level! Get your free 10 Point Checklist for your next actionable steps.
This Week's Guest:
We don't need more content. We need better content. Quality content is more important than ever in the world of marketing. You shouldn't just be focused on churning out content in an attempt to reach more customers. That's a surefire way for your content to get lost in the ever-widening sea of information. Instead, you need to specifically identify your audience and create content that addresses their needs.
Ann Handley, author of the Wall Street Journal bestseller Everybody Writes: Your Go-To Guide to Creating Ridiculously Good Content, joins me today to explain what this means for you. Ann is also the co-author of Content Rules: How to Create Killer Blogs, Podcasts, Videos, Ebooks, Webinars (and More) That Engage Customers and Ignite Your Business and the chief content officer of MarketingProfs. She's an amazing writer and marketer who knows exactly what it takes to attract, engage, and keep an audience in today's market. Listen in to learn her secrets on how you can start making great content today.
Find Out More About Ann Here:
Ann Handley
@MarketingProfs on Twitter
@annhandley on Twitter
MarketingProfs
Ann Handley on LinkedIn
Ann Handley on Facebook
In This Episode:
[01:23] – Ann and Stephan start off the conversation by talking about their recent random run-in with each other.

[03:48] – What are some of Ann's favorite nuggets of wisdom and insight from her book

Everybody Writes

?

[08:04] – Ann shares some of the basic rules of creating content that matters. She discusses viewing communication with your audience as a privilege, and thinking of things from an audience-centric point of view.

[09:23] – When Ann thinks about who she's creating a piece of content for, she thinks about one person who she wants to help. She then explains that she spends a lot of time on Twitter getting to know her audience.

[11:51] – Ann talks about how deep her profile of her audience persona goes.

[14:21] – We hear Ann's thoughts on tools that are important for writers, including

The Elements of Style

.

[18:05] – Does Ann recommend that companies or marketing departments come up with style guides to make sure everybody is on the same page?

[21:16] – Stephan brings up some wisdom from a previous episode of Marketing Speak.

[23:20] – Ann talks about how she handles situations with ghostwriters, in terms of how she gets the best outcome for the company. She emphasizes the importance of having an editor, not just a writer.

[27:04] – Every company with writers should have an editor, Ann explains. She then discusses how to figure out whether content is high-quality.

[28:56] – Ann shares her thoughts on using video rather than writing as the best way to reach your audience.

[31:17] – What does Ann think about repurposing content?

[33:10] – Ann talks about her recommendations for what people should do in terms of creating video-based content.

[35:22] – Stephan's membership site is running

Memberium

, and he's moving to using

LearnDash

, he explains.

[36:44] – We hear Ann's thoughts on the ways to use a video transcript. She prefers reading a transcript to watching the video, she explains.

[39:29] – Ann points out that quite a few people start their content by dictating, rather than writing, the content.

[42:58] – Where would Ann recommend people go to find ghostwriters?

[45:45] – Ann thinks there's an enormous upside to training yourself to think about things from an audience-centric point of view.

[46:57] – What would Ann say to someone who is using writers as cogs in a wheel and just churning out content?

[48:31] – Stephan talks about the importance of intentionality and approaching everything from this perspective.

[52:08] – Ann digs deeper into places to find writers and freelancers.

[54:10] – Ann shares her thoughts on focus groups.

[55:04] – We learn what Ann means when she talks about telling bolder stories. She gives an example of a company that does an excellent job of telling bold stories. Stephan then shares an example of his own.

[58:42] – Being bold doesn't mean you have to be crazy or wacky, Ann clarifies. Instead, it's about fully expressing your brand.

[61:51] – Ann offers a book recommendation:

Between You & Me

by Mary Norris

.
Links and Resources:
Ann Handley
@MarketingProfs on Twitter
@annhandley on Twitter
MarketingProfs
Ann Handley on LinkedIn
Ann Handley on Facebook
Everybody Writes: Your Go-To Guide to Creating Ridiculously Good Content by Ann Handley
Content Rules: How to Create Killer Blogs, Podcasts, Videos, Ebooks, Webinars (and More) That Engage Customers and Ignite Your Business by Ann Handley and C. C. Chapman
World Domination Summit
The Elements of Style by William Strunk Jr. and E. B. White
Hemingway App
Grammarly
Searchmetrics Content Experience
Uberflip Style Guide
MailChimp Style Guide
Ephraim Olschewski on Marketing Speak
Blue Bottle Coffee
From Plant to Cup: Brew an Amazing Cup of Coffee on Skillshare (by Blue Bottle Coffee)
Skillshare
LearnDash
Wistia
Vimeo
Thinkific
Rev.com
SpeakWrite
Speechpad
The One Minute Millionaire by Mark Victor Hansen and Robert Allen
Cash in a Flash by Mark Victor Hansen and Robert Allen
WriterAccess
ClearVoice
Textbroker
Amazon Mechanical Turk
Ephraim Olschewski on the Optimized Geek
Meetup
ProBlogger
Craigslist
Don't Make Me Think by Steve Krug
Freaker USA
Zappos
Greatist
Bird by Bird by Anne Lamott
Between You & Me by Mary Norris
Nick Westergaard
Chris Rugh on the Optimized Geek