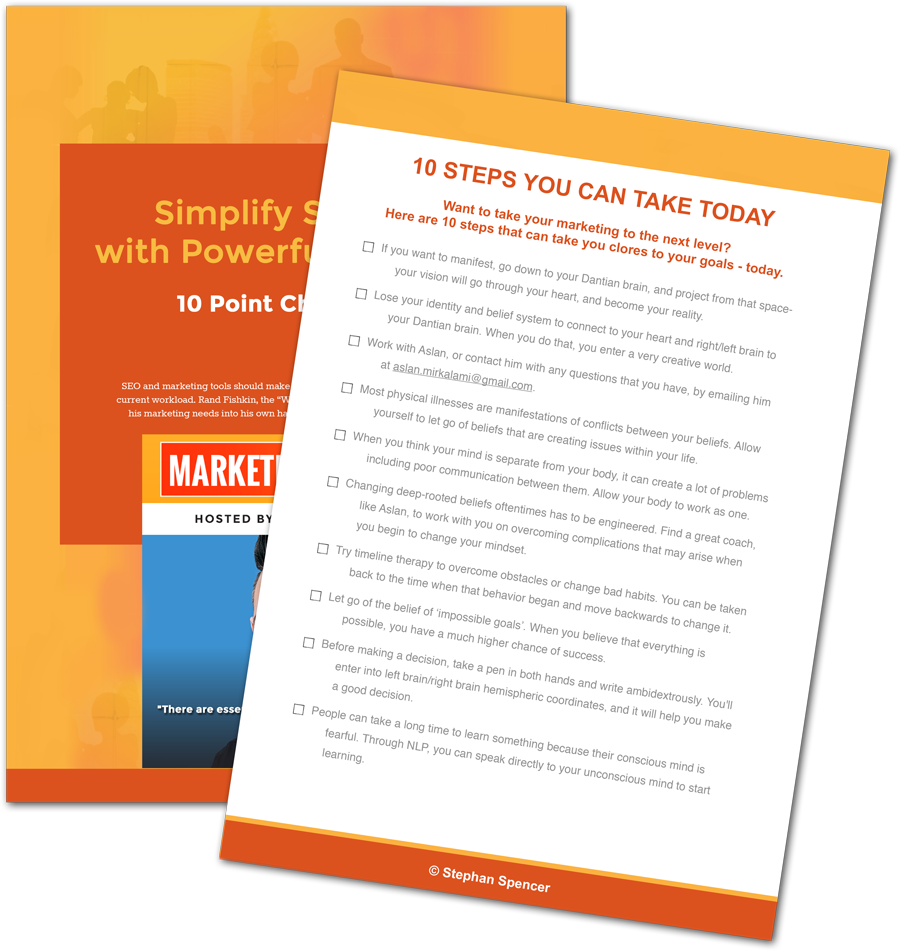 Get into action! Download your FREE Checklist
Put the most important tips from this episode to work and take your marketing to another level! Get your free 10 Point Checklist for your next actionable steps.
This Week's Guest:
Angela Lin, a LinkedIn expert, consults on delivering qualified leads and referrals. Since 2010, she has helped clients grow their sales to professionals and management. She has created a system for reaching out to contacts and building relationships with them, which she shares in detail in this conversation.
In addition to her work as a LinkedIn consultant, Angela is the bestselling author of the 2016 book 50 LinkedIn Power Tips: The Secret System to Consistently Generate Leads, Book Appointments and Increase Sales for Your Business in Less Time. She has also had TV appearances on stations including Fox News, CBS, ABC, and NBC.
Find Out More About Angela Here:
Angela Lin on LinkedIn
Socialmedia4hire.com
50 LinkedIn Power Tips: The Secret System to Consistently Generate Leads, Book Appointments and Increase Sales for Your Business in Less Time
In This Episode:
[01:36] – Angela starts things off by offering us a glimpse into what LinkedIn really is.

[02:42] – How do you reach out to people on LinkedIn without coming across as a spammer?

[05:18] – We learn the three components involved in getting someone to connect with you on LinkedIn.

[06:54] – Angela typically sends invites through desktop LinkedIn rather from the mobile version. She explains how this offers different options to explain how you know them.

[08:17] – If you use the "friend" option for someone you don't know, don't you run the risk of being reported and then kicked off LinkedIn?

[09:51] – Angela talks about the process of when to talk to the person you're contacting about the reason you're contacting them.

[11:19] – Does Angela typically connect her clients with her other LinkedIn contacts?

[12:46] – We hear more about Angela's four-part message series.

[18:44] – The third message is the first one that's significantly longer, and serves the purpose of building credibility. Angela explains the components it should contain.

[21:50] – The fourth message is quicker than people think, Angela explains, and discusses what it is.

[24:14] – How can you use this strategy to reach out to lots of people, since it sounds fairly time-intensive? Angela offers her advice, along with a warning against automating the process too much.

[28:56] – Angela offers her suggestions for how to find people to invite to connect with you on LinkedIn. She also discusses premium search filters.

[32:44] – Which premium version of LinkedIn does Angela recommend? She answers, then goes on to discuss the price difference between various plans.

[34:45] – We learn more about the benefits of premium LinkedIn accounts.

[40:18] – Angela talks about the option of paid advertising on LinkedIn.

[43:25] – Should you try to do outreach campaigns with your current LinkedIn network, or focus on making new connections?

[46:14] – Does Angela have an example case study that she's proud of and wants to share with listeners?

[48:46] – Angela recommends going to

linkedbusinessaccelerator.com

to get an example of the case studies she's mentioned. She also offers a webinar at

linkedbusinessaccelerator.com/webinar

.

[49:45] – How can you get your existing LinkedIn network connections onto your email list? Angela offers several different strategies.

[53:14] – We hear about what you should include in the LinkedIn article or blog post you send your contacts.

[53:44] – Angela talks about creating your own LinkedIn groups, and what the benefits are.

[58:03] – How should you handle spammers, or potential spammers, in a group that you've created?

[59:41] – Having a professional photo is one of Angela's top recommendations for creating a great LinkedIn profile. After this tip, she goes on to provide other advice for how to optimize your profile.

[64:10] – How do you ask for skill endorsements on LinkedIn? Angela suggests starting by reaching out to current and past clients.

[65:21] – You want to ask for recommendations as well, Angela explains, and gives advice for how to do so.
Links and Resources:
Angela Lin on LinkedIn
Socialmedia4hire.com
50 LinkedIn Power Tips: The Secret System to Consistently Generate Leads, Book Appointments and Increase Sales for Your Business in Less Time
LinkedIn Professional
Clint Arthur
linkedbusinessaccelerator.com
linkedbusinessaccelerator.com/webinar