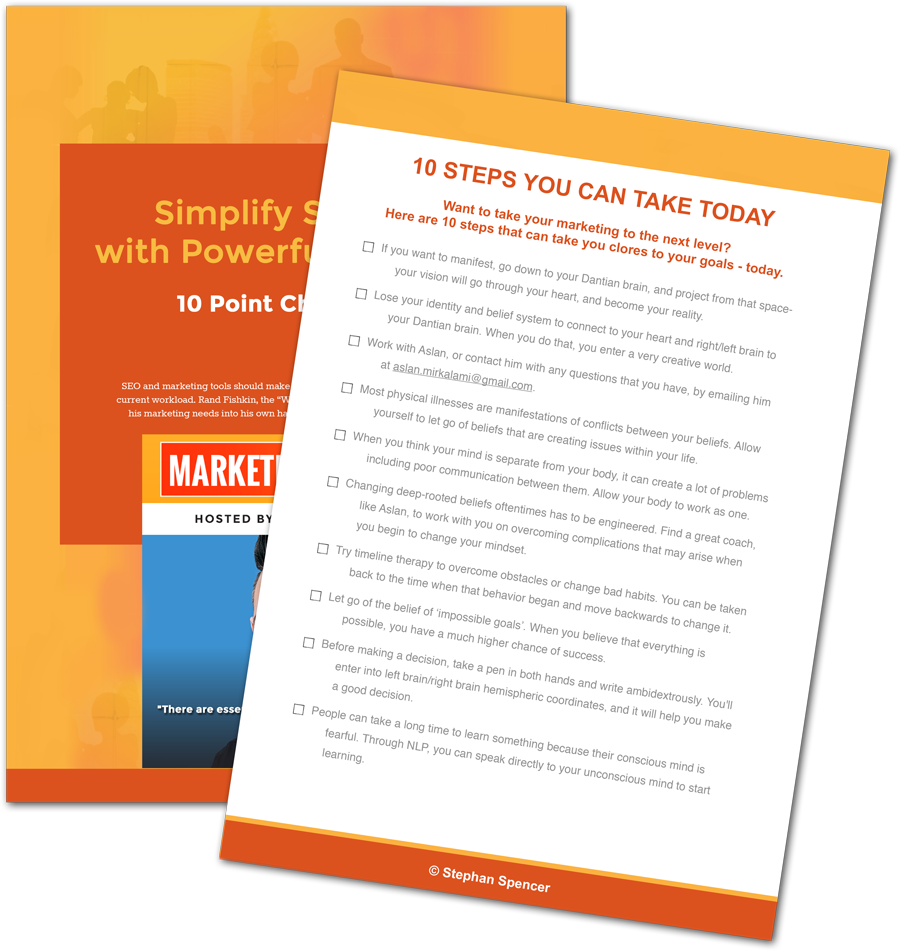 Get into action! Download your FREE Checklist
Put the most important tips from this episode to work and take your marketing to another level! Get your free 10 Point Checklist for your next actionable steps.
This Week's Guest:
Tucker Max has the remarkable honor of being one of only three writers ever to have had three books on the New York Times nonfiction bestseller list at the same time (the other two are Malcolm Gladwell and Michael Lewis). He's the author of several books including I Hope They Serve Beer in Hell, has sold over three million books worldwide, and is credited with being the originator of the fratire literary genre.
He's also the cofounder and chairman of Book in a Box, a company that helps turn people's ideas and stories into books while saving them the trouble of sitting down and writing. In this conversation, he talks about the company, as well as how to turn an idea or your knowledge into a book, and then how to make that book a bestseller.
Find Out More About Tucker Here:
tucker@bookinabox.com
Tuckermax.com
@TuckerMax on Twitter
@TuckerMax on Facebook
In This Episode:
[01:59] – How did Tucker go from having no bestsellers to having a bestselling book?

[03:09] – Tucker discusses his view on the importance of having a perfect writing voice or great writing chops.

[05:48] – We learn about Tucker's evolution, and when he realized that his writing was book-worthy. He also shares his experience of the process of getting published.

[09:57] – Tucker shares his reaction when publishers started approaching him after having previously sent him some pretty harsh rejections.

[11:00] – How did Tucker manage to get three books on the New York Times nonfiction bestseller list at the same time?

[14:32] – Tucker came up with the marketing strategy he just described on his own. He also talks about the influence he's had on

Ryan Holiday

.

[16:46] – Amazon doesn't like it when you make ebooks free, but there's a trick, Tucker reveals.

[18:07] – We hear the story of how

Book in a Box

started. It turns out it was mostly accidental; Tucker didn't originally set out to create a company.

[23:49] –

The Book in a Box Method

outlines the methods that Tucker's company uses to create these books.

[25:26] – Tucker shares his thoughts on what Stephan has said about people being either writers who speak or speakers who write.

[26:17] – Tucker offers some examples of some of the templates in the book.

[29:58] – We hear Tucker's thoughts on Stephan's 1000-page book

The Art of SEO

.

[32:07] – At every stage of the outline, Tucker's method has templates or questions you go through.

[33:12] – The pop-up retail book that started Book in a Box ended up being called

Pop Up Paradigm

. Tucker makes suggestions on how to title a book.

[37:30] – Tucker talks about when to start working on the cover for the book.

[40:51] – Tucker shares his thoughts on Stephan's book cover.

[42:52] – It takes 6 months and costs $25,000 to have a book created through Book in a Box. It also requires about 30 to 40 hours on the phone over those 6 months.

[43:30] – Book in a Box can go pretty fast, but authors often can't.

[44:13] – Tucker talks about why the price is $25,000 now instead of $10,000, as it was for the first woman to go through the process.

[45:32] – There have been several Wall Street Journal bestsellers through Book in a Box, but there haven't yet been any on the New York Times bestseller list. He then talks about the problem with the NYT list.

[47:06] – We hear about the impact that

Pop Up Paradigm

had on its author's business.

[49:18] – What would Tucker recommend for people who have something to share, but aren't in a position to go through the $25,000 Book in a Box program?

[50:19] – Is it a good idea to release a second edition of a book that didn't sell very well in its first edition?

[52:33] – Tucker shares his thoughts on sharing free several-chapter excerpts of books as a marketing strategy.
Links and Resources:
USA Bestseller List
tucker@bookinabox.com
The Ultimate Guide to Book Marketing
Tuckermax.com
@TuckerMax on Twitter
@TuckerMax on Facebook
I Hope They Serve Beer in Hell
Assholes Finish First
Hilarity Ensues
Google Power Search: The Essential Guide to Finding Anything Online with Google
The Pop Up Paradigm: How Brands Build Human Connections in a Digital Age
The Life-Changing Magic of Tidying Up: The Japanese Art of Decluttering and Organizing
Book in a Box
Lulu
iUniverse
Sloppy Seconds
Ryan Holiday
iBooks
The Book in a Box Method
The Art of SEO
Hormegeddon