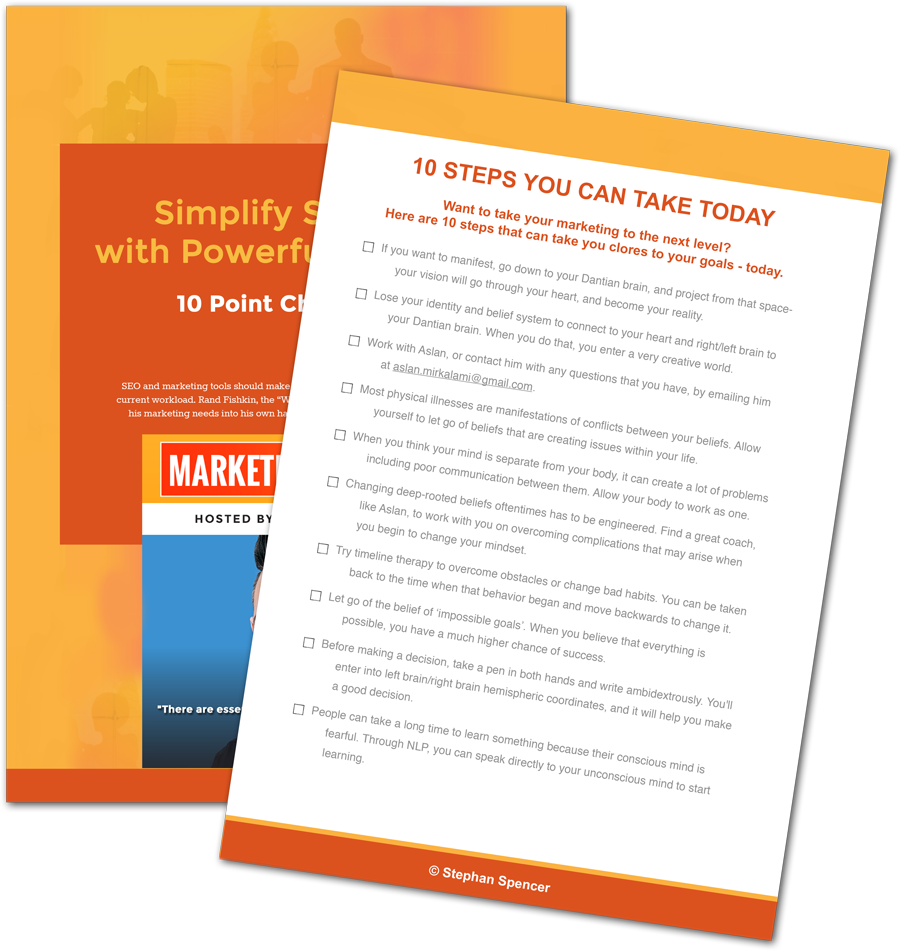 Get into action! Download your FREE Checklist
Put the most important tips from this episode to work and take your marketing to another level! Get your free 10 Point Checklist for your next actionable steps.
This Week's Guest:
We all know the negative stereotype of people who use their social media accounts to share pictures of their dinners. Boring, right? Well, believe it or not, that's exactly the right thing to do sometimes. That isn't to say that your professional social media accounts should focus solely on your meals, but now and then your audience likes to see behind the curtain and get to know who you really are.
Today's guest, Kim Garst, explains all this and much more in this conversation that digs deep into social media marketing. Kim knows exactly what she's talking about in this space; she's one of the world's most retweeted people among digital marketers, and her site, kimgarst.com, is one of the top social media resources. She's also a renowned marketing strategist and the bestselling author of Will the Real You Please Stand Up: Show Up, Be Authentic, and Prosper in Social Media.
Find Out More About Kim Here:
kimgarst.com
Kim Garst on LinkedIn
Kim Garst on Facebook
@kimgarst on Twitter
Kim Garst on Instagram
boomsocial.net
In This Episode:
[01:23] – Kim talks about her experience with

War Room

, which is where she and Stephan met. She then talks about the automation she has been employing to help her business scale.

[02:47] – Kim discusses the path she took to become the powerful influencer she is today.

[05:58] – Is Kim now teaching others to do the things that she had to figure out on her own?

[07:05] – What are some of the secrets that Kim teaches in her trainings on social media marketing?

[09:02] – Kim offers some techniques for getting free traffic and visibility on Facebook. She agrees that free reach is somewhat curtailed from what it used to be, but makes clear that it isn't impossible. She emphasizes the importance of video in leveraging Facebook for free.

[14:17] – We hear Kim's thoughts on repurposing content from Facebook for Twitter (as opposed to creating brand new content).

[16:40] – Kim has experienced in her own testing that inspirational content is the most shared kind of content in the social space, and other research backs that up.

[17:42] – Kim isn't a big fan of connecting your Twitter and Facebook accounts, she explains, because it's very clear that that's what you did.

[21:25] – What are Kim's strategies for repurposing content across social media outlets? For example, does she change the titles and descriptions?

[24:07] – Stephan shares his thoughts on what Kim has been saying. She then offers recommendations for anyone who has podcasts or audio content.

[26:02] – What Kim tends to do on Twitter is to put all of her evergreen content into a queue that gets automatically posted.

[28:31] – Kim talks about management tools, explaining why she opts for

Agorapulse

instead of

Hootsuite

.

[32:37] – We hear Kim's thoughts on the strategy of following people, or unfollowing people who don't follow her back. She also talks about using automated DMs on Twitter.

[35:33] – How does Kim split her time across all these social platforms, and how much time a week does she spend on them? She then compares that to spending time on email.

[38:27] – Kim uses

ManageFlitter

for her following strategy as well as her unfollowing strategy.

[38:57] – Other tools Kim likes include

SaneBox

,

Adobe Spark

,

Ripl

,

Canva

, and Wave.

[42:13] – Webinars aren't dead, Kim explains, and she tries to do at least one a month.

[44:32] – Kim offers some closing words of wisdom, explaining that social media is a way to build a true community.

[46:21] – Where can listeners who are interested in working with Kim find her or get in touch with her?
Links and Resources:
kimgarst.com
Kim Garst on LinkedIn
Kim Garst on Facebook
@kimgarst on Twitter
Kim Garst on Instagram
boomsocial.net
Will the Real You Please Stand Up: Show Up, Be Authentic, and Prosper in Social Media
War Room
digitalmarketer.com
Facebook Live
John Lee Dumas on Marketing Speak
Guy Kawasaki
SocialOomph
Meet Edgar
Hootsuite
Agorapulse
ManageFlitter
Followerwonk
SocialRank
SaneBox
Adobe Spark
Ripl
Canva
Easy Webinar