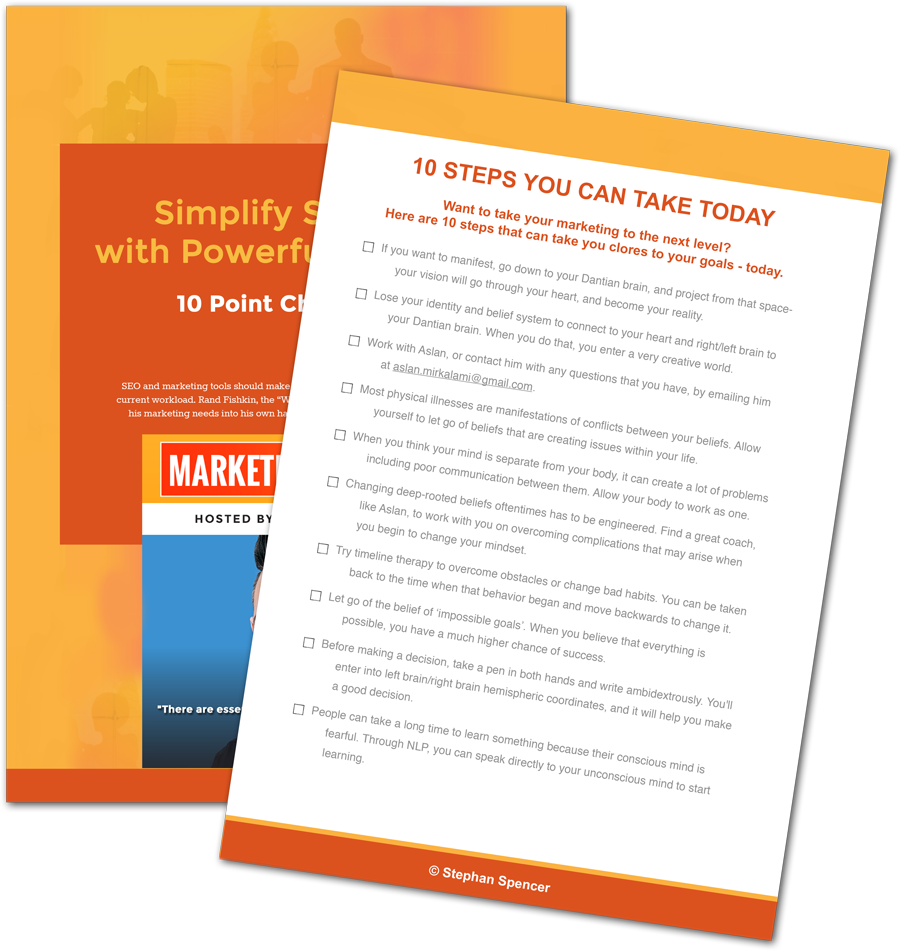 Get into action! Download your FREE Checklist
Put the most important tips from this episode to work and take your marketing to another level! Get your free 10 Point Checklist for your next actionable steps.
This Week's Guest:
We've all  been the customer outside the money-back guarantee window asking for a refund. But refunds don't have to be commonplace. Fortunately, there are tools and techniques that you can use to minimize returns. For example, reaching out to new customers can dramatically reduce the number of people who end up asking for refunds.
Dustin Mathews is here to explain this and much more about the best techniques for selling. Whether you conduct sales in person, from presentations on stage or virtually through webinars, Dustin's advice will offer incredible value. Dustin is the cofounder of Speaking Empire and the co-author (along with the incredible Dan Kennedy) of No B.S. Guide to Powerful Presentations.
Find Out More About Dustin Here:
Dustin Mathews
@dustinmathews on Twitter
Dustin Mathews on LinkedIn
In This Episode:
[01:24] – What's the secret sauce for creating a presentation that sells products and services, and has people running to the back of the room with their credit cards to buy what you're selling?

[03:38] – Dustin talks about what makes an offer irresistible instead of just mildly compelling. He explains that he has a nine-point system, and mentions what the first of these points is.

[07:00] – Dustin discusses the hot-button close. He offers some examples of hot buttons that various audience members might have.

[10:37] – We hear more about Dustin's perspective on customer appreciation events and strategies. He then explains that he likes to position events as bonuses. He also likes to include a physical component in bonuses.

[13:21] – Stephan points out that having a physical component reduces the return rate. Dustin then expands on that concept. He and Stephan then discuss people wanting refunds past the money-back guarantee time.

[16:22] – We hear why Stephan plans to start taking Dustin's advice to minimize people asking for refunds.

[18:15] – Dustin piggybacks off of what Stephan has been saying, pointing out that you don't personally need to reach out to customers yourself. Instead, you can outsource this task.

[19:40] – Is it better to use limiters based on time or quantity? Dustin prefers to use both whenever possible.

[24:30] – Stephan relates what he learned about pickup to the ideas that Dustin has been offering. Dustin then talks about a study involving copy machines that reveals the importance of giving a reason.

[28:30] – What is "the benefit of the benefit," and what does it really mean? Dustin answers, then talks about how he incorporates this into his presentations.

[32:59] – Dustin walks us through the typical structure of one of his presentations.

[35:08] – Dustin begins explaining the five components of a presentation that he mentioned a moment earlier. These are: 1. the intro, 2. the story, 3. the offer, 4. the body, and 5. the close.

[37:28] – What are some best practices for doing a really effective close? Dustin reveals that a successful close depends on doing things right throughout your presentation.

[40:29] – Stephan points out that Dustin's advice is basically a

yes ladder

. Dustin then relates this back to the dating world, in which you don't immediately get married.

[41:49] – The more time you have with a prospect, the better, Dustin explains.

[43:54] – What do you do if you're giving a presentation where you aren't allowed to sell from stage, and no pitching is allowed?

[47:04] – Dustin offers two more ways to get around a no-pitching or no-sales rule in a presentation.

[49:51] – Everybody has a mobile phone, Dustin points out, so getting them to text may be easier. He then explains his techniques

[52:28] – Stephan provides a couple tools for listeners, explaining that he uses

Leadpages

and the

Leaddigits

tool.

[54:11] – How do you get people to storm the stage (or, in Dustin's case, the back of the room)?
Links and Resources:
Dustin Mathews
@dustinmathews on Twitter
Dustin Mathews on LinkedIn
Speaking Empire
No B.S. Guide to Powerful Presentations
Dan Kennedy on Marketing Speak
Neil Strauss
Simon Sinek
Mike Mandel on the Optimized Geek
NLP
The presumptive close
Yes ladder
ManyChat
Infusionsoft
Leadpages
Leaddigits
TPNI Engage
Fix Your Funnel
Internet Retailer
Affiliate Summit