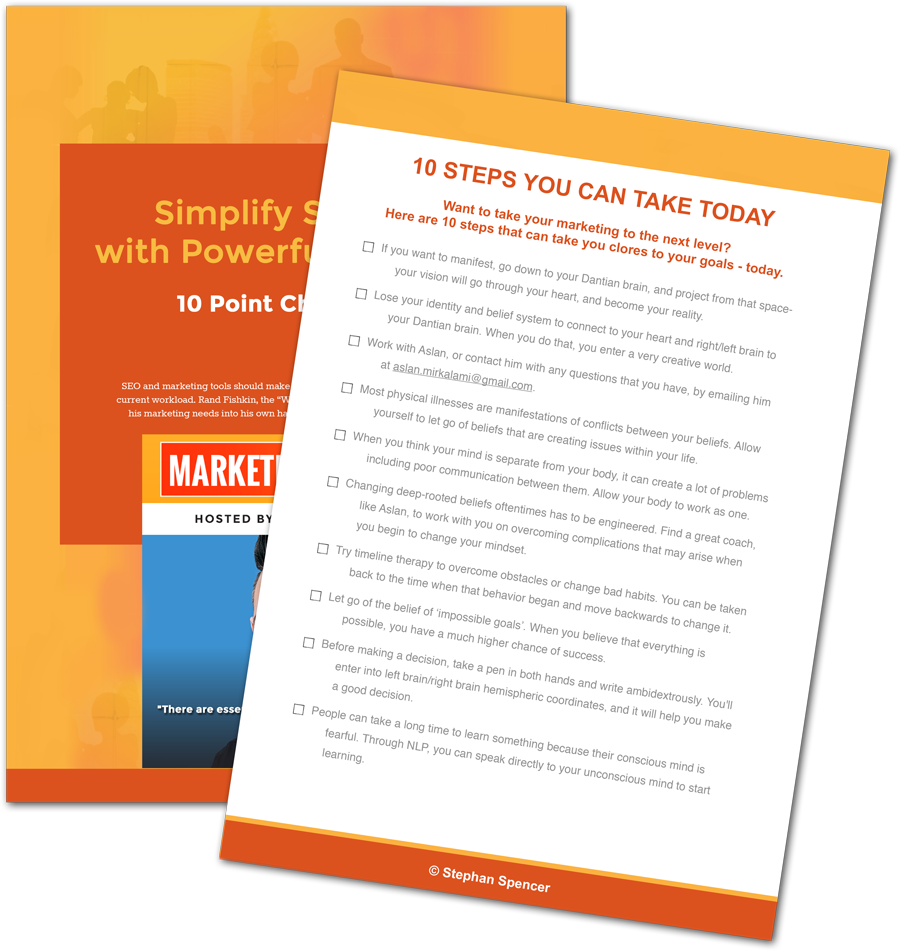 Get into action! Download your FREE Checklist
Put the most important tips from this episode to work and take your marketing to another level! Get your free 10 Point Checklist for your next actionable steps.
This Week's Guest:
Some of my favorite Marketing Speak episodes are the ones where my guest is so deeply knowledgeable about a specific subject that we get to spend an hour just geeking out. These are the episodes that are packed full of advice and provide ultra-specific value for listeners.. They have tons of tips and insights that aren't normally compiled together in one place.
That's exactly what you'll get today from Melodie Moore, a true expert on automation. We'll geek out together and talk about Infusionsoft as well as various tools that integrate with it. We'll also talk about marketing campaigns, indoctrination sequences, membership sites, online courses, and a ton more. As the founder of Business Tech Ninjas, a company that specializes in creating membership sites, Melodie is chock full of tips that I hope are as helpful for you as they were for me!
Find Out More About Melodie Here:
Business Tech Ninjas
@Melodiem47 on Twitter
Melodie Moore on LinkedIn
melodie@businesstechninjas.com
In This Episode:
[01:10] – Let's talk about systems! Melodie offers some of her best tips for avoiding mistakes and mishaps with scaling and growth in terms of systems. She then describes her auditing process.

[05:23] – One of the most common and effective things that Melodie does for recurring monthly memberships is a feature welcome, she explains.

[06:30] – Is

Memberium

the best tool for running a membership site? Melodie and Stephan discuss various options.

[11:06] – Melodie strongly recommends starting small and proving your concept before going big. Stephan then offers another perspective on this: not even building your information product before you've sold it.

[13:59] – Does Melodie have her own membership site?

[17:04] – Melodie discusses the reports that Infusionsoft can automatically generate.

[21:57] – Melodie talks about using a learning management system, which she clarifies isn't what Memberium is designed to be.

[25:07] – Why Infusionsoft instead of

Ontraport

or

ActiveCampaign

?

[27:37] – What are some of Melodie's favorite third-party plugins or addons for Infusionsoft?

[29:53] – Melodie talks about what

PlusThis

does and why she likes it. She offers an example of how she has used it. She also discusses several other tools.

[33:33] – Stephan brings up the topic of receiving texts, explaining that he often has people at a seminar send a text message to get a free gift.

[37:49] – Stephan offers a tip to listeners: format buttons and popups on your site in the first person.

[38:22] – What are Melodie's thoughts on

Leadpages

?

[40:40] – Stephan brings up

Facebook Messenger

, which people are starting to use as a marketing tool.

[42:32] – We go back to webinars, with Melodie offering some tips for using webinars effectively as an upselling tool.

[45:11] – The challenge is getting people to actually consume content and take action, Melodie explains.

[47:05] – Melodie talks about using contests to increase engagement and get new people into the site. Stephan then offers his take (and advice) on the topic.

[49:37] – Melodie discusses contests that she has run or participated in that ended up being quite successful.

[52:04] – What's the difference between a contest and a sprint in this context? Melodie answers, then Stephan shares some of his own strategies.

[56:55] – Melodie talks about why she likes Stephan's actionable model that he has just described.

[58:21] – Melodie offers one last bit of wisdom for listeners, which is to be able to just roll with things.

[59:35] – How can listeners get in touch with Melodie if they want to work with her or her company?
Links and Resources: