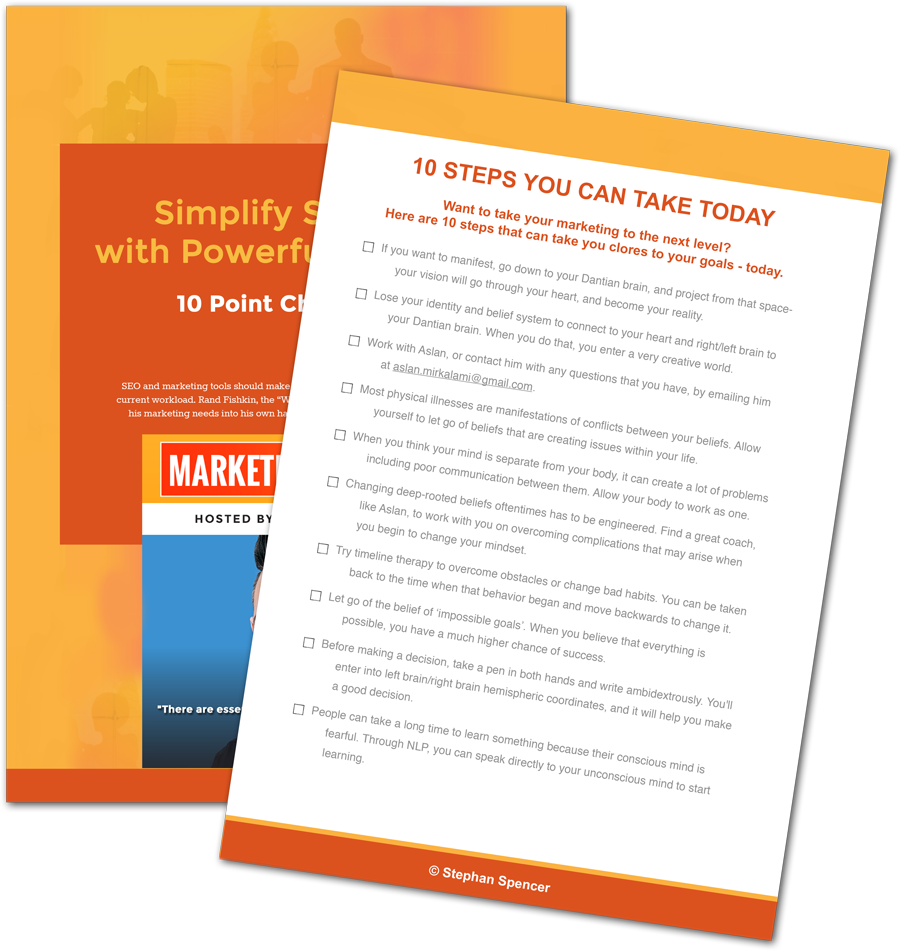 Get into action! Download your FREE Checklist
Put the most important tips from this episode to work and take your marketing to another level! Get your free 10 Point Checklist for your next actionable steps.
This Week's Guest:
It's already 2018, and by now, by far the majority of the good domain names are already taken. If you want to buy a valuable domain either to resell or to develop, you could spend hours and hours combing over the leftover unregistered domains hoping to find something that isn't absolutely terrible. A better strategy, though, is to think outside the box. Instead of looking for an unregistered domain that no one has thought to buy before, spend your time searching expiring or expired domains instead.
Peter Askew is here to explain just why this strategy is so valuable. Since your domain name is one of your most important digital assets, it's vital that you get a great one, and he'll explain exactly how to do that. Peter is an experienced domainer whose successful online businesses include DudeRanch.com and VidaliaOnions.com, both of which he'll discuss in depth in this conversation.
Find Out More About Peter Here:
Peter Askew on LinkedIn
Peter Askew on Facebook
@searchbound on LinkedIn
In This Episode:
[01:23] – Peter starts things off by giving us a rundown of his background. He discusses how he decided which path to take in the domain industry.

[04:58] – We hear about how (and why) Peter obtained

DudeRanch.com

, including what his thought process was when he learned that the domain was available.

[06:16] – Stephan points out a parallel experience in his own life, and Peter points out the similarities between dude ranches and bed and breakfasts.

[07:37] – DudeRanch.com is monetized by charging fees to dude ranch owners. Did Peter also monetize through

Google AdSense

?

[09:35] – Peter clarifies that before starting DudeRanch.com, he had an exposure to the industry but didn't have any particular passion for it. It was only after he got into the dude ranch industry that he developed a passion for it.

[09:59] – About five years after he started DudeRanch.com, Peter started

VidaliaOnions.com

. He walks us through how he turned the domain into a business.

[14:46] – Stephan points out how valuable the domain name is in Peter's business.

[16:40] – One of the things that Peter finds fascinating about his domains is the unexpected adventures that they take him on.

[20:13] – Peter treats looking at expiring domain names like reading the morning newspaper.

[21:50] – How many domains does Peter have in his portfolio?

[23:36] – Peter discusses why he buys .com domains instead of other TLDs. Stephan then reveals that he bought a .ninja domain.

[26:26] – How many of Peter's domains in his portfolio has he developed into websites? He answers, then talks about his development process.

[29:10] – Peter talks about how quickly he tends to launch websites on domains he plans to develop.

[31:39] – Stephan offers the example of

Cat5 Commerce

, a business that develops niche sites with a specific strategy and process.

[34:40] – We hear about how with VidaliaOnions.com, Peter is focusing on an aspect of the industry that a lot of other farmers typically neglect.

[37:12] – Peter explains the issues with ordering Vidalia onions on Amazon.

[38:44] – Peter shares his process with finding expiring domains to buy. He lists some tools and resources that he uses for this purpose.

[43:16] – If you happen to stumble across a domain that you think has a high value that has no current backorders against it, and you're trying to acquire it on the down low, wait until as close as possible to place your backorder.

[44:15] – Did Peter only spend $70 or so when buying

CharterYachts.com

?

[46:23] – Stephan offers a tip: if you acquire a domain and don't want the page rank reset to zero, change the whois information very slowly.

[49:37] – Stephan shares a story about a site he bought a few years ago:

Innstar.com

.

[52:16] – Where does

Sedo

fit into Peter's strategy? He answers, then Stephan talks about helping a client to rebrand.

[57:47] – Peter once helped

Neil Patel

keep his domain name, and shares the story.
Links and Resources: