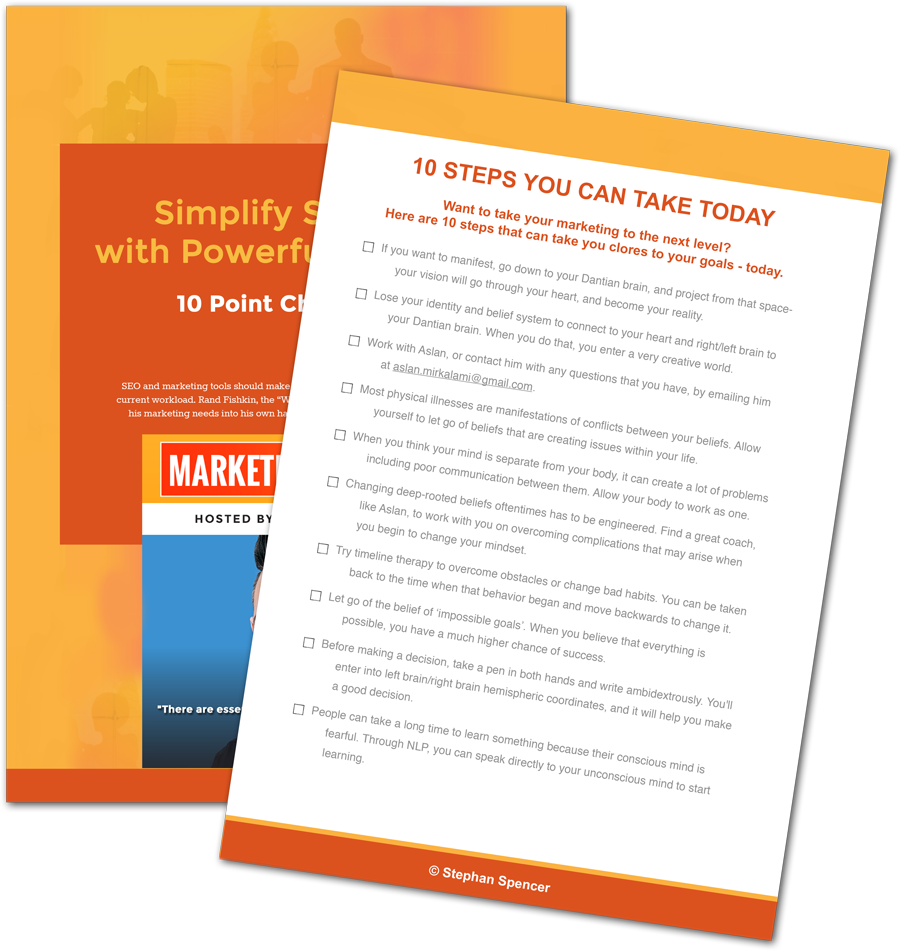 Get into action! Download your FREE Checklist
Put the most important tips from this episode to work and take your marketing to another level! Get your free 10 Point Checklist for your next actionable steps.
This Week's Guest:
Mitch Joel is President of Mirum, a global digital marketing agency operating in close to 20 countries. His first book, Six Pixels of Separation, is a business and marketing bestseller, and his second book, CTRL ALT Delete, was named one of the best business books of 2013 by Amazon. He is also the host of the Six Pixels of Separation podcast, as well as the Groove: the notreble.com podcast. You can find Mitch on Twitter @mitchjoel.
Episode:
Technology has come a long way, and is continuously changing. When businesses first started using the Internet, it was akin to the wild wild west-full of scammers and dead ends, it had a long way to evolve into what it is today. Now, the online world is an integral part of our lives, it's fast moving and we have to become open to the apps and technology of the future to succeed and thrive.
We discuss:
How technology has progressed over the years.
The apps and social channels that you need to try.
Personal development books and conferences for networking.
Where tech is headed, and what to expect in the future.
Technology's Past
When Mitch and Stephan first started in marketing, there weren't many users online, and people thought the internet was just porn and gambling.
There was a lot of revenue coming in from the businesses who took the Internet seriously, and it didn't take too long for other industries to follow suit.
There were still a lot of hurdles because many people weren't in it for the right reasons-because of being able to reach people anywhere at anytime, a lot of scammers popped up.
Thankfully, there were more real professionals who were building legitimate businesses, so it wasn't all sleazy.
Content Marketing
Content marketing can create a fire for inbound marketing.
It allows you to create something compelling that isn't just an ad stream, and makes people interested in you.
There are many platforms now-content can be created in text format, audio and video, short form, long form, multi-platform, etc.
Using online marketing platforms, you can build a database of customers, communicate to them in a more personalized way, understand what they're opening or not, and optimize against that.
People used to go on online forums, but now use Facebook groups to collaborate.
The owner of the group doesn't own that community, it belongs to Facebook.
The ultimate goal of Facebook was to create amazingly powerful networks, and it's working.
We are now able to share ideas, get answers, and get information from the people that we want to be connecting with in real time.
Many organizations use it as just a way for their team to share with each other and stay connected.
From a business perspective, it is a great tool for marketing-you can share articles and content right to the group.
When you have a high level of respect for the writing and content creation that you do, platforms like Snapchat can be difficult to use since there is no historical reference for your past work.
Snapchat is also changing, and building in more functionality with stories to appeal to more people.
Brands should pay attention to it, mainly because of it's size, audience, and uniqueness.
You also shouldn't spend all of your time on a channel just because it's "in"-find a balance of where you feel that you can create the most impact.
Mitch's Favorite Personal Development Tools
Seth Godin wrote a book that changed Mitch's life, called

Survival Is Not Enough

.

For Mitch,

Re-imagine!

 by Tom Peters is one of the greatest business books that has ever been written.
Right now, Mitch is reading

Chaos Monkeys

 and

Porcelain

.
The

TED Talks

 book by Chris Anderson is also a good reading option.
TED is not a cheap conference, but it's worth it and isn't overly expensive.
You can stay for a week, and even food is included.
Being at these conferences allow you to build a network that can lead to very interesting opportunities.
The other side of it is the "lifestyle"-when you travel and speak at events, people are always looking at you.
They will then want to come and talk to you, follow you on social media, etc.
The Future of Technology
Within the past couple of years, Mitch has been watching augmented reality and virtual reality grow.
"I really did sort of hit my personal tipping point when I really tried it. I'm talking primarily about

Google Cardboard

 and then having early demos of some VR technology."
He knew as soon as he engaged with it, that it had to be the next big platform.
Mitch ended up creating a brand new presentation all about augmented and virtual reality.
He was interested in learning what this means to a brand, what the real opportunities are, and what hurdles may arise.
In the future, this may become an integrated platform by which we all communicate and connect, much like the web browser is today.
Step up your marketing game!
Online marketing platforms are a creative and amazing industry-the opportunities are endless. Use as many marketing platforms as you can to build a client base, and nurture them.
Do your research when looking at online courses, or anything that costs money online. There are real businesses out there, and scammers, so make sure you know who you are working with.
Apply to speak at a conference! Not only will it build credibility for you as an expert in your niche, you also will grow your network.
Links and Resources Mentioned
Thank you for listening!
As always, thank you for tuning in. Please feel free to contact me or leave a comment. If you enjoyed this episode, please share it!
-Stephan