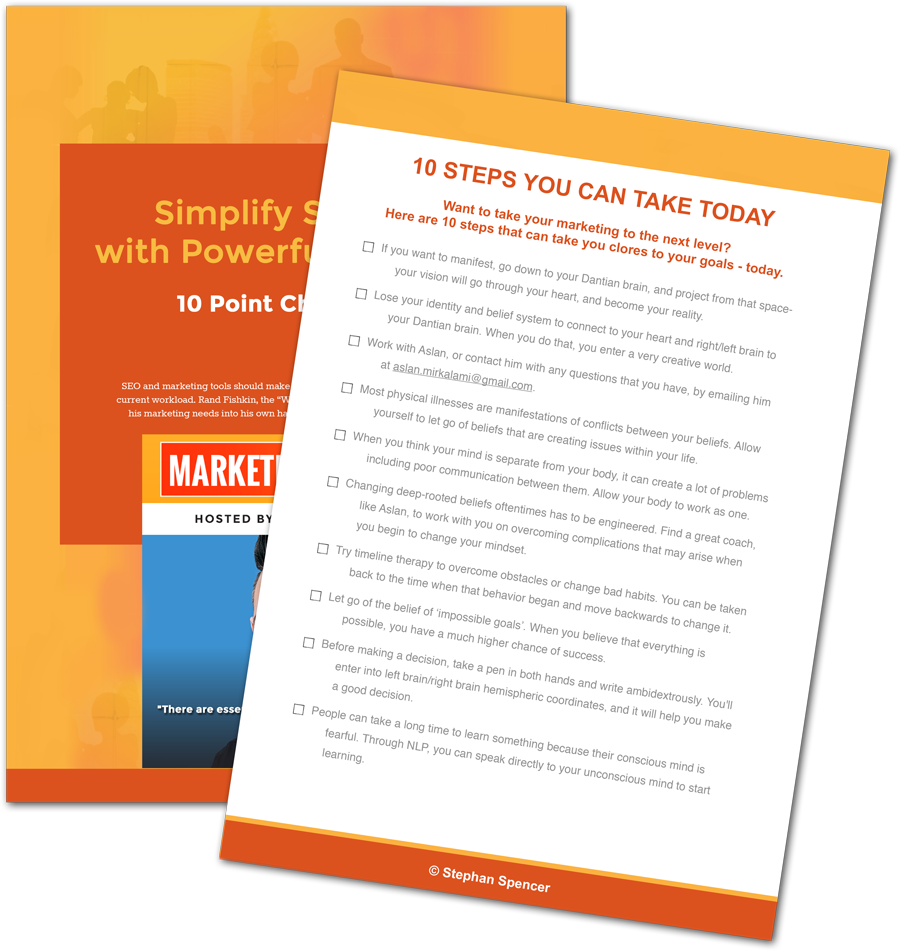 Get into action! Download your FREE Checklist
Put the most important tips from this episode to work and take your marketing to another level! Get your free 10 Point Checklist for your next actionable steps.
This Week's Guest:
Daniel J. Lewis is an award-winning podcaster who helps others launch and improve their own podcasts. He creates training resources like SEO for Podcasters and podcast tools like My Podcast Reviews. Daniel offers one-on-one consulting and a premium podcasting community, Podcasters' Society. He is a keynote speaker on podcasting and social media.  Daniel hosts a network of award nominated podcasts.  He also writes about entrepreneurship and technology.
In this conversation, you are going to hear one of the most informed and insightful people in podcasting, specifically podcast SEO.  Daniel J. Lewis shares information that helps new podcasters learn how to launch effectively, and podcasting veterans tweak their shows and settings to get the most traction.
In podcasting, search comes down to quality. Podcasts are on different platforms and the search engine algorithms are significantly different between the platforms. Throughout this episode, Daniel talks about the platforms, tools, and techniques you need to know for peak visibility.
Connect with Daniel J. Lewis!
You'll Learn
[1:21] – Daniel talks about strategies podcasters can use to rank higher in podcast directories and Google.

[2:19] – If your show name doesn't describe your content or have relevant keywords, add a subtitle.

[3:16] – Daniel shares what is and is not included in search results in iTunes and Google Play.  

[4:45] – Daniel talks about RSS feed optimization.

[8:06] – How to check the quality and compatibility of your RSS feed.

[10:33] – Daniel shares his thoughts on the different audio hosting options, primarily Libsyn vs. Blubrry.

[12:59] – Daniel talks about the tools and features that iTunes Podcast Connect Portal and the Google Play Music Portal offer now, and potentially in the future, that podcasters might find useful.

[15:32] – Daniel describes the nature of some of the data that he has access to that the typical podcaster does not.

[17:55] – Advertisers are trying to learn how to interpret podcast stats.

[21:50] – Daniel talks about the importance of New and Noteworthy and how to interpret inclusion in the list.

[26:15] – Daniel tells you what matters most in your iTunes ranking.

[27:16] – Daniel shares the formula to growing your audience.

[27:35] – The Lightning Round with Daniel J Lewis.
Links and Resources Mentioned
Google AdWords Keyword Planner Tool
Thank you for listening!
As always, thank you for tuning in. Please feel free to contact me or leave a comment. If you enjoyed this episode, please share it!
– Stephan